When you think about choosing mobility aids, those types of equipment such as canes, or non-wheeled walker frame just come up in your mind. However, you may find something else that suits you better.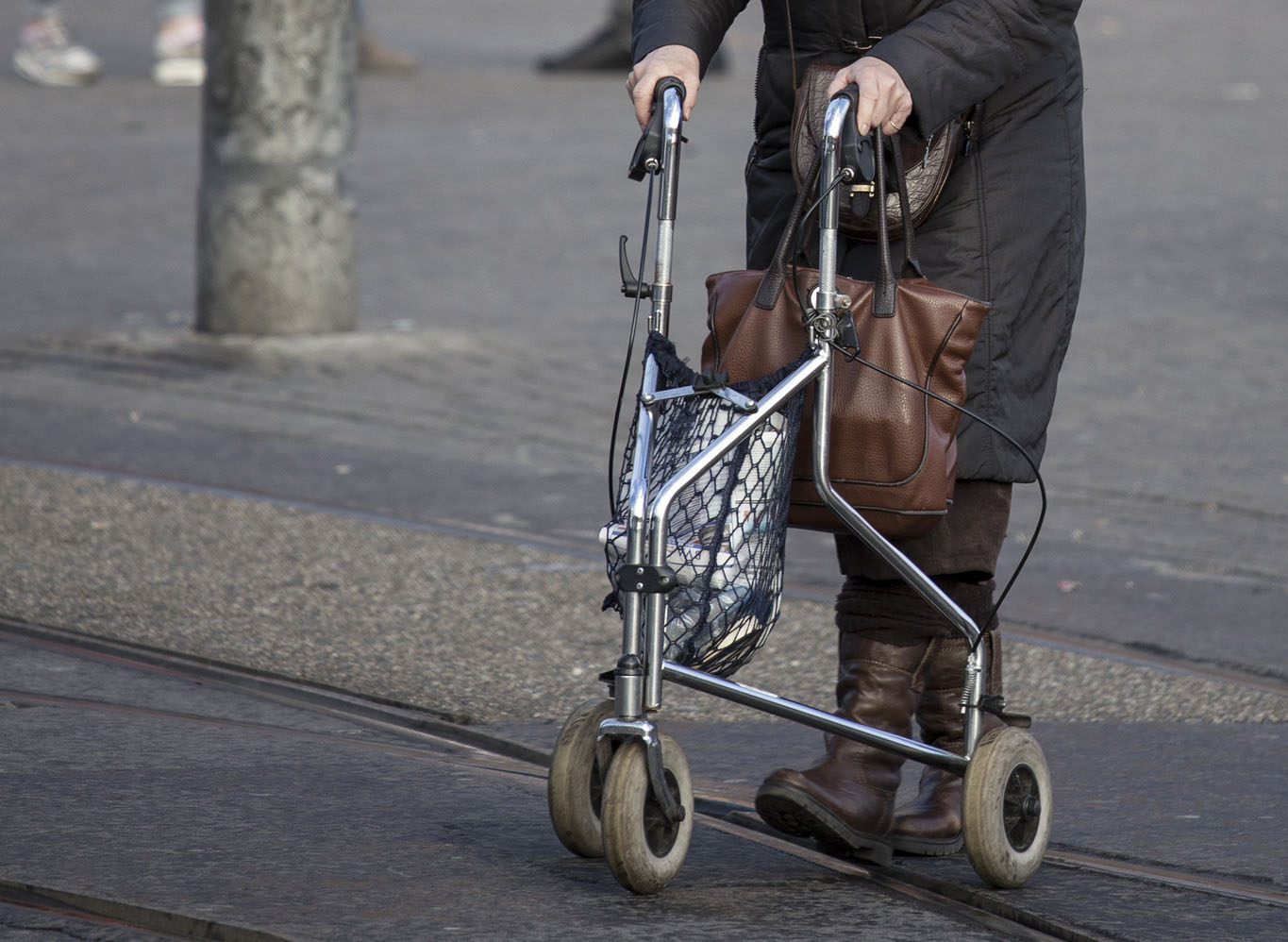 3 wheel walkers, also called triangle walkers, become popular with the elderly today and it can be another good choice for people with mobility problems.
Lots of people love 3-wheel walker because it is foldable, lightweight, and more maneuverable. This article will get into details, teach you how to choose it, and what are the best 3 wheel walkers for the elderly and seniors on the market.
Our Top Picks
Choosing a 3 wheel walker could be a hassle especially when you don't familiar with mobility aids. In case you are in a rush, we picked 3 good ones in the table.
Preview
Best Overall
Lightweight
Budget Option
Title
NOVA Traveler 3-Wheeled Rollator Walker
Drive Medical Winnie Lite Supreme Aluminum Three Wheel Rollator
Drive Medical 3 Wheel Rollator
Best Overall
Preview
Title
NOVA Traveler 3-Wheeled Rollator Walker
Lightweight
Preview
Title
Drive Medical Winnie Lite Supreme Aluminum Three Wheel Rollator
Budget Option
Preview
Title
Drive Medical 3 Wheel Rollator
#Affiliate links.Last update on 2021-12-06 at 16:14
Best 3-Wheel Walkers: Reviews
1. NOVA Traveler 3-Wheeled Rollator Walker – Best Overall
#Affiliate links.Last update on 2021-12-06 at 16:14
Nova traveler is one of the best rated 3 wheel walkers which is quite popular online.
This Nova 3 wheel rollator has an adjustable height from 33″-37.25″ which is designed to accommodate the people from 5'4″ – 6'2″. It is foldable and quite easy to open and close.
In addition, the patented feather touch hand brakes are very comfortable and you can stop your walker with minimum hand strength.
Besides, extra tray and basket along with the storage bag are present. With these 3 spaces, you can put anything you want in them separately. For example, you can use the tray to transfer you juice, fruits or bread.
Want to know the best part?
It comes with large 8″ wheels to offer you maximum stability. In this way, you can walk smoothly even on uneven terrain.
At last, this Nova traveler has a 250 pounds weight capacity that suits most people and the price is reasonable.
Now, you may figure out that this walker caters almost all the needs of elderly and it is why this rollator becomes one of the best walkers for seniors in the market.
Pros
Foldable.
Easy to open and close.
Large wheels.
Sturdy material.
Cons
Only 250 lbs weight capacity.
2. Drive Medical Winnie Lite Supreme Aluminum Three Wheel Rollator
#Affiliate links.Last update on 2021-12-06 at 21:47
If you are looking for a stylish, extremely maneuverable, and lightweight 3 wheel walker, "Winnie" will satisfy you.
As the name of it suggests, Drive medical Winnie lite supreme 3 wheel rollator to use aluminum as its material. As you know, Aluminum is famous for its strength and lightweight.
This rollator only has 11 pounds weight which enhance mobility significantly and the tan finish is modern and cool.
Even though it is lightweight, it has 300 lbs weight capacity which is larger than most 3 legged walkers which means it would be a good choice for the large man.
The 7.5″ wheel and soft tires ensure enough maneuverability for elderly to walk on grass or other uneven ground. Plus, if you want to carry something, the big tan plaid pouch in this 3 wheeled walker is here to help.
Besides, the adjustable handles and brakes can cater to the needs of most people and you can stop this 3 legged walker just like stop your bicycle.
Compared with Nove traveler, "Winnie" doesn't have an extra tray and basket, but it is more lightweight and has more weight compacity.
Pros
300 lbs weight capacity.
Lightweight walker.
Stylish.
Cons
3. Drive Medical 3 Wheel Rollator – Budget Option
#Affiliate links.Last update on 2021-12-06 at 16:14
This is another best of 3 wheel walkers from Drive Medical and the price is relatively cheaper than "Winnie".
Same as Winnie, the aluminum casting is strong and lightweight and the weight is only 11 pounds too. It is easy to assemble and fold. Hence, taking it out should be a piece of cake even for fragile seniors.
The adjustable handle can change from 31″ to 38″ and the loop lock is quite easy for users to pause or lock the walker.
In addition, the 7.5″ casters in this 3 wheeled walker ensure stability and safety. The tray and foldable basket is removable and provide more space for personal belongings.
This one may not as stylish as the Winnie, but it offers more storage space.
Pros
Cost-effective.
Spacious design for storage.
Lightweight.
Cons
4. Carex 3 Wheel Walker for Seniors
#Affiliate links.Last update on 2021-12-07 at 01:13
If you want to find a good 3 wheel walker for seniors that is slim and perfect for staying beside tables in the restaurant. This 3 wheel trio walker from Carex Health will not let you down.
This rollator features a slim and compact design that makes users easily maneuver in tight spaces. Not like some 4 wheel walkers, you can take this one to any restaurant and put it beside you while having dinner.
It will not stop any others. The compact design makes this walker super lightweight and has only 7.5 lbs weight.
Moreover, the storage pouch has extra pockets on the back where you can put your ID card or cellphones in it.
Even though it is slim and lightweight, it has all the necessary features the best 3 wheel walker should obtain. Users can adjust handles from 31.75″ to 38″ and the lock is easy to handle.
The whole black appearance is tidy and cool and it has a maximum 250 lbs weight capacity.
This model has a relatively high price and the tray and basket are not included.
Pros
Space-saving design.
The lock is easy to use.
The wheels are only 7″.
Cons
5. Duro-Med Folding Rollator Walker With 3 Wheels
#Affiliate links.Last update on 2021-12-06 at 16:14
This Duro-Med folding three wheel rollator is an ideal choice for the elderly who like to go shopping or need to carry a lot of items.
The walker is made of Aluminum which is lightweight (Weight: 15 pounds) and strong. Like other three wheeled walkers mentioned above, it is foldable, adjustable, and easy to assemble.
Hence, using this walker would not be annoying. The compact design makes it is easy for people to pass through the narrow street and noisy shopping district. The 7.5″ wheels ensure stability.
Even better, this 3 wheeled walker has an extra tray and basket. Some people have to carry some medical devices and someone wants to enjoy a cup of coffee while walking outside.
These 2 extra places not only provide more storage space,but make personal belongings organized.
The only shortage of this Duro-Med one is the 220 lbs weight capacity. So,if you are large or overweight,this one may not fit you well.
Pros
Tray and basket included.
A lot of space for storage.
Lightweight.
Cons
The advantages of Triangle walkers
As mentioned, three wheel walkers are well received by seniors. You may be wondering:
Why is three wheel rollator are so welcomed among older adults?
The reasons are as follows:
Lightweight
Compare with most 4 wheel walkers, tri-wheel walkers are more lightweight. It is due to the decrease in wheels and metals be used. In this case, it would be easier for older adults to fold and put in the backseat and trunk.
More maneuverability
As there is only one wheel in the front, users can turn it easier. If you are living in a crowded place or want to bring it while traveling, it will definitely offer you more flexibility and mobility. (See also other narrow walkers for elderly)
Easy to assemble
When you look at the appearance, the structure is relatively simple which means it would not take you much time to get it done.
Storage space
When you use a normal walking cane outdoor, you have to wear a backpack or ask someone to carry your personal belongings.  With the storage bag or tray, you can put anything in it without increasing your body's load.
The drawbacks
Less Stability
Sometimes more maneuverability equals to less stability. The cut of the fourth wheel decreases some stability at the same time. Don't be too concerned! The manufacturers have taken this problem into consideration and it would be fine for most of the seniors.
However, if you are suffering from severe balance issues, you may stay at 4 wheel walkers or other mobility aids your doctor recommended to you.
No Seat
For someone who needs to take a break anywhere, 3 wheeled walkers may not make you satisfied. From our research, it is hard to find a 3 wheel rollator with a seat.
How to choose the best 3 wheeled walker for Elderly?
Measure the width of your door
Even though most triangle walkers are slim and space-saving, it is wise for you to measure the width of your doors such as the bathroom and laundry room.
Pay attention to the adjustable height of the handle
You should choose a tri-wheel walker that is fit your height. Hence, you should pay attention to the adjustable height range of this mobility aid and find the right one for yourself. You may want to know how to measure it, right?
Put on your shoes and ask someone to measure from the crease in the wrist to the ground. This result is the height of your 3 wheel walker.
Choose a three-wheel rollator with a storage bag
It is hard to imagine that someone goes out without taking anything, especially in this modern city. Older adults often need to carry mobile phones, water bottles, or other things that need privacy. Therefore, it is better to choose a walker with a spacious storage bag.
User capacity should be considered
Usually, 3 wheel walker has less weight capacity than 4 wheel walker. Some of them only have 250 lbs. If you are overweight or need extra support from the walker, the weight capacity should be considered.
A lightweight 3 wheel walker will save your energy and time
To lift a walker in the trunk or back seat is a hassle for seniors especially for those with weaker muscle. A lightweight walker for seniors is a godsend and will make your life much easier.
Summing Up
Finding the best 3 wheel walker for seniors or people with disabilities is not an easy task and that's why we come up this review here.
If you want to find a stable and multi-functional 3 wheel walker, you can go , and if you want a super lightweight and slim 3 legged walker, you can go Walker 3 Wheel Trio Roller Walker - Carex Health Brands A33300.
(photo by Marcel Oosterwijk)