The bathtub lift helps seniors and people with disabilities take a bath without any difficulty as it helps the person get up and down with ease. It is a great way to improve bathroom safety and it will not cost you a fortune. See our recommendations for the best bath lifts right now!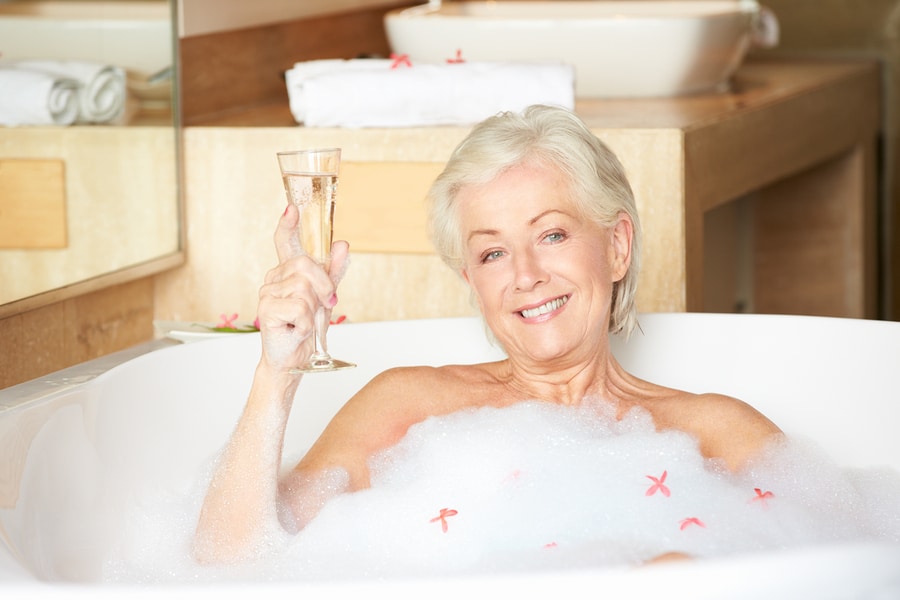 Best Budget Bathtub Lift
Drive Medical 477150312 Whisper Bath Lift Chair, Blue
Best Lightweight Bath Lift
Drive Medical 477200252 Bellavita Bath Lift Chair,...
Best Budget Bathtub Lift
Drive Medical 477150312 Whisper Bath Lift Chair, Blue
Best Lightweight Bath Lift
Drive Medical 477200252 Bellavita Bath Lift Chair,...
#Affiliate links.Last update on 2023-09-22 at 10:23
Best Bathtub Lifts: Reviews
1. Drive Medical Whisper Ultra Bath Lift – Best Budget Bathtub Lift
#Affiliate links.Last update on 2023-09-22 at 10:23
This is one of the best bath lift available on the market; it is quite innovative and best for seniors who want to have a good time while bathing.
You don't have to worry about installation or extra tools; it is simple in use and trouble-free device. Moreover, it is perfect for both deep soaking and standard bathtubs, plus it includes a smart design and you can disassemble it without any hassle.
You can take it with you when you are traveling, apart from that the lift seat includes pad and is extremely comfortable. Other than that the backrest is just perfect, the ergonomic design reduces the discomfort and ensures you don't have to do much of physical effort.
It is best for people who are looking for a budget-friendly product, atop it provides the best value.
Pros
• Fast installation
• Easy to disassemble
• Ergonomic design
• Portable
• Minimum physical effort required
Cons
• Not that durable
2. Dive Medical Bellavita Auto Bathtub Lifter – Best Lightweight Bath Lift
#Affiliate links.Last update on 2023-09-22 at 10:23
If you are looking for a bath lifter that is easy to carry around and store then Bellavita bath lift ought to be your choice. You can use it both at home and even when you are away.
The weight is only 20.5 lbs making it one of the lightest bathtub lifts available. Besides that, it has a height of 18.8 and can go down to 2.3, if you have a deep tub then this is just perfect for it.
The hand control comes with a high-quality lithium-ion battery which is pretty easy to use. Furthermore, Bellavista is easy to install and use, the hand control includes a smart design thus making it easy to get access to the control buttons.
Apart from that, it is extremely easy to assemble and disassemble this two-piece product. You can carry it with you while traveling and when it is not in use, you can fold it down.
Both backrest and seat are padded making it comfortable. Atop it is a perfect bath lift for seniors and the disabled because of its ease of use and comfort.
Pros
• Great construction
• Easy to install and use
• Light in weight
• Comfortable
Cons
• The instructions are not clear
• Battery replacement is expensive
3. AdirMed Bathtub Ultra Quiet Lift Chair – Best Quiet Bath Lift Chair
No products found.
This is another bathtub lift we recommend, it allows you to enter and leave the bathtub without any difficulty. Apart from that it ensures your comfort and is extremely secure for disables, elderly, and many more.
Unlike its competitors, it is more convenient and simple. It comes with a great number of height adjustments; it can reach the height of 18.8'' and can go as low as 2.3''.
You can lower the chair as soon as the side flaps spin up. There is also a hand control which you can use to make the adjustments, plus it is waterproof in case you drop it, you don't have to worry because it will start floating immediately.
Also, it comes with ideal sized buttons that are easy to manipulate while bathing. This is without a doubt one of the most durable bathtub assist devices available on the market.
Pros
• Convenient and comfortable
• Durable
• Adequately sized control buttons
• Ease of use
Cons
• It gives limited recline if the tub is small and the user is tall
4. Bathmaster Deltis Bathtub Lift
#Affiliate links.Last update on 2023-09-22 at 10:23
Getting into and out from the bath can be difficult if you are going through some mobility issues, that's when you need a good bathtub lift. Bathmaster Deltis Bath Lift includes an innovative design and is just 6.8 kg, besides that it is simple and you can install it quickly.
Moreover, this bath chair lift includes a durable plastic that you can clean easily. The best part is it fits perfectly in all varieties of bathtubs, other than that it comes with a comfortable backrest which provides outstanding support.
Pros
• Compact
• Comfortable and provides excellent support
• Comes with modern technology
• Quick installation
• Lightweight and portable
Cons
• According to a few users, it quits working after a short period of time
5. Mangar Archimedes Tub Lift Chair
#Affiliate links.Last update on 2023-09-22 at 10:23
If you need support while getting in and out from the bathtub then Mangar Archimedes bath lift is all you need. It is ideal for everyone, quite easy to install and uses a battery for power.
Additionally, the lift includes a design that makes sure the user can sit as further back as possible.
As compared to its competitors it gives more legroom. Besides that it comes with anti-pinch flaps, they ensure that your skin doesn't catch on the lift.
Pros
• Durable
• Provides greater leg room
• Comfortable
• Simple and easy to install
Cons
• The armrests are not that strong
6. Lumex Splash Bathtub Lift Chair
#Affiliate links.Last update on 2023-09-22 at 10:23
If you want to find an ultra-light bathtub lift for disabled, this Lumex one would be a good choice. It is easy to transport as it is extremely light in weight. Besides, it comes with all the elements that ensure safety.
This lift is quite easy to operate. However, it may be not wide enough for some tubs.
Pros
• Simple and practical
• Greater water immersion helps in maintain personal hygiene
• Easy to operate
• Safe to use
Cons
• Not suitable for extra-wide tubs
What is a bath lift?
Many people are not familiar with the idea of bathtub lifts; there are chances that the majority of you might not have actually seen this product ever. But that's alright, you can still benefit from this device.
An electric bath lift chair prevents the risk of getting injuries. They work efficiently by lowering the individuals in the bathtub and afterward, it lifts them gently out from the bathtub.
The good bathtub lift is the one which comes with extended edges or you can also call them wings, you can use these edges to transfer to the chair instead of using an extra bath transfer seat.
The seat is in the middle; it is strong and extremely durable. As soon as you are comfortable sitting on the seat the next step is to fill the water in your bathtub, after that all you have to do is use the lift to lower yourself into the bathtub.
A tublift is usually two to three inches up from the surface of the bathtub they don't touch the bottom. The best part is that you can easily lean back on it hence allowing you to relax and enjoy your bathing.
A few of the models come with suction cups that perform suction to the bottom of a bathtub; this ensures the lift stays in position when a person is in the tub.
Who need a bathtub lift?
The bath lifter helps you easily sit down or exit the bathtub. It is a cheaper alternative to a walk-in bathtub.
The people who will be fascinated by this product are as followed:
Elderly– at a certain age you realize that there are many things you cannot do easily which you used to do when you were young and vibrant. One of such things is a good, relaxing bath; the issue is a bath call for a lot of energy to get in and out.
A bath lift for elderly ensures they are safe and are prevented from getting hurt. People often use it when they do not have enough muscle strength.
Injured Individual– a person can get injuries at any age, maybe you experienced a leg injury, a hip surgery or any spinal issue. These injuries can make it very difficult for a person to take bath.
That's when you might require an electric bath chair lift. Most doctors recommend patients to take baths when they have experienced an injury because they are quite refreshing and beneficial for the body.
Disabled People– a bathtub lift is a blessing for a disabled individual; it allows them to enjoy the bath easier. If a person is in a wheelchair, they can use the extended edges to easily transfer a person to the chair.
The bathtub lift chair has a lot to offer, it is a ray of hope for people who cannot enter or get exit the bathtub normally due to some physical disability.
The commendable thing about this device is that it works with only a click of a button. With it, on your side, you don't need the help of another person to get you out, plus it helps you to easily enter as well.
You can also consider installing bathtub safety frame and using an adjustable height shower head to make you feel more secure when bathing.
What are the types of bathtub lifts for seniors?
There are many kinds of tub lifts available on the market, to be more specific they can be divided into two groups: one being 'portable free-standing models' and the other 'permanently installed models'.
Some are permanent needs to be installed in floors, walls, or even ceilings before someone can actually use it. However, the free-standing models are more portable and quite easy to install.
Even they are very simple to use as well, after using it you can remove it and store it safely.
As far as the lifting mechanism is concerned you can classify them into four categories:
Manual
Basically, a manual bath lifter utilizes a mechanical lift mechanism to work, which means that it is operated using a crank that is turned by hand.
Moreover, you can opt for hydraulic manual tub lifts, all you have to do is just sit straight in it and press on the bath rims. The seat gets elevated due to the help of a hydraulic piston mechanism.
However, your arms and hands get fatigued quite quickly by using it. Plus, they are also not suitable for people with some kind of disability or for aged individuals. That's the reason bathtub lifts for seniors are mostly electrically-powered.
Battery powered
This product lower and elevates the chair by using rechargeable batteries. If you are looking for a bath lift for seniors then battery-powered products are apt for you.
You will find a pair of push-buttons on it that will help to lower and elevate the bath chair. It can go out of power but before that, it can be easily used for almost twenty lifting cycles.
The best part is if the battery runs low and is not able to complete a life cycle then the safety mechanism will automatically activate thus preventing the chair to descend further.
Air-powered
This product comes with an inflatable cushion that further attaches to an air-pump. This is also an electrically-powered bathtub lift, furthermore, it has push-buttons, and by pressing them you can lift or lower the bath chair lift.
Water-powered
A bath lifter powered by water comes with water pipes which develop water pressure that is further used for the mechanism for lifting. These bathtub lift chairs are usually joined to a shower pipe which provides a route for the pressurized water.
Our Verdict
It is paramount that you always keep the safety in mind especially when you are getting older or have some mobility issues. Having a bath lift could make the bathing much easier. We recommend you to choose a high-quality electric powered one that will last for a long time.