For grandparents, there's nothing better than getting to capture the happy moments of their lives with their children and grandchildren. Having a digital camera at hand makes it possible for them to preserve the memories. However, dealing with DSLR (digital single-lens reflex) cameras can sometimes be challenging. Therefore we select some good cameras that are simple and easy to use for your loved ones.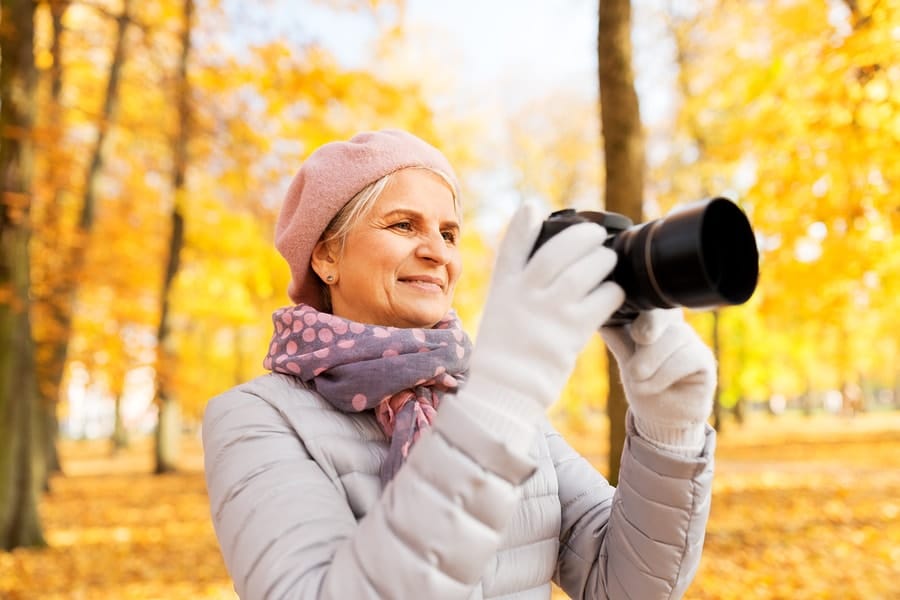 Our Picks for Best Cameras for Seniors
Here is a table of our favorite cameras, with our top choice being the Polaroid Snap Instant Camera:
#Affiliate links.Last update on 2023-12-03 at 00:14
Best Simple Camera for Elderly Reviewed
We have gone over the best cameras for seniors and have provided you with information to see which one suits you most.
1. Polaroid Snap Instant Camera — Best Overall
#Affiliate links.Last update on 2023-12-03 at 00:14
If you're the kind of person who prefers a simple camera for seniors that can print photographs, this is for you.
When you take a photo, the integrated ZINK technology prints out 2-inch by 3-inch snaps, which will not get smudged and last a long time, it can hold up to 10 papers at a time, each taking less than a minute to print the image. The 10-megapixel image sensor with six filter options will produce high-quality pictures with the right tone and mood.
It's compact enough to fit in your pocket and uses a rechargeable battery. You don't need to go through any digital menus or use LCDs with this product. You simply snap the button looking through the viewfinder, and the photo is taken.
Pros
Can print out photos.
Has several filter options.
Simple to use.
Battery can be recharged.
Cons
No controls for the flash.
2. Canon PowerShot SX620 — Best Smart Camera
#Affiliate links.Last update on 2023-12-03 at 00:33
You'll enjoy capturing all your favorite memories with this camera. It provides up to 25x optical zoom, which has an automatic mode. You can take high-quality images with its 20-megapixel sensors, even when there's hardly any light, without having to worry about any technical stuff with the Smart Auto function.
It also features an image stabilization system with four different settings, so images will not be blurred, and any video footage will be much less shaky. An LCD screen in the back will give you a clear view of what you're snapping. Built-in WiFi makes sharing your photos very easy.
Pros
Provides a powerful and automatic optical zoom.
No blurry images or shaky video.
LCD screen makes for easy viewing.
Does all the technical tweaking for photographing on its own.
Cons
Does not have USB charging.
3. Canon VIXIA HF R800 — Best Dual Camera & Camcorder
#Affiliate links.Last update on 2023-12-03 at 00:33
With this product, you'll be able to record all the meaningful memories and experiences you have with your family.
With 57x zoom and different speed settings as well as frame assist, you get to have dynamic footage. You can also do slow and fast motion filming.
The image stabilization system makes sure that all the photos and videos you take remain steady, even with zoom changes and when walking while filming.
The 3.2-megapixel image sensor will provide you with a high-resolution picture with natural color, even in conditions of low light.
The whole thing is compact and light in weight. There's an LCD screen with a touch panel which you can use for playback and viewing, making this an easy to use digital camera for seniors.
Pros
High zoom range.
Provides frame assist while zooming.
Capable of capturing slow and fast motion.
Compact and lightweight.
Cons
Does not have HDMI output.
4. YI 4K Action and Sports Camera — Best Action Camera
#Affiliate links.Last update on 2023-12-03 at 00:33
A product that combines versatility, accuracy, and durability, you can shoot videos up to 4K in resolution quality and take 12-megapixel images with its advanced image processor.
An electronic image stabilization system ensures smooth footage as well as sharp images, even when the camera shakes, tilts, or moves.
It features an impact-resistant LCD and a robust overall design, making this a long-lasting camera.
Every pic you take can be instantly shared via the built-in Bluetooth or WiFi, including the ability to live stream directly to social media. The battery is rechargeable and lasts for more than enough time to capture everything you want.
Pros
Resistant to impact.
Capable of live streaming.
Capable of capturing 4K video.
Cons
Problems have been noted with the sound quality.
5. Sony Cyber-shot Digital Camera W830 — Best Camera for Budget
#Affiliate links.Last update on 2023-12-03 at 00:33
A camera that's easy to use and gives you highly detailed photos and video, which is also capable of taking 360 degrees panoramic pictures.
With an image sensor of 20.1 megapixels and an 8x optical zoom, you'll get to capture stunning images at high resolution.
An image stabilizer makes sure all your images are without blur, even with shaky hands or using it while moving, and the LCD screen provides crisp, clear viewing.
Intelligent auto mode saves you all the effort in setting parameters. Changes can be made to the photos you take by adding or removing certain effects for better quality, and it's able to detect up to eight faces and adjust its settings accordingly.
There's also a smile shutter technology capable of taking the photo the moment your loved ones smile.
Pros
Capable of taking panoramic photos.
Has smile shutter technology.
Can edit images after taking them.
Has face detection technology.
Cons
Processing photos can take a bit longer than usual.
6. Canon PowerShot ELPH 170 IS — Best Small Camera
#Affiliate links.Last update on 2023-12-03 at 00:33
With this slim and stylish camera, you'll get to capture all the moments in your life that you love, whether they are silly or special.
Having a 20-megapixel image sensor and 12x optical zoom capabilities, you'll start filling up your album with beautiful images.
The image stabilizing system compensates for any shakiness or movement while using the camera.
The Smart AUTO function does all the heavy lifting for you when you frame the shot. Several shooting modes in this product allow you to add more flavor to your photographs without needing filters or lenses.
It also has an ECO power-saving mode, which lets the batteries last longer with you. Additionally, there's a help menu which you can access on the camera's LCD screen.
Pros
Power saving mode.
Provides a variety of shooting modes.
Smart AUTO function.
Cons
Doesn't have a viewfinder.
How to Find the Best Cameras for Seniors
As we mentioned before, it can sometimes be confusing for some of our parents and grandparents to deal with today's gadgets. My parents always need to ask for help when using a tablet or laptop.
So to find the best and simple cameras for seniors, let's briefly go through a few things to consider.
Simplicity and Automation
It's pointless getting a camera that involves too many manual controls and settings. It will end up taking away your chances of capturing a lovely moment in your life because of all the adjustments you'd have to make to get the right picture, especially if you're not experienced in photography. Instead, you want an easy to use digital camera for seniors.
The best cameras for seniors should come with automated functions that do all the photography work for you and would make everything easier for your parents or grandparents to use.
Additionally, cameras with LCD screens for viewing will save them the trouble of having to use a viewfinder unless they prefer it old school, like the Polaroid Snap Instant Camera.
It will also provide them with editing and playback options, like the Sony Cyber-shot Digital Camera W830.
Image Stabilization
Our skill and ability with fine control movements can fade away as we grow older. Some of our seniors can have health conditions that lead to their hands getting shaky.
It's important that the best cameras for seniors account for this and stop this little setback taking away their joy at capturing photos or videos of their loved ones. 
Resolution & Optical Zoom
A good guideline when it comes to evaluating cameras is the more megapixels, the better. The more there are, the higher the photo's possible resolution is, and the sharper and more detailed the image is even when zoomed in.
You'll be able to print it out in larger sizes and perhaps be able to frame some of them in your house. 
Additionally, the more powerful a camera's zoom is, the better it is at capturing faraway objects with better detail, such as the Canon VIXIA HF R800 with its incredible 57x zoom!
It can be a bit more difficult to get stable images or footage in high zoom settings, but the image stabilization included in the camera usually compensates for this.
Budget
Needless to say that price matters always, but that's also up to your own financial capabilities as well as how generous you feel about getting a present for your seniors.
If you are yourself a senior reading this, then make sure to find the camera that fits your needs best and will not drain too much money from your wallet.
Conclusion
Now it's time to see which of the best cameras for seniors is victorious.
In a photo finish, the Polaroid Snap Instant Camera takes the win. It combines the things we're looking for while still being an easy to use digital camera for seniors.
It's simple and does not involve any complicated modes or features. The old meets the new with this camera's digital image sensor as well as its photo printing. 
Our runner up is the Canon PowerShot SX620, it has an impressive optical zoom and boasts a powerful 20-megapixel image quality.