Finding the best flooring for elderly residents can be confusing. Safety is a top concern, as falls contribute to a high number of injuries in those 65 and older.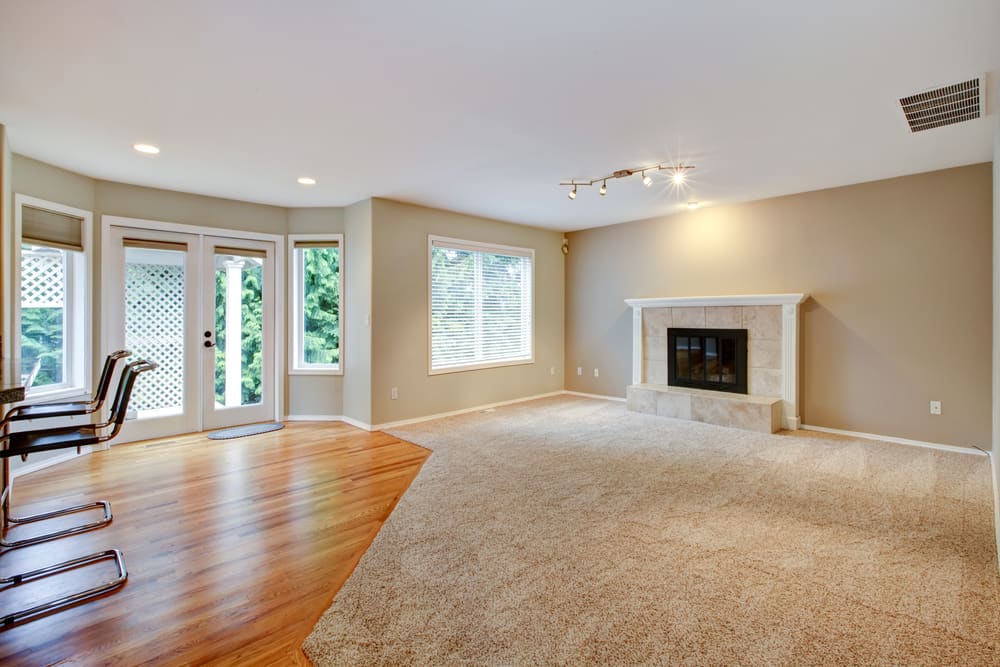 However, it's essential to have something comfortable and durable. Here are six ideal flooring types for aging seniors.
1. Carpeting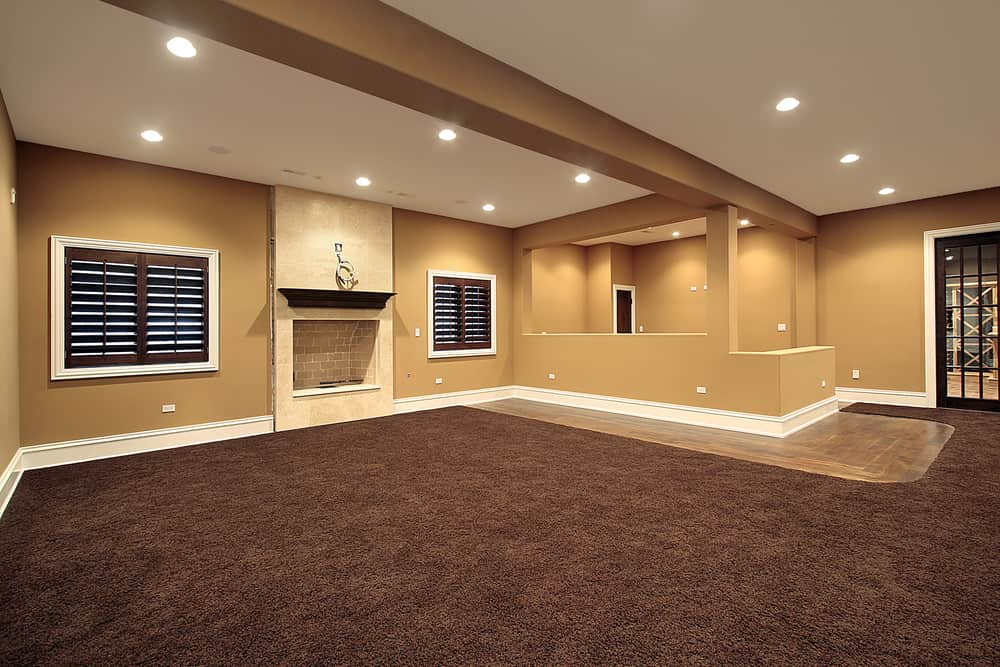 Carpeting first came about in 1791 in the United States with William Sprague's carpet mill. The manufacturing process didn't become industrialized until the 1930s. Originally made with the only cotton, today's carpeting contains synthetic fibers. Dalton, Georgia currently produces over 70% of the world's carpet and is nicknamed the globe's "Carpet Capital."
Carpets provide good protection against falls since they are slip-resistant. If falls do happen, you're less likely to sustain serious injuries. The thicker the cushioning, the better.
Comfort and insulation against cold temperatures are additional benefits. It's hard to compete with the soft feel of carpet under your feet.
However, carpets come with more maintenance. If you spill something or your pet has an accident, it can be difficult to remove stains and odors.
You also have to vacuum and clean carpets regularly. Suppose you have allergies or conditions that impair your breathing abilities. In that case, carpet may not be the best choice unless you invest in a lightweight vacuum with HEPA filtration or a professional cleaning service.
HEPA filters remove air particles that contain pollen, dust mites, and other harmful substances. They can get rid of up to 99.97% of these particles, according to the EPA.  
2. Vinyl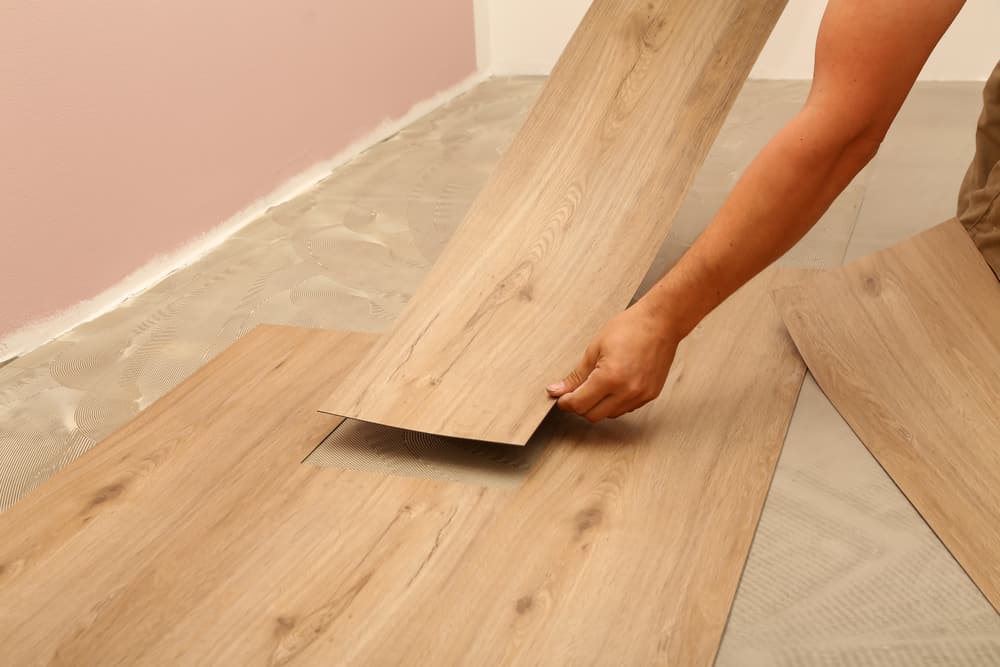 Waldo Semon was responsible for inventing vinyl in 1926. The material was first called PVC and 1933 was the year vinyl flooring became known to the public. Vinyl flooring reached the height of its popularity in the 1950s and continued to experience strong sales through the 1970s.
The 1980s saw a few setbacks, as people discovered that asbestos in vinyl was harmful. Manufacturers stopped using asbestos to make vinyl floors.
Vinyl flooring is a good choice in areas with a lot of foot traffic. The material is durable, and it doesn't take much to keep it clean. Vinyl is attractive non slip bathroom flooring for elderly individuals. 
The best part about vinyl is it provides a smooth surface, making it easier for seniors to move around, especially with walkers and wheelchairs. The material is waterproof, so it won't sustain damage and stains from spills.
Yet, there are some critical drawbacks to vinyl you'll want to consider. First, it doesn't provide cushioning. The material is harder than carpeting and cork, so you might want to put down mats or rugs in areas where slips are a concern – think right outside the shower or near doorways.
Other potential problems include damage from heavier items like couches and refrigerators. Falling sharp items such as knives also have the potential to ruin vinyl flooring.
After installation, you might notice a strong chemical smell. This type of flooring is known to release gases and mercury that seniors might not want to expose themselves to.
3. Cork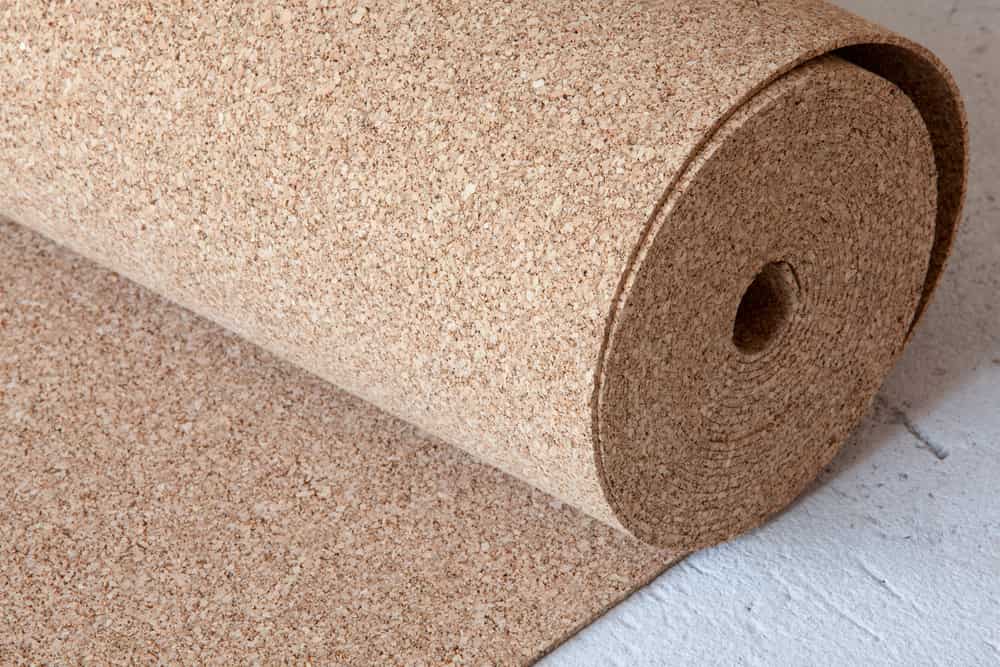 No, this flooring is not a bunch of wine corks stuck together. But it's made from the same materials that come from evergreen oaks in Spain, Portugal, and Southwest Africa.
The former Toronto stock exchange in Canada contained cork flooring. Many other buildings like restaurants and gyms have it because of its sponge-like feel. Less stress is put on the joints of those who have to stand most of the day.
Cork flooring can be a good option for seniors because it is comfortable and can absorb the impact of falls. It is also hypoallergenic and mildew-resistant.
If you're an elderly homeowner, you'll enjoy the ease of maintaining cork flooring. Either vacuum or sweep up dust and debris. Cork is stain-resistant, but you can mop up any spills. This type of flooring makes good non slip kitchen flooring. It's also best for living areas or rooms that don't get a lot of moisture.
The downsides of cork include less longevity and being damage-prone. When heavy appliances or furniture can cause small cuts, moving furniture and appliances can lead to scratches and dents that compromise appearance.
Cork is also not resistant to moisture and mildew, making it a poor choice for bathrooms, master bedrooms, and areas with high humidity. When moisture gets trapped, cork flooring can begin to buckle, which increases the chance of slips and falls from unevenness.
You'll have more upkeep to do each year with a cork floor. You will have to reapply the sealant that keeps the flooring in place since it loses its ability to stay put over time.
4. Rubber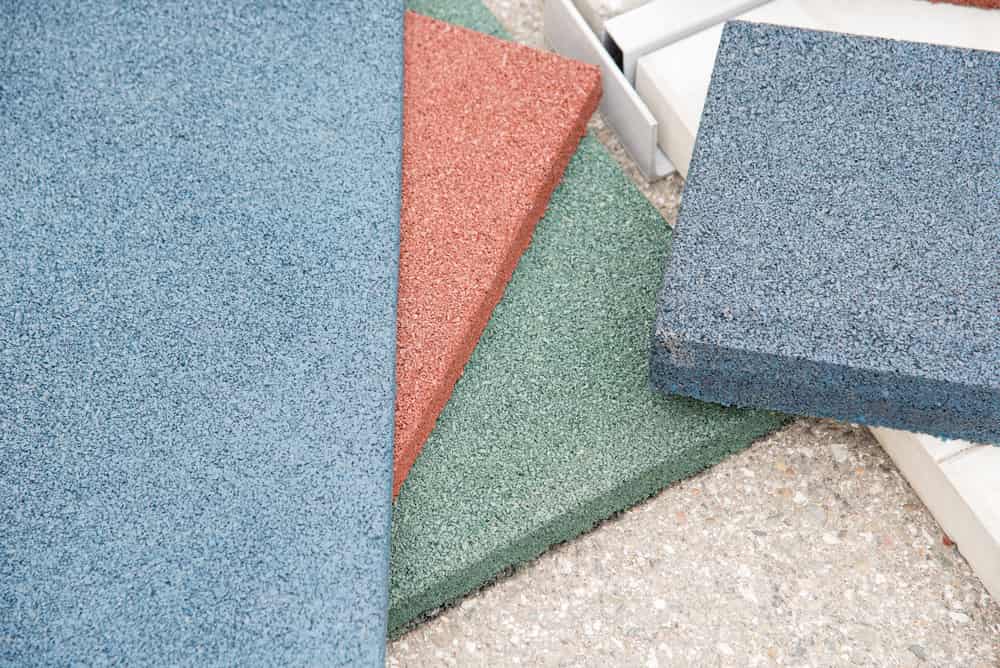 The first time rubber became flooring was in the 1950s. However, the most well-known initial installation of the flooring material was in 1969, when installers put rubber tiles into the Frankfurt airport in Germany.
Rubber now comes in a variety of colors, shapes, and textures. It has a low environmental footprint and comes from synthetic materials.
Rubber floors have several superior advantages. They're slip-resistant, even when moisture is on them. Rubber also causes friction when movement happens on the surface and provides shock absorption from falls.
The material is soft, giving comfort to your feet. It stays warm when the weather gets colder and cool when the temperatures go up.
Since rubber is so durable, it can last for many years. Even if you put rubber in high-traffic areas of your home. You'll notice less sound from walking and other movements across the floor.
Unlike vinyl, rubber does not release toxic chemicals and can resist fires and burns from things like cigarette butts.
Rubber, however, isn't the most attractive flooring option. It can cost more and can start to curl up if water gets underneath it. To avoid slips and falls, you'll want to go with textured rubber flooring options, as smooth rubber surfaces can become slippery.
Some flooring experts consider rubber to be the best choice for seniors who want to age in their homes.
5. Linoleum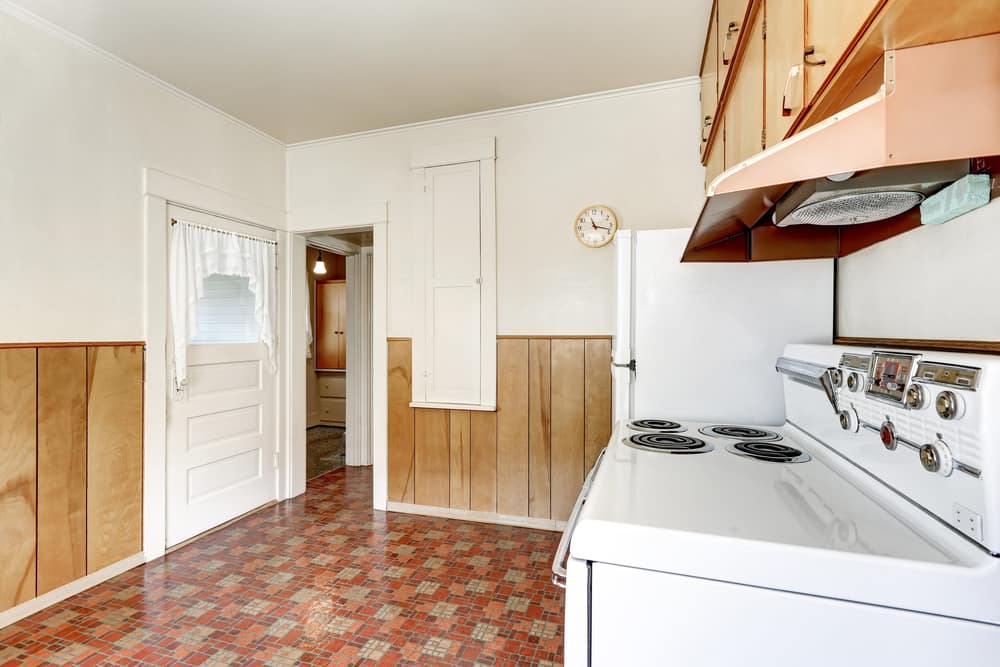 English inventor, Frederick Walton, created linoleum in 1855 during an experiment for paint finish. He was able to secure a couple of patents in 1860. Nine years later, countries were exporting linoleum to the United States.
Linoleum is known for its dynamic appearance since it can come in different patterns and colors. In some cases, it can resemble carpet patterns and mosaics.
Linoleum is made mostly from plant-based, natural materials like linseed oil. It is simple to clean and does not pick up air particles like dust mites and pollen. Improved air quality in your home or assisted living facility is a benefit of installing linoleum.
This flooring type is resistant to water and has a smooth surface for wheelchairs and walkers.
However, linoleum does not have a lot of cushions, and you may need to put down mats and rugs in high-risk areas. The material can cost more, even before installation. If comfort is a need, linoleum is not going to provide it. You'll need socks and slippers for cold weather. 
6. Hardwood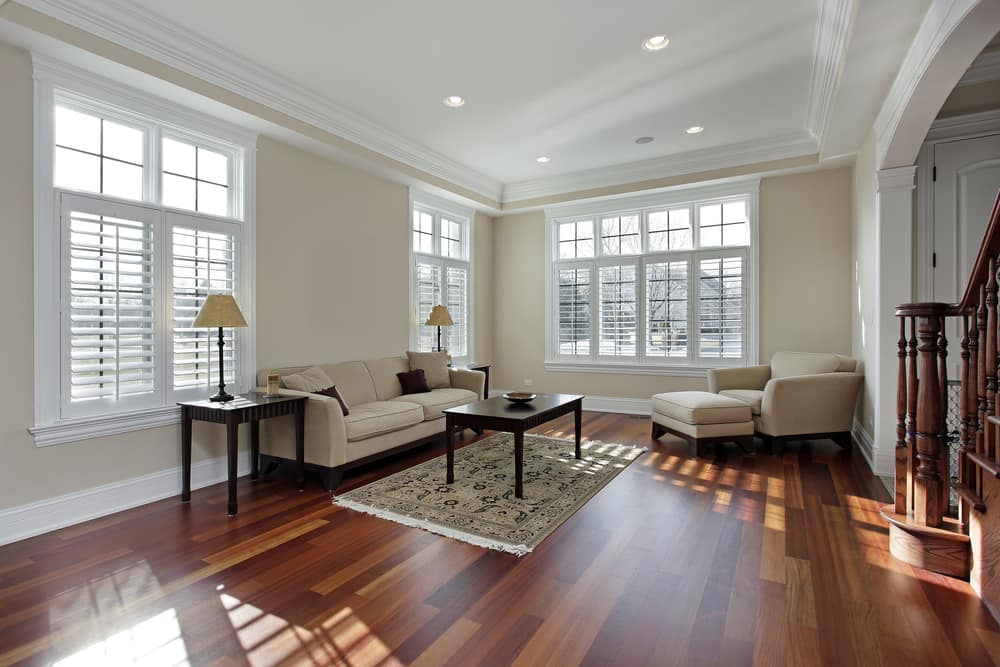 Colonial America contains some of the first known uses of hardwood flooring. Cut from forests, early hardwood floors consisted of thick and wide planks. It was more difficult to cut and make from certain types of trees. 
Over time, it also became apparent that wood could expand and contract with temperature changes. This created gaps for cold air to seep through so the manufacturing and installation process was modified to include L profiles that connected together.
Hardwood can be made of different kinds of wood and can add resale value to a home. Laminate flooring is sometimes substituted for hardwood because it costs less. Bamboo is another type of wood that some geographical areas prefer to use due to higher supply levels.
The benefits of hardwood floors are they are simple to clean and do not show as much dirt. Some people find them easy to maintain, but hardwood can require occasional refinishing to keep its appearance.
Another top advantage of hardwood is its aesthetic value. While it's a sturdy material, its costs and unmatchable appearance are why hardwood floors are so popular.
As people age in a home, there are some disadvantages to leaving hardwood in place. It does not have good soundproofing and lacks cushioning against trips and falls. You'll want to put down rugs or some type of soft surface in slip-prone areas.  For example, you are likely to install some non-slip strips or treads on hardwood stairs.
There is more maintenance involved with wood flooring besides staining and refinishing. It is more vulnerable to water damage. If water is left long enough on the flooring, the damage becomes irreversible.  
You also have to vacuum it to remove dirt and debris. It is not the best choice for kitchens and bathrooms.
Making Your Choice
With each type of flooring's different advantages and disadvantages, seniors should prioritize their wants and needs.
Is safety most important? Or does it come second to appearance?
By prioritizing each factor, you can make the best choice.
Did you like our list? Please comment below and share this article if you found it helpful.