There are endless gift ideas for the elderly, so why do we often think it's hard to choose the best gifts for seniors? Perhaps it's because many elderly people have everything they need, or we assume they do at least!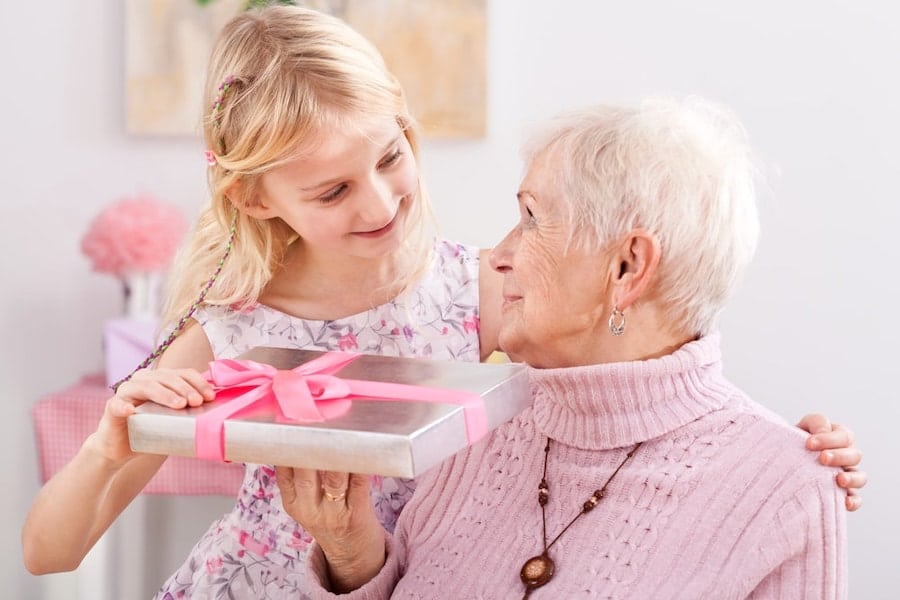 If Christmas or a birthday is coming up (or you're pressed for time to shop) choosing a gift can feel like a chore. If you're looking for inspiration, you've come to the right place. Here, we've compiled a bumper list of gift ideas for old people.

Let's take this a little further though and see if we can turn this into an opportunity to appreciate your loved ones even more. So drop any preconceived notions you might be harboring about the elderly and proceed with an open mind!

To help you with gift ideas for the elderly, we've broken our suggestions down into categories including revisiting the past, enjoying food and drink together, here and now, and classic gifts for old people.

Revisiting the Past
Take a moment to get to know your seniors a little better. They have a lifetime of experience that you'll only hear about second hand.

What was it like to grow up then, what early events shaped their future, were there any regrets along the way, and, crucially, what memories shouldn't be lost?

#1 Photo Album to Collect Images and Memorabilia
#Affiliate links.Last update on 2023-09-22 at 05:57
Collate important moments and memories with a photo album and offer to help organize the images into complete stories. Different chapters in life lend themselves well to images and memorabilia connected in a photo album.

Sorting through old photos also brings back memories of the past and the people who were there.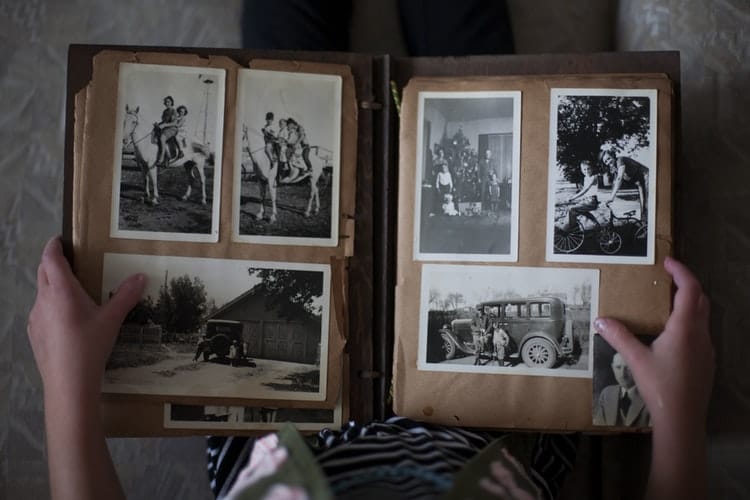 #2 Scrapbook for Letters and Stories
#Affiliate links.Last update on 2023-09-22 at 05:57
Aside from photos, any old box of memorabilia crying to be sorted out will probably contain letters and documents.

These tell a compelling story, especially when paired with photos and clippings as historical illustrations. Suggest writing notes that recount what happened at key points in time. My grandfather wrote his wartime story for me when I asked him to and it's a precious family treasure now.

Buy a scrapbook to collect the stories worth sharing. Help the senior in your life Illustrate the letters with pictures, clippings, and anything else remaining from that time.

#3 Dictation Device
#Affiliate links.Last update on 2023-09-22 at 05:57
I was part of a local historical society once, and we purchased a quality digital recorder. Then we sat down with older neighbors and asked them questions to elicit stories going back nearly a century. The stories that came out surprised us and found their way into a local archive created for that purpose.

Some seniors may prefer to tell the story face-to-face and others at leisure in private, by themselves. So an easy to operate recorder avoids the need to write everything out, something health may not permit some older people to do.

#4 Genealogy Kit or an Ancestry Test
#Affiliate links.Last update on 2023-09-22 at 05:57
Older people are the remaining links to those who have passed on already, and they know that. A genealogy kit and a DNA ancestry test can help connect memories of people and one's own self-identity with others alive and deceased. An ancestry test can reveal a lot about the past and possibly open up many new lines of interest.

#5 Pen, Journal and Writing Prompts
#Affiliate links.Last update on 2023-09-22 at 05:57
Let's get the whole story out. Turn up with a pen and a journal, or a self-instruction book with writing prompts. But whatever it takes, make it easy for them to write down their life story. It's unique and deserves to be heard.

#6 Personalized Puzzle
#Affiliate links.Last update on 2023-09-22 at 05:57
There are different services available that can produce a puzzle from a digital photo. It's a fun way to connect older people with younger family members and vice versa.

Enjoying Food and Drink
The best gifts for seniors are not always material objects. Older people place less value in 'things' and are more conscious of the here and now. Food creates memorable moments if the food is extraordinary and friends and family can gather to enjoy it together.

#7 A 'Special' Dinner
Depending on how far away your loved ones live, sharing a meal may not be special, but that's easily fixed by choosing to dine out somewhere or arrange a special event. Beyond cooking a favorite meal, or taking your elders out to their favorite restaurant, it's worth exploring how you can reconnect with a past version of themselves.

What did their mother cook for their birthdays? Are there special memories around meals that could be re-created as an event? If you gather family and special friends for a family celebration, use that opportunity to ask your elder to tell a story from that time.

Need some ideas? Check out Eat, Laugh, Talk: The Family Dinner Playbook.

#8 Recipe Journal
#Affiliate links.Last update on 2023-09-22 at 05:57
There is always a recipe passed down the family that has become a tradition in itself. These deserve to be cooked together. There's nothing like turning up with a box of shopping, some treats, and a bottle to celebrate and cook.

A recipe passed on in this way can become a treasured memory in its own right. A family recipe journal is the perfect way to record special recipes.

#9 A Gift Wrapped Bottle
#Affiliate links.Last update on 2023-09-22 at 05:57
Gift wrapping a bottle of favorite liquor may seem like an easy way out, but if done with attention to taste and occasion, it's the ideal gift. Bring something to eat, sit down in front of the fireplace, or wherever the season dictates, and tune out the rest of the world. What better gift than time and attention?

Do it Together
#10 New Curtain and Picture Frames
#Affiliate links.Last update on 2023-09-22 at 05:57
Gifts are symbolic and show respect. The best gift for seniors we can give is time. More often than not, presents are appreciated for the effort and thought they represent, not their monetary value. So why not turn up with a set of brushes and a can of paint to touch up that flaking paint in the bathroom?

Or, how about bringing some picture frames to hang, or a new curtain you can help put up. It's about doing it together.

#11 Souvenirs
#Affiliate links.Last update on 2023-09-22 at 05:57
Wherever you live, there are fun things to do that older people don't necessarily want to do just with other elderly people. A boat excursion, a cultural festival, or a music event or even a holiday can be so much more enjoyable together with family.

All they want is for you to come along at their own pace. So why not surprise them with tickets for the whole family, these can then become collectible souvenirs.

Here and Now
#12 Flowers
#Affiliate links.Last update on 2023-09-22 at 05:57
Granted, flowers are a safe bet but all too often we forget just how beautiful it is to receive flowers and have the delightful scent linger in the house for days.

Turning up with flowers or having flowers delivered, is one of the best gifts for elderly women and cannot but help bring about smiles. Just make sure you're there long enough to appreciate the scent for yourself.

#13 Meal With a Grandchild
#Affiliate links.Last update on 2023-09-22 at 05:57
Simple to organize and always appreciated. Provided you have a willing grandchild to hand, a private meal together somewhere with food both older and younger people enjoy is a heartwarming gift. Failing that, some new ideas for meals to entertain grandchildren may be welcome.

#14 Surprise Party
I'm not suggesting turning up unannounced with music and confetti—older people don't always like those kinds of surprises! But why not upgrade a small family dinner into a neighborhood extravaganza, or bring along some old friends to a planned dinner date?

#15 Digital Photo Frame
#Affiliate links.Last update on 2023-09-22 at 05:57
This is a great way to stay connected without strain. Imagine a Wifi-connected photo frame that is updated with photos from yesterday's school events at breakfast?

#16 Personalized Calendar
#Affiliate links.Last update on 2023-09-22 at 05:57
A more traditional gift that never loses its appeal is a monthly calendar with personal photos. To make your gift even more special, take the time to add the dates of family events that you'll all celebrate together.

#17 Monthly Organizer
#Affiliate links.Last update on 2023-09-22 at 05:57
In reality, you will never have as many opportunities to be with your parents or seniors dear to your heart as you would like. And when you do get there, you become so embroiled in sorting out their phone bill, making sure the insurance is up-to-date and pestering the plumber for an appointment, that time evaporates before you have a chance to sit down.

So let's get the paperwork organized with a monthly bill organizer and planner. With all the ducks in order and bills in one place, there's less time spent worrying and more to enjoy with family.

#18 DIY Greeting Cards
#Affiliate links.Last update on 2023-09-22 at 05:57
Here's another one that doesn't really need a prompt. But avoid zero-effort, just-sign-here cards. Instead, take the time to add something of your own.

Whether that's sitting down and filling more space on the card with heartfelt messages, by inserting a little talking point in the envelope to start a conversation next time, or by designing a card yourself, it will be appreciated. Whatever you do, steer clear of no-effort solutions.

#19 Secrets of Grandmothering
#Affiliate links.Last update on 2023-09-22 at 05:57
Grandmothers and grandfathers deserve to be reminded of how great they are and the importance of their role in the family as a whole. Linda Eyres' Grandmothering: The Secrets is a celebration of everything that makes being a grandparent so great.

Looking Forwards
#20 Plants for the Garden
#Affiliate links.Last update on 2023-09-22 at 05:57
Springtime is one good occasion to bring yourself and whatever other family members can free the time and spend a weekend day to give your elder's garden a decent makeover. Bring along some succulents or other easy-care plantings and the garden will be so much more inviting. You can also help them mow the lawn.

#21 Senior-ready Cellphone
#Affiliate links.Last update on 2023-09-22 at 05:57
When sight and motor control aren't as good as they once were, making a phone call can become difficult. A phone that is easy to dial and hold could mean the difference between isolation and a continued social life.

It's quite normal for older people to ask for a phone featuring bigger buttons and larger print that is easy to hold. These considerations combat both failing sight and loss of strength in the hands.

#22 Amazon Echo Dot
#Affiliate links.Last update on 2023-09-22 at 05:57
While some matriarchs and patriarchs view technology with suspicion, many are more than happy to embrace the benefits of new tech. Bring a little AI magic into your senior's home with an Alexa. Not only will the elderly person you're buying for have all their favorite music at voice command, but they can also listen to podcasts and much more.

#23 Mobility Aid
#Affiliate links.Last update on 2023-09-22 at 05:26
Lack of mobility means being stuck at home, unable to get fresh air and take part in social activities. There are excellent options for travel wheelchairs that are lightweight, sturdy and fold compactly for easy storage and transport. 

The Karman Ergonomic Ultra Lightweight Wheelchair is an excellent choice, for instance. If your loved one is in need, especially if their mobility has significantly declined, it's good to get advice from a medical professional. They may recommend a walker or a mobility scooter instead.

#24 Large, Colorful Wall Calendar
#Affiliate links.Last update on 2023-09-22 at 05:57
As work and projects disappear from life for a retiree, monotony can set in. Gifting a calendar, especially a large and bright one can revive anticipation and get seniors interested in upcoming birthdays, public holidays, and social events. Make sure you come equipped with a list of dates.

If in Doubt, Give a Classic Gift
Until this point, we've taken more of a social line. Many of the above gift ideas were about creating a meaningful opportunity to give time to your loved ones.

But we don't live in an ideal world with enough time and where seniors feel healthy and ready to receive the family at any time of the day. So, what else should be considered?

Here are a few more ideas just in case you haven't seen the perfect gift for your loved one yet.

Ideas to Give Comfort and Convenience
Old age brings with it pains and challenges that can be overcome with technology.

A key and wallet finder can relocate missing objects.
An alarm clock with a physical alert can wake your senior even when hearing aids are removed.
With sound-amplifying headphones, it's not necessary to raise the TV volume uncomfortably high.
Lanyard neck-straps help prevent cellphones from being accidentally misplaced.
Ideas For Health and Safety
Note that sitting on a soft cushion is a very sedentary activity, not recommend without frequent breaks.

If the senior has an aching neck, lower back, or sore feet, then there are a number of products that offer relief:

Massage pillows will relax tense & sore muscles, ease fatigue and muscle pain.
An exercise mat is all that is needed for a lot of exercises to keep the body supple.
A seat cushion made with memory foam reduces pressure and improves posture to provide real relief of lower back pain and sciatica.
Adaptive footwear can relieve swollen feet.
If it's arthritis that's causing the discomfort, then exercises can engage both mind and body. Recommend home exercise equipment includes:

Elliptical trainer
Rowing machine
Resistance band
Free weights
Exercise ball
Note: Always seek medical advice before beginning self-treatment of medical conditions.

Ideas For Entertainment and Pleasure
The search for entertainment never ends, but with age, the pleasure in detail grows, such as completing a big puzzle or paying close attention to weather patterns. And the cognitive benefits of keeping the mind busy should not be underestimated.

You can never go wrong with playing cards for entertainment, so make sure there is a pack in the house. My mother used hers to play solitaire, and she would also set up giant jigsaw puzzles. My grandfather was a former pilot and so never stopped diligently recording weather statistics. There are so many great games for seniors to play.

You could give:
A pack of cards with a date for a family game.
A Scrabble board to see who has the best vocabulary or strategic plays.
Many hours of entertainment with a jigsaw puzzle.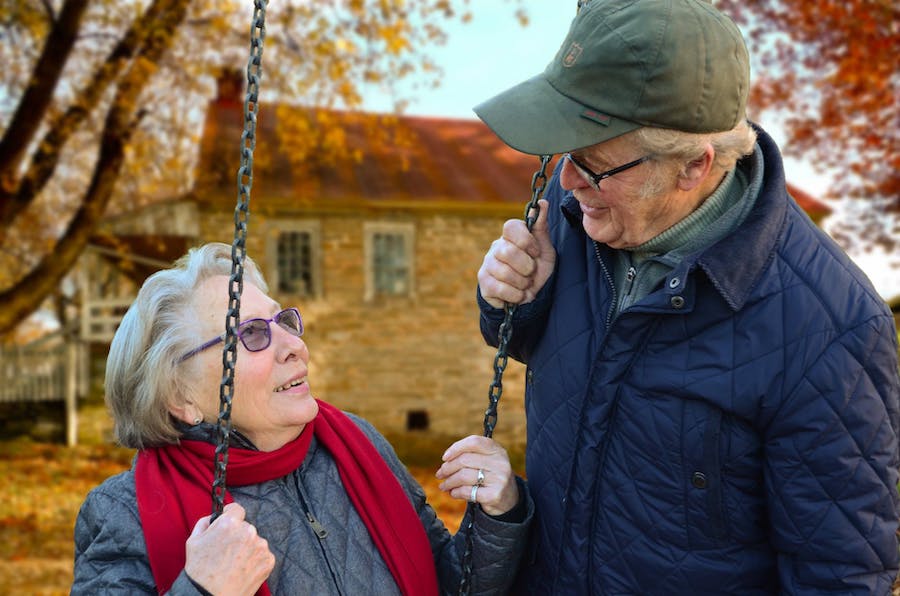 Conclusion
The best gifts for seniors can also be rewarding for the giver. The ideas presented here are meant to bring the best out in your relationship with your seniors. Which ones struck a chord with you?

If you enjoyed this article, please share it with others. We'd love to hear from you so please leave us your thoughts and reflections in the comments below.