Senior citizens and those who have had hip or knee surgery may need a grab bar, particularly for their showering and toileting needs. This is basically a handy attachment in your bathroom area that allows you to stand up or sit down with ease.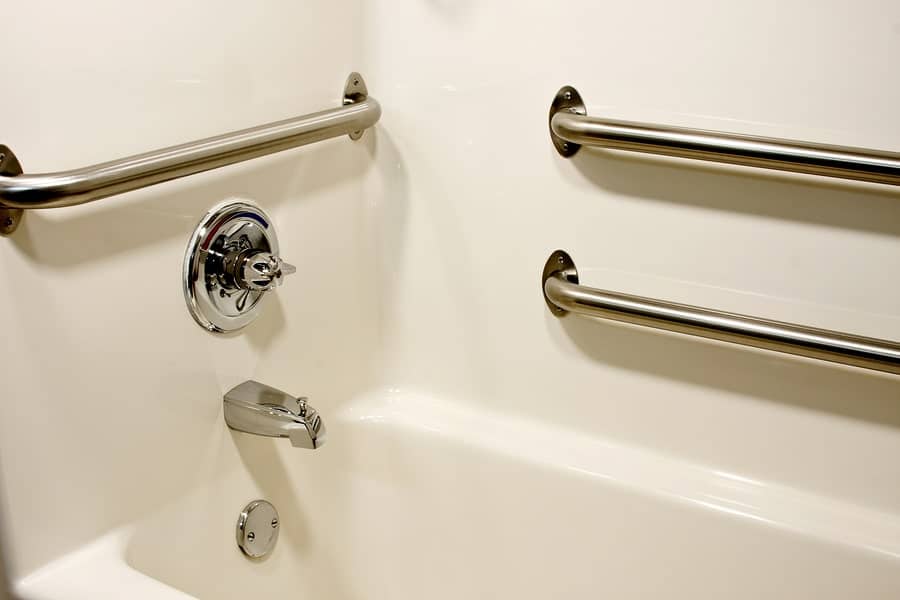 However, many customers are indecisive when it comes to the quality and durability of these grab bars. Hence, we reviewed the products on the market and picked up the best grab bars that are suitable for seniors and people with disabilities.
Our Picks for Best Grab Bars
We like the bars from Moen the most as it is made with sturdy material and will last for years. If you only need to use it in a short time, the plastic bars could be a suitable choice though.
Best Overall
Moen 8724 Home 24-Inch Bathroom Grab Bar, Stainless
Budget Option
Safe-er-Grip Safe-er-Grip Changing Lifestyles Suction...
Multifunctional Choice
Moen LR2356DCH Home Care 16-Inch Screw-in Curved Bath...
Best Overall
Moen 8724 Home 24-Inch Bathroom Grab Bar, Stainless
Budget Option
Safe-er-Grip Safe-er-Grip Changing Lifestyles Suction...
Multifunctional Choice
Moen LR2356DCH Home Care 16-Inch Screw-in Curved Bath...
#Affiliate links.Last update on 2023-06-09 at 23:37
Best Grab Bars for Elderly Reviewed
1. Moen Home Bathroom Grab Bar – Best Overall
#Affiliate links.Last update on 2023-06-09 at 23:37
We will start our review by setting the bar high with this shower safety bar from Moen. Moen is famous and loved bathroom appliance brand, so you can rest assured the quality and warranty they offer.
This grab bar is made with stainless steel, making it a good fit with most of your decors. It is durable and ADA compliant with a 500 lbs weight capacity.
The manufacturer offers a few versions to cater to your different needs and the 24 inches L-shaped grab bar allows you to have overall protection when bathing in your tub.
Pros:
It has a stainless steel finish that looks sleek and attractive.
Weight capacity: 500lbs.
Offers true security for your bathroom
Great for bathing and toileting.
Cons
Should buy an extra SecureMount or screw it on the wall for added security
2. Vive Suction Grab Bar
#Affiliate links.Last update on 2023-06-09 at 23:37
This is one of the best grab bars without the need for any extra tools. It is comfy and will not slip from your hands no matter what. The curved design also allows a lot of grip room for your convenience.
You can easily attach it to any flat surface and can hold up to 300 lbs. As it features a suction design, it will not leave any marks on your wall. This also makes it a portable grab bar when traveling.
The manufacturer recommend you to reapply it every week to ensure it is securely installed.
Also, it comes with a two-month guarantee. During this time span, you may return it if you find it not up to par.
Pros:
Works well on hygienic and smooth surfaces.
Very easy to install.
The suction cups are large enough to adhere well to the walls.
It is a portable device for traveling.
Cons:
Does not tolerate the least amount of roughness on the surface
3. Changing Lifestyles Safe-er-Grip Balance Assist Bar – Budget Option
#Affiliate links.Last update on 2023-06-09 at 23:37
If you are on a budget and only need some basic assistance in the bathroom, this one could be a suitable choice.
It is basically a suction grab bar that is affixed onto a flat, smooth surface and the device must be placed on the wall again before reusing it.
Noted that it is an assistant bar which means it won't necessarily bear one's whole body weight. It is basically a Mommy's Helper device that allows mothers to bathe their toddlers with relative ease.
Tiles are the ideal surface, but wood is not the best option for this bar since it functions via pure suction force. Some customers said that they keep falling off, but this is a rare occurrence.
Pros:
Low price.
Works perfectly without a hitch
You can pull it apart and clean it at a moment's notice
Easy to affix as well as pull off
Functions well for senior citizens
Cons:
You will need to double-check it before using it
Tiles need cleaning and recleaning
Takes a bit of getting practice to keep both handles on the wall
Can't carry the whole body weight.
4. Medical Adjustable Bathtub Safety Rail Shower Grab Handle
#Affiliate links.Last update on 2023-06-09 at 23:37
This bar is perfect for seniors who may suffer occasional falls in the bathtub since it has a tensile locking system that makes it safe and secure. Children and adults may employ it too besides senior citizens.
Composed of a single frame that works like magic, it is the dual purpose for both lefties, as well as right-handed people. However, it is not ideal for fiberglass surfaces and that point must be kept in mind.
Pros:
The perfect thing for complete bathroom safety
Constructed of durable stuff that can support 300 pounds.
Fits easily on the wall and needs no extra tools for its installation
Cons:
Must be checked often since it may come loose
5. Moen Homecare 16-Inch Curved Bath Safety Grab Bar with Shelf
#Affiliate links.Last update on 2023-06-09 at 23:37
This safety bar possesses a lovely streamlined design and it fits well on ceramic as well as porcelain tiles. Above all, it is a solid piece of art that is composed of sturdy stainless steel.
Even better, it comes with a try which provides a great deal of help to those who need to put their shampoo and lotions on the shelf.
However, it can only bear 250 lbs weight.
Pros:
Possesses a chrome finish
Can be affixed with relative ease
Dual purpose: it is also a good place for storage.
Cons:
Chrome plating is meager and brass material shows through it
Can only bear 250 lbs
6. ELLO&ALLO Oil Rubbed Bronze Bathroom Shower Grab Bar
#Affiliate links.Last update on 2023-06-09 at 23:37
If you prefer a bronze finish, this grab bar is the product you should take a look at. This heavy-duty grab bar can support up to 500lbs and can blend well with the modern decor.
Installing it is a breeze even if you are not a handyman as it has a securemount design. 3 versions available to meet your different needs.
Even if it has a relatively higher price tag, it is well made and could last for years.
Pros
Can support up to 500 lbs.
Elegant and modern design.
Easy to install.
Durable.
Cons
7. Moen 30-Inch Flip-Up Bathroom Grab Bar
#Affiliate links.Last update on 2023-06-09 at 23:37
This high-quality grab bar provides a fully safe as well as a balanced holding area. The built-in toilet paper holder section makes it a multipurpose player. This tool can be folded as per need, accordingly.
Once a user folds it then there are no hindrances or impediments in the way of the user. Moreover, it is a lasting object and its performance is top-notch. The two sparkling exteriors include a glacier finish and a stainless-steel finish.
Thus, this will be a very stylish addition to your washroom. Although the warranty may have a limit, this product is likely to last a long time. In conclusion, it's a versatile device that can be used almost anywhere.
Pros:
Has a special stainless-steel finish
Can support a whopping 500 pounds of weight
Could be easily installed
Has a limited warranty
Cons:
The installation a little bit complicated
Buyer's Guide
Buying a safety bar is not a very complex task to do. There are a few factors you need to take into account when purchasing it.

Types
Generally, there are three types of grab bars and all have their unique qualities and weak points. Here, they are:
Well-Mounted: They offer the utmost in stability since they fixate on the wall at both ends. Also, any position is suitable for these bars.
One-Sided Attachable: These are affixed onto a hinge on the wall. When they are not used, they sit idle in a passive state against the wall. So, the moment you need it just pulls one to activate it into action.
Clamp-on: It is also known as a bathtub safety rail. You can install it on the edge of the bathtub and remove it when you want.
Weight Capacity
Some models can bear up to 500 lbs, but some others don't. Typically, the suction bars carry less capacity and should reapply from time to time to ensure the safety.
The wall-mounted one would support your body weight but it is not portable and seems more expensive.
Finish
If you are keen on aesthetics, don't forget to match the finish of these safety bars with your decor. You can choose a stainless steel or a bronze one. There are also some bars coated with plastic.
FAQ
Is there a special function that grab bars possess?
They allow you to maintain an even gait when entering and exiting a shower. You will not fall provided you hold onto one.
Which is the best model to buy in the market?
It ultimately depends on the usage you put it to. A fixed bar will take your weight, but a removable one won't do that.
How many are ought to be bought?
Well, the average number that is bought by customers amounts to two. One is affixed at the entrance and the other is installed inside the shower area.
Does size matter?
Yes, and there are two things to keep in mind when selecting the dimensions. They are how you grip it and its length.
Is a non-slip model better in the long run?
It would be preferable to the ordinary variety. The deep ridges in it allow for better grip.
Will grab bars be suitable for other regions in my home?
Why not? You may install one of these grab bars in your kitchen or even in your bedroom if you prefer to.
The Bottom Line
In this review, we come up with a list of best grab bars for both shower and toilet. They are composed of different styles and prices. Make the choice with care and caution since you don't want to fall by default. Hopefully, it will last you a lifetime!