It may not be as famous as Drive Medical or Medline, Karman is still one of the best wheelchair brands in the market. We love it as its products are solid and their service is great. In this post, we will review a variety of the best Karman wheelchairs and share some useful information about chairs and the company.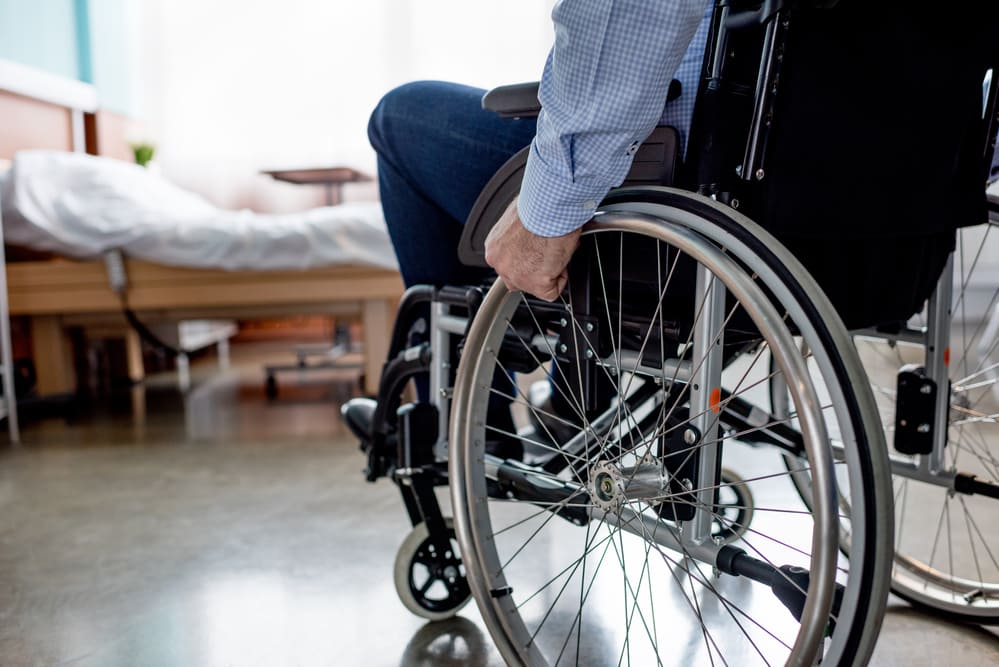 If you want to get your favorite immediately, then the Karman Ergo Flight wheelchair is the best Karman wheelchair overall as it is ultralight, foldable, and comfortable even for a long trip.
Still, you can get more information by reading the following article.
Best Overall
Karman Healthcare 19.8 lbs Ergonomic Ultra Lightweight...
Most Popular Manual Wheelchair
Karman 24 pounds LT-980 Ultra Lightweight Wheelchair...
Best On Budget
Karman Lightweight Transport Wheelchair with Removable...

S-shape ergonomic seating frame
Ultralightweight
Companion brakes included

Lightweight
Easy to operate hand brake.
Adjustable seat height.

Affordable.
Flip-up armrest.
Foldable.
Best Overall
Karman Healthcare 19.8 lbs Ergonomic Ultra Lightweight...

S-shape ergonomic seating frame
Ultralightweight
Companion brakes included
Most Popular Manual Wheelchair
Karman 24 pounds LT-980 Ultra Lightweight Wheelchair...

Lightweight
Easy to operate hand brake.
Adjustable seat height.
Best On Budget
Karman Lightweight Transport Wheelchair with Removable...

Affordable.
Flip-up armrest.
Foldable.
#Affiliate links.Last update on 2023-09-22 at 05:26
You may also want to read our post about the best wheelchairs from different brands.
Best Karman Wheelchairs: Reviews
We know it is hard to identify different models especially when you are new to the world of wheelchairs. We have tried to gather different types of Karman wheelchairs in this list so as to cater to your needs as more as possible.
1. Karman Ergo Flight Ergonomic Wheelchair – Best Karman Wheelchair Overall
#Affiliate links.Last update on 2023-09-22 at 05:26
We will start this Karman wheelchair review by setting the bar high with this Ergo Flight chair. We think most of you will like it.
Only weighs 19.8 lbs (without footrest), this is one of the lightest manual wheelchairs in the market. In addition to that, it is easy to fold into a small size and features quick-release wheels.
All of these features make it a wheelchair with superb portability. If you are likely to travel around or have to visit the doctor every so often, this chair will save a lot of effort for both you and your caregivers.
The most striking advantage of the Karman Ergo Flight wheelchair is its "S" shape seating frame. As the name of the chair suggests, the seating frame is ergonomically designed so as to help you relieve pressure and pains. Other parts are also designed with ergonomics in mind.
If you suffer from back pains already or want to prevent these health conditions, this chair is an awesome choice. Actually, we have put it into our list of most comfortable wheelchairs. 
In terms of safety, it comes with a companion brake for caregivers to take care of any unexpected. 
However, this Karman wheelchair does have some limitations. The maximum weight capacity is 220 lbs which is lower than standard manual wheelchairs. Aside from that, it can't handle uneven surfaces very well.
Pros
The S-shape seating frame ensures this chair is very comfortable to sit in.
The companion brakes increase the safety.
Ultralightweight. Lifting it is a breeze.
Foldable. It will collapse into a small size.
It includes quick-release wheels.
Cons
It is not the most affordable model.
Not a good choice to use it outdoors.
The weight capacity is only 220 lbs.
2. Karman LT-980 Ultra Lightweight Wheelchair – Most Popular Karman Manual Wheelchair
#Affiliate links.Last update on 2023-09-21 at 21:24
This is another lightweight wheelchair from Karman but is less expensive than the Ergo Flight chair. Actually, you can save a few hundred dollars.
While the 24 lbs product weight is slightly higher than the Ergo Flight one which is 19.8 lbs, it is still effortless to push, lift and fold.
You can order the chair with a seat color of black, burgundy, and silver, and the seat height can be adjusted from 18″ to 19″. Besides, the weight capacity has been increased to 250 lbs for better accommodation. 
What we like most is the convenient hand braking system which is located just on the left-hand side. It is very easy for wheelchair users to reach and pull. However, the model doesn't come with a companion brake. 
If you just tend to use a wheelchair for a short time, this chair is good enough to serve the purpose.
Pros
Lightweight: only weighs 24 lbs.
You can adjust the seat height from 18″ to 19″.
The hand brake is easy to operate.
Foldable.
Cons
The weight capacity is 250 lbs which is basic.
No companion brake.
The performance on bumpy roads is not impressive.
3. Karman S-ERGO 115 Ergonomic Wheelchair – Best Ergonomic Karman Wheelchair
#Affiliate links.Last update on 2023-09-21 at 21:44
If you are sold on the S-shape seating frame we mentioned above, then this Karman S-Ergo 115 wheelchair is another option to go.
In addition to that, the armrests are outside of the frame, meaning that you get more spaces in the seating area. This is crucial for people with a large body frame. Plus, there are 3 seat widths available: 16″, 18″, and 20″.
Made out of high-quality aluminum, the weight is only about 25 lbs. Along with the foldable design, making it another suitable Karman chair for travel. 
What makes this S-Ergo 115 chair stands out is that it features a 1/4″ high seat cushion. This cushion increases the comfort for the users and it is antibacterial and washable. If you are really concerned about personal hygiene, you would love this design.
Another thing that we also like is that the wheel size is 24″, providing better maneuverability outdoor than the models above. Note that you can opt for quick-release wheels or fixed ones.
If comfort is your top priority, this chair will not let you down. However, if doesn't come with companion brakes for added safety.
Pros
Lightweight aluminum frame.
3 seat widths available.
S-shape seat frame for added comfort.
It includes antibacterial seat cushion.
The armrest is located outside the frame.
Cons
No companion brakes.
250 lbs weight capacity.
4. Karman LT-2700 Transport Chair – Best Budget-friendly Karman Wheelchair
#Affiliate links.Last update on 2023-09-21 at 21:44
For those who are working around a budget or don't care about the bells and whistles, this is a proper transport chair to go.
The frame is made with durable steel and can hold up to 250 lbs. Compared to other lightweight transport chairs, it is heavier with a 29 lbs product weight. Therefore you should make sure whether you or the people who will help you is capable of lifting it into the back of a car. 
LT-2700 chair is foldable and features a fold-down backrest, ensuring it collapses into a compact size. The swing-away footrest is comfortable and flexible to use.
What we like most is the flip-up armrests, known for helping transfers and eating around the table. This feature is hard to find within this price range.
Something you may need to watch out for is that both the front wheel and rear wheel are 8″, meaning that it just has an average performance on uneven terrains. 
Pros
Affordable.
The flip-up armrest is useful for transferring.
A seat belt included.
Foldable.
Swing-away footrest.
Cons
Heavy.
The maneuverability in the outdoor is not good enough.
5. Karman LT-1000HB Transport Wheelchair – Best Karman Transport Wheelchair
#Affiliate links.Last update on 2023-09-21 at 21:44
Karman LT-1000HB transport wheelchair is another affordable option from Karman Healthcare. If safety is always being your top priority, then this chair is your best bet.
The 23 lbs overall product weight, in tandem with the foldable frame, makes it a portable chair for everyone.
Regarding safety, it comes with a seat belt and a 3-stage handle brake system. Even better, it also includes companion brakes for caregivers to control the speed and stop the chair, especially when ascending or descending the slopes.
One thing that sets this Karman LT-1000HB model apart is that it uses 8″ front casters and 12 ½ rear wheels. In addition to that, the polyurethane tire is solid and low-maintenance. Therefore, it handles well on both indoor and outdoor surfaces.
Of note, the armrests are fixed and this chair is not for very tall or heavy people.
Pros
It comes with a low price tag.
Lightweight.
Foldable and easy to lift.
It has companion brakes.
The 3-stage handle brakes are easy to operate.
Good maneuverability indoor and outdoor.
Cons
The armrest is fixed.
The seat height is not adjustable.
Not for large man.
6. Karman Healthcare VIP-515 Foldable Tilt in Space Space Reclining Transport Wheelchair – Best Karman Reclining Wheelchair
#Affiliate links.Last update on 2023-09-21 at 21:45
For those who don't mind spend more money and get a really premium wheelchair, Karman VIP-515 would be a fantastic choice. It is the luxury car of the best Karman wheelchairs.
Featuring a 0-35º weight-shifting center-of-gravity adjustment, it effectively redistributes your pressure points, making you feel comfortable even if you stay in the chair for hours. This is great for people who suffer from pains on the back or torso. Moreover, it comes with a head pillow and padded upholstery for added comfort.
You can also order an additional memory foam cushion to improve your experience.
Where personal hygiene is concerned, the Aegis microbe shield on the upholstery is helpful in preventing odors.
Another advantage of this reclining chair is that you can adjust the height of the armrests and are able to flip up. You can order swing-away footrests or elevating footrests.
With so many features, the overall weight is only 34 lbs, thanks to its T6 aluminum frame.
Pros
Comfortable.
It helps to relieve pressure.
Adjustable armrests.
Lightweight and easy to push.
Foldable.
Cons
Expensive.
This chair can't be fully reclined.
What is the background of Karman?
Founded in 1994, Karman Healthcare is a company focusing on providing high-quality mobility aids. Their products include wheelchairs, walkers, wheelchair ramps or even face masks. But their emphasis is on making lightweight and ergonomic wheelchairs.
Their headquarter is located in the United States and sells products worldwide through its official website and other distributors. According to our observation, most Karman wheelchairs are made in China. 
Warranty and Services of Karman Wheelchairs
The warranty of Karman wheelchairs varies. For example, The VIP-515 reclining wheelchair and all the ergonomic wheelchairs include a lifetime warranty for the frame but the frame warranty for almost all the basic transport wheelchairs is only 1 year. You can find more info here.
Karman offers plenty of replacement parts and you have a lot of options to upgrade your wheelchair such as adding a seat cushion, a seat belt, or employing a pair of quick-release wheels.
What is the Most Popular Models of Karman Wheelchairs?
All the models that we put in our list of the best Karman wheelchairs are popular in the market right now.
Among them, LT-980 manual wheelchair may attract the most attention given that it comes with a middle-range price tag and serves all the basic purposes. Ergo Flight is also welcomed because of its comfort and portability.
What To Consider When Buying Karman Wheelchairs?
Till now, you may already be sold on a few models from Karman. Before you make a final decision, there are a few factors that need to be taken into account.
Wheelchair types
We mentioned a few types of wheelchairs in this best Karman wheelchairs list. For example, if you lack the strength to propel the chair by yourself, then you'd better opt for a transport chair.
Otherwise, a manual wheelchair would be versatile as you can either propel the chair or ask a caregiver to push the chair for you.
For those who suffer from back pain or other health conditions, a reclining wheelchair works better on redistributing pressure points.
Comfort
Different people may need different comfort levels. For those who only need to use a wheelchair occasionally, a basic chair without padded upholstery is acceptable.
However, for people who are wheelchair-bound, an ergonomic wheelchair such as the Ergo Flight model would be a godsend. 
Aside from this, you could also buy an extra seat cushion or back cushion to add more comfort.
You should also make sure if the seat width and seat height fit you well. These metrics could largely affect your experience.
Safety
Tripping up and falling onto hard surfaces can lead to serious injuries or even death, something to avoid at all costs. So, it is crucial for you to check if the chair is safe to use. 
If you plan to go out more often than not, a wheelchair with companion brakes, anti-tippers and a seat belt could be a safer model.
You may have noticed that some Karman manual wheelchairs don't include a seat belt and anti-tippers. Luckily, you can order these accessories with the chair together or after even though you have to pay some extra money.
Portability
Karman Healthcare is committed to producing foldable lightweight wheelchairs. Hence, it is easy to find some portable wheelchairs from it. In general, chairs made out of aluminum especially T6 aluminum are lightweight. 
Besides, quick-release wheels, removable footrest, fold-down backrests all help in adding portability.
Maneuverability
Some models handle indoor surfaces well but have poor performance on bumpy roads. It would not be an insurmountable issue for you if you don't have to go through these roads every so often. If not, go for a chair with bigger wheels, solid tires, and ergonomic hand rims.
Weight capacity
Some Karman wheelchairs have a relatively low weight capacity. So, it is wise to check the maximum weight capacity carefully. Ensure all your personal belongings plus your weight don't exceed the limit.
Adjustability
Usually, the more adjustabilities it has, the more expensive it is. The parts that are adjustable often include armrests, footrests, seat height, back angle, and so on. It depends on you if you need these features.
Budget
To be honest, a majority of Karman wheelchairs are not cheap but they often come with better quality and features. If you are on a budget, then models such as LT-2700 or LT-1000HB are likely to meet your needs.
Wrapping Up
In this post, we reviewed the 6 best Karman wheelchairs in the marketplace. As a company founded in 1994, its products are trustworthy. We like the Ergo Flight model most for its portability, comfort, and safety. While their product may be a bit pricey, but it will be a long-lasting option for you.