Kayaking is a massively popular sport and recreational activity that has been around for years. One of the main reasons it's a household favorite is that you can start when young and still manage to sustain it when older.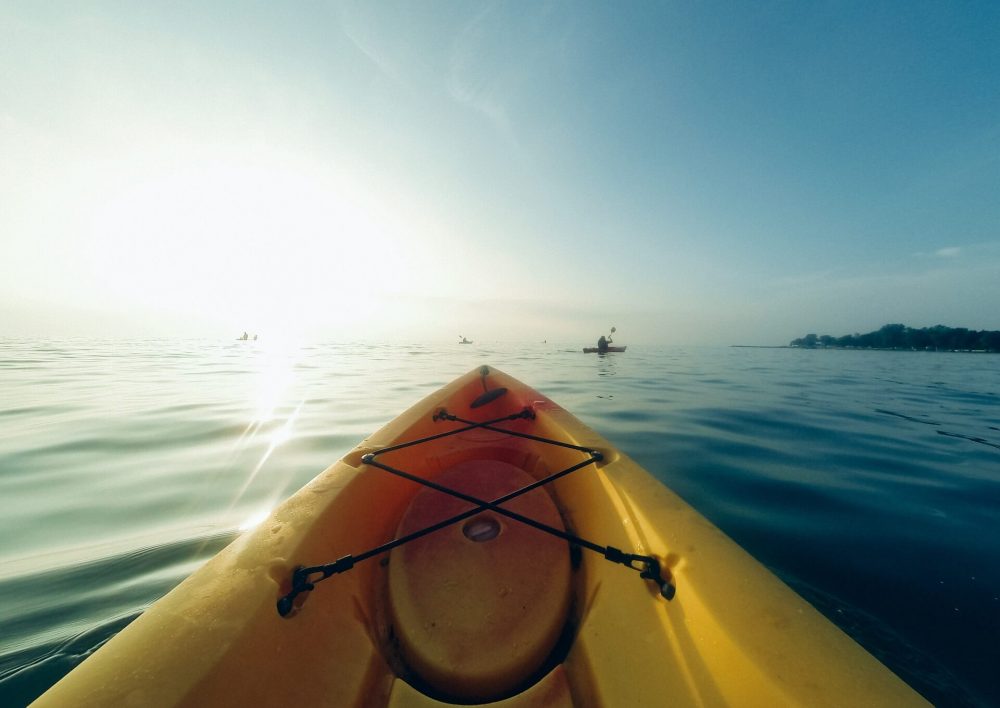 It is a low-impact workout with numerous benefits such as improved health, reduced stress, and a toned body. Additionally, you don't have to have prior skills for you to start learning how to kayak. You can train in this sport at any age, making it an ideal sport for the elderly.
Before exploring this dynamic sport, the first thing is to ensure that you have invested in a good kayak.
In particular, seniors need to be extra keen when selecting a kayak to ensure comfort, stability, and safety while enjoying themselves. Luckily, we're going to highlight the best kayak for seniors and what to look for when shopping for one.
Here are our top 3 picks for kayaks for seniors:
Best Overall
Sevylor Quikpak K1 1-Person Kayak Blue, 8'7" x 3'
Best For Budget
Intex Challenger K1 Kayak, 1-Person Inflatable Kayak...
Best For 2 Person
Intex 68310VM Dakota K2 2-Person Heavy-Duty Vinyl...

Folds into a backpack
Durable
Lightweight

Inflatable
Adjustable seat
Easy to use

Weight capacity:400 lbs
Adjustable backrest
Durable
Best Overall
Sevylor Quikpak K1 1-Person Kayak Blue, 8'7" x 3'

Folds into a backpack
Durable
Lightweight
Best For Budget
Intex Challenger K1 Kayak, 1-Person Inflatable Kayak...

Inflatable
Adjustable seat
Easy to use
Best For 2 Person
Intex 68310VM Dakota K2 2-Person Heavy-Duty Vinyl...

Weight capacity:400 lbs
Adjustable backrest
Durable
#Affiliate links.Last update on 2023-02-05 at 22:47
Reviews of the Best Kayak for Older Person
1. Sevylor Quikpak K1—Best Overall Kayak for Seniors
#Affiliate links.Last update on 2023-02-05 at 22:47
At the top of our list, we have the Sevylor Quickpak. This product is a one-person, inflatable, and lightweight kayak.
The Sevylor Quikpak K1 is quick and easy to set up since it can be inflated and deflated in just 5 minutes. In addition, it is very durable. The tarpaulin bottom makes it puncture-resistant, while its airtight system minimizes leaks.
Once deflated, it folds into a backpack which you can easily carry around. Conveniently, the backpack turns into a seat when the kayak is inflated.
It also has room to adjust your footrest position so you can sit comfortably. This is essential for seniors who suffer from blood circulation issues.
Pros
Inflatable.
Lightweight.
Adjustable footrest positions.
It folds into a backpack.
Leak-proof.
Cons
The paddler may experience some drag when using it.
2. Intex Challenger Kayak Inflatable Set with Aluminum Oars—Best Value for Money
#Affiliate links.Last update on 2023-02-05 at 22:47
If you're looking for a lightweight, durable, and stable kayak that's economical, look no further than the Intex Challenger K1 Kayak. Its rugged vinyl construction makes it long-lasting.
This water vessel is a one-person inflatable kayak with an adjustable seat. It has a streamlined design for easier paddling, making it ideal for seniors. Moreover, it comes with an aluminum paddle, hand pump, and repair kit, all at a fair price!
Pros
Budget-friendly.
Durable.
Inflatable.
Adjustable seat.
Streamlined design for easier paddling.
Includes aluminum paddle and manual pump.
Cons
Its design makes it difficult to clean.
3. Intex Dakota K2 Heavy-Duty 2-Person Vinyl Inflatable Kayak—Best Tandem Kayak for Seniors
#Affiliate links.Last update on 2023-02-05 at 22:47
Another product from Intex, this vessel is one of the best two-person kayaks on the market. It's inflatable and can fit in a backpack once deflated, making it easy to transport to your kayaking destination.
Once inflated, there's a grab line and carry handles on the front and back, so you can smoothly move it from land to water.
The backrest is removable and adjustable. You could sit comfortably when suffering from back pain.
This kayak is easy to inflate, maneuver, and pack up. Additionally, the Intex Dakota K2 is made of heavy-duty vinyl that is puncture-resistant, making the inflatable kayak durable.
The weight capacity is 400 lbs so that it is not an ideal gadget for two overweight older people.
Pros
Supports two people.
Inflatable and lightweight.
Removable and adjustable backrest.
Durable.
Easy to use.
Cons
Heavier than other inflatable kayaks.
4. Oru Kayak Foldable Kayak for Adults and Youth—Best Foldable Kayak for Older Person
#Affiliate links.Last update on 2023-02-05 at 22:47
The Oru Kayak is a collapsible kayak that does not require any inflation or deflation. The design is small enough to be carried when folded, and in just 5 minutes, it can be set up and ready to paddle.
This style is ideal for seniors as it can be transported with ease and is still durable and easy to use in the water.
The kayak is made from durable polypropylene and has dust-resistant hardware. Furthermore, it's also lightweight and suitable for beginners on calm waters.
This kayak comes with a high price tag, but you will get an easy to use kayak which is made out of advanced material.
Pros
Easy setup as it doesn't require inflation or deflation.
Storage-efficient.
Lightweight.
Beginner-friendly.
Cons
Not built for rough waters.
5. Lifetime Tamarack Angler 100 Fishing Kayak—Best Kayak for Finishing
#Affiliate links.Last update on 2023-02-05 at 13:20
This Lifetime TamaRACK Angler 100 is a sit-on-top hardshell kayak that is designed for finishing. Was the elderly person a fishing enthusiast once but life got in the way? This vessel will help you to pursue your dream again.
Unlike most inflatable kayaks, this item is not foldable. However, it is still lightweight to carry on.
What we like about this Lifetime kayak is that it is equipped with an adjustable footrest and backrest. This is important for the elderly as they are easier to get tired than their younger counterparts.
It is stable even on windy days and you will feel secure even if you are a beginner.
Pros
Lightweight
Stable even on windy days.
Durable.
Adjustable footrest and backrest.
Cons
6. Pakayak Bluefin Hardshell Packable Kayak—Best Packable Kayak for Seniors
#Affiliate links.Last update on 2023-02-05 at 22:47
This hardshell vessel is a nested type of kayak that can be split into six parts for easier packing, portability, and storage after use. The one-person sit-in kayak is made of a rigid, high-density, UV-resistant polyethylene that makes it durable and leak-proof.
Although it's divisible into six parts, the kayak is effortless to set up, according to users, and quite fast on the water while not compromising stability.
A fun fact about the Pakayak is that each model is named after an endangered marine species, and a percentage of their profits are used to save those species.
Pros
Easy to pack and store.
Made of UV-resistant polyethylene.
Leak-proof.
Fast.
Stable.
Cons
It can be quite challenging to maneuver over rough surfaces due to the bag's small wheels.
Not much legroom for tall people.
Types of Kayaks
Most seniors take up kayaking as a recreational activity rather than a competitive sport. The kayak is usually lightweight, making it easy to paddle and navigate without using much effort. However, don't let the lightness fool you—kayaks are stable water vessels that aren't easy to tip over.
There are numerous varieties of kayaks, which may make determining a starting point seem like a daunting task.
General Classification
Outlined below is the general classification of kayaks to help you have a more straightforward selection process.
Kayaks can generally be classified as sit-in kayaks or sit-on-top kayaks.
Sit-in Kayak (SIK)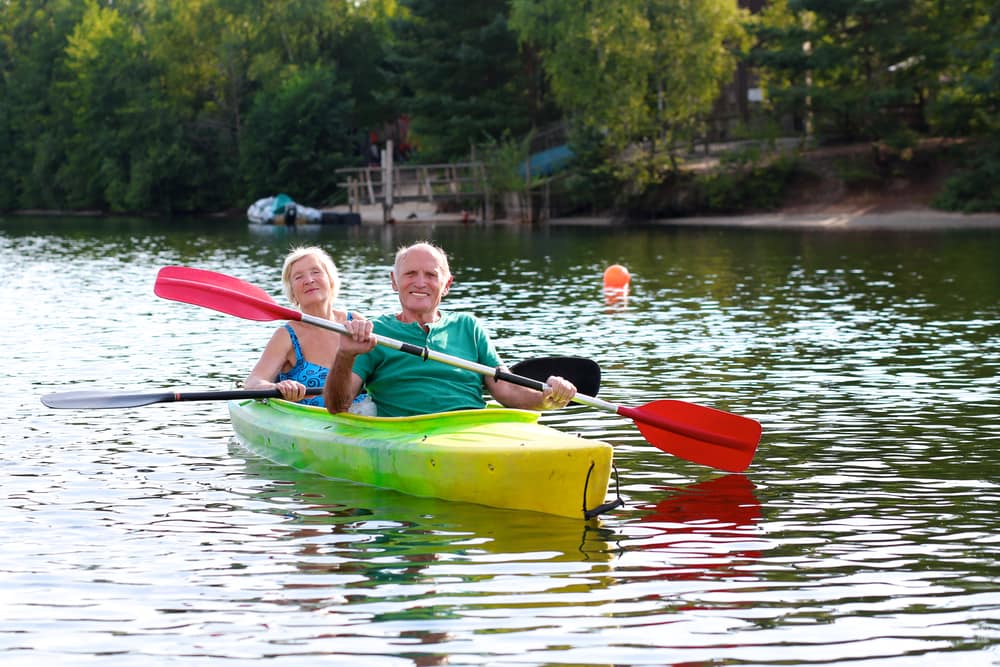 Just as the name suggests, with sit-in kayaks, the paddler is seated with their legs inside the cockpit. This structure helps keep the paddler dry and warm as there is less contact with the water.
Sit-in kayaks also have a low center of gravity. As a result, they are generally narrower than other kayaks, enabling the paddler to better maneuver the kayak and increase the paddling force.
A limitation of these types of kayaks is that in the event the kayak capsizes, exiting or re-entering the kayak may be difficult due to its design. However, with training from a skilled professional, this shouldn't be a problem.
Sit-on-top Kayak (SOT)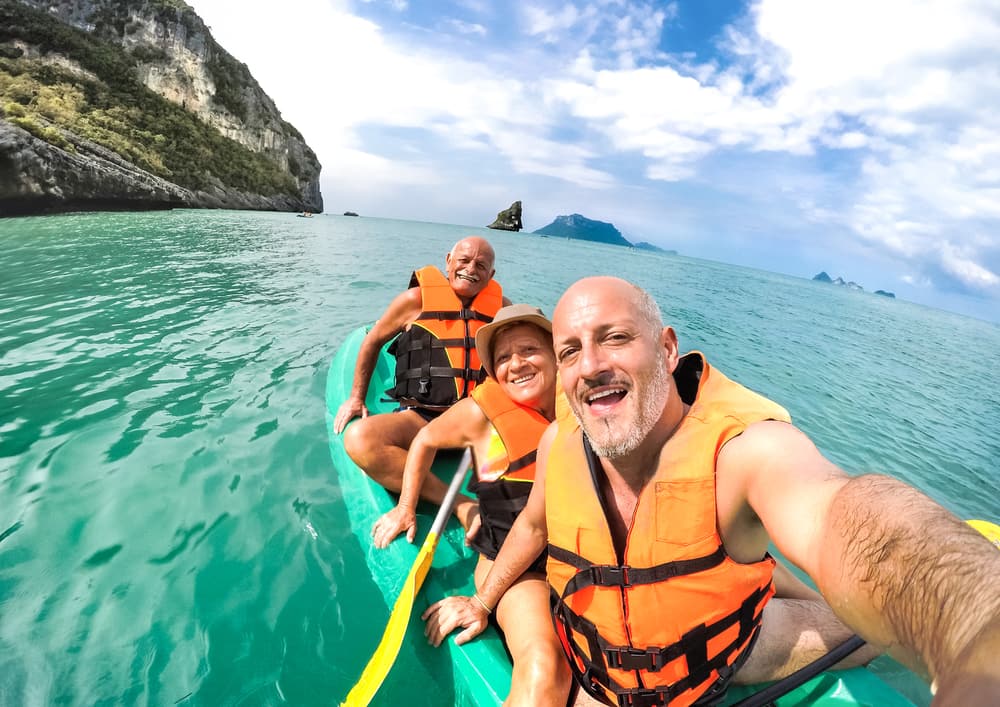 If you prefer an open cockpit where your legs are not enclosed, the sit-on-top kayak is the one for you. It's ideal for warm waters since there's more contact between the water and your body.
Sit-on-tops are usually wider than other kayaks, increasing their stability and creating room to carry a few things such as fishing equipment. They are also easier to enter and exit as compared to sit-in kayaks.
Broader Classification
There are additional features that distinguish the various sit-in and sit-on-top kayaks. For example, sit-in kayaks and sit-on-top kayaks can have either one or a combination of the following variations:
Tandem vs. solo.
Portable vs. non-portable.
Paddle propelled vs. pedal/motor-powered.
Specialized kayaks.
Solo vs. Tandem Kayak
A solo kayak only has one cockpit, so only allows for one paddler. On the other hand, tandem kayaks have room for two or more people.
Portable vs. Non-Portable Kayak
All kayaks can be moved from one point to another, but some are easier to transport due to the portable design. They are also storage-efficient as they occupy less space compared to non-portable, hardshell kayaks.
Portable kayaks can further be classified into:
Foldable kayaks: Also known as collapsible kayaks, a foldable kayak has a firm but foldable frame that enables one to collapse the kayak once done using it and store it or pack it up for transport.
Inflatable kayaks: Inflatable kayaks are inflated for use and deflated once done for transportation and storage. They require very little storage space and are ideal for traveling.
Nesting kayaks: You can easily break up this type of kayak into smaller components for ease of storage and portability. They are also known as modular kayaks.
Paddle-Propelled vs. Pedal or Motor-Powered Kayak
Paddle-propelled kayaks are only navigated using the paddle. Conversely, pedal-powered or motor-powered kayaks have pedals and a trolling motor, respectively, in addition to the paddles. The pedals and motor increase the speed and ease of maneuvering the kayak.
Specialized Kayak
These kayaks are designed for a specific purpose, i.e., they may have additional features that make them ideal for the particular purpose that they are built for. These include surf kayaks, diving kayaks, touring kayaks, fishing kayaks, sea kayaks, recreational kayaks, whitewater kayaks, sail kayaks, and racing kayaks.
Crossover Kayaks
If a kayak has one or more features of the categories mentioned above, it's called a crossover kayak.
Factors to Consider When Buying a Kayak for Seniors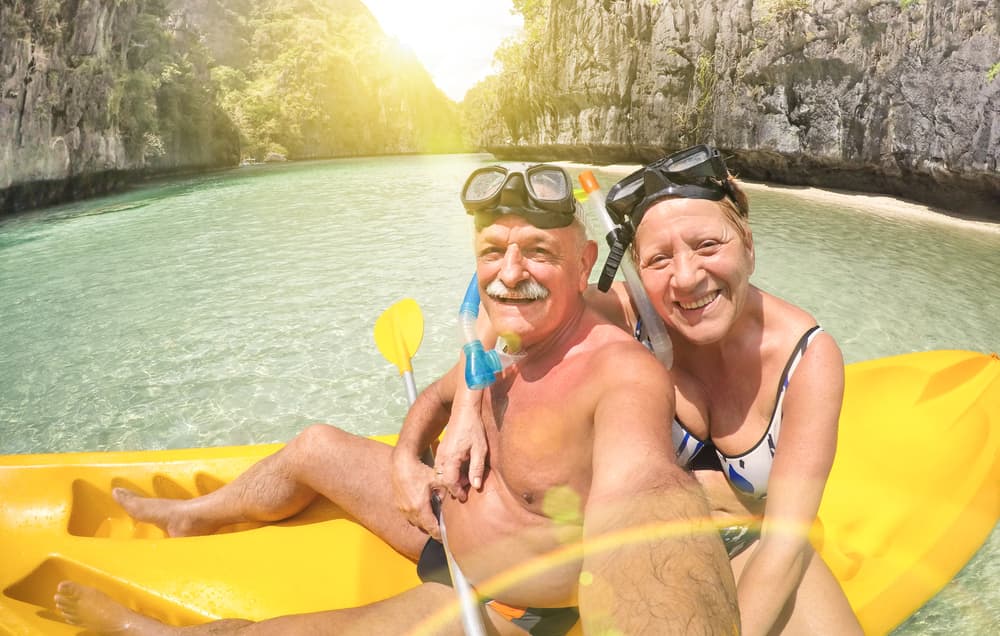 Now that we know the various kayaks, it's easier to understand what kind to go for. However, there are still other factors to consider to make sure that you get the best kayak for an older person.
Stability
For seniors, stability is a crucial factor to consider to minimize the chances of the kayak tipping over. Wider and shorter kayaks are more stable than narrower, longer ones. These differences help in easing maneuverability. On the other hand, thinner, longer kayaks are less stable but faster than wider ones.
Comfort
Kayaking for seniors is usually done for recreational purposes, so comfort is of great importance.
One way to guarantee comfort is by ensuring that the kayak seat is adjustable. If the chair is non-adjustable, you can opt for a kayak with a higher one. Higher seats tend to offer more back support and legroom.
Secondly, check that the kayak has multiple footrest positions. This provides room to adjust the foot position when you're getting tired.
Weight Capacity
Each kayak has a weight capacity, which is meant to include both the paddler's weight as well as any equipment and bags you bring along.
The Intex Dakota K2 has a great weight capacity of 400 pounds and is a tandem kayak, so it has room for two paddlers.
Ease of Portability
Lightweight kayaks are the most recommended for seniors as they're easy to carry and navigate through the water. However, it's essential to note that the lightness should not compromise on stability.
Inflatable and foldable kayaks are easy to carry and also occupy less storage space.
Height of Paddler
For sit-in kayaks, it's essential to factor in the paddler's height to choose the best kayak length. Both short and tall people can use kayaks with adjustable footrests, such as the ASevylor Quikpak K1.
Safety
If a senior is easily affected by cold temperatures, a sit-in kayak would be more secure as the lower body is enclosed. On the other hand, if the kayak tips over, it's easier to re-enter a sit-on-top as it is open than a sit-in.
Also think about investing in safety gear such as a life jacket, air horn, and paddle leash.
Paddle Features
Your paddle can either break or make your kayaking experience. Choosing a good kayak entails checking the material and length of the paddle.
For starters, the blades should be made of carbon fiber, fiberglass, or nylon aluminum. Carbon fiber and nylon aluminum paddle blades are great for recreational activities as they are lightweight.
The paddle blades can also be feathered or unfeathered. Feathered paddle blades offer more control and have high durability. This trait makes them handy for activities such as whitewater kayaking, which is high-performance.
Purpose of Kayak
Specialized kayaks have extra features that help them fulfill other additional actions. For example, a fishing kayak should have rod holders and enough capacity for the fishing gear.
Budget
When all is said and done, the budget determines whether you will buy that kayak that you have been eyeing up. Fortunately, there are many budget-friendly kayak options available that will ensure that you get to enjoy this dynamic recreational sport without breaking the bank.
A cost-effective kayak option is the Intex Challenger K1 Kayak.
Benefits of Kayaking for Seniors
The benefits of kayaking are numerous for both seniors and younger people.
Improved Heart Health
As years go by, we become more prone to heart diseases. Therefore, it's vital to engage in cardiovascular/aerobic exercises to sustain a healthy and strong heart. Cardio exercises increase the heart rate level through rhythmic activity.
Kayaking is a cardio activity that improves heart health.
See also other exercise equipment for seniors.
Increased Muscle Strength
Older people may have weaker muscles that require regular exercise to ensure that they remain as strong as possible.
Kayaking focuses on both the upper and lower body muscles. When paddling, you engage your arms, core, shoulders, and back, strengthening your upper body muscles.
You may wonder how the lower body muscles are strengthened since paddlers are usually seated when kayaking. To explain this, as you maneuver the kayak, you tighten your leg muscles to ensure stability. Additionally, you pull your leg muscles and subsequently loosen them when navigating a turn.
Weight Loss and Toned Body
Kayaking is a low-impact activity that may fool you into thinking that it doesn't burn many calories. But surprisingly, kayaking burns many calories, leading to healthy weight loss and a toned body when done regularly. Seniors could also use a rebounder or an elliptical for weight loss.
Stress Reliever and Mood Booster
Kayaking is an outdoor activity that helps you take a break from work or a dull environment and instead enjoy the beauty of nature. It's also a relaxing activity that helps release endorphins, which significantly reduce stress levels and helps boost one's mood.
Improves Quality of Sleep
Kayaking is an engaging activity that's sure to wear you out by the end of the day. In turn, this helps you fall asleep faster and sleep better as your muscles repair and your body rests.
Improves Social Interaction
Kayaking is more enjoyable when performed with friends and family. This fun activity helps you interact with other people while still gaining health benefits and relieving stress—killing two birds with one stone!
Self-Reflection
If you want to take time off to unwind and reflect, kayaking is a perfect activity for this. First, it's low-impact and doesn't require much effort. Secondly, it's done outdoors where you are surrounded by nature, creating the best environment for meditation.
Boosts Stamina
Since kayaking often takes a couple of hours, it stretches your endurance levels as you navigate turns and maneuver the kayak to get from one point to another.
Improves Memory and Focus
As earlier mentioned, kayaking is a rhythmic activity that is highly absorbing. It requires one to engage several muscles, including the brain.
For example, you have to focus so that the kayak doesn't tip over. Furthermore, you have to remember what to do when navigating a turn or when paddling forward or backward. You also need to know when to increase the paddling speed or slow down.
All these actions help boost memory, which is especially useful for seniors who may be susceptible to memory loss.
Frequently Asked Questions
How Do You Stay Safe While Kayaking?
The following are vital tips to keep in mind when kayaking as a senior:
1. Have a paddling partner.
2. Have a skilled instructor if you're a beginner.
3. Wear appropriate clothing.
4. Beware of the weather conditions.
5. Do stretches before and after kayaking.
6. Wear your life jacket.
7. Identify and study the route you will be following beforehand.
8. Do not go kayaking when intoxicated or under medication.
Do Kayaks Need Maintenance?
Yes, they do! Taking care of your kayak ensures that it serves you for years. The following are ways through which you can maintain your kayak:
1. Clean the kayak after use.
2. Ensure the kayak dries completely before storage.
3. Store the kayak when turned upside down and cover the cockpit.
4. Store in a cool, dry place.
5. Replace worn-out parts.
Conclusion
Seniors require regular exercise to ensure that they remain in good shape. Kayaking is a low-impact exercise with numerous health benefits like improving heart health, burning calories, improving memory and focus, strengthening muscles, and relieving stress.
There are different kayak varieties to match your preference and the intended purpose.
The Sevylor Quikpak K1 offers all that you could want in a kayak. It's lightweight and easy to carry, durable so it will last you for months, inflatable for easy storage after use, and has an adjustable footrest for comfort.
In summary, kayaking is a worthy investment that will keep you young and healthy! It's ideal for people from all age groups. However, practice makes perfect. So the sooner you start, the higher your chances of noticing positive health improvement.