Older people need an environment that is safe and clean. Their rooms should be swept or mopped and also vacuumed thoroughly. However, the cleaning tasks will become difficult as we get old. This is due to various health issues and loss of muscular strength. Hence, choosing a lightweight appliance is important for the elderly while maintaining cleanliness.  Are you looking for a vacuum cleaner for yourself or loved one?  In this post, we reviewed the best lightweight vacuum cleaners for elderly in the market to ensure you get what you want.
Our Picks for Best Lightweight Vacuum Cleaners for the Elderly
Why Seniors Need a Lightweight Vacuum Cleaner?
In fact, the vacuum cleaners can be used by anyone who doesn't want to use the full-size and heavy vacuum cleaners that are hard to maneuver.
As we getting old, degeneration of joints in the lumbar spine will lead to back pain and a lot of the elderly people will suffer from it.  A lightweight instrument is especially good for those who have arthritis pain and back pains because it will reduce the pressure on both hands and back.
Also, the elderly and seniors always want to be independent. A lightweight vacuum can help them to finish housekeeping tasks even they become weaker. Self-Esteem is really important to their mood and health.
Factors to Consider before Buying a Lightweight Vacuum Cleaner for Elderly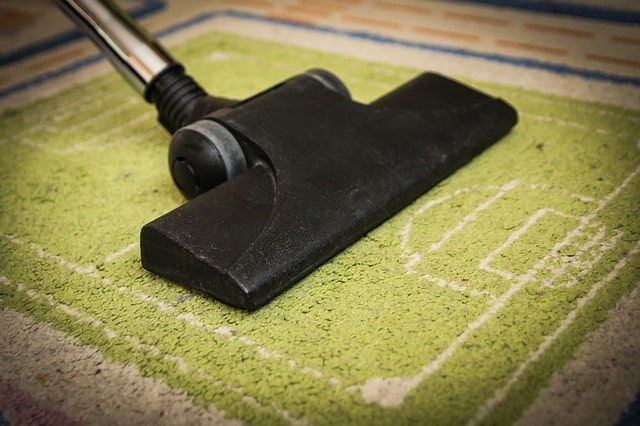 Now, let's look at the factors that you should consider to help you choose the best lightweight vacuum cleaner for seniors.
There are different types of vacuum cleaners in the market today. Some of them include upright vacuums, canister vacuums, stick vacuums, pet vacuums, robot vacuums, and others.  The vacuums are designed for cleaning specific places in the house. Some of the vacuums that are ideal for the elderly include upright vacuum, handheld vacuum, and stick vacuum cleaners. The canister vacuums are usually heavier than others.
Power is another important factor that you should consider. I know most of the people want to find a vacuum cleaner that can save energy. However, a vacuum cleaner that has a small motor may not perform well. A vacuum with a powerful suction power is ideal for people with back problems.
Weight and maneuverability
It is not practical to speak about the best lightweight vacuum cleaners for elderly without mentioning weight and maneuverability of the equipment.
The elderly people need lightweight tools for cleaning. They don't have the energy to pull or push heavy vacuum cleaners. For this reason, ensure that you choose an ultra-lightweight vacuum cleaner.
The vacuum cleaner should be easy to pull or push when cleaning. Vacuum cleaners with large wheels are easy to move around the house between furniture. The wheels should not clog unnecessarily.
An ideal vacuum cleaner for the elderly should have the switch placed where you can access it quickly. Some of the best vacuum cleaners for the older people have the switches at the handles.
You can choose a bagless or baggy vacuum cleaner; it will depend on the amount of litter that you will be collecting when cleaning. A bagless vacuum cleaner may need to be emptied as you clean, thus wasting your time. However, a bagless vacuum cleaner may release some dirt back into the air which may cause allergy.
If you want to do the cleaning anywhere you want without worrying about the cord, you should go for a cordless vacuum cleaner. However, a cordless vacuum cleaner is powered by the battery and it needs to be recharged after a few minutes or hours.
It may be hard to know whether the vacuum cleaner is full without the indicator. You can easily manage a vacuum cleaner with LED indicators which can alert you when you need to clean the bag.
A vacuum cleaner that has a retractable cord is easier and simple to store. After cleaning, you only press the switch button and the cord winds back to its compartment within the vacuum cleaner. Some cleaners may not come with button switches, but you can wind it back manually for storage purposes. Living in a small house? You can check our picks for narrow walkers and pop up bundle beds to accommodate it.
When buying a vacuum cleaner, ensure that you pick one that is ideal for your house. Some do well on carpets and others on hard floors. Few vacuum cleaners can be used to clean any floor with ease. Also, not all vacuum cleaners can pick up pet hair efficiently. (Check also best dog wheelchairs)
I know you don't want to deal with the complaints from your neighborhood, right?  Always buy a lightweight vacuum with a lower decibel level.
Reviews of the Best Lightweight Vacuum Cleaners for the Elderly
When it comes to vacuum cleaners, there are thousands of products in the market. The following are some of the best lightweight vacuum cleaners that you can consider for the elderly.
1. Dyson V7 Animal Cordless Stick Vacuum Cleaner
Dyson is a famous brand of vacuum which features for its stylish design and lightweight body. This Dyson V7 vacuum cleaner only weighs 5.28 pounds which makes it one of the best lightweight vacuum cleaner for elderly.
Compared to V6, Dyson V7 has more brush bar power. The direct-drive head can drive any dirt into the carpet. It works well on all kinds of surface. With one time of charge, this vacuum cleaner can last for 30 minutes. In order to save energy, its engine will stop to work automatically when you stop.
In addition, you can convert it into a handheld vacuum for spot cleaning with a breeze. Due to this,  you can easily clean up your small spaces.
Pros
It is lightweight.
The direct drive vacuum head can drive any dirt.
It is designed for all surfaces
You can convert it into handheld vacuum cleaner quickly.
Cons
High price.
The battery doesn't last long.
2. Shark Rocket DuoClean HV382 Ultra-Light Corded Bagless Vacuum cleaner
The Shark Rocket HV382 vacuum cleaner has duo clean technology that helps the two brush rolls to work in union to remove dirt from the floor. It can remove small, large, and stuck on particles. You can convert it into a handheld vacuum for easier and versatile cleaning. The vacuum also has a powerful LED lights on the nozzle and handheld vacuum, brush roll access for faster and easy maintenance. It also has a pet multi-tool to remove pet hair on surfaces.
However, this vacuum cleaner weighs 9.9 lbs which may be a bit heavier when compares to other lightweight vacuum cleaners.
Pros
It has a bristle brush to clean carpets deeply.
The soft brush roll helps to pull the large particles and clean the surfaces for a polished look.
It comes with a pet hair removal tool.
It has LED lights on the handheld vacuum and floor nozzle.
The vacuum cleaner comes with a crevice tool, pet multi-tool, and a wall mount storage hook.
Cons
It is messy to empty.
It may be heavy for some people.
3. Oreck Commercial U2000RB1upright vacuum cleaner
Want to clean your own business? This is a commercial-grade vacuum cleaner that offers the performance and power that you expect. It is versatile and easy to keep the house clean. You can also get it up close to the baseboards and cabinets. This vacuum cleaner is very powerful so that you can get your carpet cleaned thoroughly.
The best part is the handle is designed for people with arthritis. As you know,  almost half of the seniors over 65 suffer from some kind of arthritis.
It weighs 9 pounds and covers a wide area when cleaning, making the cleaning process faster. It has a 40-foot power cord that is connected to a pigtail cord using a cord clamp. If it is damaged somehow, you can replace it easily without expensive repairs.
Pros
The wheels are soft to protect the floors.
It has a switch that is controlled by a fingertip.
The brushes are powerful with high speed for better cleaning.
It is lightweight and easy to use.
The handle is good for people with arthritis.
Can adjust the floor automatically.
Cons
You need to change the bags frequently.
4. Eureka NEU182A PowerSpeed Lightweight Bagless Upright Vacuum Cleaner
Eureka lightweight bagless vacuum cleaner is one of the best bagless lightweight vacuum cleaners for elderly in the market. It has good suction and can be used on any floor. It can clean rugs, carpets, cars, floors, ceilings, recliners, mattress, and more.  The wide nozzle will ensure it can get the job done quickly.
It weighs about 10 lbs. Making it easy to maneuver around the house. It also has a dynamic brush roll, and motor, which helps to lift all stubborn and save your energy. You can easily adjust its height when you want. The dust cup is extra-large to hold more dirt which means you don't need to empty it regularly.
However, you may feel the hose is short if your room is big.
Pros
You can adjust its height to clean different place.
All tools can be stored onboard.
Big dust cup.
Good suction power.
Cons
Short hose.
Hard to push on rugs.
5. Dirt Devil SD20000RED Lightweight Stick Vacuum Cleaner
If you are looking for an affordable lightweight vacuum cleaner for seniors, it is Dirt Devil SD20000RED will not let you down. It is multifunctional and you can use it as a stick vacuum cleaner, hand vacuum cleaner, or an extended hand vacuum cleaner.
It is ideal for rugs and hard floors.  You only need to detach the hand vacuum, and it is ready for cleaning dirt, dust, and crumbs on the floor.  This vacuum cleaner will help you to clean limited spaces in corners.
It is 42.9 inches long with less than 4 pounds of weight. You can easily access its filter and keep the vacuum stronger and durable. You should clean your filter regularly.
However, the suction power may not make you satisfied.
Pros
Affordable
It is easy to carry, store, and use.
It is versatile and lightweight.
You can detach the foot and handle easily
Good for small spaces.
The filter can be cleaned easily.
Cons
Weak suction power.
The cord is very short.
The filter is irreplaceable.
6. Gtech AirRam High-power Cordless Vacuum Cleaner
This is another good cordless vacuum cleaner for elderly to use in their daily life. Just like Dyson, it features for its modern and lightweight design.
It can clean carpets, hardwood floors, and tiled floors easily without worrying about the plug issues. It uses suction power, brush bar, and airflow to clean the floors together, which is called AirRAM's energy efficient design. The dirt on each side of the brush can be cleaned as well.
In addition, its powerful rotating brush bars make it perfect for cleaning pet hair. It has a lightweight design which makes it ideal for elderly people and those who cannot use heavy equipment; making it easy to maneuver around the house easily. It weighs only 7.7 lbs.
The cleaner comes with a lithium-ion battery and a two-year warranty. You can empty your dirt effortless and only need to clean the filter. This vacuum cleaner will change how you clean your house, making the cleaning process easier, faster, and convenient.
Pros
Cordless.
It is easy to empty the collected dirt through the removable tray.
It is ideal for pet hair.
Lightweight.
It can be used to clean tile floors and hard floors.
Cons
Not easy to replace its battery.
Only last 40 minutes.
It may spit back the collected dirt.
Conclusion
The seniors are important people in our community. Their houses should be cleanly polished and vacuumed.  Some of the seniors love cleaning their rooms. It is a great way to keep their self-esteem and independence. If you are looking for a vacuum cleaner for them, always consider choosing a lightweight one. The best lightweight vacuum cleaners for seniors we reviewed above could be a great choice to consider.
Last update on 2019-10-15 at 23:24 / Affiliate links / Images from Amazon Product Advertising API. Nothing on this site should be construed as medical advice. This website is for informational purposes only. Mobilitywithlove.com is a participant in the Amazon Services LLC Associates Program, an affiliate advertising program designed to provide a means for us to earn fees by linking to Amazon.com, Amazon.ca, Amazon.co.uk and affiliated sites. Amazon and the Amazon logo are trademarks of Amazon.com, Inc, or its affiliates.