As we age, our skin will need different treatment. Generally speaking, the aging skin grows thinner and dries fast as one gets older. Aging skin is also prone to infections and other conditions.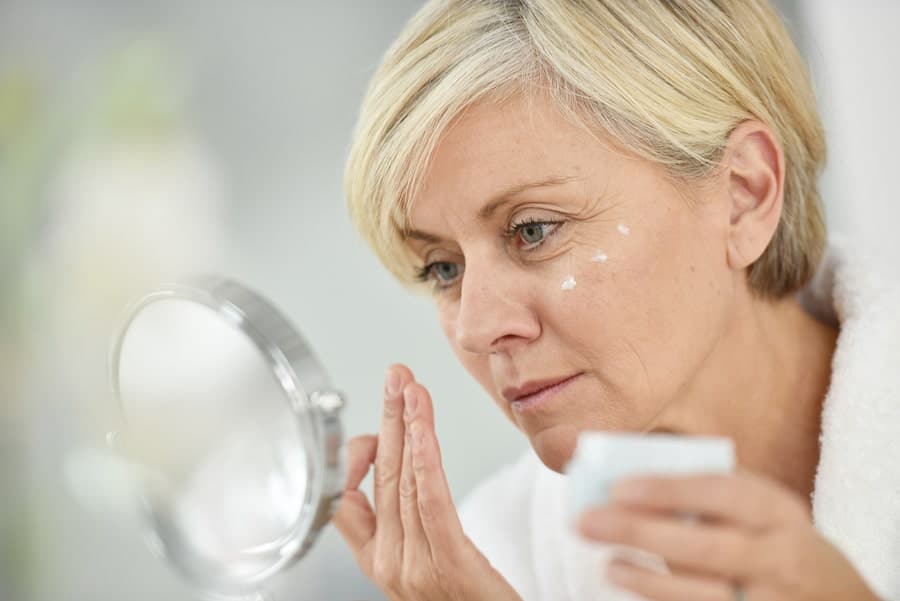 Are you looking for the best lotion for elderly skin? Here we offer the information that will help you to choose the right product.
Our Picks for Best Lotion for Elderly Skin
If you are in a hurry, check these 3 products that we think would likely meet your needs.
Best For Dry Aging Skin
L'Occitane Ultra Rich Body Cream, 6.9 Ounce
Best Overall
Cetaphil Moisturizing Cream for Dry/Sensitive Skin,...
Best For Body
Aveeno Daily Moisturizing Body Lotion with Broad...
Best For Dry Aging Skin
L'Occitane Ultra Rich Body Cream, 6.9 Ounce
Best Overall
Cetaphil Moisturizing Cream for Dry/Sensitive Skin,...
Best For Body
Aveeno Daily Moisturizing Body Lotion with Broad...
#Affiliate links.Last update on 2023-12-02 at 15:36
Best Lotions for Elderly Skin Reviewed
1. Cetaphil Fragrance-free Moisturizing Cream – Best Lotion For Elderly Skin Overall
#Affiliate links.Last update on 2023-12-02 at 19:03
This is always the best choice for elderly skin and a lot of dermatologists have recommended it.
As we age, your age tends to become dryer and more sensitive and the good news is Cetaphil moisturizing cream is made for dry and sensitive skin.
It contains a quality system of extra-strength humectants and emollients that are medically proven to prevent water loss. This offers dry skin long-lasting relief. The formula is non-greasy and ideal for moisturizing the whole body as well.
Even better, it does not contain parabens, lanolins, and fragrances that may irritate your skin. If you have sensitive skin, you should go for it.
Pros
It is formulated to prevent moisture loss and attract water to your skin.
It is absorbed quickly and non-greasy, it cannot clog the pores.
It has no fragrance, parabens, and lanolins.
It is excellent for dehydrated and sensitive skin.
It is formulated with mild ingredients.
It hydrates the skin for up to 24 hours.
The cream is non-irritating and hypoallergenic.
Cons
It is very light
It may not be valid on some skin types
No extra functions.
2. CeraVe Daily Moisturizing Lotion for Dry Skin – Best Lotion For Aging Dry Skin
#Affiliate links.Last update on 2023-12-02 at 19:03
CeraVe moisturizing lotion is another well-known skincare product that helps to protect your fragile skin. It earns a good reputation during the years.
Featuring MVE technology, it claims to offer 24 hours moisture for skin. This is very useful for seniors as our aging skin tends to become dryer.
The texture of this lotion is lightweight and easy to absorb. 3 essential ceramides work together to restore the skin barrier and it is fragrance-free.
Pros
The moisture effect is long-lasting.
Lightweight
Very gentle
Cons
May not be a good choice for extremely dry aging skin.
3. LilyAna Naturals Retinol Cream Moisturizer
#Affiliate links.Last update on 2023-12-02 at 16:44
This is another popular lotion for the elderly in the market. This product is formulated with active and plant-based ingredients which provide the seniors a youthful and healthier skin as it hydrates.
The cream contains organic products that are ideal for the skin, for example, Vitamin E, Shea butter, green tea, jojoba oil, and Hyaluronic Acid. It is ideal for any skin type.
The moisturizer is multifunctional which works for controlling breakouts as well. Yes, you can use it with your daughter or granddaughter!
Moreover, the cream has a fresh scent derived from green tea and Aloe Vera, so it has no harmful substances. A lot of people like the scent.
The best part is that it has an anti-aging formula and helps reduce wrinkles and fine lines. It offers maximum effectiveness without peeling, flaking or drying the skin. The lotion expires one year after opening.
Pros
No oily residue is left after applying
It improves uneven skin tone, texture, and overall complexion.
Prevents the skin from acne, sun damage, scars, spots, and stretch marks
It repairs, improves, and restores the skin and reveals its beauty.
It has a light, pleasant smell and has no artificial fragrances.
It is gluten-free and no parabens.
Cons
The oil is only good for one year after opening.
Retinol increases sun sensitivity
4. Aveeno Daily Moisturizing Body Lotion – Best Body Lotion For Aging Skin
#Affiliate links.Last update on 2023-12-02 at 19:03
This is another one of the best body lotions for mature skin on the market. As you know, sun rays will cause a lot of skin problems even cancer. Sometimes you may don't want to apply another layer of sunscreen, right? You can use this body lotion with SPF 15 instead if you only go out for a while.
The Aveeno lotion contains rich emollients, soothing oat, and broad spectrum SPF 15 sunscreen. The cream moisturizes the mature skin the whole day and protects it from the harmful rays.
The ingredients help to replenish and relieve dryness to make the skin healthier and smooth. It is medically proven to moisturize the skin and this brand is over 65 years old.
If you have oily skin, this one also fits you well. It is absorbed quickly and has a non-greasy formula. Besides, it has no added fragrance. Aveeno likes to use oat in their products. The oats help to soothe itchy and irritated skin and relieve dry skin.
Pros
It contains 15 SPF sunscreen to prevent sunburn
The lotion locks in moisture to prevent the skin from drying.
It contains natural ingredients which replenish the skin
It is ideal for dry skin
It absorbs quickly and prevents the skin from the harmful rays.
No added fragrance
Cons
Not ideal for very sensitive skin
The smell is not appealing
5. Thena Organic Anti-aging Face Moisturizer Cream – Best Moisturizer For Sensitive Skin
#Affiliate links.Last update on 2023-12-02 at 19:03
This is another multifunctional facial lotion for seniors. The moisturizer is made for dry and sensitive skin. It contains a lot of natural moistures such as Shea butter, hydrating coconut oil, vitamins, and rosehip.
The facial lotion offers intense hydration and nourishes the skin generously. It can restore damaged skin, remove crow's feet, help reduce dark circles and prevent sagging skin. The ingredients help to boost the elasticity of the skin.
Thena takes a lot of time on improving its anti-aging formula. This cream also works for reducing wrinkles, and fine lines leaving the skin healthy and youthful.
The lotion will make the skin supple, healthier, and softer. It should be used for one year after opening.
Pros
It contains anti-aging ingredients
The moisturizer stimulates the production of collagen and elastin to tighten the skin.
It protects the mature skin from free radicals and environmental toxins.
It is smooth and gentle on the skin, hypoallergenic, and no parabens.
The cream revitalizes skin that is dry or prone to acne.
It has no fragrance and no harmful essence
Retains moisture on your skin without clogging the pores
Cons
The smell is not pleasant
It may react on some skin types and cause breakouts
No sunscreen included
6. Olay Quench Body lotion
#Affiliate links.Last update on 2023-12-02 at 19:03
If you are looking for the best body lotion for aging crepey skin with good moisture effect, this Olay quench body lotion will not let you down.
It contains vitamins E, and B3 and Shea butter with a non-greasy formula. It provides the mature skin with moisture the whole day which helps repair and replenishes the skin.
With continued use, you will experience smooth, soft, and strong skin. For seniors with dry skin, this one is a good fit. However, this body lotion is not paraben and fragrance-free.
Pros
Has long-lasting moisture effect.
It leaves the skin smooth, soft, and elastic.
It replenishes the skin effectively
Cons
It contains parabens
The fragrance is too strong
7. Advanced Clinical Collagen Skin Rescue Lotion
#Affiliate links.Last update on 2023-12-02 at 19:03
Want to reduce wrinkles and fine lines? This lotion is designed for you. When you getting old, the production of collagen reduces. The mature skin loses suppleness and plumpness. The skin starts to thin out leading to wrinkles and fine lines.
Advanced Clinical Collagen Skin Rescue Lotion will help combat the aging process. It is formulated with Aloe Vera, Green tea, pure collagen, and chamomile. The moisturizer revitalizes the skin effectively. You can have a clear, plumper, and softer skin after a few days.
The lotion helps to reduce the appearance of fine lines, wrinkles, and saggy skin. You can use it under the neck, eyes, and hands. The formulation is ideal for the whole body as well. It is great for sensitive or dry skin.
Pros
The jar has an easy to use a pump.
It can be used for collagen injections or after surgical treatment.
Good anti-aging effect. It helps to tighten, hydrate, moisturize, and strengthen the skin.
It contains natural ingredients, making it safe for use.
It is lightweight with a mild fragrance.
Cons
It may react with very sensitive skin and cause breakouts.
The pump may break if it is not used well.
8. L'Occitane Ultra Rich Body Cream – Best for Extremely Dry Skin
#Affiliate links.Last update on 2023-12-02 at 15:36
For seniors who live in a dry area or have extremely dry skin, this is one of the best product for you.
Coming from a famous skincare brand, you can rest assured the quality of the body cream. Featuring 25% shea butter, it relieves the dryness immediately, making your skin smooth and supple. Even though it is a body cream, your skin will absorb it very quick.
Even though it is a bit more expensive than some body lotions we mentioned above, you get what you pay for.
I already use it for years and it is my must-have in winter.
Pros
Contains 25% shea butter.
Easy to absorb.
Works extremely well on dry skin.
Cons
Comes with a high price tag.
What to consider when buying a lotion for Aging Skin
When you search online, you may wonder how to choose the best lotion for elderly skin. The truth is different people have different skin issues. When you choose the lotion for the elderly, you need to consider your skin type as well as the problems you have.
Generally speaking, lotions which contain emollients and oils that are ideal for dry skin. There are various emollients in the market today, but the common ones include plant oils, cocoa butter, Shea butter, and fatty acids.
These ingredients can help maintain moisture and prevent further skin problems. Besides, you'd better choose the products which are made from natural ingredients.
Compared to cream or balms, lotions have a lightweight and smooth texture which is easier to absorb. The formula is suitable for layering if the skin is dry with bumps or clogged pores.
However, you have very dry skin, you may need to top a layer of cream or balm on it. Besides, don't forget to check the lotion ingredients to ensure that you are not allergic to any ingredient.
As you know, UV rays cause aging. When you are on an outing with wheelchairs or scooters, these rays are going to affect your mature skin.
You can opt for a lotion with UVA and UVB protection during the day. You can also choose creams or lotions that contain antioxidants.
Antioxidants help to absorb any radicals that can cause damage to the skin as well. Vitamin E, C, and B3 are useful because they are easily absorbed into the skin.
The lotions that contain vitamin A are good on your skin. Vitamin A aids in the production of collagen fibers in your skin. The collagen makes the skin more elastic and removes wrinkles.
Before using any lotion, test it on a patch of the skin. You can put a small amount on the back of the palm and leave it for a few hours. Check the surface to see if there is any reaction. Don't use the product if you develop some rashes or irritation.
At last, before buying the lotion, consider your budget. Choose one that is pocket-friendly and effective for your skin.
The best lotion for aging skin will help to reduce wrinkles on the skin but in different degrees. Some have toning and moisturizing benefits which helps the facial skin to look younger and fresh.
Other lotions can be used on the whole body and don't ignore the treatment for your body. If you feel difficult to apply the lotion on your back, you can buy a specific lotion applicator and a back scrubber will help you to remove dead skin and boost the absorption.
Just remember the best lotion for your elderly skin depends on your own condition and what you want for the skin. Below we will review those best lotion for the elderly and you can know which one suits you best.
Tips for elderly skin care
Avoid excessive skin scrubbing and hot baths. The bathing water should be warm; hot water will strip away the natural oils and moistures from the skin.
We suggest you apply the facial lotion and body lotion immediately after showering. However, don't do anything in a hurry.
In addition, alcohol-based products and harsh soaps will make your skin even dryer and you should avoid it.
Furthermore, fragrance-free moisturizers are always safer.
Except for skincare products, you can use humidifiers to fight dry air indoors but you should clean them regularly since humidifiers can cause mold which may lead to adverse effects on the elderly.
FAQ
How do you moisturize older skin?
It is advised to take moisturizer within 3 minutes after bathing. Don't forget to apply some toner before it.
What causes dry skin in the elderly?
The skin will become thinner as we age. The loss of oil glands is the main cause of dry skin in seniors. Health conditions such as diabetes and medication can make it happen too.
Final Verdict
People want to look young and have good health. But, when we age, various changes take place on the skin. The skin of the elderly will become thin and fragile.
Some seniors may even suffer from eczema, which makes the skin dry with scaly patches. It is essential to keep your skin hydrated and healthy. Also, don't forget to protect yourself from harmful rays. The lotion is a kind of skin care product that you should use.
The above are some of the best lotions for elderly skin that you can consider. Ensure that you choose a product that can work for your skin effectively.