Manual wheelchair is the main type of wheelchairs in the market. Among so many choices, it is hard to pick the right one. In this guide, we will shed some light on how to find the best manual wheelchairs for seniors and people with disabilities even though you know little about these mobility aids.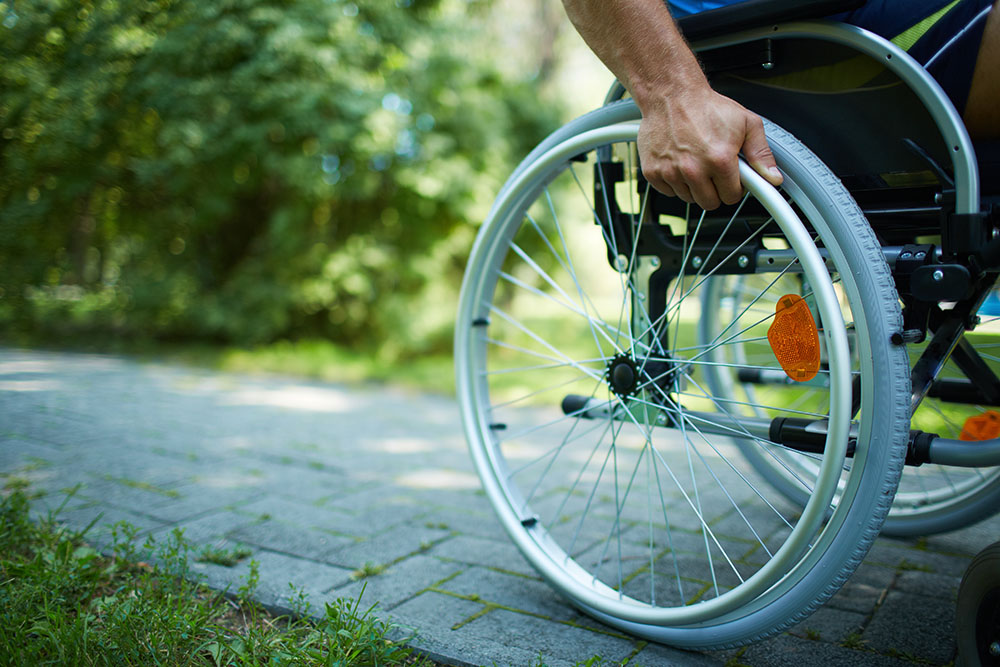 Our Top Picks For Best Manual Wheelchairs
Short of time? The lightweight wheelchair from Medline is likely to meet your needs. If you are looking for something of high quality, then you should go for the Karmen one. For bariatric users, the Graham Field Paramount Wheelchair comes with 500 lbs weight capacity.
#Affiliate links.Last update on 2023-12-02 at 06:08
Best Manual Wheelchairs: Reviews
1. Medline MDS806550E Lightweight and User-Friendly Manual Wheelchair – Best Manual Wheelchair Overall
#Affiliate links.Last update on 2023-12-02 at 06:08
When it comes to ultra-lightweight manual wheelchairs, perhaps few can match the durability and user-friendliness of the Medline.
This wheelchair features a flip-back design with desk-length arms, which allow you to easily navigate under tables. Also included are elevating leg rests which ensure maximum comfort and ease.
The durable tig-welded frame, as well as the comfortable, breathable nylon upholstery, ensure that the user gets the ultimate balance of comfort and support.
The product weighs about 33 lbs while it can easily support a weight of up to 300 lb. The seat is available in a number of sizes that range from 16×16 inches to 18×16 inches and 20×18 inches.
The height of the chair is adjustable where you can lower the seat each time by about 2 Inches. The low-maintenance flat-free tires ensure that you never fall flat in times of crisis.
Pros:
The Medline is extremely lightweight and easy to propel manually.
Flip back design with desk length arms make it easy to use under tables.
The elevating leg rests provide comfort and ease.
The chair features adjustable height.
The durable frame and flat-free tires allow for a reliable ride.
Cons:
The weight capacity is relatively low.
2. Karman LT-980 Ultra-Lightweight Manual Wheelchair – High-Quality Manual Wheelchair
#Affiliate links.Last update on 2023-12-02 at 09:04
The Karman Healthcare company produces a wide range of high-quality wheelchairs. This manual wheelchair is ultra-light which is only 24 pounds, and the company offers a warranty for a lifetime on the product as well, which is amazing.
Both rear and front wheels of the chair are sturdy while the adjustable footrests are conveniently removable for comfort and ease. The chair is also quickly and easily foldable for perfect storage and portability.
One of the greatest attributes of this chair is that the seat height is also adjustable, making it perfect for taller users. You can even contact the company to have extra features or add-ons provided for your needs.
If you're looking for quality service and company involvement, the Karman 24 pounds Ultra Lightweight Manual Wheelchair is perfect for you!
Pros:
The chair is lightweight for easy transport.
The chair is foldable for compact storage and transport.
It comes with a lifetime warranty.
The seat height and footrest are adjustable for comfort and convenience.
It has sturdy wheels.
The company can give add-ons.
Cons:
It has smaller wheels than most other chairs.
Front wheels aren't as durable as those of other wheelchairs.
Hand wheels can be uncomfortable for certain users.
3. Drive Medical Cruiser III Manual Wheelchair – Best Affordable Manual Wheelchair
#Affiliate links.Last update on 2023-12-02 at 06:13
For those who are working around a budget, Drive Medical Cruiser III wheelchair would be a perfect fit. It is hard to find such a chair in this price range.
One thing that makes it stand out is that it has an adjustable seat. The seat height can be adjusted from 19.5″ to 17.5″, making propel by feet possible. It also could accommodate users with small body sizes.
It also features flip-up armrests. To be honest, this is a feature that we often found in higher-end models. This feature helps in patient transfer by letting users getting in and out of the chair easier.
Made with carbon steel, this manual wheelchair is able to hold 300 lbs, however, it is heavier than those aluminum chairs.
Pros:
Cost-effective.
The seat height can be adjusted to hemi-height so that you can propel the chair by feet.
300 weight capacity.
The flip-up armrests encourage transferring.
Cons:
It is heavier than some models.
The hand brake is a bit stiff for some users to operate.
4.Hi-Fortune Self-Propelled Wheelchair – Comfortable Manual Wheelchair
#Affiliate links.Last update on 2023-12-02 at 06:13
We think this is a great chair for seniors who are not on a budget and want something built to last.
The frame is made from strong, ultra-lightweight magnesium alloy that provides sufficient support. The weight is only 21lbs.
The best part? The frame can easily fold down using a quick-release hinge for better and efficient storage. So, you can easily store it in the trunk of your car, under your bed, or even in the overhead compartment of planes.
Moreover, included for your premium comfort are padded armrests and swing-away leg rests. Afraid of a bumpy ride? Well, the large oversized rear wheels can overcome the most uneven surfaces.
It also includes handbrakes for you to control the movement and speed. However, the weight capacity is only 220 lbs.
Pros:
The Hi-Fortune weighs only 21 lbs.
The armrests are padded while the leg ones can be adjusted.
It is easy to control the speed using rear and front handbrakes.
Also included are anti-tippers that allow you to drive up a slope without tipping.
The durable frame and breathable upholstery ensure comfort.
The chair can be folded for efficient storage.
Cons:
The weight capacity is very low.
5. NOVA Medical Lightweight Manual Wheelchair – Best Manual Wheelchair With Desk Arm
#Affiliate links.Last update on 2023-12-02 at 06:13
This reliable and durable chair is perfect for all who desire an easy way and independent way to propel themselves.
The weight of this seat is a mere 33 lbs. However, it can support up to 300 lbs. Furthermore, it is equipped with a flip-back desk arm which is good for transfer from chair to bed.
Also included are swing-away footrests for your ease and comfort. The best part is that the height of the seat is adjustable due to the dual axle positions. The black chrome finish frame is flame-retardant and durable as well.
The black nylon upholstery is soft and comfortable. It is breathable as well to allow for perspiration. It can be folded down as well for convenient storage and easy portability.
Pros:
The Nova is the perfect wheelchair to propel yourselves.
It is lightweight and can support up to 300 lbs.
You can easily work or eat on a table due to flip back desk arms.
The height of the sea is adjustable.
The upholstery and frame provide ample support and comfort.
It can be folded down for better storage options.
Cons:
It is heavier than other seats on this list.
6. Graham Field Paramount Wheelchair – Best Heavy Duty Manual Wheelchair
#Affiliate links.Last update on 2023-12-02 at 06:13
The Graham Field's Wheelchair is specifically designed for bariatric people.
Confused about how to choose a wheelchair size? Well, this wheelchair offers a universal size that is fit for all. The depth of the seat is about 18 inches, about 2 inches longer than other wheelchairs.
It provides a comfortable seat to the user. While the seat itself is lightweight, however, due to its durability and leatherette upholstery, it can support up to 500 lbs of weight.
This wheelchair is equipped with a wide variety of features such as removable armrests, desk arms, swing-away footrests, dual axles, double crossbars, and so forth.
Also included are semi-pneumatic front casters that are durable and sturdy. The Graham field paramount is affordable as well!
Pros:
The seat is lightweight and supports a large weight capacity of up to 500 lbs.
It has a lot of features such as removable armrests, swings away footrests, desk arms et cetera.
The seat is about 2 inches deeper than standard wheelchairs.
The frame is durable.
The upholstery is soft and breathable.
Cons:
Different Types of Manual Wheelchairs
Self-propelled wheelchairs are ones that the user can move on their own if they have control of their upper limbs, they also come with handlebars on the back so that other people like family members, can assist in pushing the chairs forward.
A heavy-duty manual wheelchair is usually designed for bariatric patients to support weights of up to 700 pounds with reclining features to help mobility and comfort.
The ultra-lightweight manual wheelchairs range between 25 to 40 pounds and are perfect for portability and travel.
If you're going to get a chair for the average person that promises easy mobility and comfort, ultra-lightweight manual wheelchairs are a perfect choice.
How Do I Choose A Manual Wheelchair?
Seat Height:
The seat height should be adjusted to ensure a person's feet are 5 cm above the floor to help them move while standing or sitting. People who have knee issues should adjust their seats to a higher height for better comfort and control.
Some advanced manual wheelchairs come with an adjustable seat height feature so that you can find a comfortable height for yourself.
Seat Width:
A comfortable seat should be 5 cm wider than the user's hip. Usually, the seat width of a manual wheelchair ranges from 16″ to 22″, some heavy-duty models offer more roomy seats.
Armrest:
Depending on the cushion thickness, your armrest height should be 2-3 cm above elbow height for comfort. The armrest height of most manual wheelchairs is fixed so that you'd better take a seat before making any purchase.
Footrest:
Regarding footrest height, this must be about 5 cm from the floor. In addition, there are a few types of manual wheelchair footrests such as swing-away footrest and elevating footrest. Some footrests come with a calf pad for added comfort.
Backrest:
For self-propelling users, the optimum backrest height should be 10 cm below armpit level. It is also important to make sure the upholstery is solid enough to resist tear and wear.
Weight Capacity:
Normally, the weight capacity of a manual wheelchair is between 250 lbs to 300 lbs. Some lightweight models may have less weight capacity such as the Karmen Ergo Flight one. Some manual wheelchairs designed for people with obesity have 400lbs or 500 lbs weight capacity. Please count on both your body weight and all your personal belongings when deciding if the chair can hold you.
FAQ
Bottom Line:
Hopefully, you have already found your favorite in our list of the best manual wheelchairs. Don't forget to check the weight capacity, height, product weight, and other features you concern about before making any purchase. Always consult your doctor when buying a mobility aid.