As we grow older, it becomes commonplace to face mobility issues, and the consequences are numerous. In this regard, mobility scooters are a very convenient and practical way for seniors to sustain their daily pursuits and remain active in a secure, hassle-free way.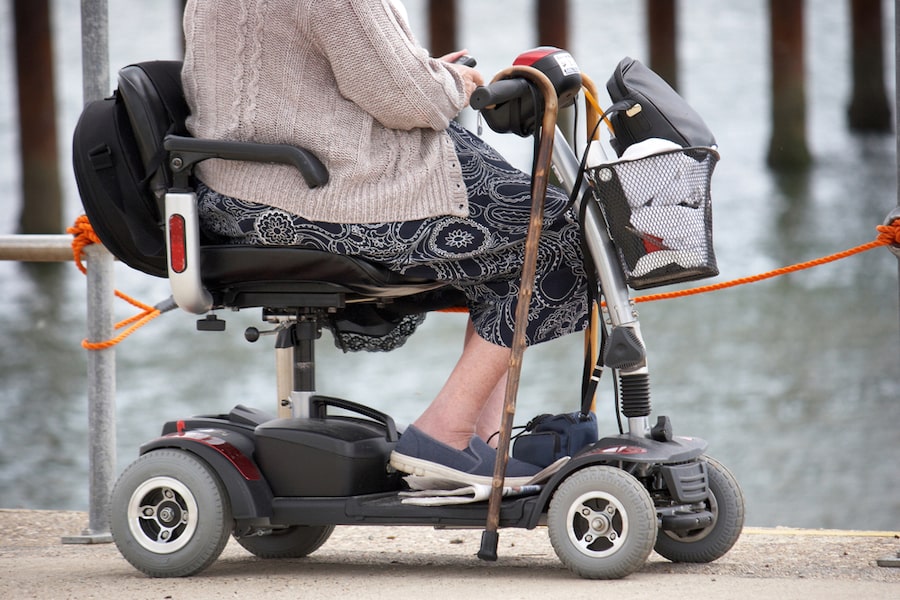 With that said, we've come up with a list of the best mobility scooters for your consideration.
However, if you're in a rush and want to know our top pick, then the Drive Medical SFSCOUT4 Spitfire Scout 4 Compact Travel Scooter is our number one. It has almost everything you'll be looking for in a mobility scooter no matter for seniors or for people with disabilities.
Best Overall
Drive Medical SCOUTLT4 Spitfire Scout 4 Mobility...
Affordable Choice
Pride Mobility - Travel Pro Premium 3-Wheel Mobility...
Best For Travel
Glion SNAPnGO 3 Wheel Portable Mobility Adult Scooter,...
Best Overall
Drive Medical SCOUTLT4 Spitfire Scout 4 Mobility...
Affordable Choice
Pride Mobility - Travel Pro Premium 3-Wheel Mobility...
Best For Travel
Glion SNAPnGO 3 Wheel Portable Mobility Adult Scooter,...
#Affiliate links.Last update on 2023-09-22 at 05:57
Best Mobility Scooters Reviewed
1. Drive Medical Scout Spitfire 4 Wheels Travel Power Scooter – Best Overall
#Affiliate links.Last update on 2023-09-22 at 05:57
If you tend to travel around a lot, then this is the best mobility scooter you can have. Not only does it provide you with secure, comfortable, and convenient mobility, but it's also quick to assemble and disassemble.
This last feature makes it ideal for traveling as you don't have to worry much about putting all the pieces together once you arrive at your destination.
Design-wise, the Drive Medical Scout Spitfire scooter has an adjustable seat height that you can match with your preferences. Not to mention a 180-degree swivel seat with a fold-down backrest option.
This makes it easier and quicker to get on and off your senior scooter. You can also alter the Delta tiller handle without difficulty.
While this mobility scooter has a weight capacity that must not exceed 300 pounds, the scooter is built with solid tires and a stable design for rough terrain.
Pros
Ideal for traveling.
Easy and quick assembly.
Available in three different colors.
Stable on rough terrain.
Lifetime frame warranty.
Cons
Not powerful enough for steep hills.
Quiet horn.
#Affiliate links.Last update on 2023-09-22 at 09:36
When it comes to Pride models and specifically this one, the Travel Pro Premium offers you the essential things that will make your daily activities practical and achievable.
The overall design is small, lightweight, and agile. It will easily fit anywhere you place it and it can also be suitable for indoor usage, making it super convenient.
However, when it comes to speed and battery life, it may not be the greatest choice, especially if you're intending to spend your time out and about.
Another thing to mention is the fact that it's a three-wheel model and therefore, you may have to be a little bit careful when driving on bumpy roads or making tight turns.
If you're looking for a budget-friendly senior scooter then this one can be a great option to consider.
Pros
One of the most affordable choices.
Can be used indoors and outdoors.
Easy to disassemble.
Free cup holder and saddle bag.
Lightweight.
Cons
Short drive range.
Limited weight capacity 275 pounds.
No suspension.
Check out how to disassemble this scooter here.
#Affiliate links.Last update on 2023-09-22 at 06:48
Are you having a hard time with your back problems or injuries, yet still searching for a foldable scooter that can make your life easier? The Glion SNAPnGO Mobility Scooter will be a blessing.
This is a great option for seniors who are looking for a scooter that comes with the best extra features.
The Glion scooter features a comfortable seat, measuring 18.5 inches wide. To offer that extra security and comfort, it comes with a powder-coated backrest and armrests. It has a weight capacity of up to 300 pounds.
Moreover, it incorporates three different speed settings for different situations and environments.
The best thing about this scooter is its front and back LED lights. When the night falls, the lights can keep you safe and illuminate your way.
Pros
Foldable.
Lithium-ion battery.
FAA compliant.
300-pound weight limit.
Fairly lightweight.
LED lights.
Strong frame.
Dual mechanical brakes
Cons
Should be handled with extra care.
Handbrake is not 100 percent effective.
4. Go-Go Ultra X 3-Wheel Mobility Scooter – Best 3-Wheel Scooter
#Affiliate links.Last update on 2023-09-22 at 05:57
If you're looking for the best value, then the GO-Go Ultra X 3 Wheel mobility scooter should be on your list. As its name entails, this mobility scooter model is ideal for use on the go.
It has a weight capacity of 260 pounds and a high speed measuring around 4 miles per hour. The ultra-lightweight design has an overall compact construction, which is easy to disassemble into five pieces.
This red and black ride is easy to use and comes at an affordable price, making it super convenient to stay active during the day.
Pros
Auto-latching lockup system.
Ultimate stability.
Easy and quick to assemble.
Height-adjustable seat.
Compact and lightweight design.
Cons
260-pound weight limit.
Not the best on unstable surfaces.
5. BUZZAROUND EX Extreme 4-Wheel Heavy Duty Long Range Scooter – Best Off Road Mobility Scooter
#Affiliate links.Last update on 2023-09-22 at 11:51
If you're looking for a scooter with a zippy top speed and long battery life, then The Buzzaround EX Extreme scooter is the one for you.
With an impressive quality design, this model is made for long-lasting outdoor use thanks to its 4-inch ground clearance and plush suspension.
What makes it stand out from the crowd is its ultra-vivid LED headlight, operating on an extended scale that reaches up to 18 miles thanks to its 2U1 powerful battery.
This senior scooter has a generous 330-pound weight limit.
Pros
Long battery life.
High weight limit.
5 miles per hour top speed.
Easy disassembly for transport.
LED bright headlight.
Different color choices.
Cons
Some pieces can be quite heavy once disassembled.
Accessories are expensive.
Check out how to disassemble this scooter here:
6. Ewheels Ew-36 Elite Recreational Electric Mobility Scooter – High-Speed Model
#Affiliate links.Last update on 2023-09-22 at 10:37
If you're all about fast speed, then this is the model for you. The Ewheels scooter comes with a variable speed setting, with a maximum speed reaching up to 18 miles per hour.
You will be able to command the speed rate hassle-free simply by turning the gas-feed accelerator. With a front and back electromagnetic braking mechanism, the EW-36 is intended to be reliable and safe, no matter how fast you're going.
This scooter also comes with a large number of extra features including a padded seat and armrests, a generous storage box placed at the back, a weather cover, and an anti-theft alert to ensure that your scooter is safe and secured.
Pros
Max speed 18 miles per hour.
Shifting speed control.
Electromagnetic brakes.
Included weather cover.
Stable and sturdy rides.
Anti-theft alarm.
Cons
The seat doesn't spin.
Pricey.
7. Vive 4 Wheel Mobility Scooter
#Affiliate links.Last update on 2023-09-22 at 05:26
This is another popular pocket-friendly 4 wheel mobility scooter in the market. It is not foldable, but you can easily dissemble it into 4 pieces and put them into the trunk of your car.
Featuring adjustable padded seat, you could get a comfortable position for yourself. You could turn the seat when you want to get out of the scooter.
The maximum speed is 3.7 mph which is not the fastest one and the 8″ tires could not be used for off road surface. However, it get the job done well on your daily life.
Pros
Affordable price.
Adjustable seat.
Comfortable and easy to use.
Cons
Why Do You Need a Mobility Scooter?
The loss of mobility for seniors is a common issue with aging. Not being able to move around freely and independently can make you feel anxious and distressed over time.
In these moments of a desperate need to walk around and enjoy your activities, a mobility scooter can be a valuable and useful piece of equipment. It will regain the senior's confidence and independence, and help them maintain an active lifestyle.

What to Consider When Buying a Mobility Scooter for Seniors
Now that you have a general idea of the best mobility scooters available and have narrowed your list of options, it would be great to know the different critical factors that you need to consider for your final choice.

For this reason, in the buying guide section, we have listed the different factors that you should take into consideration before purchasing a senior scooter.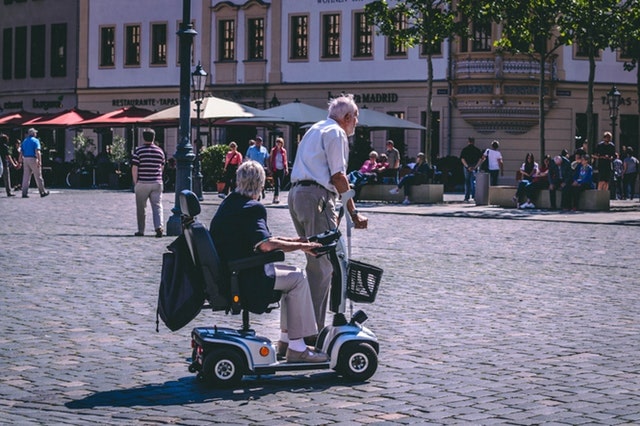 Types of Mobility Scooters
Choosing the type of senior scooter is important when it comes to determining its future usage. Generally, there are four types of scooters out there:
Travel scooters: They are usually lightweight, foldable, and have a compact design which makes them convenient when traveling abroad. It's recommended to use them on smooth surfaces.
Mid-size scooters: These can be used both outdoors and indoors thanks to their comfortable and convenient seat, bigger wheels, and varied weight capacity. However, assembling and disassembling may take a longer time.
Off-road scooters: Built for outdoor usage, the size of these scooters is larger than other models. They are made for heavy-duty weight limits, for enhanced terrain clearance, and feature luxurious finishes. They may not be convenient for traveling as they are composed of heavy pieces.
Sport scooters: These are usually made for seniors who move around a lot. They are quite stylish, speedy, and sleek. The only shortcoming of this type of senior scooter is that they cannot be disassembled since they are a one-piece design.
Number of Wheels
Whether you want a three-wheeled scooter or a four-wheeled scooter totally depends on the style of driving and how much stability you're seeking.
While three wheels are lightweight and have shorter turning intervals, the four wheels are more stable and unlikely to tip over when making fast turns or on rough terrain.
Speed
When it comes to the speed of your senior scooter, a 3 or 5 miles per hour difference between the various models can make a distinction. A 30-minute trip on the faster scooter would take more than 45 minutes on a slower one.
Portability
Another thing that should be taken into consideration is the transportation of the scooter itself.
You need to pay attention to the different dimensions and characteristics of the scooter, its weight, and whether it can be fully disassembled or not. This will help you understand if it's easily portable or not.
Battery
Depending on the standard and daily distance the scooter will be cruising, you can choose a battery that suits your needs. Some batteries provide up to 8 miles of performance, while others can go up to 35 miles or more.
Maneuverability
When it comes to maneuverability, it depends on the type of scooter you're going to purchase. If you're getting a three-wheeled scooter, then you have to keep in mind that the turning radius will be much tighter and smaller than the four-wheeled ones.
And they are usually suitable to use indoors. Therefore, where you will be using your scooter should also be taken into consideration.
Warranty
Make sure that you understand and acknowledge your rights ahead of purchasing. Try to thoughtfully comprehend the warranty, to ensure you're covered should anything happen. If you are a handyman, there are some common mobility scooter problems that can be fixed by yourself.
Storage
When it comes to storage options on your scooter, it totally depends on your preferences. Generally, most senior scooters include a tiller attached container at the front which can be used to place some small and lightweight personal items.
However, this kind of storage is only suitable for short trips. If you're looking for larger storage that can be helpful when shopping or traveling around, then a good mobility scooter for this purpose would be one that comes with a large bag or basket.
Quality
The quality of the mobility scooter can directly affect the cost of the scooter itself. As you can tell from the different scooters listed above, the price of a senior scooter can differ from one to another ranging from as low as a few hundred dollars up to a few thousand dollars. Good news! It is also possible to get a mobility scooter for free.
The primary determinant of this price range is the quality and features of the scooter.
While low-priced senior scooters tend to comprise comfort and durability, expensive models usually incorporate the latest technologies and premium quality materials, offering their users a better scooting experience.
In case you lost your key accidentally, we prepare a guide to teach you how to start a mobility scooter without a key.
In the Driving Seat
For our best mobility scooter pick, we chose Go-Go Ultra X 3-Wheel Mobility Scooter followed by the BUZZAROUND EX Extreme 4-Wheel Heavy Duty Long Range Travel Scooter. From comfort, to speed, to good battery life, you'll love your new-found freedom on these high-quality mobility scooters.