For elderly people and seniors, getting up a flight of stairs can be challenging. Add slippery conditions and those stairs are a fall hazard.
If you're feeling worried about yourself or a loved one, adding anti-slip stair treads and strips can help to ease your mind and prevent an accident. Today, we'll be looking at the best non-slip strips for stairs in the market.
#Affiliate links.Last update on 2021-04-12 at 07:15
Reviews of the Best Non-Slip Strips for Stairs
1. EdenProducts Pre Cut Transparent Non-Slip Strips — Best Overall
#Affiliate links.Last update on 2021-04-12 at 07:15
If you're not entirely sold on adding dark-colored tape or carpet pads to your stairs, these transparent strips are ideal. The strips are made out of eco-friendly PEVA, a non-chlorinated vinyl.
The strips have a soft texture that's comfortable even on bare feet but doesn't compromise when it comes to effectiveness. These are waterproof, durable and can be used indoors or outdoors. Multifunctional, the strips can help keep carpets in place, secure ladder steps, fix slippery tiles and more.
To clean just quickly wipe the strips or use your mop.
Pros:
Transparent tape won't alter the look of your stairs
Eco-friendly material
Comfortable surface
Durable material can be used indoors and outdoors in multiple settings
Easy to keep clean
Cons:
You may wish there are a few extras in the pack for replacements
2. Grade Non-Slip Stair Treads Tape — Best Transparent Strips
#Affiliate links.Last update on 2021-04-12 at 02:25
Grade offers another excellent transparent non slip strips for stairs. These are also made out of PEVA and come pre-cut in 32 by 4-inch rectangles. The strips are suitable for indoor and outdoor use and safe on hardwood, marble, vinyl, tile, and laminate floors.
Be aware, though, on light floors dust can collect around the corners, making them look dirty. The strips are relatively easy to clean and can be wiped off when needed. But it can be tricky to get the corners looking as clean as the rest of the strip.
Pros:
Comes pre-cut and ready to install
Suitable for indoor and outdoor use
Includes installation roller
Suitable for different floor types
Cons:
The transparency tends to decline slightly with use
3. EdenProducts Patent Pending Non-Slip Carpet Stair Treads — Best Anti-Slip Stair Treads
#Affiliate links.Last update on 2021-04-11 at 17:51
These carpet treads are a soft solution to hard stairs. The treads are made out of a soft wool blend that's gentle on bare feet yet effective at reducing slips.
The adhesive on the back is gentle on floors while effectively keeping the treads in place. Furthermore, you can remove the treads whenever you like and put them back without damaging the adhesive. The adhesive isn't like tape or glue, it can be easily be removed from wooden or laminate floors without causing damage. This feature is excellent for when you need to deep-clean.
Materials and adhesive used are environmentally friendly and safe to use around children and pets.
Pros:
High-quality wool blend carpets
Can be removed and put back whenever needed
Won't damage the finish on hardwood floors
Non-toxic materials
Cons:
Due to the carpet material, lint, pet hair and dust tend to stick to the treads
4. RugStylesOnline Indoor Non-Slip Carpet Stair Treads — Best Non-Adhesive Treads
#Affiliate links.Last update on 2021-04-12 at 07:15
If you're feeling apprehensive about sticking adhesives onto your stairs, here's an excellent solution. RugStylesOnline's Carpet Stair Treads are made out of olefin and polypropylene and they feature a rubber backing.
The rubber creates natural friction that effectively keeps the treads in place during regular traffic. You can safely use the treads on most floor types, however, if you use them on carpeted stairs, double-sided tape is required.
When cleaning, simply vacuum using a small attachment to get into the treads. Although the treads are waterproof, they are not suitable for outdoor use.
Pros:
Non-adhesive
Suitable for most hard floors
Easy to clean
Waterproof and resistant to mildew
Cons:
You might have to correct or adjust the treads' position every so often
5. EdenProducts Anti Slip Traction Tape — Best Non-Slip Tape
#Affiliate links.Last update on 2021-04-12 at 08:06
If you're in need of a long-lasting solution, this durable traction tape from EdenProducts is a great option. The tape is made of a triple-layer adhesive imported from Japan, it's weatherproof and won't begin to peel.
The tape is designed with an 80-grit aluminum oxide traction pad that has a subtle texture while effectively preventing slips. You can comfortably walk up and down the stairs barefoot, wearing socks, or your favorite slippers.
Use the tape on indoor or outdoor stairs. It's durable and water-resistant as well as resistant to detergents and oils, so you can stick to your standard cleaning regime.
Pros:
Durable adhesive
Weatherproof and water-resistant
Easy to clean
Easy to install
Long-lasting solution
Cons:
Has to be installed carefully since it's tricky to remove again or correct if wrongly placed
6. LifeGrip Anti Slip Treads with Glow in Dark Stripe — Best for Outdoor
#Affiliate links.Last update on 2021-04-12 at 08:06
If you're worried about dark staircases or that your loved one might miss a step, these glow-in-the-dark treads are ideal. The treads are made of a PVC-free PET material base, which is highly durable as well as water-resistant. They're also weatherproof and can withstand extreme temperatures ranging between 14 and 140 degrees Fahrenheit.
The treads provide high traction with 60-grit aluminum oxide pads that boost traction while still having a subtle texture. Each tread comes pre-cut and ready to be installed right away.
On the edge of the tape, you'll find a photoluminescent stripe. This gives a subtle light in the dark that helps make each step visible. The light strips are charged in natural or artificial light.
Pros:
Durable material
Will make dark staircases safer
The light strips can be charged in any light
Quick installation
Cons:
The strips are a bit difficult to clean
How to Pick the Best Non Slip Strips for Stairs
As you saw above, there are a few different types of non-slip strips and treads. Which one suits you or your loved one best depends on a few factors. Below, we'll take you through a few essential things to consider:
Non-Slip Strip Material
Non-slip stair strips come in a range of different materials, all of which differ in effectiveness. It's important to consider how much traction you need and how much you're willing to sacrifice the look of your stairs.
Carpet treads are effective, however, they're also very visible, which some homeowners find unattractive. Transparent strips are excellent for wooden or laminate stairs where you'd like to keep the aesthetics intact.
Adhesive or Non-Adhesive
Whenever you're sticking an adhesive onto another material, there's a risk of damaging the surface. Unfortunately, some of the most effective non-slip strips can cause damage to finished floors if removed before the adhesive gives in.
However, it's essential to keep safety in mind. Treads that aren't safely secured can become hazards if they give in. In this case, adding double-sided tape can help. If you do go for non-adhesive treads, make sure they're fitted with a rubber backing.
Cleanliness
How easy are the strips to keep clean? Carpet treads have a tendency to trap dust and dirt. They can also become pet hair and dust bunny magnets, which is less than ideal if you're dealing with allergies.
Being able to easily clean the strips or treads is essential. We recommend picking strips that are waterproof or water-resistant so you can keep up your regular cleaning regime. Carpet treads should be vacuumed or washed without the risk of mold or mildew forming.
If you're washing carpet treads, make sure you allow them to fully air dry fully. Mold and mildew will quickly begin to grow. Although mold might not be visible, the spores can wreak havoc throughout the home and body.
Installation Matters
Installing non-slip strips can be time-consuming. Some include a roller that can help you get a smooth finish with less or no air bubbles. That said, it can be tricky to avoid bubbles, especially if your floor is slightly uneven.
Some strips are easy to adjust, just in case mistakes happen. Others, such as the EdenProducts tape, will cause significant damage if removed prior to the adhesive giving in. Make sure you're clear on how to install them properly and where exactly they should be located prior to installation.
Stair-Safety Tips
If you or your loved one use the stairs on a regular basis, it's important to stay safe. Here are a few tips to follow:
Wear proper shoes or elderly safe slippers
Avoid carrying heavy or large objects
Keep the stairs well lit
Keep the stairs free of clutter
Making Stairs Safer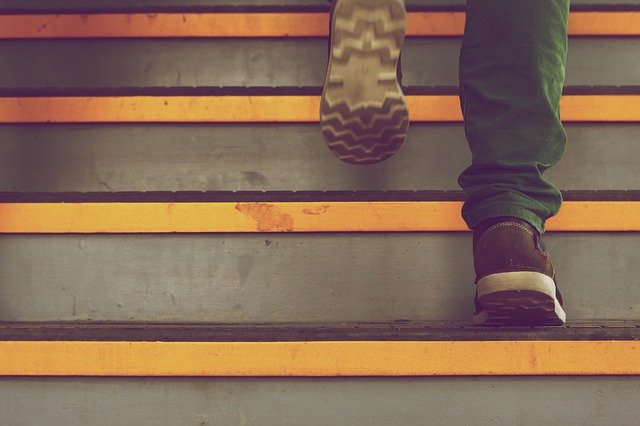 We found that EdenProducts' Pre Cut Transparent Non-Slip Strips were the best overall non-slip strips for stairs. The transparency provides a subtle look yet maintains an effective non-slip surface. Moreover, the strips are durable and will last significantly longer than many other options.
Our runner up is the Grade Non-Slip Stair Treads Tape. These are also transparent strips that are excellent for use on beautifully finished stairs without altering the look.