Do you have difficulty swallowing big pills or want to lower medication costs? Then it's time to get a pill cutter. It's a simple tool that'll split your pills accurately into halves, quarters, and much smaller sizes. Don't worry about how and where to find the right one for your needs. We'll help you with that.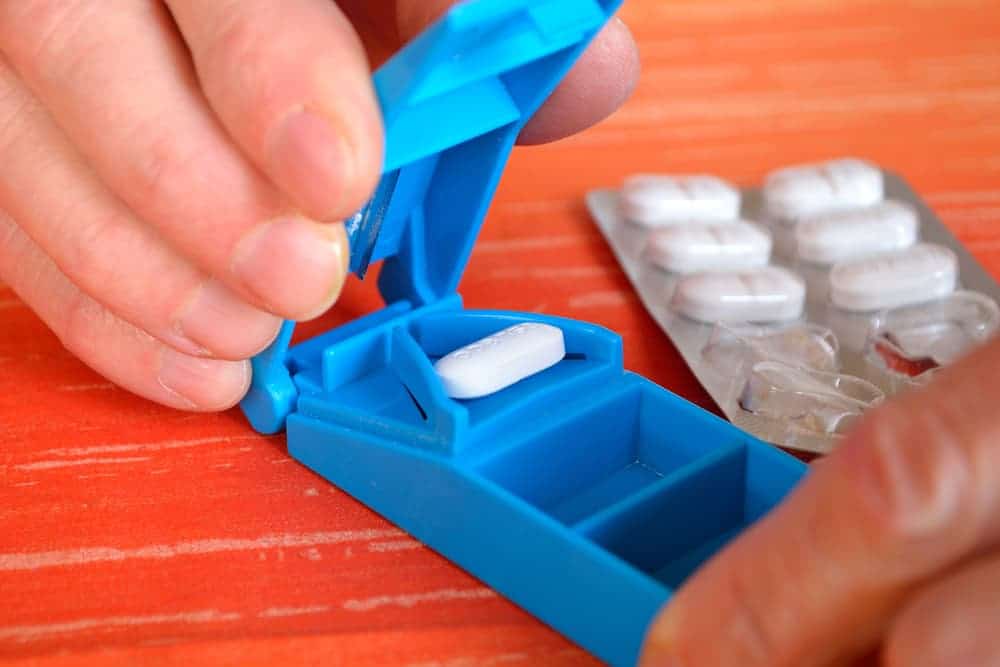 Our top pick of the best pill cutters is the APEX Ultra Pill Cutter, and below is a quick review of all our favorite pill cutters.
#Affiliate links.Last update on 2023-12-02 at 19:03
If you are also looking for something to remind you to take medication, check our post about the best automatic pill dispensers.
Best Pill Cutters: Reviews
1. APEX Ultra Pill Cutter – Best Overall
#Affiliate links.Last update on 2023-12-02 at 19:03
This medicine cutter is simple, functional, and affordable. It has a firm and durable, optical grade, polycarbonate body that comes in an efficient ergonomic design.
Inside the pill cutter, there's a V-shape pill holder that you can adjust to grip any size of pill for accurate cutting. The sharp blade is on the top lid and has a retracting guard for whenever it's not in use.
To use it, you simply position your pill on the V-shape holder and lower the top lid until the blade touches the tablet. Press slightly to cut your pill right in the middle.
The overmold crafting and finger grooves on the top lid, coupled with the contoured design, make this pill cutter comfortable to press down.
The only challenge you might encounter is your tablet shooting forward or backwards, especially the small ones. So, try and limit the force you use.
Pros
Contoured design that's comfortable to use.
Retracting blade cover for safety.
Cuts both small and large size pills evenly.
Inexpensive.
Cons
Challenging to cut small pills.
2. The Equadose Pill Splitter – Best Portable
#Affiliate links.Last update on 2023-12-02 at 19:03
If you're looking for a compact pill cutter that you can carry around in your pocket and doubles up as a pillbox, this professional pill cutter is just what you need. Its main body is superior, solid aircraft aluminum, so it's built for efficiency and durability.
You then have a design comprising double blades. These blades create a split point where you place the pill and cut it into perfect halves or quarters. They angle in such a way that they'll never dull, and still, they're not sharp when you touch them.
The only challenge you might encounter is you need to place the tablets at the center. So, it is not an ideal choice for seniors with vision impairment or dexterity issues.
To turn it into a pillbox, you simply move the swivel lid to enclose the top. With the two blades meeting at the center, you get two compartments on either side for storing your tablets.
Lastly, you get a lifetime guarantee when you buy this product.
Pros
Strong and durable aircraft aluminum construction.
Portable.
Doubles up as a pillbox.
The twin blades provide a clean and precise cut.
Cons
Centering the pill can be challenging for those who are visually impaired or weak hands.
3. 2-Pack Pill Cutter – Best Offer
#Affiliate links.Last update on 2023-12-02 at 19:03
This pill cutter comes as a pack of two. So, if you need to, you can use one to cut medication for humans, and the other one to split dog or cat pills. It's able to cut halves, quarters, and even one eight of pills that are up to 0.8 inches in size.
This is possible because of the V-shaped pill holder that firmly grips tablets of varying sizes and the stainless steel blade, which cuts precisely. It has a blade guard which covers the blade when you're not using it.
The plastic surface where you place the pill is a little slippery, so the pill can move right before you cut, leading to uneven cuts.
However, the clear plastic body makes it possible to see whatever you're cutting as you cut it, so you know if the pill is not in line—just make sure you keep an eye on the pill as you lower down the lid.
The compact size makes it easy to carry the pill cutter around. When cleaning out accumulated pill powder, you simply detach the chassis and put it back when you finish.
Pros
You can see the pill as you cut through the translucent body.
It has a sharp, stainless steel blade.
You get two pill cutters.
Compact size that's easy to carry around.
Cons
The slippery surface causes the pill to slide off.
4. Ezy Dose Pill Cutter and Splitter With Dispenser – Easiest to Use
#Affiliate links.Last update on 2023-12-02 at 19:03
This is a simple to use compact pill cutter to cut any pill size into equal halves, quarters, or eighths. It has a plastic body, but it's robust enough to survive rough handling.
The blade is made of solid and durable stainless steel, and it's sharp too. Therefore, you can expect nothing short of clean and straight cuts of your pills. You don't have to apply a lot of pressure on the lid to cut, either.
There's a dispensing plate for the cut tablets, which you can also use as a pillbox when you close it.
The challenge with using this pill cutter is that the exposed blade could easily cut you if you're not careful when placing the pill on the v-shape slot. You should definitely keep it away from children.
Pros
Sharp and strong blade.
Easy to use.
You can use it as a pillbox.
Very little pressure is needed to cut the pills.
Cons
5. AUVON Scissors-Shaped Pill Cutter – Best for Different Pill Shapes and Sizes
#Affiliate links.Last update on 2023-12-02 at 19:03
This scissors-shaped professional pill cutter has a lot to offer the elderly under medication, pet owners who need to split tablets for their pets, or anybody trying to get the correct dosage. Its large blade can cut oval, square, round, and oblong pills of sizes 5mm (⅕-inch) to 15mm (⅗-inch).
It has sharp, stainless steel blades that slice through pills effortlessly. You'll rarely see any powdery waste — whether you're cutting into halves, quarters, or way smaller sizes.
Unfortunately, you have to use both hands when cutting, one for holding the pill so that it aligns at the center, and then to catch the two cut pill pieces, while the other hand does the cutting. This could be a hassle for people with arthritis or weak hands.
The ergonomic handle of the pill cutter is comfortable to hold for both right-handed and left-handed users. When you're done, wash directly under flushing water, then dry it before cutting another set of pills to avoid mixing pill leftovers.
The company provides a 12-month warranty.
Pros
Ergonomic scissors shape design.
Accurate cutting of different pill sizes.
Easy to clean.
12-month warranty.
Cons
You must hold the pill to position it and catch the pieces after they're cut.
6. JohnBee Pill Cutter – Best for Large Pills
#Affiliate links.Last update on 2023-12-02 at 19:03
With its flexible V-shape pill holder, this pill cutter can firmly grip tablets of different shapes and sizes. It also has a storage area for 4 to 8 pills (depending on their size) which can come in handy if you need to carry the medication with you.
The pill cutter's size is compact enough to fit in a pocket or purse. It also includes an additional keychain pill holder as a bonus item.
The cutter's blade is sturdy and sharp. You only need a slight push to get a clean cut of your medication — including coated ones. The blade guard ensures you don't get cut while trying to position the pills.
To clean the pill cutter, you can use the small brush it comes with or detach the removable bottom and give it a good wash with warm water and soap. Make sure it's dry before you put it away.
The only problem you might encounter with this item is when you're cutting small pills. They can be hard to position and slip a lot, leading to uneven cuts. Try not to rush while cutting small pills.
Pros
Easy to use.
Works well with larger pills.
Storage space for carrying pills.
Cons
Cutting small pills can be challenging.
7. Multiple Pill Splitter – Best for Multiple Pills at Once
#Affiliate links.Last update on 2023-12-02 at 19:03
Wrapping up our list of the best pill splitters is a product that'll save you a lot of time by cutting several pills at a time. It has a plastic body and a medical-grade stainless steel cutting blade.
You can cut both round and oblong pills into halves or quarters with ease, thanks to the adjustable slot where you place the pills.
The blade is on the removable top lid, with a blade shield covering it. To cut the pills, you lower the lid onto the pill cutter's bottom part and press gently. The blade aligns directly with the tablet plate—it'll cut right through the middle of the medication that's there.
The downside here is the opaque top doesn't allow you to see whatever you're cutting as you cut it.
Pros
You can cut several pills at once.
Cuts halves and quarters.
It can fit different pill shapes.
Accurate cuts with little to no medicine wastage.
Cons
It's impossible to see what you're cutting.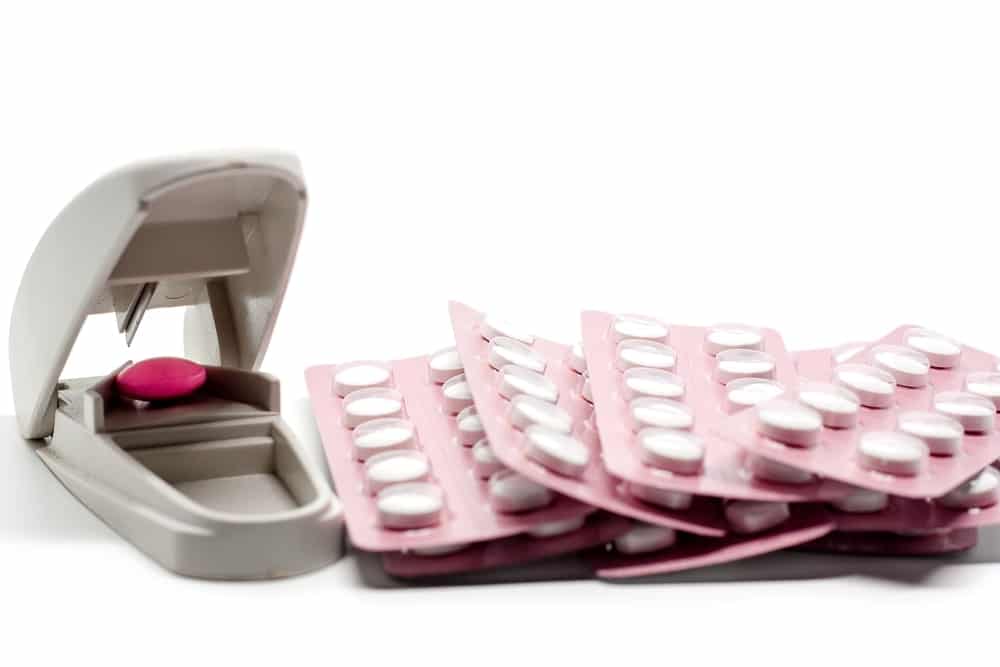 Our Pill Cutter Buyer's Guide
To get a good 4-way pill cutter for personal pills or those for your pet(s), consider the following things:
Functionality
While some pill cutters simply cut, some can also grind if you need to dissolve the medication in food or a drink. Additionally, a good number of compact pill cutters can also work as pill holders.
A multifunctional pill-splitter, like the Multiple Pill Splitter, that can cut up to seven pills simultaneously can save you a lot of hassle and time.
Size
If you need to split pills while on the move, a compact pill cutter will serve you better. For instance, the Equadose pill splitter can easily fit in your pocket.
Safety Features
The last thing you need is an injury while using a pill cutter. Make sure you check for safety features like a blade guard. It's even better if the blade is retractable. These features protect you and your family members from injury and blood-soaked medication.
Squeeze or Push
The choice between a pill cutter that you squeeze and one you push is mainly a matter of preference.
However, most pill cutters with a squeeze mechanism are more complex, requiring the use of both hands and eyes to align the pill, cut it, and hold the cut pieces. People with dexterity issues may find this challenging, so they should go with the push mechanism.
Size and Shape of the Pill
Pills come in various shapes and sizes, but some cutters have limitations on what they can cut. Make sure the pill cutter's design can accommodate the tablets you require cutting and will cut them accurately — into halves, quarters, or even eighths.
FAQ
Conclusion
That being the end of our pill cutter reviews and buyer's guide, we hope you've gained enough knowledge to make an informed choice.
We've got the APEX ultra pill cutter as our overall best product. Why? Because it's highly functional, safe to use, small enough to carry around, and costs less than lots of pill cutters on our list.
Its sharp blade will cut all your pills to the required size, so you don't have to worry about splitting expensive or regulated medication unevenly.