Many of us, as we get older, need a little extra support to go about our days. As we age, our bodies change, and this includes the respiratory system. So it's not uncommon to need some extra breathing support.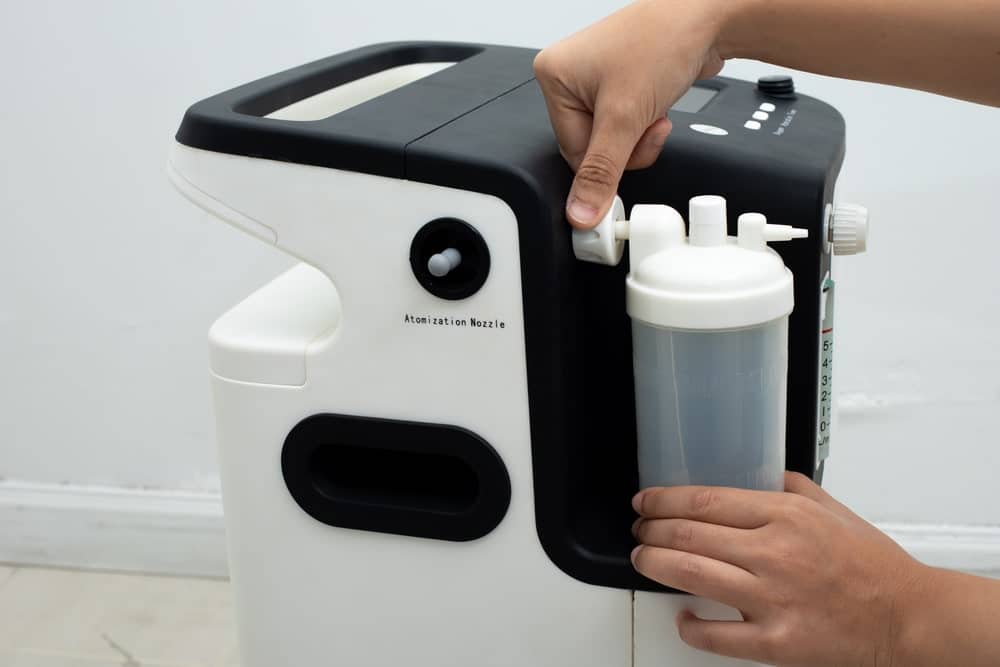 The best portable oxygen concentrator will be one that helps you without being a burden. We recommend the Inogen One G3, but if you want to know what's available, here are the best ones in the market.
Our Picks for Best Portable Oxygen Concentrators
Reviews: The Best Portable Oxygen Concentrators
These portable oxygen concentrator reviews should be able to help you find the ideal one.
1. Inogen One G3 — Best for Long Trips
At first glance, this nifty oxygen concentrator looks like a shoulder bag. But four hours of PulseDose oxygen delivery is hidden inside.
The manufacturers of the Inogen One G3 have declared it's one of the lightest, smallest concentrators on the market. It weighs just under 5 pounds and comes with a handy shoulder strap, making their claim more than a mere boast.
It's quieter than a whispered conversation, unnoticeable even in a church or library. Yet it still delivers oxygen across five flow settings, which are easy to control with the LCD screen. The screen also displays battery life and is easy to read for aging eyes.
Battery power is one of this unit's best features. The included 8-cell battery has up to four hours of life on the lowest two settings. If you opt for a 16-cell battery, this extends the life to 6–8 hours. The downside to this is that it also makes the unit almost a pound heavier, at 5.7 pounds.
This is an excellent option for long journeys and all-day outings. The unit is rechargeable via the included AC or DC power supplies. A cannula and manual also come with your purchase.
Pros
Extended battery life.
Inconspicuous appearance.
Lightweight.
Quiet.
Easy-read LCD screen.
Cons
Battery life decreases dramatically with higher unit settings.
2. Philips Respironics SimplyGo — Best for Sleep
If you prefer a continuous flow of oxygen, this unit is an option. The Philips Respironics offers both a constant flow and PulseDose, catering to everyone's needs.
Continuous flow mode lets you set the number of liters of oxygen delivered per minute. PulseMode detects when you take a breath and provides a boost of oxygen, predetermined by your settings. There's also a third option, sleep mode, for even more versatility.
Sleep mode's pulses are softer to keep you as comfortable as possible. This is great for sensitive noses or light sleepers. It delivers the pulses with your natural breaths. If it doesn't detect inhalations, it automatically switches to a continuous flow.
The unit provides superb flexibility with the battery options. You can use up to four batteries at a time, but beware that it'll make the machine heavier. It weighs around 10 pounds with one battery, which is already not ideal.
Pulse mode gives you the most extended battery life. On setting two (details unspecified), you get 3.5 hours of power for each battery, so 14 hours with the four-pack. The shortest battery life is with one battery and a continuous flow of 2 liters per minute. The battery life here is less than an hour.
You can see all settings easily on an illuminated LCD screen. This is on top of the unit, making it easy to access, regardless of whether you're wearing it as a bag, or pushing it in the provided cart.
Pro
Antibacterial filters.
Three delivery modes.
Potentially long battery life.
Quiet.
Con
3. Phillips Respironics SimplyGo Mini—Most Visually Appealing
The SimplyGo Mini comes from the same range as the last product, but without the weight and with fewer features. It delivers oxygen in one way, through pulses, but there are five settings available for this.
The most significant difference (besides less variety) between the two is that this one is half the weight. It weighs five pounds with the standard battery, six with the extended.
It boasts a shorter overall battery life than the last unit, but it's not significant. The standard battery, on pulse setting two, should last 4.5 hours. That jumps up to nine hours with the extended. You can choose either battery when you make the purchase, but you can't have both unless bought separately.
You also get a tasteful brown carrying case and charging cables with your purchase. Unlike the last portable oxygen machine, it's not a mobile cart. This SimplyGo unit is much easier to carry.
Pros
Lightweight.
Long battery life.
Easy to use LCD screen.
Impact-resistant.
Cons
Cannula and tubing not included with purchase.
4. SeQual Eclipse 5 — Most Customizable
The SeQual Eclipse 5 is the best in the Eclipse range, but beware: it's a heavy one. It weighs almost 20 pounds. To deal with this, it comes with a mobile cart for easy movement, the cart itself being light, slim and foldable.
You have some variety with this as it allows PulseDose and continuous flow delivery. The continuous flow ranges from 0.5–3 liters per minute. The pulses range from 16 to 192 milliliters per pulse.
The pulses also have three timing settings, from slow to fast, and three sensitivity settings. This makes it highly customizable to suit individual needs.
This unit has a useful light indicator, changing from green to yellow to red and flashing, depending on battery life. With a continuous flow at two liters per minute, the battery will last around two hours. On pulse dose setting two, that jumps up to five.
As well as being heavy, this unit is louder than others on the market. When delivering three liters per minute on continuous flow, it makes as much noise as an office full of people working. It gets quieter on pulse settings, though.
Pros
Variable.
Decent battery life.
Battery life indicator
Cons
5. Invacare Platinum — Most Portable
The Invacare Platinum is a simple yet effective unit. It's easily portable, and you can wear it like a shoulder bag. Invacare made it with life's unpredictability in mind.
The design is clearly to keep you active rather than hold you back. It weighs less than 5 pounds, so even people who suffer when carrying mildly heavy objects shouldn't struggle with its tasteful carrying bag — or you can wear it on the back — a convenient hands-free option to meet everyone's needs.
The unit delivers oxygen in pulses, with four settings to choose from. You can control these settings via four easy buttons on the unit.
The maximum amount of oxygen delivered per pulse is 44 milliliters. You can have up to five pulses per minute.
As it delivers oxygen, it creates minimal noise. Its noise level is about the same as a humming refrigerator, easily drowned out in most public places and easy to block out at home, and at night.
This waterproof machine operates for just over two hours with one battery. You can double this with a second cell if needed, but you must buy it separately.
The concentrator also comes with AC and DC adapters, a carry case, cannula and a manual.
Pros
Hands-free option.
Lightweight.
Water-resistant.
Top-load batteries.
Quiet.
Cons
Only one battery included.
6. Inogen One G5 — Most Modern Technology
The Inogen One G5 has six PulseDose settings tucked into its light package. It weighs less than five pounds with one battery, making it easy to carry.
Its standard battery is also long-lasting (setting dependent) at 4.5 hours of battery life. With the larger battery, this doubles. However, the charging time is as long as its battery life. So if you use the large battery, prepare to be waiting a while.
The long wait may be worth it, though, as it comes ready with a smartphone app. As the world and its people, young or old, get more technologically advanced, so does keeping oxygenated.
This app lets you keep track of your battery life and settings in real-time. This is better than using a display on the unit as it's larger and more comfortable on weaker eyes.
If you're not tech-savvy, you can also keep track of everything on the LCD screen. This device allows you to control the oxygen flow up to 1260 milliliters per minute, the highest dose of any portable oxygen concentrator to date.
Pros
Links to an app.
Quiet.
Lightweight.
Long battery life.
Six settings.
Cons
How Do Portable Oxygen Concentrators Work?
Oxygen concentrators take air from the machine's surroundings and compress it. They filter out the nitrogen, other gases and particles, maintaining only the oxygen. Then you can breathe in the pure oxygen, so every breath is more beneficial than without the machine.
Things to Consider Before Buying a Portable Oxygen Concentrator
A portable oxygen concentrator is an important and significant investment. So before you dive in, there are a few major factors to consider.
Battery Life
Will you be using your oxygen concentrator by day or by night? If it's by night, don't worry about this point. You're mainly stationary, so you can plug it in.
By day, though, you need enough time to get about, run your errands, do your housework or whatever else you need to do.
Nobody can tell you the ideal battery life for an oxygen concentrator but look at your lifestyle — decide what will best suit your needs.
The average battery life you can expect from an oxygen concentrator is 4 hours. This should be sufficient for most outings. For long journeys, try to ensure the vehicle has a charging port and adapter.
Often, the lower/less intense your settings are for oxygen flow, the longer the battery lasts. Keep this in mind and note the choice of settings when you're selecting your unit.
Display
Does the concentrator have a large display? One that features low battery warnings, malfunction warnings, and readable start/stop buttons?
As our eyes deteriorate when we get older, these things can be harder to read, so a large display is helpful.
What's even better, is an alarm that sounds if there's an issue. That, paired with a readable display, and you can't go wrong.
Noise
Noise is not ideal regardless of whether the use is during the day or at night. Luckily oxygen concentrators are usually quiet, but some more than others.
The ones that give out louder background noise may not be the best idea for night use, especially if you're a light sleeper. They're also not great for libraries, cinemas or other noise-sensitive places. If your oxygen concentrator of choice makes a noise, think about where you'll be using it. This could be a deal-breaker.
Filtration
Filtering the air is one of the main points of these concentrators. But how much filtration is going on? Not all filters are made equal.
Most oxygen filters do the basics. They get rid of dust and other particles, as well as gases you don't need to survive. Others have ways to filter out bacteria, too, which is perfect for people with weaker immune systems due to disease or aging.
What Is the Difference Between Continuous Flow and PulseDose?
There are two main ways these devices deliver oxygen to your system. Preferences about which to use will vary, and sometimes necessity plays a part.
Continuous Flow
Continuous flow is like what you'd get from an oxygen tank. Every time you breathe in, you're breathing in some concentrated oxygen. It's delivered at a set, constant rate.
This is what a person with severe respiratory issues might need — someone with trouble breathing or low oxygenation in their blood. Even when you're struggling or short of breath, the oxygen is there for you to rely on.
PulseDose
As the name suggests, with this method of oxygen delivery, it comes in pulses. It's usually customizable, so you can choose how much oxygen it releases to meet your needs. You can also decide how often the pulse dose occurs.
Some oxygen concentrators, like the Philips Respironics SimplyGo, will automatically try to release the pulse in time with your regular inhalations.
Which Is Better?
That's up to you. If you prefer big, direct inhalations, then PulseDose may work better for you. If your needs are higher, then a continuous flow is best.
Some people might find PulseDose distracting or uncomfortable. A sudden burst of air up your nose, even if it's pure oxygen, can be unpleasant.
Pulses shouldn't feel like a sudden burst of air, but some people are more sensitive than others. For this, the Philips Respironics SimplyGo offers sleep mode that releases the pulses more gently.
Conclusion
The best portable oxygen concentrator is the Inogen One G3 with the Philips Respironics SimplyGo following a close second. These mobile oxygen units are efficient and deliver what you'd expect. They're also quiet with excellent displays.
The One G3 has to be the best because it's portable, stylish and has a long life, even on one battery. The Philips unit has more battery life potential but comes in second for its weight. It's not light enough to be considered number one.
However, its three different oxygen delivery methods are second to none. That's why it's in second place, despite its hefty nature.