Even with the rapid advancement in technology, the radio remains a prized possession used daily by many seniors. For some, it's almost a part of their identity.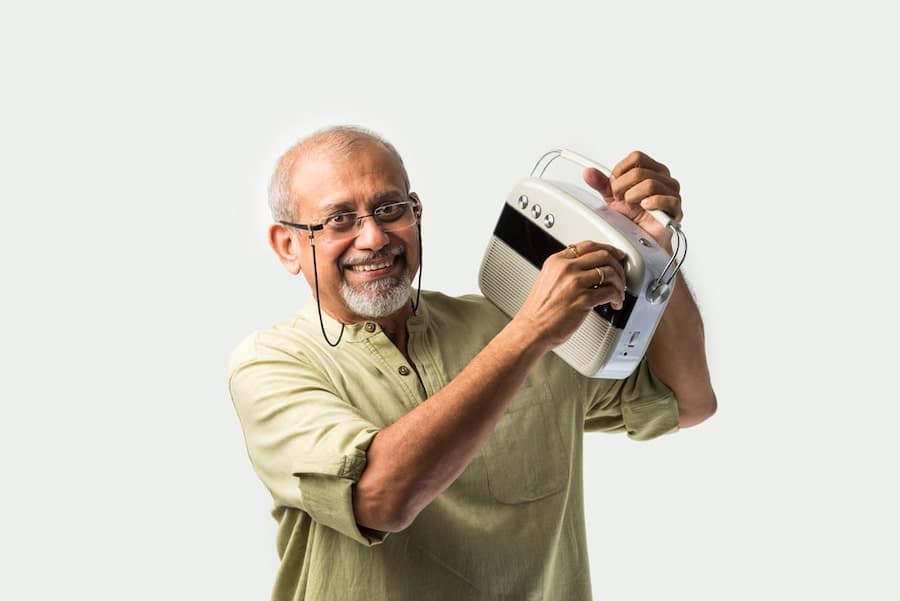 The radio is a source of entertainment, education, and information for them. Safe to say, old habits die hard.
Our top selection today is the Retekess TR604 AM/FM Radio, but we've searched extensively for the best radio for seniors and come up with seven that we're sure will meet their needs.
Keep reading to find out more, as we've also included a buyer's guide if you decide to do your own search.
#Affiliate links.Last update on 2023-12-02 at 07:29
Reviews of the Top 7 Radio for Elderly People
1. Retekess TR604 AM/FM Radio – Best Overall
#Affiliate links.Last update on 2023-12-02 at 07:29
The simplistic design and efficient functionality of this radio makes it one of the best for seniors.
It's lightweight, convenient to carry around the house, in the yard, or on a camping trip with a battery option.
The large volume and tuning knobs have a good grip that makes them easy to turn, while you can see the large waveband indicator even in low lighting. These features are great for elders with dexterity challenges and visual impairment.
You have both the AM and FM band receivers and a 24-inch antenna to help you get a clear reception. You can also obtain uninterrupted and discrete listening by plugging your headphones into the earphone jack (3.5 mm).
While this radio has no fancy features, it is really portable and easy to use.
Pros
Simple and functional.
Big dial that's easy to see.
Earphone jack for private listening.
Comfortable handle for carrying.
Good value.
Cons
Has some pulse on the AM mode.
The numbers on the display are small.
2. Jazmm AM/FM Portable Radio – Best For Dexterity Challenges
#Affiliate links.Last update on 2023-12-02 at 07:29
The thing that gives this radio a significant edge over other radios for seniors is its remarkable sound quality and reliable high and low tone modes.
You can use it to listen to your favorite AM and FM stations in the house or outdoors in the yard or even while camping. The 23.6 inches antenna will catch waves even in the most remote areas.
It comes with a 3.5 mm earphone jack for those who want to listen by themselves. To power it up, you can either use AC power or 4X DC batteries.
The ergonomic design makes this radio easy to use. With the large tuning and volume knobs, you hit your mark fast when searching for channels and adjusting the volume.
The same as the Retekess one, these knobs are a godsend for those with arthritis or dexterity issues. The big handle makes carrying convenient.
The downside is that you might experience low radiosensitivity in some areas whereby the radio doesn't tune in to weak FM stations..
Pros
Ergonomic design that's easy to use.
Good sound quality.
Uses both AC and DC power.
Cons
3. Panasonic Portable AM/FM Radio – Easiest to Use
#Affiliate links.Last update on 2023-12-02 at 07:29
This portable AM/FM radio has an amazing user interface that lets you connect to your favorite radio stations with ease.
With the digital tuner, it's a breeze switching through different AM and FM stations.
What we like are the big tuning knob on the side and large dials on the front, making it especially ideal for individuals with poor vision. Plus, it can be operated by just turning the knob, allowing seniors with dementia or other cognitive issues could use it.
The adjustable antenna is on standby in case you need to boost reception.
Use 4 AA batteries (not included) to power it up, or you can plug it in using the AC adaptor. Unfortunately, the adaptor cord has no storage, and it connects to the side. As a result, it hangs out carelessly.
The 4-inch front speaker is loud enough for you to hear while you're in another room. Still, if you don't want to disturb others, the 3.5 mm headphone jack will give you listening privacy.
It's an ideal radio for camping, power outages, and everyday use too. It's light and convenient to carry around. Plus, it comes with a strong handle.
Pros
Lightweight.
Simple and easy to use.
Headphone jack for privacy.
Good reception.
Quality sound.
Cons
The reception is unstable at some locations.
4. DreamSky Pocket Radios – Best For Outdoor Use
#Affiliate links.Last update on 2023-12-02 at 07:29
Nothing defines enjoying radio on the go better than this compact, battery-powered radio. You can use it wherever and whenever the mood takes you. It's small and light enough to carry in your hands or pocket.
It comes with a built-in speaker that produces high-quality sound — whether it's loud or low. Then you have the earphone jack that you can use whenever you want to listen on your own. Its 16.5 inches antenna does an excellent job of enhancing reception in remote areas.
We like the big white-colored numbers with a black background, making the radio is easy to read for elders with visual issues.
Tuning in to your favorite AM and FM station is straightforward. You just move the tuning gear on the side to scroll through frequencies. However, this toggle is not easy to tweak from time to time.
It doesn't use AC power, so you should stock up enough batteries or invest in rechargeables. The appeal is old-fashioned which may not be
Pros
Extremely compact.
Simple design.
Produces quality sound.
Reliable for everyday use.
Cons
Powered by batteries only.
The turner is a bit creep and sometimes hard to control.
5. Megatek Portable CD Player With FM Radio – Best Multifunction
#Affiliate links.Last update on 2023-12-02 at 07:29
This radio comes with both the old school and new technology elements, which make it one of the most versatile products on the list.
There is an FM radio connection complete with an inbuilt digital tuner that's able to auto search and lets you preset a maximum of 20 stations. Unfortunately, AM connection isn't available.
Next, you have Bluetooth connectivity that allows you to play anything from Bluetooth devices through the boombox speaker.
There's also a USB 2.0 port for connecting USB memory devices to play MP3 and WMA audio files. An auxiliary audio input allows you to plug in an external device so that you can play its audio through the Megatek's superior speakers,
Do not forget the CD player slot for those with MP3 or music CDs. It also has a headphones socket to enjoy some private listening. You can use both AC and DC to power it.
You could get an all-in-one solution, however, it may not be an ideal option for seniors with dementia or other cognitive issues.
It also comes with a higher price tag which is not an necessary investment if you won't use so many features.
Pros
It utilizes radio (FM), CD, Bluetooth, USB, and AUX mode.
Uses an efficient digital tuner.
You can preset 20 channels.
Quality and clear sound.
Cons
Doesn't support AM frequency.
Pricey than other models.
It may be too complex to use for some individuals.
6. Sony ICF38 Portable AM/FM Radio – Best Reception
#Affiliate links.Last update on 2023-12-02 at 07:29
While it is really expensive compared to other products in the market, both the AM and FM receptions for this radio are excellent, and the sensitivity is good enough to ensure you get quality connections to weak channels.
It's perfect for seniors who just want to listen to music, news, and sports on their favorite stations wherever they are.
The powerful 4.5 inches speaker produces a clear and high-quality sound that you can hear from a significant distance. A headphone jack is also included.
When it comes to power, you have the option of an AC adaptor or 4 AA batteries (standard/rechargeable).
The tuning bar inside the dial has a bright neon lime color and numbers are large so that you don't have to strain your eyes.
The challenge with this radio is its large ventilation grills which could lead to the accumulation of dust and mildew inside, possibly causing an odor or damage.
Pros
Good reception for AM and FM.
Bright tuning string that's easy to see.
Powerful speaker.
Cons
Large ventilation grills.
Expensive.
7. PowerBear Portable Radio – Best Value
#Affiliate links.Last update on 2023-12-02 at 07:29
Last on the list is a compact, handheld radio that you can take anywhere. It has a simple design that allows you to access and control the dials using one hand. The receptions for both AM and FM are long and strong. Plus, you can always boost the range with the antenna.
FM range is between 80 – 108MHZ, and AM is 130 – 1600KHZ. It only takes one switch to change from one mode to the other.
The built-in speaker produces a quality sound that makes your listening enjoyable—not forgetting the headphone port that allows you to listen to the radio without bothering anyone.
2 AA batteries (not included) are all that's needed to power the radio for over 800 hours.
Some of the challenges you're likely to encounter with this radio are static sounds when connecting to AM stations and low radiosensitivity.
Using this radio is easy and the price is low.
Pros
It's very compact and lightweight.
Pleasing sound from the speaker.
Durable battery life.
Easy to use even with one hand.
Affordable.
Cons
It can be challenging to connect to AM.
Qualities to Look for in the Ideal Radio for Elderly
When shopping for a radio for an elderly person, you must take some things into account to find the right product. Let's look at some of them.
Features
Familiarity is like a comfort blanket for many older seniors. Being able to pick something up and use it immediately is what they desire. That's the reason we've steered clear of DAB radios in this article. We've stuck with trusty analog as it doesn't show signs of disappearing anytime soon.
As far as radio features go, so long as the basics are available and functioning optimally, they're good to go.
So, you can start by checking if FM and AM are available. Then see if the knobs and buttons are large enough and easy to use. Is the antenna long enough to boost quality reception while outdoors? Does it have a headphone jack that the senior can use when they want to listen privately?
Portability
When it comes to portability, the radio should be lightweight and compact enough for an older person to carry around. A heavy radio will not only weigh them down but may also worsen underlying health conditions such as arthritis.
The radio should have a handle for holding while carrying unless it can fit in your palm, such as the PowerBear Portable Radio and the DreamSky Pocket Radio .
Sound Quality
Older ears lose the ability to hear the range that younger ones do, so clarity is all the more important for them. The radio must produce excellent quality sound, whether it's music, sports commentary, news announcements, or even a talk show. It should be crystal clear.
Ease of Use
Seniors need a radio that they can operate comfortably without any assistance. If the older adult has eyesight complications, the dials and display need to be big and visible enough for them to see. Also, if they have dexterity issues, you must consider a radio with a good grip.
Benefits of Radio for Seniors
Radio is a simple but effective tool for seniors. It can eradicate feelings of isolation and loneliness and provide infinite entertainment and information. Music, for one, can benefit a person's health in many ways.
They can catch up on their favorite sports or get the latest political and weather updates on the radio, among other things. All they have to do is turn it on, sit and listen.
The impact of radio on the old is as diverse as the many channels and programs available.
FAQ
Does Aluminum Foil Boost Your Antenna Signal?
Yes, it does. By wrapping aluminum foil on your antenna, you increase its surface area and the conductivity of waves, thus boosting the signal. It's a small trick that could impact significantly on the channels that you can connect to.
If you want to learn how to extend your AM/FM radio range, check the video below.
How Do You Deal With Radio Interference?
Some of the things that can help you fix poor radio transmission include:
Changing the direction of the antenna.
Looking out for faulty connections.
Look for any form of electrical interference from electrical appliances or power lines.
How Can You Make Your Radio Antenna Work Better?
Start by placing it at the highest point possible with very few obstructions around it. You can attach it to a long pole. Improved signal reception results in quality transmission and more radio channels for you.
Conclusion
Radios can be lifelines and much-needed company for seniors living alone. They need to be easy to operate and deliver an array of quality channels with great sound.
The overall winner for our review of the best radio for the elderly is the Retekess TR604 AM/FM Radio. Its operation is straightforward with no complex functions or features. The best part is the superior reception that ensures you don't miss out on your favorite AM and FM stations.
It's lightweight, so you can carry it wherever you go. In case you're looking for one specific quality in the radio, you can check the outstanding benefits that come with the other on the list and pick the most suitable.