Reaching things that are too far down, way up, or far off can be challenging and frustrating, especially if you're dealing with mobility restrictions, height limitations, an injury, or muscle soreness. In such situations, a good grabber tool can be convenient; they basically serve as your extended arm.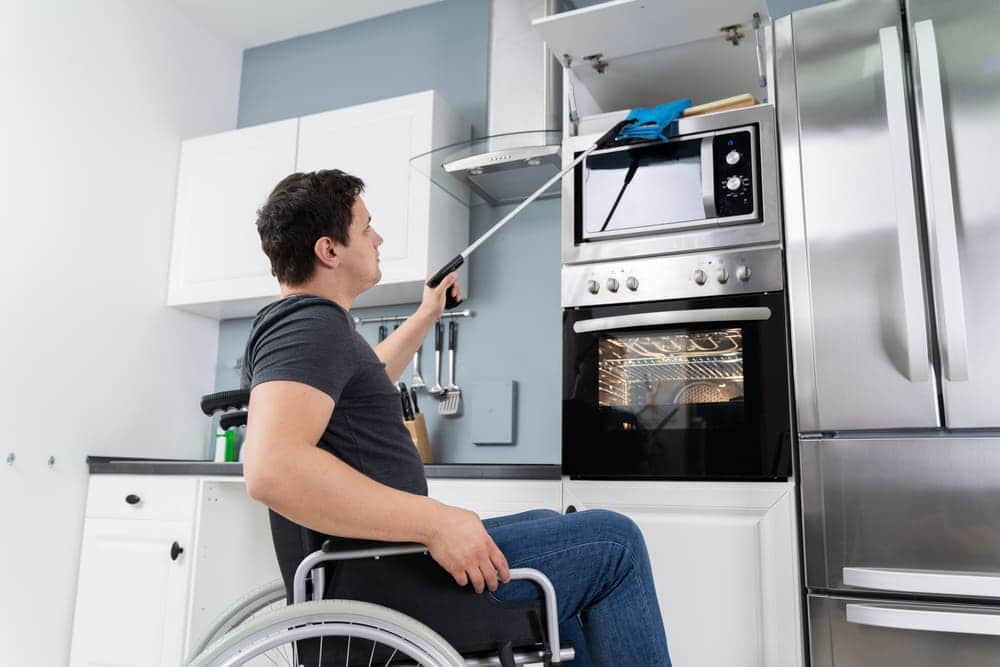 We've reviewed the best reacher/grabber tool in the market and will guide you on how to find a suitable one for yourself or your loved ones.
Best Overall
2-Pack 32 Inch Extra Long Grabber Reacher with Rotating...
Best For Arthritis
RMS Featherweight The Original Reacher 2-Pack (32-inch)
Best Heavy Duty Grabber
Unger Professional 36" Nifty Nabber Reacher Grabber...
32" extended reach, affordable, anti-slip jaw
Lightweight, 32" extended reach, fasten clip, magnetic tip
36" reach, heavy duty claws, in-built magnets
Best Overall
2-Pack 32 Inch Extra Long Grabber Reacher with Rotating...
32" extended reach, affordable, anti-slip jaw
Best For Arthritis
RMS Featherweight The Original Reacher 2-Pack (32-inch)
Lightweight, 32" extended reach, fasten clip, magnetic tip
Best Heavy Duty Grabber
Unger Professional 36" Nifty Nabber Reacher Grabber...
36" reach, heavy duty claws, in-built magnets
#Affiliate links.Last update on 2023-06-06 at 15:29
Reviews of the Best Reachers/Grabbers
1. RMS Grabber Reacher Rotating Gripper – Best Overall
#Affiliate links.Last update on 2023-06-06 at 15:29
With an extended reach of 32 inches, this reacher and grabber tool offers the ultimate convenience for picking things up at an affordable price.
Lightweight, durable, and non-corrosive aluminum is the main material used to make the shaft. Inside the tube, there's a strong steel cable that links the handle and the jaw.
Speaking of the jaw, it's made of a soft rubber material that can pick small things easily. You can rotate and lock the jaw at 90 degrees. We also like the anti-slip coating to enhance grip on different items.
This grabber is lightweight but may be hard to lift heavy items. Plus, the jaw's grasp circumference is slightly small but good to grab large cans and bottles. To be safe, avoid carrying heavy or large-circumference items.
Pros
Durable non-corrosive shaft.
Able to pick small items.
Anti-slip jaw.
Rotates for horizontal and vertical use.
Cons
Too light.
Small grasp-circumference.
2. RMS 32″ Featherweight the Original Reacher With Magnetic Tip – Best for Arthritis
#Affiliate links.Last update on 2023-06-06 at 15:29
While this reacher looks quiet different from others on our list, it is a good option for seniors or adults with arthritis. It has a lot of great features that we think will be useful for you.
It comes with an ergonomic handle and trigger, with contours that match the shape of your hand. You may feel a bit awkward while using it initially but will get used to it very soon.
The claw is wide enough to fit large circumference items, and the tip has enough magnetic pull to pick coins, keys, or cans. There's a metal post at the end of the shaft that you can hook on things like clothes to move them.
The jaws have textured rubber grips to hold items firmly when you pick them. It also features a yellow clip on the shaft, allowing you to fasten this reacher to your mobility aids.
The shaft is of superior quality, lightweight aluminum. It's sturdy and durable for everyday use and light enough for people who have weak hands.
The only downside of this grabber tool is that the magnetic tip comes loose after a while. Fortunately, you can tighten it manually.
Pros
Superior quality lightweight aluminum.
Wide claw.
Ergonomic handle and trigger.
Comes with a fastening clip.
Cons
Magnetic tip loosens after frequent use.
3. Unger 36″ Professional Nifty Nabber Reacher Grabber Tool – Best Heavy Duty Model
#Affiliate links.Last update on 2023-06-09 at 16:12
This pick up tool provides you with an additional 36-inch to reach above, below, and across. Now, add that to its heavy-duty claws, rubber-tipped jaws, and contoured lever gripper. This leaves you with a tool that you can use inside the house, out in the yard, or when shopping.
The jaws can comfortably hold small, large, and other odd-shaped items. You then have built-in magnets that are strong enough to pull small metal items. We like this feature as it will help you to pick up keys and cans with a breeze.
However, people with arthritis may find it difficult to squeeze and hold items with this grabber. You should probably look for a trigger-style handle if your hands aren't strong enough.
Pros
Very strong.
Comes with in-built magnets.
Very long reach.
Durable aluminum pole.
Cons
It's not ideal for people with weaker hands.
4. Kekoy Grabber Reacher Tool With Light – Most Versatile
#Affiliate links.Last update on 2023-06-09 at 16:12
This pick-up grabber is a multifunctional player which makes your life very comfortable.
The 32-inch reach means you no longer have to stretch and strain your muscles when reaching for things that are far away.
It also features an ergonomic trigger handle that's easy and convenient to use. This is ideal for the elderly and people suffering from arthritis. Like some models we mentioned above, the large jaw has an anti-slip lining for additional grip on surfaces like glass.
A significant highlight of this tool is the bright headlight. Once you install the batteries, the light can cover up to 4 square meters; this helps pick up things at night or in a dark room. Remember to turn it off when it's not in use.
Another appeal of this reacher is its foldable design, which adds more portability.
Now, let's not forget about the powerful magnetic tip, enabling you to pick metal objects from various surfaces and hard-to-reach corners.
The only problem with this tool is its durability. The cord inside the shaft tends to break after a few weeks of heavy usage. You can try and reduce the load that you lift.
Pros
Quality headlight lighting.
Ergonomic trigger handle.
Ninety degrees head rotation.
Magnetic tip.
Cons
5. Luxet Foldable Reacher Grabber – Best Price
#Affiliate links.Last update on 2023-06-09 at 16:12
If you're looking for an affordable grabber tool for the elderly, injured, or those with height challenges, this product will meet all their needs.
It's compact, foldable, and lightweight. It'll hardly weigh you down. The 32-inch range makes everything easy.
Both the tube and inner cord are strong, durable stainless steel. The grabber can lift heavy items without any strain. It's also magnetic; picking metal objects like keys and coins won't be a problem.
To grab items, this tool utilizes a simple mechanism where you press an elongated button-like grip on the handle. You must keep the tension on the trigger and only release your hold when you want to let go of the item.
Unfortunately, folding this reacher and grabber stresses the cord inside the shaft. You can try leaving it unfolded for longevity purposes. Also, it doesn't rotate, so you have to make do with twisting your wrist.
Pros
Magnetic.
Easy to travel with.
Quality rubber gripper.
Wide claw.
Cons
Folding stresses the cord.
Doesn't rotate.
6. Ezpik 26" Foldable Small Grabber Reacher Tool – Best for Short Reach
#Affiliate links.Last update on 2023-06-09 at 16:12
Wrapping up our list of the best grabber tools is a sturdy model that's not as long as the others but measures up in most other areas while having a slight edge in others.
With a 26-inch reach, you can access many high places inside the home and reach further outdoors without bending from placing and removing things on shelves to picking broken ceramics and trash from the ground.
The convenience is worth it for the elderly, surgery patients, and everyone else too. The 26-inch length is great for short people.
The design is unique and functional. On the handle, you have a decent grip and sensitive trigger. The long tubes are then held together by a strong hinge; this results in a steady tension with the steel cable, which is good for durability. Plus, you can fold and carry it around comfortably.
The head rotates 360 degrees; simply pull and turn, then release it to lock. As a result, it's easy and fast to switch between vertical and horizontal orientations. The claws have a non-skid, rubber padding and open up to 5 inches to accommodate large circumference items.
The tip has a solid magnetic feature for pulling small metal objects like keys, screws, and coins. Another amazing feature is that you can attach this reacher to some walking aids which are heavily been used among older adults.
Unfortunately, the magnet is only on one side of the claw, so if it's on the wrong side, you must rotate it 180 degrees.
Pros
Has a clip-on attachment.
Foldable.
Easily rotates to a vertical or horizontal position.
Has a good grip and a sensitive trigger.
Cons
The magnet is on one side only.
What To Consider When Buying the Best Grabber Tool
To pick the best reacher, you must consider a few things if you want to narrow down your search and save time. They are:
Your Needs
Top of the list is your needs. Now, it could be you're physically challenged and need a tool that can get to the top shelf, or you're sick, and bending hurts your back. Some prefer to use a step stool, but for people in a wheelchair or who suffer from arthritis, a grabber tool would be a better choice.
If you have more than one need, then a multi-functional reacher and grabber would be perfect for you. However, if you're only looking for something to pick litter with, a simple, long reacher should help.
Length
How far do you want your grabber tool to reach? If you're buying one because of the items on the top shelves in the house, you can easily take measurements to know for sure.
Picking a shorter grabber would force you to bend still when collecting things from the ground (if you're taller) or stand on something to reach the top shelves (if you're shorter.)
Weight
The tool's weight matters a lot, especially if you're dealing with hand complications like arthritis. It shouldn't be too heavy that it triggers the condition every time you lift the tool, thereby derailing the healing process.
The people who aren't as agile and strong as they used to be will also do well with a lighter tool. Generally, a grabber made with aluminum tends to be lightweight.
Design
The style and design vary from one manufacturer to the next. Look for simple but important details like a full-hand grip handle design, folding feature, clip-on attachment, and rotating ability.
It would help if the tool has good lighting, like the Kekoy one on our list, for night vision and use in dark rooms; this is essential for the elderly with visual problems.
The magnetic component is also useful when you're trying to find or pick metal items.
We found this video below is very helpful on helping you to find the right reacher.
FAQ
What Other Names Can You Call an Extending Grabber?
Grabber arm, reach extender, helping hand, extended gripper, picker-upper, trash picker, grabber tool, long arm gripper, extended arm grabber, etc. The names come from the many functions that the device does.
What Is a Grabber Used for?
A grabber is a mechanical tool that serves as an extension of your arm. So, it does most of the things you'd do with your hand but with a wider reach. 
You can use it to grab items from the top shelves at home and while out shopping, pick up litter in the yard, pull coins from under the furniture, grab a medication bottle, press buttons on an elevator, pick up a newspaper, and even pull up your pants while dressing.
Essentially, this tool helps you to avoid bending or stretching to get things that you need.
How Do You Use a Reacher and Grabber Tool?
Using a reacher and grabber tool is very simple. You start by holding it in your hand, then aim the claw at whatever item you want to pick. Wrap the claws around the object and press the trigger-like handle to tighten the grip of the claws. Maintain the pressure and bring the item towards you.
For small metal objects, move the magnetic on the claw towards the item, and it will stick on the claw.
Conclusion
In conclusion, our overall best grabber tool is the RMS Grabber Reacher Rotating Gripper. It has all the ideal qualities of an effective reacher. The 32-inch reach can help you pick up items on top shelves and many hard-to-reach areas. Not to forget, it has an anti-slip coating and is lightweight with an ergonomic trigger handle.
You can rely on it to pick both small and large objects. It'll meet most, if not all, of your mobility needs.
Coming in as is the RMS Featherweight the Original Reacher 2-Pack. It's an easy-to-use tool with a lightweight frame.
However, if you're just looking for a long and heavy-duty reacher grabber tool to pick up litter or products from high supermarket shelves, then go for the Unger Professional Nifty Nabber Reacher Grabber Tool.