Keeping your toenail short and clean is important for your health. With age comes, less flexibility and a weaker handgrip that makes cutting toenails by yourself harder. A well-designed toenail clipper can save your effort and make this chore more enjoyable.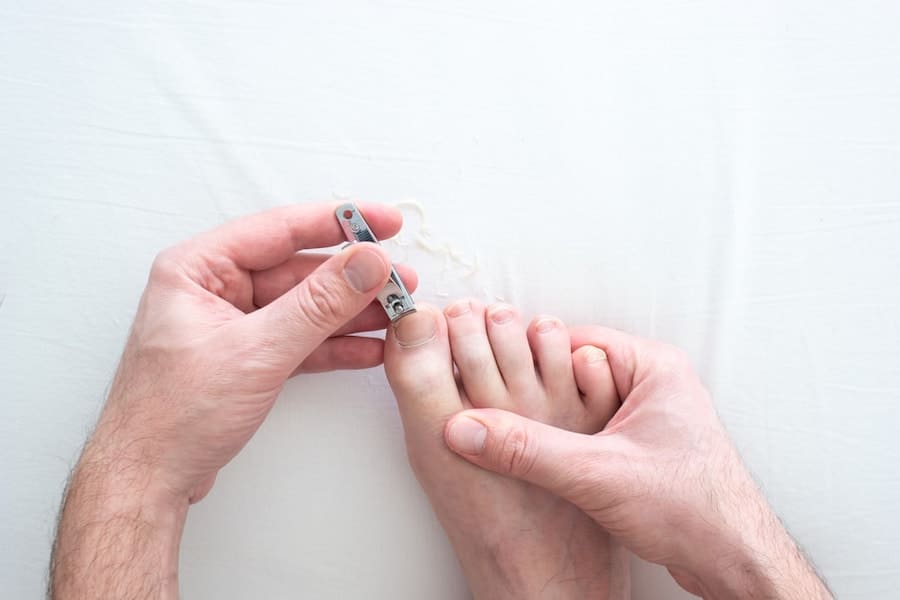 If you're looking for the best toenail clipper for elderly people, we recommend the Kohm CP-120L Heavy Duty Toenail Clipper. We also reviewed extended toenail clippers and electric fingernail clippers for elderly people that you should consider.
Our Picks for Best Toenail and Fingernail Clippers for Seniors
In case you are in a hurry and want to know more types of nail clippers, we include 3 good ones in the table. No matter you want a single clipper or a set, we got you covered.
Best Overall
KOHM Nail Clippers for Thick Nails - Heavy Duty, Wide...
Best Nail Clipper Kit
4PCS Toe Nail Clipper for Ingrown or Thick...
Best Electric Fingernail Clipper
Nail Clippers Nail File Nail Trimmer Nail Cutter Nail...
Best Overall
KOHM Nail Clippers for Thick Nails - Heavy Duty, Wide...
Best Nail Clipper Kit
4PCS Toe Nail Clipper for Ingrown or Thick...
Best Electric Fingernail Clipper
Nail Clippers Nail File Nail Trimmer Nail Cutter Nail...
#Affiliate links.Last update on 2022-11-29 at 05:25
Our Reviews of Toenail Clippers for Elderly People
We found five cutters suitable as toenail clippers for handicapped or elderly who have difficulty exerting a firm grip to cut thick nails. We also included an electric fingernail clipper.
1. Kohm CP-120L Heavy Duty Toenail Clipper—Best Overall
#Affiliate links.Last update on 2022-11-29 at 05:25
Take a classic design, apply some smart engineering, and you end up with a near-perfect toenail clipper for elderly people.
The curved jaw of the Kohm clippers can handle the tough nails older people may have. The lightweight coated alloy clippers are easy to hold and use a unique lever design to minimize the force needed to cut thick nails.
Recommended for professional use by pedicurists, these clippers are suitable for anyone with thick nail growth.
Pros
Sharp blade for smooth cuts without shattering your nails.
Made from heavy-duty coated alloy, lighter and more durable than stainless steel.
Left- or right-handed use.
Opens 15 millimeters wide for irregular or curved nails.
Can also be used for manicures on fingernails.
Cons
Requires sufficient flexibility to reach and grip the cutters at the right angle to your toenails.
Risk of cracking nails where the blade is too narrow to cut the whole nail in one.
2. Wanmat Four-piece Toe Nail Clippers—Best Nail Clipper Kit
#Affiliate links.Last update on 2022-11-29 at 05:25
The rubber-coated handles of these cutting pliers mold well into your hand, making it easy to carefully cut thick or ingrown nails with the sharp cutters—even with weaker hands.
The handles work for both left and right-handed users. Two springs brace the arms to allow continuous cutting with easy hand movements. The durable, non-slip ABS material covering the handles can be removed if preferred.
The cutters come in a four-part kit together with several useful utensils to make pedicures easier.
A nail cleaner lets you lift ingrown nails from the skin to allow cutting with the toenail clippers. The textured grip and curved end give a secure hold.
A magnet cover catches cut nails from dropping or flying away, so that nail clippings don't litter your home.
A stainless steel nail file is also included, to smoothen cut edges of toenails to prevent injury and torn socks.
Pros
Fits smaller hands well.
Arced cutting edge makes cutting into ingrown toenails easier.
Medical quality steel is rust-resistant.
Comes packed in a gift box to make a great gift for elderly parents.
Lifetime warranty.
Cons
Some users were unsatisfied with inconsistent manufacturing quality.
3. Harperton Fingernail and Toenail Clipper—Best Classic Clippers
#Affiliate links.Last update on 2022-11-29 at 05:25
If you're just looking for classic nail clippers, then a set with two different blade sizes may be right for you. The ergonomic handle of both the small and large clipper cradles comfortably into the hand, even if you don't have a strong grip. There's one size for fingernails and a larger one for toenails.
Thanks to the rounded, hand-sharpened blades, these toenail clippers for seniors make trimming your nails straight-forward.
They're made from high-quality surgical stainless steel, and a lifetime warranty is accompanied by a 30-day Satisfaction Guarantee permitting you to return the product if you're not content.
Pros
Two sizes to fit nails on your hands and feet.
Cut thick nails well.
A nail file is integrated into the handle.
The fold-out levers make for compact storage.
Extra-sharp for easy, clean cuts.
Cons
Not as easy to use as other designs with longer handles.
4. EZ Grip Rotary Toenail Clipper—Best Clipper With 360-degree Swivel
#Affiliate links.Last update on 2022-11-29 at 05:25
The EZ Grip is an ingenious toenail clipper for elderly people. By swiveling the blades, you can hold the clippers in a different position for each toe to get a good, steady grip. Anyone with reduced wrist flexibility will appreciate that cutting toenails with this clipper requires no awkward twisting.
The ergonomic design braces the lower rigid handle across four fingers so you can use the whole hand's strength to cut thick nails. Excellent when used as toenail clippers for handicapped people.
Pros
Blade mounted on a 360-degree swivel.
Lower handle is ribbed for a steady hold.
Built with lightweight materials.
Cons
Not as steady to hold as clippers with fixed blades.
5. Electric Nail Trimmer—Best Electric Fingernail Clipper
#Affiliate links.Last update on 2022-11-29 at 05:25
If your nails aren't too thick, a simple solution is to use the Electric Nail Clipper. The rechargeable device will be much appreciated by elderly people with arthritis and inadequate hand strength. Using an electric nail trimmer is safer and reduces the risk of accidents, especially when your hand is getting less steady.
Only designed for fingernails, it doesn't work well on toenails. Simply insert your nails into the battery-powered trimmer to have the nail filed back evenly to the optimal length.
A cleaning brush comes included. USB charger not included.
Pros
Simple and safe to operate.
Requires little effort.
No clippings to clean up.
Cons
Not suitable for thicker toenails.
6. Ingrown Toenail Scissors—Best Extended Toenail Clippers
#Affiliate links.Last update on 2022-11-29 at 09:31
Longer handles are a good way to increase leverage for cutting thick and malformed toenails. If you're an older person or have less strength in your hands because of arthritis, this design will be very beneficial. The extended reach and angled blades are especially welcome when your flexibility is limited.
The scissors sit firmly on your fingers, and with one slightly serrated cutting edge, these two features work together to avoid any slipping. The sharp, strong blades cut well through thick nails.
They come with a lifetime money-back guarantee.
Pros
Fits either hand.
Extends your reach by about 5 1/2 inches.
Safest way to treat ingrown toenails.
Cons
Small handles don't fit bigger fingers.
Serration is helpful but prevents smooth cuts.
How to Take Care of Your Toenails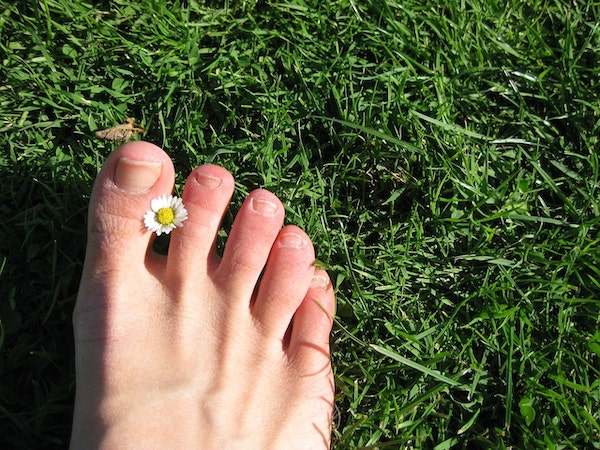 As your body ages, so do your toenails; this means thicker nails, sometimes malformed or growing into your toes' skin.
And with age comes reduced flexibility, which makes it harder to reach your toes, let alone get a steady hold to clip your nails safely. If you have arthritic hands, then you're really at a disadvantage to reach your toes, get a good grip on the cutters, and exert enough strength to cut through your nails cleanly before pain catches up. (See also computer mouses for arthritis).
Also, if arthritis has reached your feet, then your toes may be bent or otherwise may be harder to look after.
But that should not discourage you from giving your toenails the attention they deserve.
Three Good Reasons to Care for Your Toenails
If cutting toenails is too challenging to manage due to old age, health reasons, or reliable clippers, most people will give up. But there are several reasons seniors should take care of their toenails.
To Maintain Personal Hygiene
Long fingernails and toenails can accumulate dirt, dead skin, and fungus; especially when toenails are curved or bent, then toes can become very unhygienic. Not only will this aggravate abnormal toenail growth, but accelerate fungus growth, leading to bad odor and potentially skin infection.
Normally a bath or shower is sufficient to keep your feet clean, but when nail growth is left unchecked, then washing and drying your toes well becomes harder, especially when you lack the flexibility to reach down to your feet easily.
To Avoid Fungal Infections
Once personal hygiene suffers, fungal growth can quickly get out of hand. With fungus comes the risk of infections that can lead to much more severe problems, possibly requiring surgical intervention.
Humid conditions aggravated fungus. If you don't dry your toes properly, and then put on socks and closed shoes, the fungus is literally in its element. All it needs is the starter culture under your toenails, and before you know it, the skin on your feet is peeling off. It's not a pleasant picture but an important warning to take the time to maintain your toenails.
To Avoid Injury
Those people who have had to walk with ingrown toenails need no reminder that nails should be cut well to avoid this problem. Older people frequently suffer from toenails curving and pushing under the skin. One day a toenail might pierce the skin, the toe gets infected, and suddenly it becomes impossible to walk without searing pain.
A particular problem occurs when, due to lack of the right utensils, toenails are improperly cut. As a result, edges left behind can grow into the skin of your big toes, causing painful infections.
If poor flexibility makes it hard to clean and inspect your toes regularly, you can end up with an ingrown toenail quicker than you realize—another good reason to get the right toenail clipper for elderly people and to use it regularly.
The Best Way to Cut the Toenails of an Elderly Person
Whether you want to cut your own nails or help someone older, it needs to be done regularly with the right toenail clipper for elderly people.
Start by cleaning the toenails. Wash carefully around and between the toes, scrape out the crevices, edges and underneath the nail. Then insert an implement at the edge of each nail to loosen the skin and remove any dirt.
Now take a moment to inspect each nail carefully. You're looking for any potential problems or symptoms that indicate existing or potential issues that require intervention or resorting to a professional podiatrist. Fungus and injuries may be present. Malformed nails can threaten future damage. Warts, dry skin, and corns should be monitored. And look for warning signs of infection.
Now you're ready to clip each nail carefully. Begin on one side and cut carefully around the perimeter, keeping it parallel to the edge of the toe. When you reach the other side, clip carefully at an angle to avoid splinters or sharp corners remaining.
After you have finished cutting, use a file to smoothen the cut edges and corners that may cut skin or socks.
If you have ingrown toenails, consider getting professional help. Ingrown toenails typically affect the big toes. You can attempt to do this yourself if it's not too severe. Make sure all your instruments are disinfected before you begin. Soak the foot in water to soften the skin and nail. Scrape off any dead skin.

You can carefully cut the corners of the ingrown nails now. Alternatively, you can insert a small cotton ball to encourage the nail to grow away from the skin.
Some Tips to Stay Safe and Avoid Injury
You should soak your nails in lukewarm water before cutting them, to soften the skin and nail, and to avoid the risk of nails splitting.
Just cut small sections of the nails at once—avoid using the whole surface of the blade to cut your nails with a single clip.
Be sure not to cut nails back further than the tips of your toes and so inadvertently expose the skin under the nails.
After every use, disinfect the blades with alcohol.
Conclusion
You will surely agree that regularly cutting your toenails is important to maintain hygiene, avoid infections, and prevent injury. We hope you find this review useful.
The best toenail clipper for elderly people that we've found is the Kohm CP-120L Heavy Duty Toenail Clipper, which cuts smoothly, is easy to use, and represents good value for money.