The transport wheelchair is a godsend for caregivers and family members. It makes pushing the seniors or patients much easier than before. We reviewed the top 8 best transport wheelchairs on the market in this post. We are sure that you will find your favorite on this list.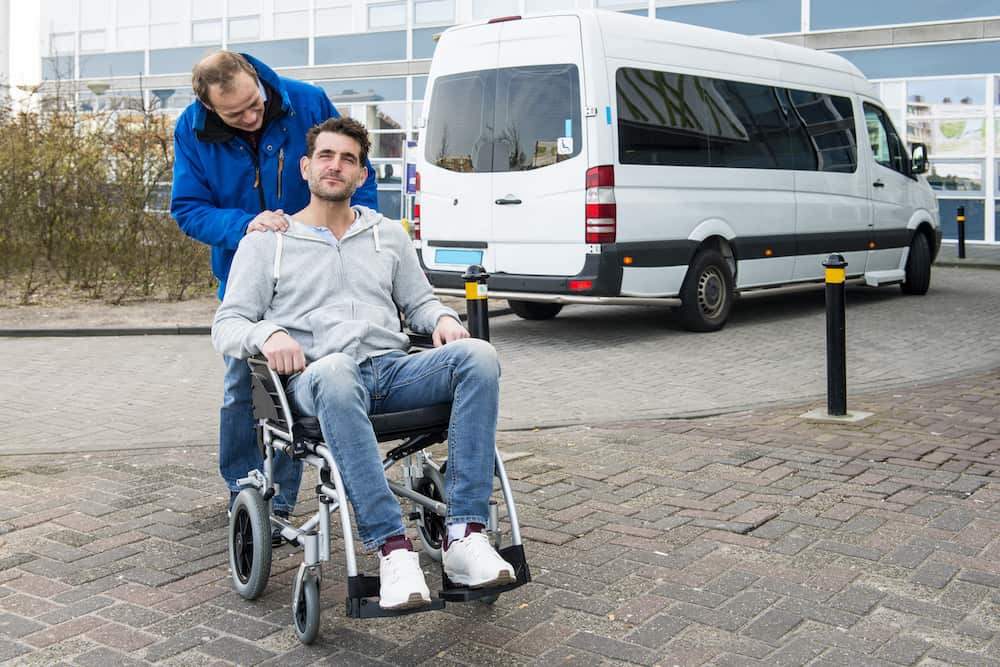 #Affiliate links.Last update on 2023-12-02 at 18:44
Best Transport Wheelchairs: Reviews
We have handpicked our top 8 best transport wheelchairs for you! Check these out and be your own judge!
1. Medline Lightweight Transport Wheelchair with Handbrakes – Best Transport Wheelchair Overall
#Affiliate links.Last update on 2023-12-02 at 18:44
The Medline Lightweight Transport Folding Wheelchair with Handbrakes stands far above various wheelchairs on the market due to its unique design and durability. This amazing transport wheelchair makes it easier for users and bystanders to help move around with comfort and ease.
Compared to other standard wheelchairs, the Medline wheelchair is designed to be much lighter for easier handling. Along with that, the chair is more dynamically designed to be compact so that you can easily navigate through tight spots and narrow spaces (See also narrow walkers for small spaces) that most other chairs won't allow.
This transport chair also provides you with loop-lock handbrakes that are easy to control and perfect for locking the rear wheels while moving the chair around. It also offers a seatbelt, which keeps the user safe and secure.
Moreover, this chair offers optimum compactness when folded, so that you can easily load it in a car or carry it around for portability. With a weight of about 23.5 pounds, this chair is much easier to carry than others on the market.
You will also benefit from its comfortable nylon seating, full-length armrest, and detachable footrests for the best convenience and comfort.
The Medline chair with Handbrakes, being the best transport wheelchair, will give you the comfort and ease you deserve!
Pros:
It is lightweight for easy handling
It is easy to maneuver.
Nylon seating is comfortable and easy to clean.
The chair is foldable.
It features a seatbelt and handbrakes for security and emergencies.
It is foldable for easy transport.
Cons:
The wider design makes it heavier than other chairs on the market.
It is steeped in the price range than most other models.
2. NOVA Lightweight Transport Chair With 12" Rear Wheels – Safest Transport Chair
#Affiliate links.Last update on 2023-12-02 at 18:44
For a long time now, NOVA has attracted consumers with its quality, design, and beautiful accessories. NOVA's wheelchairs are no exception. This NOVA Lightweight Transport Chair, for example, boasts quality and top-tier design.
The chair's 12-inch wheels are durable and maneuverable for perfectly smooth motion. The design also ensures user safety.
Along with the chair's durable steel frame that can support up to 300 pounds of weight, its handbrakes provide the much-needed safety and security every wheelchair user requires. The adjustable armrests make it efficient and easy for desk use.
It also offers a comfortable sitting arrangement with an inbuilt seatbelt that keeps users in their seats during transportation.
Users do not have to be under constant scrutiny when using this wheelchair since it already promises perfect protection and ease. This Nova Transport Chair is foldable to give compact storage and portability for easy transport.
While it is not as lightweight as some models on our list, for basic functionality, design, and protection, it is still one of the best transport wheelchairs for you.
Pros:
It has a comfortable 20-inch high seat.
300-pound weight capacity accommodates larger users.
Lightweight 27.35-pound design and compact folding make it easy to transport.
It has a durable steel frame.
Effective safety measures including seatbelt and handbrakes.
Cons:
Certain features have flimsy designing.
A bit more expensive than other competitors.
3. Drive Medical Fly Lite Ultra Lightweight Transport Wheelchair – Best Lightweight Transport Wheelchair
#Affiliate links.Last update on 2023-12-02 at 18:44
Tired of pushing yourself around? Wish for a more lightweight solution that is also affordable? Well, then the Drive Medical Fly Lite Transport Wheelchair can be the ultimate solution for you.
It is much slimmer with four small wheels that make it perfect for having you wheeled around your house or your favorite shopping mall.
The wheelchair features 8-inch wheels in the rear with aluminum rear wheel locks so you don't go slipping away. The 6-inch front caster wheels help you move in any direction you want.
Also included is a safety belt feature that allows you or someone you're carrying to be securely held in place while moving.
The seat carries pockets or pouches on the back where you can store your favorite things like a wallet or a book. Scared about how it will fit in the car? Worry not!
This chair can be folded down to a small size, which is easy to store and transport. The folded dimensions are 33 x 9 x 36 inches. The seat depth is about 15.25 inches while the height is 18 inches.
Even better, the chair can still hold about 300 lbs. of weight while the product itself weighs about 23.8 lbs.
The swing-away footrests allow your feet to rest if they are severely injured without putting too much pressure on them. The aluminum frame ensures the seat is durable while the upholstery is a plaid style nylon one.
Plus, this transport chair is perfect for those suffering from injury or disability, which renders them to be incapable of pushing themselves around. Its extensive features certainly make this chair one of the best transport wheelchairs in the market.
Pros:
The chair is lightweight while it can support a weight of about 300 lbs.
The handles are ergonomic and cause no strain to the mover.
The chair includes a zipped pocket and a mesh one for holding your favorite stuff.
The seat is foldable making it easier to store and carry it.
With a lifetime warranty, it is extremely durable and easy to maintain.
Cons:
The nylon cloth might not be the best choice for the seat as it might tear easily.
The handgrips might be uncomfortable to hold as they have textured ribs.
4. Hi-Fortune 21 lbs Lightweight Transport Medical Wheelchair – Premium Transport Chair
#Affiliate links.Last update on 2023-12-02 at 13:26
Have you ever been using a transport wheelchair to carry your patients only to find that this chair that you paid hundreds for is squeaking and leaking from places? This will not only upset you but also ruin all your entire expenditures.
Then the Hi-Fortune Transport Wheelchair is the perfect one for you. The entire structure is an impeccable build, and all the patients will feel very comfortable when sitting in the seat.
Even though it is a bit more expensive, we think you will get what you pay for and it is one of the best transport chairs you should not ignore.
The total weight of the chair itself is 21 pounds, which means that caregivers can easily move the chair around without having to cope with a lot of cumbersome weight. The chair is so easy to maneuver and assemble that you will feel it is a lifesaver for you.
The footrests can be removed or adjusted according to need, and the armrests are foam-padded to provide extra comfort. This not only means comfort for the patient but for the caregiver as well.
The upholstered nylon is as comfortable and sophisticated as it gets. Apart from looking good, this upholstery will make your patients feel like they're back at home with their lift recliners and couches.
To ensure that the patient doesn't fall out of the chair, this chair also comes with a safety belt.
Pros:
Nylon upholstery allows for easier comfort and stability.
Armrests and leg riggings and footrests can be easily adjusted.
The design has been made by the best engineers in the country.
The color is simple and minimalistic.
21 pounds lightweight allows easy maneuverability.
Supports the back and neck perfectly.
1-year warranty.
Durable and sustainable.
The mechanism is highly sophisticated and tremendously easy to operate.
Cons:
Wheels and bearings may not be durable but are worth the price and effort.
Expensive than other counterparts.
5. Medline Ultralight Transport Wheelchair – Best Indoor Transport Chair
#Affiliate links.Last update on 2023-12-02 at 15:36
Whether you wish to buy a transport wheelchair for yourself or your injured loved one, this Medline Ultralight Transport Mobility Wheelchair will not let you down. It is perfect for all those folks who are incapable of moving themselves and require a caregiver who can help them move.
This transport chair includes ergonomic handgrips that allow the caregiver to move the chair easily. It does not cause any strain on the hand. The best part is that the restaurant-style permanent armrests have a unique shape, allowing the person to be seated near tables.
The seat is ultra-light weighing only about 15 lbs. You might be surprised to find out that it can support up to 300 lbs, making it sufficient for most individuals. Also included are back pockets that can store personal belongings such as key rings, wallets, phones, and so on.
The high-grade aluminum when paired with the padded nylon upholstery results in an amazing transport chair that refuses to compromise on neither durability nor comfort. The seat depth is 16 inches while the width is 19 inches. The safety belt helps you secure the person you are carrying. And of course, cup holders are a bonus!
In a word, this is one of the best transport wheelchairs that are good for indoor and outdoor use.
Pros:
The Medline is an ultra-lightweight option that can support up to 300 pounds.
It is foldable making it portable, convenient, and compact.
The safety belt features ensure added safety.
Also included are mesh pockets for easier storage.
The high-grade aluminum frame is used with plain black padded upholstery.
The handgrips are ergonomic and cause no strain.
This chair can make you sit near the table.
Cons:
Due to the small wheels, the chair might be a bit tipsy.
6. Carex Transport Wheelchair  With 19 inch Seat – Best Pocket-friendly Transport Chair
#Affiliate links.Last update on 2023-12-02 at 13:26
The reason why we put this model into our list of best transport wheelchairs is due to the fact that it is very cost-effective.
Even though it comes with a low price tag, it doesn't sacrifice any necessary functions. Made with a metal frame, this chair can support to up 300 lbs. The 19″ seat is a plus as it can accommodate healthier people and make you feel more comfortable.
The footrest is removable and the safety belt can offer more security for you. While this chair has 25 lbs, it is still pretty easy to be put in your trunk.
However, it doesn't include big rear wheels and pockets for storage. If you don't care these bells and whistles, it is a good transport wheelchair to go.
Pros
Cheap price.
Easy to maneuver.
19″ wide seat for comfort.
Cons
No extra pockets.
A bit shaky.
7. NOVA Bariatric Transport Chair – Best Bariatric Transport Wheelchair
#Affiliate links.Last update on 2023-12-02 at 14:17
This is another good transport wheelchair from NOVA. While it is not very cheap, it is one of the best bariatric wheelchairs in the market now.
Featuring a 22″ seat and a 400 lbs weight capacity, it is a perfect model for heavier people. This chair is very sturdy and the anti-tip design brings more security for seniors and people with disabilities.
We also like the 12″ big rear casters which allow you to maneuver on different terrains. The little pocket provides a place for you to place personal belongings.
Both the footrest and arms are removable. This makes the transfer process much easier for caregivers.
Even though NOVA transport wheelchairs are a bit more expensive than other models, you will get a solid transport wheelchair that can last for years.
Pros
Very sturdy and durable.
Weight capacity: 400 lbs.
22″ wide seat.
Removable footrest and arms for easy transportation.
Anti-tip design.
Cons
It comes with higher price tag.
8. Elite Care Super Transport Wheelchair – Best Transport Chair For Travel
#Affiliate links.Last update on 2023-12-02 at 15:13
The Elite Care transport wheelchair is the traveling solution you might be looking for. It is not only the best transport wheelchair for everyday use, but it is also the ultimate solution for wheelchair users who have to move around during busy flights and work travels many times.
The elevated design is responsible for improving your body posturing and providing the required amount of support to your back and neck. Its super lightweight structure also makes it great for picking up and storing in your cars or homes.
Not only is it super easy to set up, but the chair can also be quickly and efficiently packed in the additional carry bag for your transport needs so you never have to worry about annoyances in between your travels.
It also has a foldable back and detachable footrest for your comfort and convenience.
Don't worry about maneuverability, the chair's solid tires offer you stability and universal movement on almost all surfaces. It also has a beautiful blue design and arms adjusted for desk use for the working user.
If you're looking for high-quality performance and design, this is the right transport wheelchair for you!
Pros:
The chair comes with a travel bag.
It is lightweight and foldable for easy transport.
It comes with a travel bag for easy transport.
Its foldable back and detachable footrests give easy setup and packing.
It has a large loading capacity of 255 pounds.
Desk arms make it perfect for work use.
Cons:
The chair cannot be self-propelled.
It is slightly more expensive than other models.
It is a bit uncomfortable for long usage for certain users.
9. Drive Medical Lightweight Steel Transport Wheelchair — Best Value
#Affiliate links.Last update on 2023-12-02 at 16:44
Drive Medical offers a wide range of models. This particular one represents exceptional value and is popular among cost-conscious shoppers.
Weighing only 26 pounds, this companion-operated chair offers a durable and stable steel frame that won't let you down. 
It's also easily maneuverable with sturdy eight-inch wheels at the front and back.
The chair and backrest fold flat for transportation and storage.
Pros
Steel frame
Slim wheelchair for small spaces only 21.5 inches wide
Padded armrests and swing-away footrests
Easy-clean, nylon upholstery
Seat width: 19 inches
250-pound weight capacity
Includes a seatbelt
Folds to just 10.75 inches wide
Cons
A transport chair without a self-propel option
The fixed armrests are only 16 inches wide
No handbrakes for companion
What Is A Transport Wheelchair?
You might wonder what's the difference between an ordinary manual wheelchair and a transport one. Well, if you are a caregiver you might realize that pushing an ordinary wheelchair is hard! Why?
Forget about the weight of the person, these chairs themselves weigh so much that moving them without any weight can get tiresome.
However, the best transport wheelchair is specifically designed to allow you to move someone in the easiest way possible. Their lightweight chassis and durable frame make them a popular choice.
The best part? Most chairs can be easily folded down, and snuck away into the trunk of the car while traveling or behind the bed when not in use!
Why You Need A Transport Chair?
The reason some folks require these unique seats are because they are incapable of moving them their selves. Therefore, these chairs are designed to ensure maximum comfort and support to the user as well as perfect ergonomics for the caregiver. The grip handles are usually ergonomic and do not cause any strain.
These transport wheelchairs can certainly make your life easier and make moving around your patients a breeze! However, with so many wheelchairs on the market, how do you realize which one is the best for you?
Surely, the vast number of features are confusing and you can end up with the wrong chair! But after reading this transport chair review, we are sure you will know better about it already.
For more info: check out the following video:
Conclusion:
So, all in all, our top favorite best transport wheelchair has a vast variety of functions to help you take care of your loved one without losing your patience. They are extremely comfortable for both the caregiver and the user. Any user will experience the immense benefits of using these transport wheelchairs.
These wheelchairs provide both functionality and flexibility to the user that they can easily lead an active lifestyle. All these transport wheelchairs embrace durability, functionality, and are easy to use!