A good, lightweight travel wheelchair is sturdy and reliable, but compact and easily transportable when it's collapsed.
To help narrow the field, in this article we review a selection of the top self-propelled and transport wheelchairs on the market and recommend the best portable wheelchairs. Among those wheelchair models, our favorite is the Karman Ergonomic Ultra Lightweight Wheelchair for its portability and performance.
#Affiliate links.Last update on 2021-04-11 at 23:50
Best Travel Wheelchairs Reviewed
Without further ado, here's all the info you need on these popular portable wheelchairs.
1. Karman Ergonomic Ultra Lightweight Wheelchair — Best Overall
#Affiliate links.Last update on 2021-04-11 at 23:50
We'll start our reviews for travel wheelchairs by setting the bar high with the Karman Ultra-lightweight Wheelchair. Not only is it the lightest we reviewed at just under 20 pounds, but it's also built with the highest quality materials.
Karman is a well-known and loved home medical supplier, so you can rest assured of their reputation for quality. An S-shaped seating frame avoids discomfort from extended use. It's made from aircraft-grade and rust-proof aluminum.
We like that the seat is covered in AEGIS upholstery finished with a patented anti-microbial shield. This additional touch protects against odor, stains, and product deterioration.
A self-propelled manual chair with solid grips and companion brakes, the Karman Ergonomic Ultra also doubles as a transporter. When the footrest and rear wheels are separated, the compact package weighs only 14.5 pounds and is easily handled into vehicles and as airline baggage.
Pros
AEGIS upholstery
Lightweight at only 19.8 pounds
The footrest is removable and features heel loops
Comfortable folding backrest
Total width 22.75, or 24.75 inches
Folded width 15 x 38 inches
Solid rear wheels with fixed axles
Wheels are easy to remove
220-pounds carry capacity
Cons
The quality build has a price to match
Companion brake cannot be locked
The lightweight build can make it more prone to tipping
2. Drive Medical Silver Sport 1 Wheelchair — Sturdy Travelling Chair
#Affiliate links.Last update on 2021-04-12 at 03:35
With a solid build and feel, the Drive Medical Silver Sport wheelchair still feels light and comes in at 37 pounds completely assembled. We like the black frame and material which looks smart.
Featuring few moving parts — and the corresponding vulnerabilities — this is a robust model that can handle being folded and stowed in the back of cars frequently. It can take you anywhere even for a long-distance journey. It comes with a compact design which makes it also a great narrow wheelchair for tight spaces.
Pros
Powder-coated silver vein steel frame
Easy-clean, durable nylon upholstery
Full, fixed, and padded arms
Carry pocket at back
Folding back canes
The removable footrest can be swung away
Push-to-lock wheels
Weight capacity of 250 pounds
Seat: 18 inches wide
Full width: 24 inches
Closed width: 11 x 43.5 inches
Cons
It cannot be lowered to semi-height
The footrests don't elevate
3. Drive Medical Cruiser III Light Weight Wheelchair — Most Adjustable
#Affiliate links.Last update on 2021-04-12 at 04:15
For travelers who want to customize their wheelchair for optimal fit and utility, the Cruiser model from Drive Medical is an excellent choice.
Built with a carbon steel frame and without seat guides, you can add custom back inserts and other accessories. A dual axle and fold-down, removable back adds to its customizability.
But the extra features come with a cost as it's also the heaviest of the best travel wheelchairs we looked at. Nevertheless, this is a well-equipped, well-designed chair that won't break the bank. Overall, the Cruiser comes with our solid recommendation.
Pros
Carbon steel frame
Easy-clean, durable nylon upholstery
Padded armrests
Lightweight composite, mag-style wheels
Adjustable front casters
No seat guides, which allows for accessories and custom back inserts
Variable floor-to-seat height is 16 or 18 inches with a dual axle.
Push-to-lock wheel locks
Tool-free adjustable foot and leg rests
Flip back arms are also removable
Collapsed dimensions: 12 x 42 inches
Seat width options: 16, 18, or 20 inches
Full width 24, 26, or 28 inches
Weight capacity of 350 pounds
Cons
The rearward axle position gives more stability but maneuvering becomes slightly harder
Weighs 41 pounds or 38 pounds without riggings
Manufacturing quality disappointed some users
4. Drive Medical Blue Streak Wheelchair — Most versatile
#Affiliate links.Last update on 2021-04-12 at 04:45
The very popular Blue Streak Wheelchair has a feature-rich design that includes swing-away leg rests and detachable desk arms that also flip back to fit under tables.
A padded and comfortable seat should mean all-day comfort. Plus, you can expect a smooth ride with the solid rubber tires and composite wheels. The seat is cross-braced with easy-to-clean black nylon upholstery.
With the 20-inch seat option, the wheelchair still passes through door frames that are just wider than 26 inches. This is not only a good portable travel wheelchair but a suitable one for indoor use.
Pros
Flip-back arms
Swing-away, removable leg rests with calf strap
Padded footrests
Breathable, easy-clean, padded nylon seat with a carry pocket
Choice of 16, 18 or 20-inch seats
Push-to-lock wheels
Closed width: 12.5 inches
Weight capacity of 250 pounds
Seat height: 19.5 inches from the ground
Maximum width: 24.5 inches
Accessories available from the manufacturer include a carry pouch, cup holder, and removable tray
Cons
Relatively heavy compared to others we reviewed
Footrests are angled slightly upward
Weighs 37.6 pounds
5. NOVA Bariatric Transport Chair — High Weight Capacity
#Affiliate links.Last update on 2021-04-12 at 01:55
The NOVA Bariatric wheelchair is another excellent transport chair. We like that it is well suited to everybody and boasts an impressive 400-pound weight capacity.
Despite its heavy-weight credentials, a unique design keeps the Nova Bariatric Transport Chair light and simple to maneuver. Plus, it's really easy to fold. For safety, there are secondary wheel locks and removable anti-tippers.
Rough driveway or need to head off-road quickly? No problem, this lightweight travel wheelchair can handle any terrain with its sturdy 12-inch rear wheels.
The companion brakes have a built-in lock to keep the chair locked in place. The adjustable 41-inch seatbelt ensures the passenger won't slip even if there's any incline.
A small storage pouch for personal items has also been thought of. This is a great portable chair and, for us, the icing on the cake is the snazzy red frame and sleek black upholstery.
Pro
Removable, flip-back padded arms with recess for desk use
Removable, adjustable footrests with attached heel loops
Carries up to 400 pounds
Seat width: 21.25 inches
Overall width: 28.25 inches (11 inches folded)
Weighs only 27.75 pounds
Locking companion handbrakes
Flip-up anti-tippers
The high-quality design should last for years
Cons
The premium price point may not appeal to all
Footrests can come off easily when handled
6. Elite Care TR05 Transport Travel Wheelchair — Most Compact Storage
#Affiliate links.Last update on 2021-04-12 at 13:30
Elite Care provides a good all-round travel solution with its TR05 lightweight transport chair. Worried about space in your boot? You shouldn't be because this travel wheelchair folds up smaller than any others we reviewed.
The unit folds to approximately one-third of the size a normal wheelchair does and is easily carried in one hand with the accompanying heavy-duty carry bag.
Not just compact, this travel wheelchair is easy to maneuver in tight spaces, can fit tightly under a desk, and has swing-away footrests.
Pros
Padded, flip-up desk arms
Strong cross bracing
Recessed desk arms
Height adjustable footrests
Seat width: 18 inches
Max user weight: 255 pounds
Folds to just 11 x 13 x 31 inches
Lightweight travel bag included
Weighs only 20.5 pounds
Cons
Not quick to fold so some practice might be needed at first!
Somewhat restrictive weight capacity
7. Drive Medical Lightweight Steel Transport Wheelchair — Best Value
#Affiliate links.Last update on 2021-04-12 at 03:35
Drive Medical offers a wide range of models. This particular one represents exceptional value and is popular among cost-conscious shoppers.
Weighing only 26 pounds, this companion operated chair offers a durable and stable steel frame that won't let you down.
It's also easily maneuverable with sturdy eight-inch wheels at the front and back.
The chair and backrest fold flat for transportation and storage.
Pros
Steel frame
Slim wheelchair for small spaces only 21.5 inches wide
Padded armrests and swing-away footrests
Easy-clean, nylon upholstery
Seat width: 19 inches
250-pound weight capacity
Includes a seatbelt
Folds to just 10.75 inches wide
Cons
A transport chair without a self-propel option
The fixed armrests are only 16 inches wide
No handbrakes for companion
How to Choose the Best Lightweight Travel Wheelchair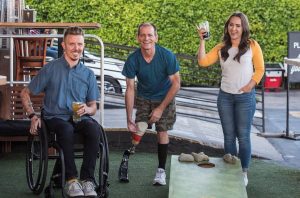 Our travel wheelchair review looked at all the features and characteristics of the best products on the market. We only shortlisted portable wheelchairs with the essentials you need when traveling:
Easy-clean nylon material
Padded armrests
Swing-away footrests
Sturdy, low-maintenance composite, mag-style wheels (except the Karman chair)
Puncture-proof, solid rubber tires that do not require inflation
Push-to-lock wheel locks
Tool-free adjustments
Other features are often a trade-off between weight, quality, and cost. Ultimately, knowing what you need in a travel wheelchair is a matter of determining your priorities:
Weight
Consider how heavy the chair is. All that lifting into the back of a car (or you can purchase a wheelchair carrier instead) and pushing around all day can take its toll.
All the models we looked at are designed with weight in mind, but the Drive Medical Cruiser III Light Weight Wheelchair is not that light at nearly twice the weight. But its stability, a decent set of features, and the more than reasonable cost might be worth the extra weight.
Transport chairs tend to be much lighter without the extras a self-propelled chair requires, so the Elite Care TR05 Transport Travel Wheelchair weighs just over 20 pounds.
Self-Propel or Transport?
If a caregiver has to assist and push the chair, a lightweight transport wheelchair is suitable. Some users may have a self-propelling chair at home but choose to give up some mobility to buy a transport chair.
These are more lightweight and safer to operate when traveling. Good transport chairs, like the NOVA Bariatric Transport Chair, come with lockable hand brakes and seatbelts that make it safer for the caregiver to push the chair up and down slopes.
Carrying Capacity
Since this requirement is determined by the user, the choice of chairs may be limited. We included two oversize chairs with the fully-featured Drive Medical Cruiser III Light Weight Wheelchair and the NOVA Bariatric Transport Chair. Make sure you select or order the right seat width for comfort. Choices generally range from 16 to 20 inches.
Comfort
Sitting extended periods in a wheelchair can become uncomfortable, so the padding and breathable fabric in the Drive Medical Blue Streak Wheelchair will be appreciated in the long run. The comfy padded footrests don't hurt, either.
Consider the seat's depth, width, and height off the ground. Ask yourself if you prefer longer, padded armrests or shorter arms that easily slot under a desk. You could also go for a wheelchair cushion to add more comfort.
Convenience
Folding any wheelchair should be easy. But when it comes to easy transport and storage in a travel wheelchair, you might need a little extra convenience.
Being able to remove wheels and fold the back, such as with the Karman Ergonomic Ultra Lightweight Wheelchair, is a real boon.
The most compact folded chair we reviewed was the Elite Care TR05 Transport Travel Wheelchair. It packs into a convenient carry bag, is lightweight, and boasts such small dimensions you'll forget it's in your car.
Easy Transfers
Getting in and out of the chair should be easy. With that in mind, fold-away footrests and flip-back arms can be important for many people.
Most of the models we included in this travel wheelchair review are designed with this requirement in mind. But we also included a couple of models like the Drive Medical Silver Sport Wheelchair and the Drive Medical Lightweight Steel Transport wheelchair for users who prefer a strong, full-size fixed armrest.
Adjustability
Some situations mean wheelchairs need to be adjusted for a good fit. For people who are not a standard size or have medical problems, being able to adjust footrests, the shape of the backrest, or the seat's depth is important.
The height of the seat may also need adjustment, which requires a dual axle design. In this category, the Drive Medical Cruiser III Light Weight Wheelchair is clearly the most adjustable option we reviewed.
Some Travel Wheelchair Precautions
Travel wheelchairs are lightweight by design. This can make them likelier to tip over and as a user or companion, you should familiarize yourself well with the handling characteristics and limitations of the particular chair you buy.
And, of course, take time to read the manufacturers recommendations carefully.
Conclusion
Traveling with a wheelchair should be as easy as possible while offering users maximum mobility.
We reviewed the best portable wheelchairs available and can recommend the Karman Ergonomic Ultra Lightweight Wheelchair for its balance of features and portability.
If you prefer a dedicated transport chair though, you can't go wrong with the NOVA Bariatric Transport Chair.
As the most adjustable chair, the Drive Medical Cruiser III Light Weight Wheelchair comes is a close runner-up to our top choices.
All the wheelchairs we selected for this review received positive feedback by users and are sure to make any trip a positive experience.