An easy and smart way to buy a wheelchair is to get one from a reputable brand. If you are new to the world of wheelchairs, you may be confused about which one is the best wheelchair brand.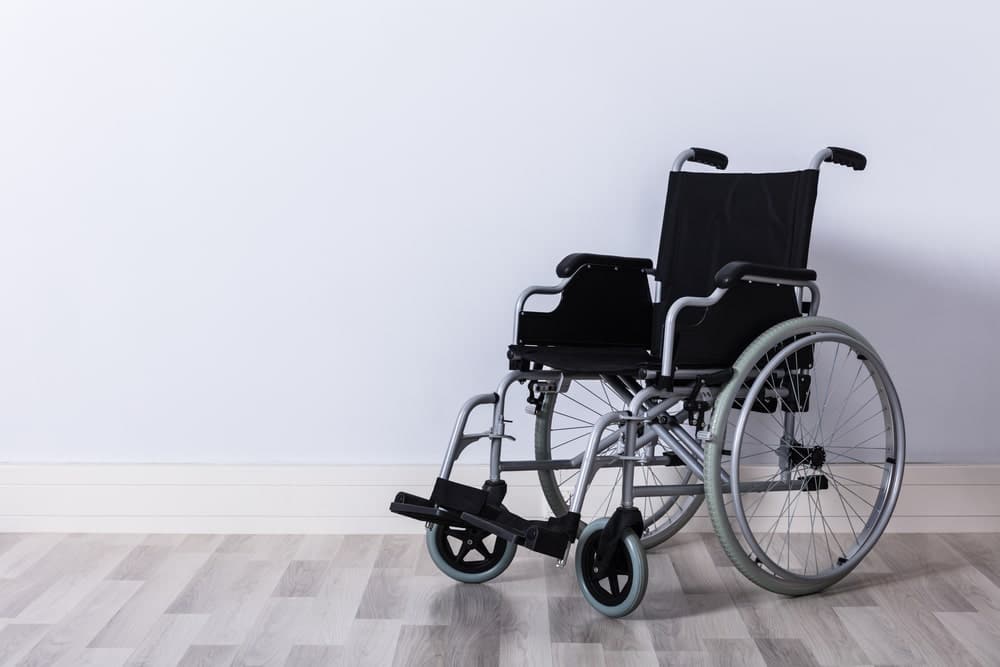 In this post, we will show you the best 10 wheelchair brands as well as their most popular models in the market now.
1. Drive Medical

We bet you may have come across some products from Drive Medical as it has different product lines of durable medical equipment. It is definitely the major player in this industry.
Founded in 2000, Drive DeVilbiss Healthcare is focusing on manufacturing innovative healthcare solutions including wheelchairs, mobility scooters, CPAP devices, hospital beds, pressure prevention products, and so on.
Its headquarter is located in the US and a large part of the products are designed and made here. But their products have been sold all over the world. People like these products for their durability, quality, and fair price.
Type of Wheelchairs Drive Make
You can find almost every type of wheelchair in Drive Medical. Their focus is on providing transport chairs and manual wheelchairs, but they also make power wheelchairs and reclining wheelchairs.
Popular Wheelchair Models from Drive Medical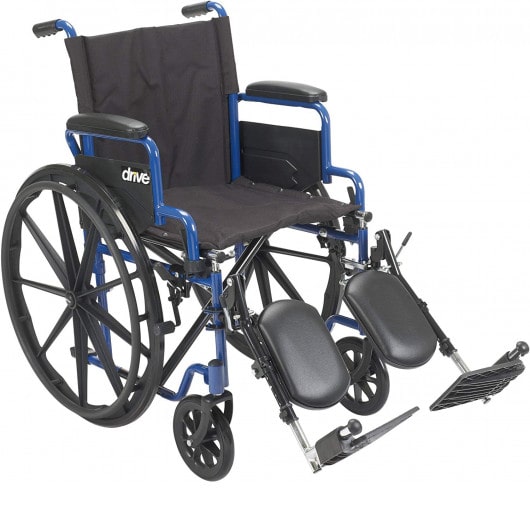 Drive Medical Blue Streak Manual Wheelchairs is an affordable and durable manual wheelchair with a beautiful blue coating. It is foldable and comes with flip-up armrests for transferring. While it is a cheap wheelchair but is good enough for fulfilling basic tasks.
Drive Medical Cruiser III Manual Wheelchair is another popular foldable wheelchair in the market. It also features flip-up armrests and the weight capacity is up to 300 lbs. It provides different seat widths and the seat height can be adjusted to hemi-height, making propelling by foot possible.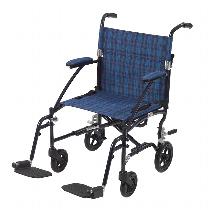 2. Medline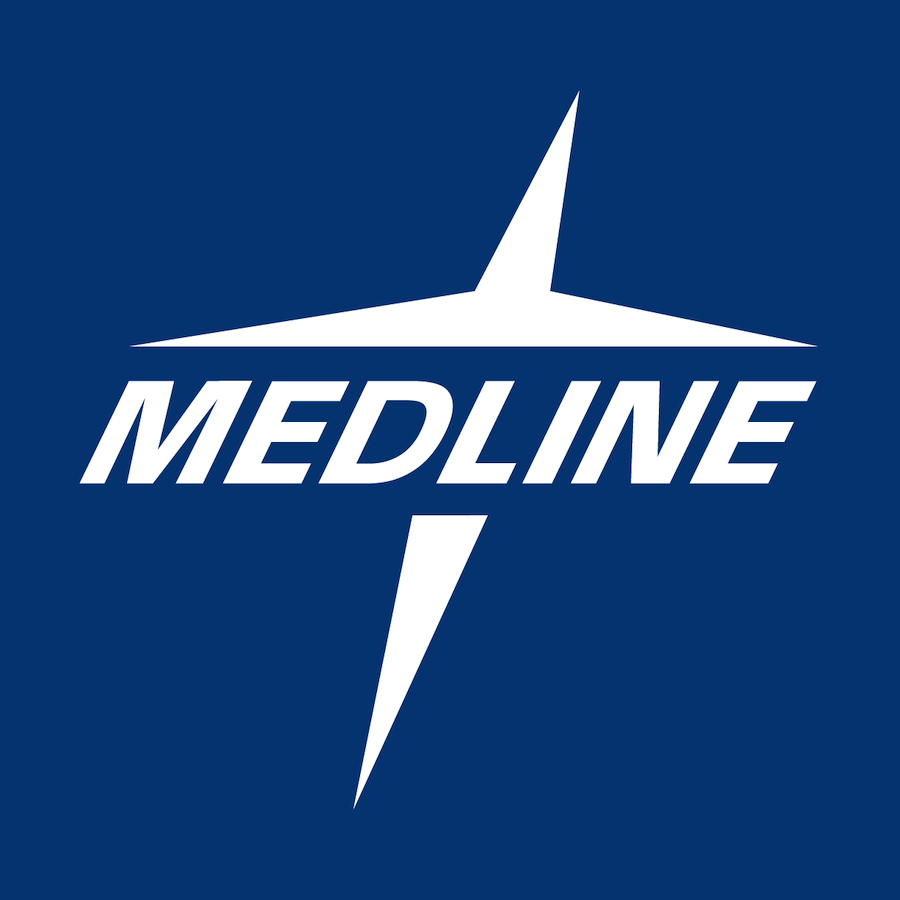 Medline is one of the largest medical equipment manufacturers in the world. Start their business before the First World War, this company has grown rapidly and has demonstrated its ambitions in most areas of the medical world such as respiratory devices, skincare, and mobility aids.
It is not only a manufacturer but also a distributor. It also spends a lot of effort on building a supply chain for healthcare products.
Type of Wheelchairs Medline Make
Most Medline wheelchairs are manual wheelchairs and transport wheelchairs. They seem don't provide motorized chairs. Their wheelchair is a good choice for cost-conscious shoppers.
Popular Wheelchair Models from Medline
Medline Ultralight Transport Chair has an incredibly low price and is made out of sturdy aluminum that can bear up to 300 lbs. Caregivers will love it as the product weight is only 14.8 lbs, and it is super easy to fold and lift into the trunk.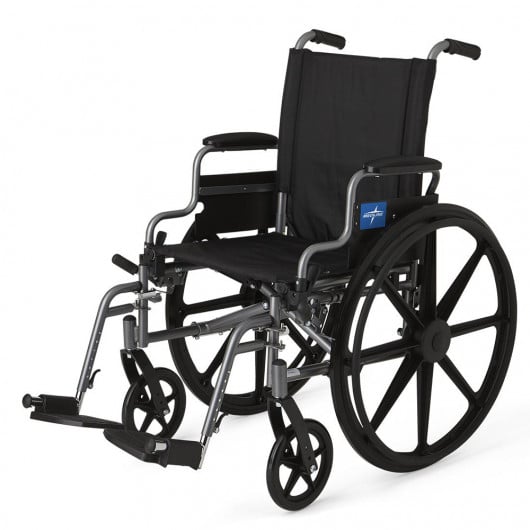 Medline K4 Lightweight Wheelchair is one of the best value in the market. It is lightweight and with 300 lbs weight capacity, it can accommodate most users. The dual axle design is lovely as both the back height and seat height are adjustable.
3. Pride Mobility

Compared to the 2 big brands we mentioned above, Pride Mobility is a little brother. However, their quality of products is well-known. Instead of having a broad product line, their focus is only on making power scooters which are lift chairs, electric wheelchairs, and mobility scooters.
They are based in the US and sell products across the world.
Type of Wheelchairs Pride Mobility Make
As we mentioned, Pride Mobility design and make electric wheelchairs only.
Popular Wheelchair Models from Pride Mobility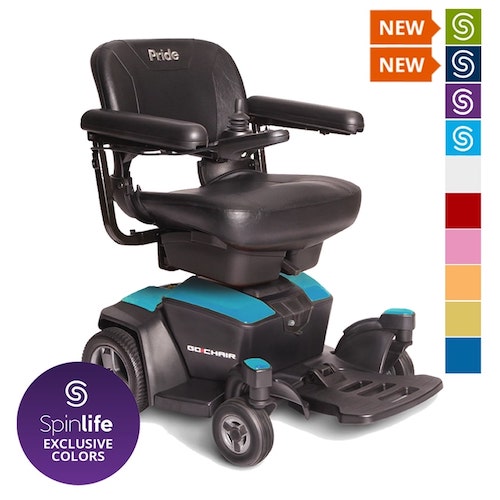 Pride Go Chair is a compact and cost-effective electric wheelchair that is popular in the market. Featuring a 25.5″ turning radius, it is suitable for people who live in a small space or have to go through narrow hallways.
Aside from that, with the feather-touch design, it can easily disassemble into small pieces and the heaviest one is just 36 lbs, making everyone even seniors can lift it into the back of your car.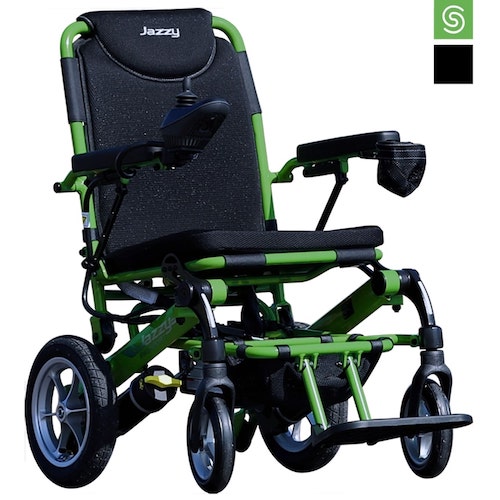 Pride Jazzy Passport is a folding electric wheelchair that is lightweight with only 60 lbs in total. It is a piece of good transport equipment for travel but it can handle daily tasks as well. Featuring 12″ pneumatic rear wheels and a 25.5″ turning radius, you will feel free while driving it no matter at home or out of the house.
4. NOVA
NOVA is a US-based company that is founded in 1993. Its mission is to provide high-quality mobility aids with fashion and function. Yes, you can find a lot of great products with a colorful print from them.
The product categories include but are not limited to a wheelchair, cane, walker, seat cushion, and bathroom safety equipment.
Type of Wheelchairs NOVA Make
Up till now, NOVA only makes manual wheelchairs and transport chairs, they don't expand their product line into motorized wheelchairs yet.
Popular Wheelchair Models from NOVA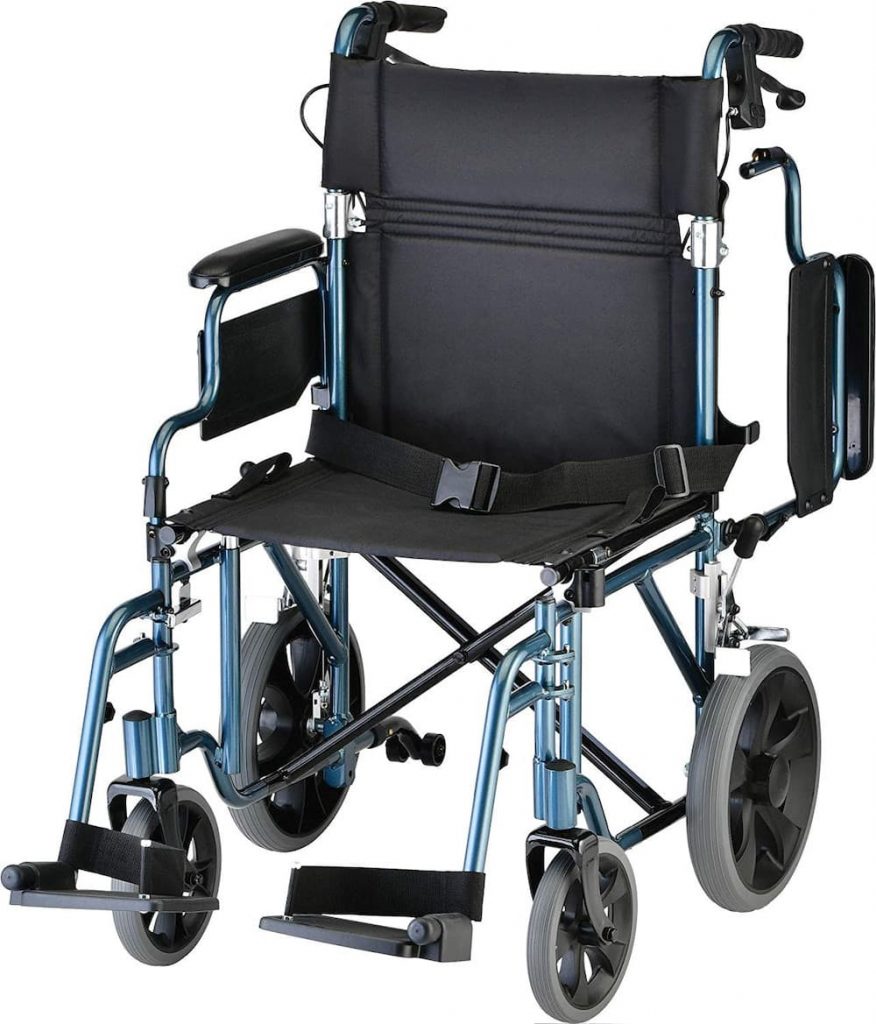 NOVA lightweight transport chair has almost everything you want for a transport chair. If you really concern about safety, it will be your best bet. This model comes with anti-tippers, companion brakes, seat belts to ensure you are safe even on bumpy surfaces. It also has removable armrests and a foldable frame to make your life easier.
5. Karman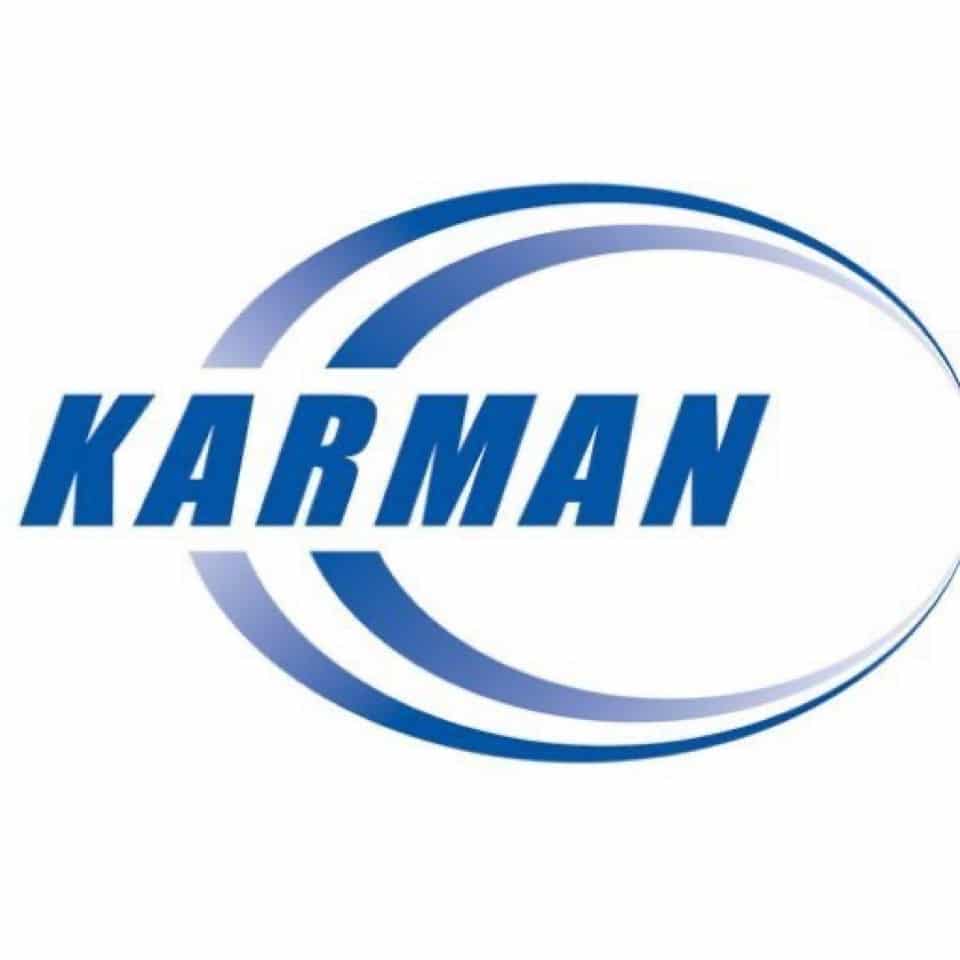 Karman Healthcare is a company that started in 1994. Their products include walkers, wheelchairs, ramps, and so on. As a US-based company, they design and make some products here, they also have some products that are made in China.
Karman is a reputable wheelchair brand for making solid products and they design products with ergonomics in mind.
Type of Wheelchairs Karman Healthcare Make
The wheelchairs by Karman cover lightweight wheelchairs, manual wheelchairs, transport chairs, electric wheelchairs, and standing power wheelchairs. Among them, lightweight wheelchairs are quite popular.
Popular Wheelchair Models from Karman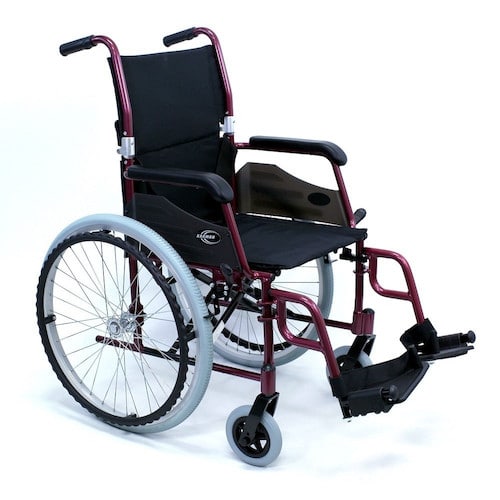 Karman LT-980 Ultra Lightweight Wheelchair is a truly lightweight wheelchair for people who want to save some effort on your day-to-day life. The overall product weight is 24 lbs without a footrest. Besides, the workmanship is impressive and you will get a limited lifetime warranty for the frame.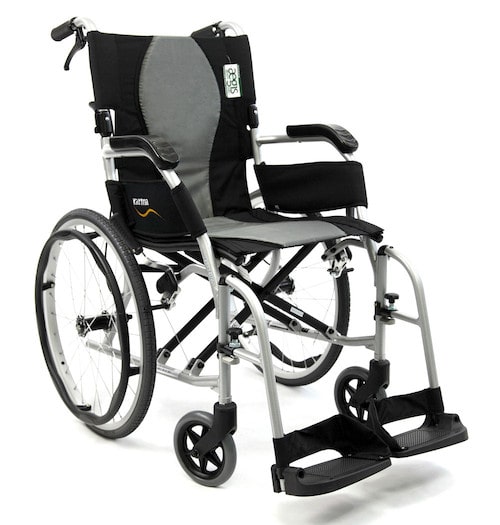 In our view, Karman Flight Ergo Ergonomic Wheelchair is one of the most comfortable wheelchairs in the market. What makes it stands out is that it has an "S" shape seating frame which is proven to be effective in alleviating stress and pains. Even better, it only weighs 19.8 lbs, making it one of the lightest wheelchairs in the market now.
You can find more Karman wheelchairs through our post for the best Karman wheelchairs. 
6. Invacare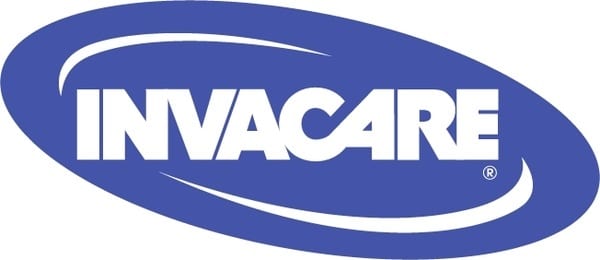 Invacare may be the oldest wheelchair brand on our list. Founded in 1971, this US-based company sells its home and long-term care medical products to the world. A bit like Karman, most of their products are a bit more expensive than competitors, but the quality convinces people to buy them. 
Invacare's products cover mobility aids, hospital beds, patient transfer devices, and respiratory therapy equipment. They also provide services such as interior design for long-term care facilities.
Type of Wheelchairs Invacare Make
Invacare makes almost all types of wheelchairs such as transport chairs, manual wheelchairs, reclining wheelchairs, and power wheelchairs. A large part of their products is designed and assembled in the US.
Popular Wheelchair Models from Invacare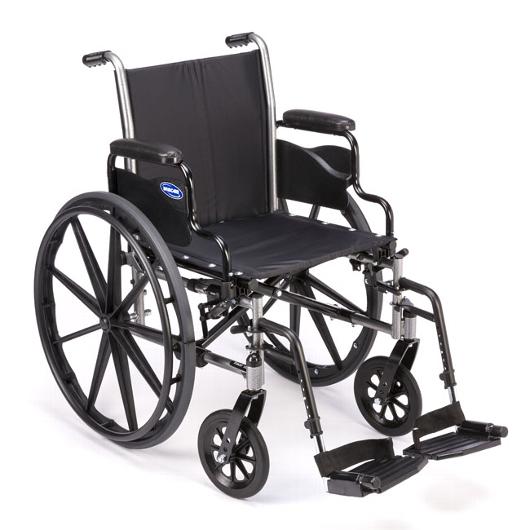 Invacare Tracer SX5 Manual Wheelchair is a long-lasting product to go. Made with carbon steel and reinforced by a 17-gauge cross brace, it provides stability for the user. The upholstery features a heavy-duty inner liner so that you are hard to find any signs of tears and wear even after a few years.
Invacare 9000 XT High-Performance Lighter Weight Wheelchair offers a few options for you to customize the chair. The seat width ranges from 14″ to 22″ and there are a few beautiful frame colors available. It is a low-maintenance chair that could last for years. 
7. Carex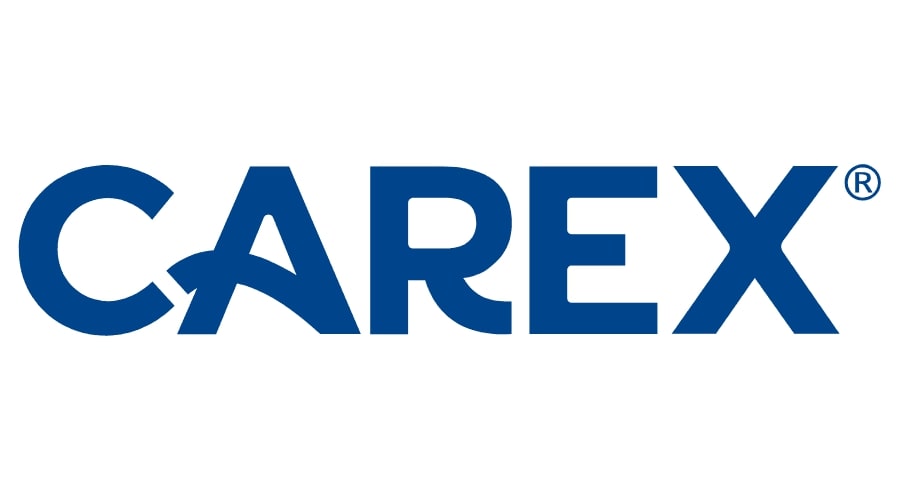 Carex has been in-home care and medical equipment area for over 35 years. They produce a wide range of products such as mobility aids, pain management devices, bath safety aids, and so forth. This company has up to 10 brands and each is focus on certain specific areas.
Most of their products are cost-effective, making them popular among cost-conscious shoppers.
Type of Wheelchairs Carex Make
Carex only makes manual wheelchairs and transport wheelchairs. They don't offer many models and each of them has good sales performance.
Popular Wheelchair Models from Carex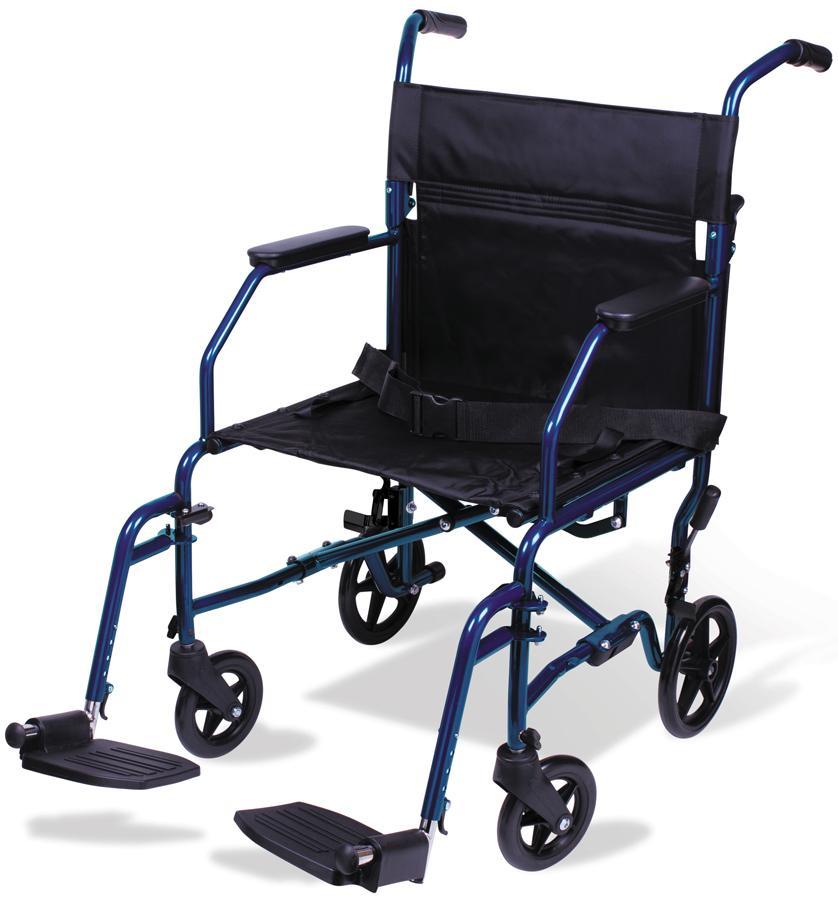 Carex Transport Chair is one of the cheapest transport chairs online. It is foldable and able to bear up to 300 lbs. The 25 lbs product weight is light enough for most people to push and lift and serve a range of purposes. 
8. Motion Composites

Someone should integrate technology into wheelchair manufacturing, which is exactly what Motion Composites does. They start their journey 10 years ago and are committed to making ultralight manual wheelchairs.
They use the most advanced materials in their products aiming to improve user experience.
Type of Wheelchairs Motion Composites Make
As we said, Motion Composites only makes ultralight manual wheelchairs. Among them, some have a rigid frame and others are foldable.
Popular Wheelchair Models from Motion Composites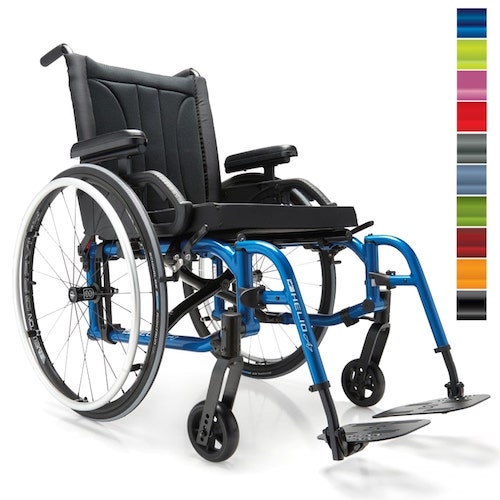 Motion Composites Helio A7 is made of 7000 T6 aluminum and only weighs 13.6 lbs. You can fully customize your chair from seat height, back angle, wheel camber to armrest. In short, you will get a chair just designed for you.
9. Sunrise
Sunrise is a famous wheelchair manufacturer for making high-quality mobility aids. They manufacture products in 8 different places and sell them across the globe. 
The price tags of Sunrise's products are high and the quality is also very impressive. You will get what you pay for. Like Carex, they sell products under several brands. For example, QUICKIE is a manual wheelchair brand and JAY is for seating and positioning.
Types of Wheelchairs Sunrise Make
Sunrise makes manual and power wheelchairs for adults under the brand of QUICKIE and pediatric manual and power wheelchairs under the brand of ZIPPIE.
They also provide electronics and alternative drive controls under the brand of Switch-It.
Popular Wheelchair Models from Sunrise
Quickie LX wheelchair is a high-end lightweight manual wheelchair. It comes with some advanced features such as a quick-release axle, adjustable seat height, and back angle. It can be folded into a small size and the overall weight is 28 lbs. Even better, you can order your chair with a variety of options on each part available. 
10. Golden Technologies
Golden Technologies is a family-owned company in the US. Their products consist of lift chairs, mobility scooters, and power wheelchairs. 
Their products are made with high-quality material and have a slightly higher price than their counterparts.
Types of Wheelchairs Golden Technologies Make
Note that Golden Technologies only makes power wheelchairs.
Popular Wheelchair Models from Golden Technologies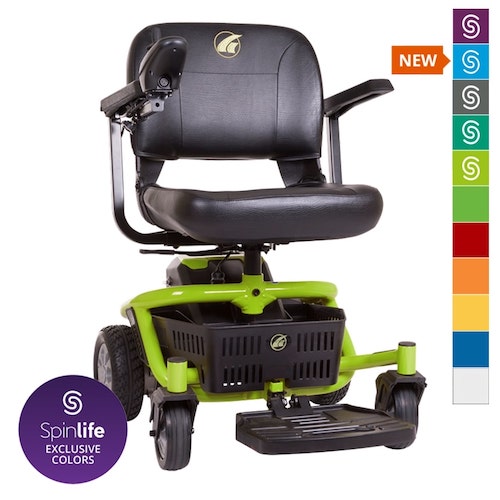 Golden Technologies New LiteRider Envy Power Wheelchair is a great power wheelchair for travel. You can easily disassemble it into a few pieces and put them into your car's trunk one by one.
You can drive up to 15 miles per charge which is great for people who like to travel around and the small turning radius improve agility and maneuverability.
Wrapping Up
You can find a lot of valuable wheelchairs from the best wheelchair brands we recommend in this post. While some brands concentrate on making the most advanced models, some insist on manufacturing traditional styles.  We are sure you will get one that fits you well.
Of note, you should check with your doctor or physiotherapist before making any purchase. It is also wise to ensure whether the chair you are sold on is covered by Medicare or other medical plans.