If you already researched online for a while, you may have already come across some mobility aids from Carex as one of the best wheelchair brands. Carex's products are popular in the market. In this post, we will review the Carex Transport Chair, which is one of the best sellers in the world of "transport chairs."
If you need one sentence to describe this chair, I will say it is an affordable and spacious transport chair with almost all the basic features. But if you tend to spend a bit more money, there are some better choices to go. You could check our reviews for the best transport chairs to get more information.
Pros and Cons
Pros
Affordable. In this price range, it is hard to find too many competitors with the same features.
Large seat. The seat width is 19″, leaving enough space for most users.
Lightweight. The product weight is about 25lbs, allowing caregivers to lift it easily.
Good durability. Carex transport wheelchair can bear up to 300lbs and is made with sturdy steel.
Foldable. You could fold it within a few seconds and place it into the trunk of your car.
Cons
Lack of adjustability. You can't adjust the seat height, angle of the back, or remove the armrest. This could be a hassle for people who is too tall or short. It is possible that you can't find a perfect position when you sit in it.
Small wheels. This transport chair comes with 8″ casters, making it not an ideal choice for outdoor use. Caregivers found it hard to steer on uneven surfaces.
No anti-tippers. Anti-tippers prevent the chair from tilting backward. If you or your loved ones have limited stability, we don't recommend using this chair.
Specifications of Carex Transport Chair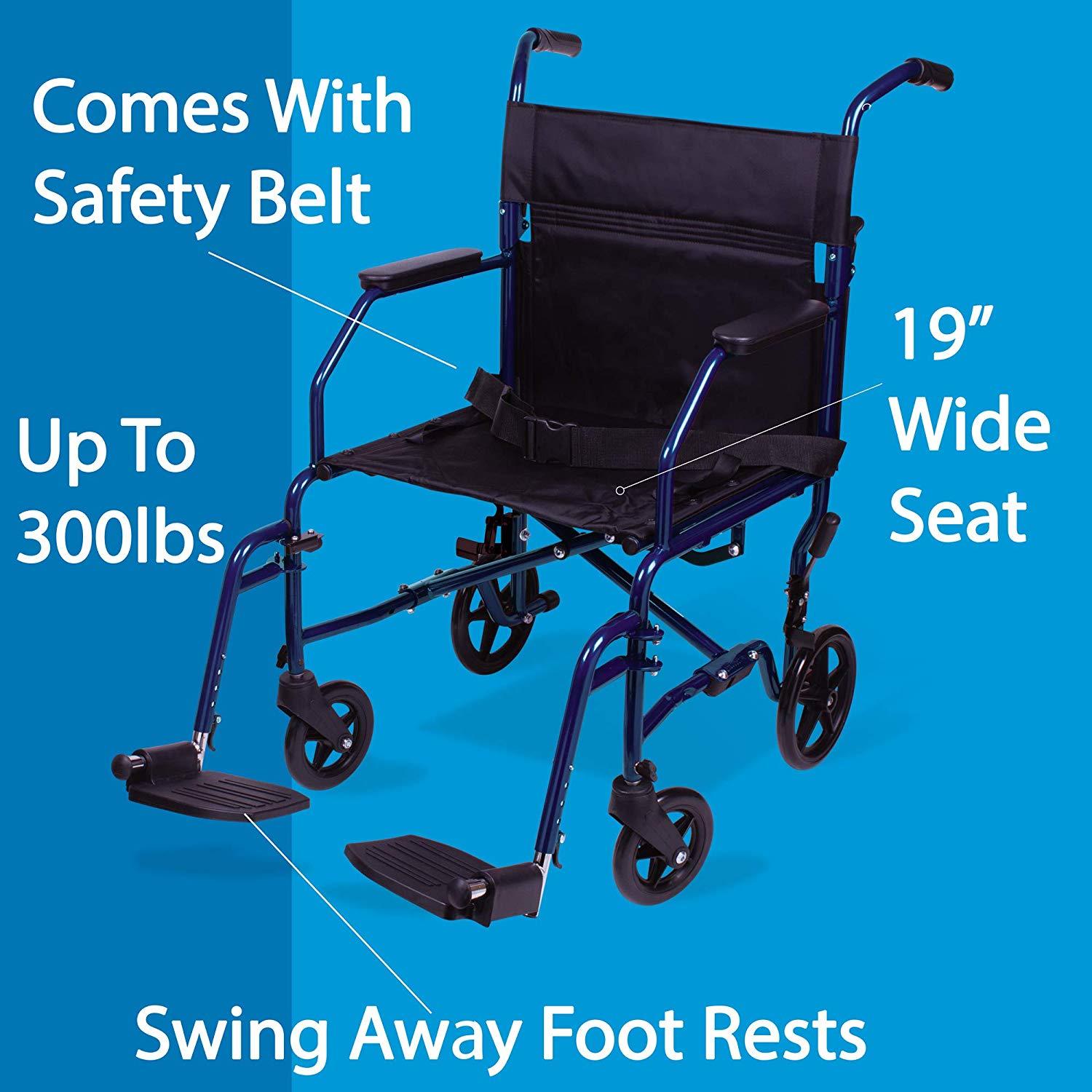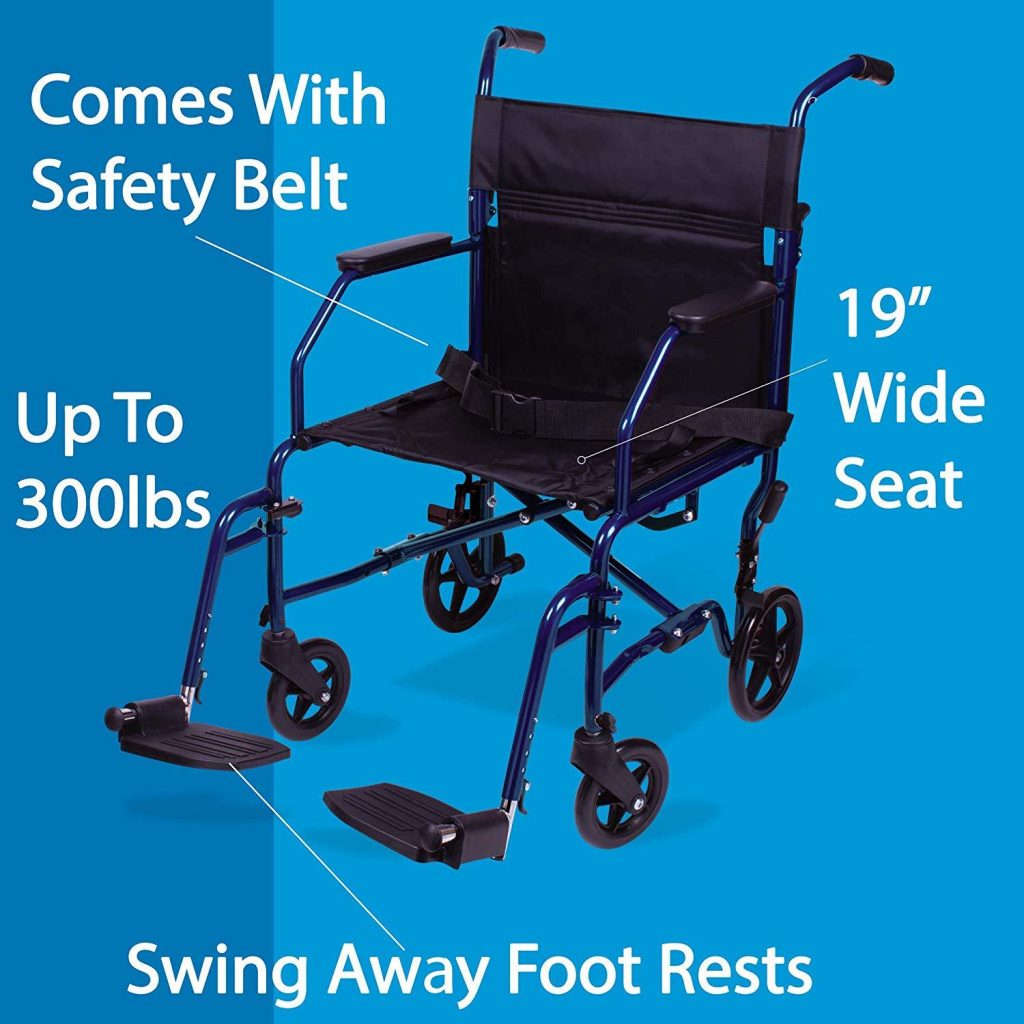 | | |
| --- | --- |
| Weight Capacity | 300lbs |
| Product Weight: | 25lbs. |
| Color | Blue |
| Seat Width | 19″ |
| Floor To Seat Height | 19″ |
| Footrest Type | Swing-Away |
| Frame Material | Steel |
| Assembly Required | No |
| Foldable | Yes |
Features and Benefits
In this section, let's dig into this Carex transport chair and review all the details associated with your purchase decision.
Safety
Nothing could be more important than the safety of a wheelchair user. When you stay in a transport chair, it means you can't control too much by yourself.
The Carex transport chair comes with a seat belt to keep you in place, and using the push to lock brake is straightforward.
However, we think there is room for improvement. For example, a hand brake could be more efficient, especially when climbing the slopes.
The push-to-lock brake of this transport chair is close to the wheels, and you need to spend some time looking for it, which is dangerous in some cases.
In addition, some models include anti-tippers which helps to prevent tilting but not this one. Therefore don't leave yourself or your loved ones alone while riding it.
Comfort
We assume that you will use a transport wheelchair for a long time, so comfort is always the priority.
This transport wheelchair features padded armrests, breathable nylon upholstery, and adjustable swing-away footrests. Users also like the large 19″ seat.
All of these add comfort to your overall experience. It helps to reduce foot swelling, and you will not feel hot even in hot weather.
However, we don't think it is a good idea to spend too much time sitting in this transport wheelchair. The seat cushion is not thick, and the small casters can't perform so well on uneven surfaces. But for short trips, it is good enough.
For caregivers, pushing it could be an easy task in most cases. However, it could become cumbersome when you try to roll it on some bumpy terrains.
Durability
Buying a wheelchair is not like buying a toothbrush. You don't expect to replace it frequently. This wheelchair has a steel frame that is lightweight and sturdy that you can use for years. Even though it is a relatively cheap wheelchair, you will feel secured while using it.
The weight capacity is 300lbs which is strong enough to cater to most users.
Portability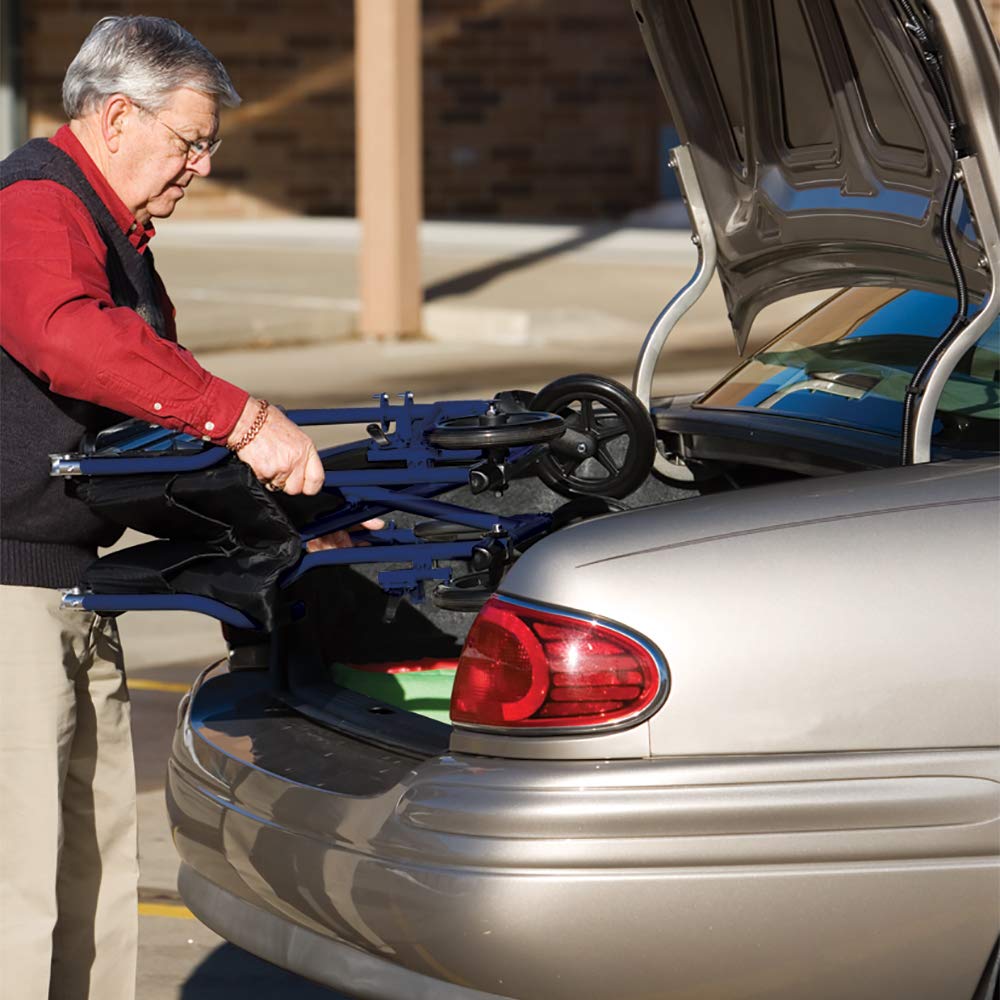 For those who like to spend some time outdoor, portability is essential. Luckily, this Carex transport chair is lightweight and foldable.
After you remove the footrest, the chair can be folded flat into the car trunk. The compact design makes it a good choice for small spaces.
With the 25lbs total weight, you can lift it without taking too much effort. This chair is a good companion for seniors who like traveling.
Maneuverability
The Carex transport chair is equipped with 8″ front wheels and 8″ rear wheels. This ensures it has good maneuverability on smooth surfaces. However, it becomes hard to steer when working on carpet or grass.
Just think about your lifestyle and home environment. If your home happens to have carpet flooring or rough roads is inevitable,we suggest you purchasing a transport wheelchair with bigger wheels.
Adjustability
What makes this chair apart from other high-end wheelchairs is that it is short of adjustability. Yes, the footrest is removable, and the height is adjustable; however, you can't change much on other parts of this transport wheelchair.
The height of the floor-to-seat is fixed to 19," and the armrests don't have a flip-up design. Hence, knowing the height from foot to hip is essential for buyers as this chair could be too high or too low.
Price
The Carex transport chair is an affordable chair from a reputable brand. The price changes from time to time but always be cost-effective while comparing with other chairs. Check the buttons on this page to know the exact price immediately.
Should You Buy The Carex Transport Chair?
For those who are still on the fence about if this transport chair is the right transport chair for yourself, this section would help you out.
People who are on a budget should buy it.
The Carex Transport Chair is a cheap option when it comes to buying a transport wheelchair. Even though it doesn't have a high price tag, it doesn't sacrifice any basic functions. So, it could solve your transporting problem well, and if you are not too tall or too short, you are likely to feel comfortable while sitting in it.
People who like to stay at home should buy it.
We mentioned above that the 8″ small wheels affect its performance on rough terrains. However, it is not a big issue if you gonna spend most of your time indoors.
Seniors who live in tight spaces will love it since the Carex transport chair can navigate narrow corners and not take many spaces when folded.
The 8″ wheel works well on wood and tile flooring and will save a lot of effort for caregivers.
People who have better stability could buy it.
One of the drawbacks this Carex transport chair has is the lack of safety features. The brake is not convenient for caregivers to deal with emergencies. In addition, it doesn't include an anti-tipper.
Hence, we recommend this chair to seniors or patients who have better control and stability. This will reduce the happens of falls and other accidents.
Carex Transport Chair Alternatives
1. Drive Medical Wrangler II Transport Wheelchair
This Drive Medical Wrangler II transport chair looks very similar to the Carex transport chair. It has the same 8″ wheels, seat width, swing-away footrest, padded armrests, and unadjustable seat height.
It comes with an even cheaper price tag. If you are on a really tight budget, this one can save more money. However, it is not a foldable wheelchair. Only the backrest can be folded up. Plus, the weight capacity is only 250 lbs.
2. Drive Medical Lightweight Expedition w/12″ Rear Wheels Transport Chair
This is another competitor from Drive Medical. Seniors or patients who are willing to spend a bit more money can go for this one.
It features 12″ rear wheels, which offer better maneuverability for outdoor use. Other than that, the weight is 19lbs which is one of the lightest wheelchairs in the market. We also like the hand brakes on the handle.
Other features are almost the same as the Carex transport chair. What you need to do is decide if these extra features are necessary.
3. Nova Comet 332 HD w/ Removable Armrests Transport Chair
This is a high-end transport chair, and the 400lbs weight capacity makes it a good option for bariatric users.
To fit customers with a larger size, the seat width has been increased to 22.5″. Even though it is more spacious than other models, the overall weight is 27lbs thanks to the lightweight aluminum frame. The Carex transport chair uses a steel frame.
The upholstery is comfortable and durable, and the removable armrests make you get in and out of the wheelchair much easier. The hand brake is easy to use and increases safety for attendants.
Moreover, the 12″ rear wheels ensure this chair has good maneuverability on uneven roads.
Just like the Carex transport chair, this wheelchair is foldable. Different from the Carex one, this chair works better on longer trips.
Wrapping Up
After reading this Carex transport chair review, you may already have noticed that this is an affordable transport wheelchair that can fulfill all the basic needs.
It offers a relatively big seating area. The steel frame is very sturdy and doesn't increase too much weight. It can support up to 300lbs. The total weight is about 25lbs, and with the foldable design, a caregiver could lift and place it at the back of the vehicle with a breeze.
However, you can't adjust it too much. Both the seat and armrests are fixed in place. The push to lock brakes works but not as good as hand brakes for a companion. The wheel size is 8″, which is better for indoor use.
If you would like to go out often, you can spend a few more bucks and get a Drive Medical Lightweight Expedition transport chair. The 12″ rear wheels provide better maneuverability outdoors, and it is ultralightweight.
The Nova Comet 332 HD transport chair is a premium model to go for better adjustabilities and quality.