Life can throw curveballs and at some point, you may need a wheelchair. In the journey of finding economic and functional wheelchairs, it is likely that you have come across this Drive Medical Blue Streak Wheelchair as it is just so popular in the marketplace.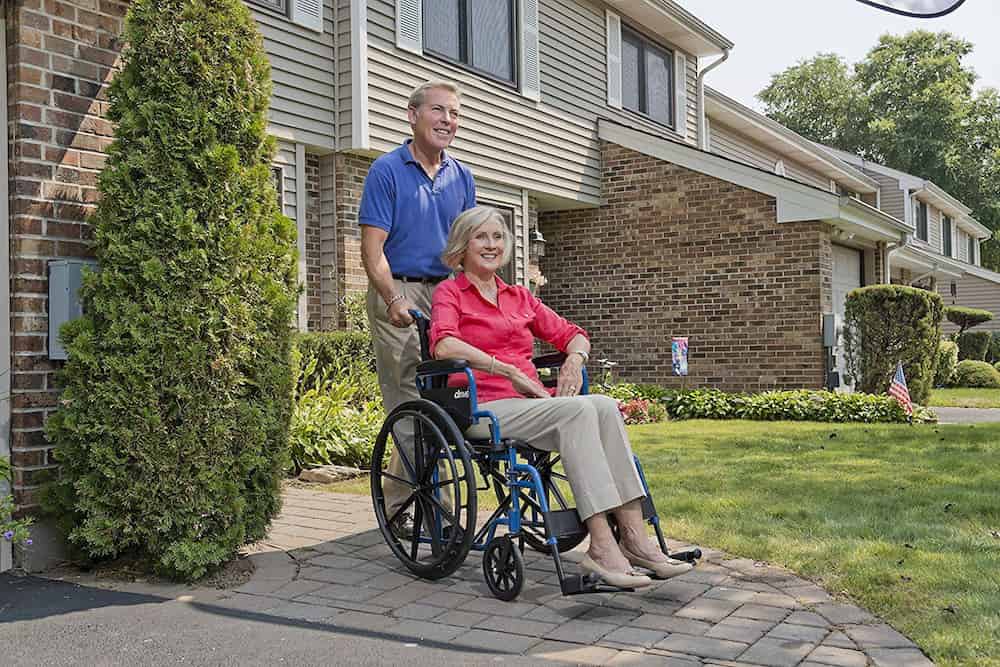 However, not a wheelchair is built for everyone. In this Drive Medical Blue Streak Wheelchair Review, we will take an in-depth look at the pros and cons and everything between in this chair to guide you make the right decision.
In a brief, it is an affordable manual wheelchair with reasonably good maneuverability and durability. But it also has some limitations which we will cover in this article.
Pros and Cons
Pros
Good value. You don't often see a cheap wheelchair that also includes so many features.
Foldable. You can fold it into a small size enabling you to put it into the trunk of a car.
Flip-up armrest. This makes you get close to the table and is also good for transferring.
2 Footrest type available. You can choose the elevating footrest or the swing-away footrest.
Beautiful blue color.
Easy to propel.

Cons
Heavy. The overall weight is 41 lbs, making it hard to lift for people with weak hands.
Lack adjustability. You can't change the seat height and back angle.
No companion brake and seat belt. It could be safer.
The weight capacity is only 250 lbs.
The armrest is easy to break.
The footrest can't stay in place sometimes.
Specifications of Drive Medical Blue Streak Wheelchair
| | |
| --- | --- |
| Weight Capacity | 250 lbs |
| Product Weight: | 41 lbs |
| Color | Blue |
| Seat Width | 16″, 18″, 20″ |
| Floor To Seat Height | 19.5″ |
| Footrest Type | Swing-Away, Elevating |
| Armrest Type | Flip-up |
| Frame Material | Steel |
| Assembly Required | No |
| Foldable | Yes |
Features and Benefits of Drive Medical Blue Streak Wheelchair
Flip-up armrest
One thing we love about the Drive Medical Blue Streak wheelchair is that it includes flip-up armrests. This is a feature that is often seen in more advanced models.
With the flip-up armrest, you will be able to sit close to the table for eating, reading, and even playing games.
It is also beneficial for people who have difficulty entering or exiting the chair by themselves. It will offer more space for caretakers to help you and prevent falls which is known to be tied to health and longevity.
The armrest is padded for added comfort, however, the pad is made with plastic which is flimsy somewhat.
Foldable and portable frame
If you don't intend to use the wheelchair only indoors, then portability is one of the priorities when it comes to buying a wheelchair.
Even though it is a basic wheelchair, it is foldable. Drive Medical Blue Streak wheelchair collapses down into a small size which should not present tremendous difficulty when moving it from point A to point B.
Of note, this sleek blue-powdered frame is made out of steel, making the chair durable but heavier than the aluminum wheelchairs. In addition to that, the wheels are not removable. While it could not be problematic normally, it could be a hassle for seniors or women who will lift the chair every so often.
Lightweight wheel
Drive Medical Blue Streak wheelchair boasts lightweight and durable wheels. The solid rubber tires offer good traction and need less maintenance and the composite spokes are lightweight. They work together to ensure that the user can push it easier.
Customizable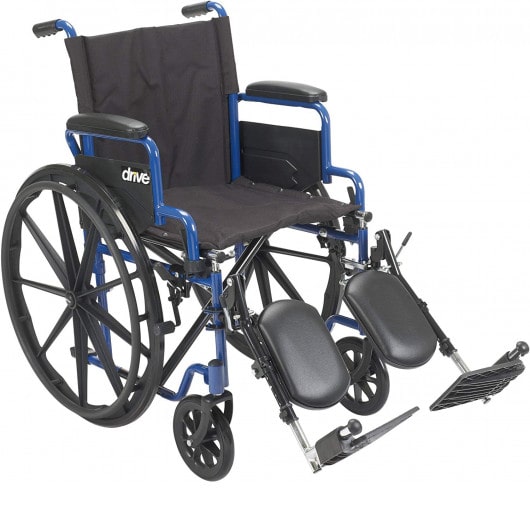 You can find some customization options on offer for the Blue Streak wheelchair. For example, you can order a seat width of 16″, 18″, and 20″ to ensure it will be a good fit for you. You can also choose an elevating footrest or a typical swing-away footrest.
If you just had surgery on your leg or feel painful, then an elevating footrest would be a smart investment. The calf pad is all about relieving pressure and support, however, it is easy to get wears and tears and the position is fixed.
Or you can get yourself a swing-away footrest with a calf strap, which is a cheaper option as well.
Better for indoors
Regarding maneuverability, we think it is more suitable for indoor use. The front wheel is 8″ and the rear wheel is 24″ in diameter, both are common in the industry.
It offers a smooth ride on indoor surfaces and most even outdoor terrains, but for other uneven surfaces or slopes, it is only average on handling them.
If you will spend the most time at home and only go out occasionally, it would be a proper option. Otherwise, you should look for other models.
Plus, the Drive Medical Blue Streak wheelchair doesn't come with a seat belt. We advise you to get an aftermarket one especially when you decide to climb or down the hill.
Comfortable
The padded armrest, elevating footrest, along with sturdy frame, make it a comfortable chair in general. We can't say it is among the best in the market, but it is not bad for short to middle-duration sitting.
The upholstery is firm and easy to clean, however, it is not well padded. For those who are likely to stay in the chair for hours a day, buying a wheelchair cushion could largely improve your experience.
Aside from that, this is a typical straight-backed chair which could make for pains and pressure on the back and waist if you sit in for too long. The non-adjustable seat height decides it is a chair for too tall or too short users.
Affordable
We bet it is one of the most striking advantages for Drive Medical Blue Streak wheelchair. As we mentioned above, the flip-up armrest and elevating footrest are hard to find in this price range.
For users who only need to use it for a few months, it does not make too much sense to invest in an expensive model.
Who The Drive Medical Blue Streak Wheelchair Is Best For?
With the 250 lbs maximum weight capacity and 19.5″ floor-to-seat height, the Blue Streak wheelchair is a good manual wheelchair for people with average body size and don't need to propel the chair by feet.
If you are working around a budget, this chair is one of the best values in the market. It caters to all the basic needs and with the strong metal frame, you shouldn't feel apprehensive about breaking or getting wobbly in a short time.
Besides, for those you need to ask for help while getting in and out of the chair, the flip-up armrest comes in handy. It will accelerate the transfer process to some extent.
It is also an awesome choice for people who want a wheelchair for recovery. These people would not stay in the chair for the whole day so that they will not feel pains due to the fixed back angle or nonpadded upholstery.
Drive Medical Blue Streak Wheelchair Alternatives
1. Drive Medical Cruiser III Wheelchair
Affordable Manual Wheelchair With Adjustable Seat Height
This is another popular model from Drive Medical that we reviewed before. They are in the same price range and share a variety of features and limitations. You may need to spend a few bucks more if you decide to get this one.
It is made out of steel, foldable, and comes with a flip-up armrest. The overall weight is 36 lbs which is not as heavy as the Drive Medical Blue Streak wheelchair but still not a lightweight model. It also lacks a seat belt and hand brakes for a companion.
Different from Blue Streak, the Cruiser III wheelchair has a 300 lbs weight capacity and the floor-to-seat height is adjustable which can benefit users who want to propel the chair by feet.
However, it doesn't include a pouch for storage as Blue Streak does.
2. Medline K4 Lightweight and User-Friendly Wheelchair
In our view, this is another one of the best value on the market. Coming from another reputable name in the industry, you will get a hassle-free experience if there is any problem with the chair.
The same as the Drive Medical Blue Streak wheelchair, it is made with steel and features a flip-back desk arm. In a similar vein, it is a wheelchair for indoor use.
What makes it different from Blue Streak is that it features a dual axle mechanism, ensuring you can adjust the back height and seat height.
The weight capacity is also added to 300 lbs. Besides, the product weight is 33 lbs which is lighter than Blue Streak, making it a more suitable choice for people who is not able to lift a heavy chair.
Wrapping Up
So, this is the Drive Medical Blue Streak wheelchair review for you. Generally speaking, it is a versatile and affordable wheelchair for people with an average body size. We like the flip-up armrest and optional swing-away or elevating footrest.
It is reasonable comfort for a short trip but we recommend you to get another model if you will spend most of the day in the chair.
Where safety is concerned, it doesn't include companion brakes and you should buy an extra seat belt. It handles well on most even surfaces so it is a better choice for indoor use.