As a wheelchair user, you always want to find an easy push and lift chair for caregivers. Among all the transport chairs on the market, Drive Medical Fly Lite Ultralightweight Transport Wheelchair stands out due to its under 17 lbs product weight.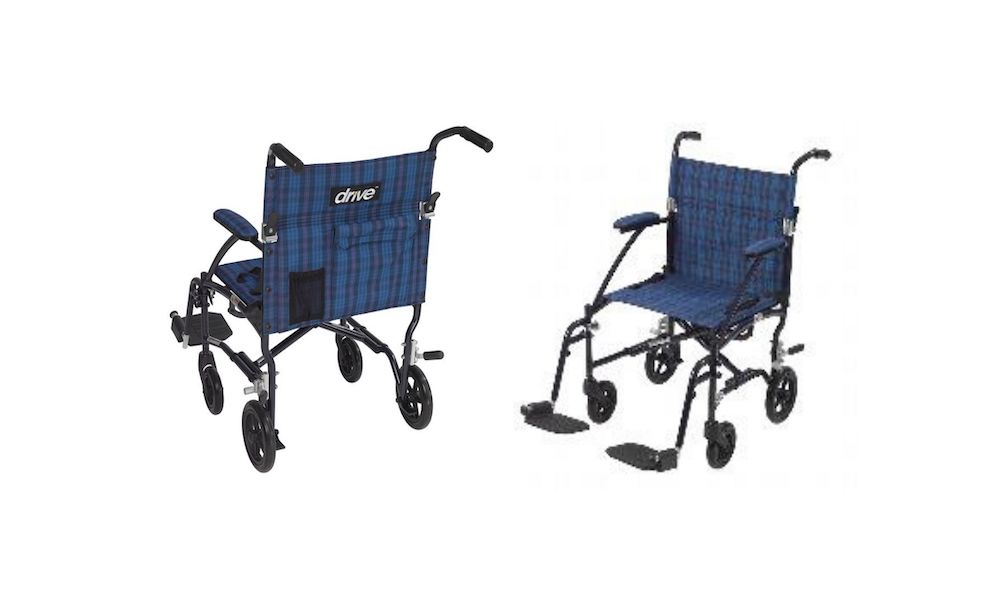 Is this transport wheelchair worth your money? How will you feel when you sit in this chair? We got you covered in this Drive Medical Fly Lite Transport Chair Review.
In short, if you are looking for a transport chair with excellent portability, this is a good buy to go. We also include this chair in our list of the best lightweight transport wheelchairs. Read on to explore more details with us.
Pros and Cons
Pros
Ultralightweight. This is one of the lightest wheelchairs in the market with a 16.8 lbs weight without footrest and 19.8 lbs with footrest.
Durable. Made with aluminum, it can support up to 300 lbs. It is a mobility aid that can last for years.
Foldable. It comes with a fold-down back, and the chair can be folded flat for easy travel and storage.
Wheelchair bag included. The package includes a backrest carry pocket which is useful for storing personal items.
Upholstery options. You can choose from 3 different patterns.
Cons
Average adjustability. The floor-to-seat height is fixed, and the armrest is unremovable. This made the chair is not a good option for people who is too high or too low.
No hand brake. Caregivers like to use hand brakes as they are easy to reach and control. This chair uses push-to-lock brakes, which are located near the wheels.
Small wheels. The wheel size of the front wheel is 6″ and the rear one is 8″. This transport chair works well on smooth flooring but not rough roads.
Specifications of Drive Medical Fly Lite Ultra Lightweight Transport Wheelchair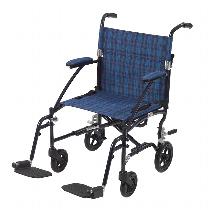 Weight Capacity
300 lbs
Product Weight:
16.8 lbs
Color
Blue Frame and Blue Plaid,
Burgundy Frame and Black,
Black Frame and Black/White/Red Plaid
Seat Width
19″
Floor To Seat Height
18″
Footrest Type
Swing-Away
Frame Material
Aluminum
Assembly Required
No
Foldable
Yes
Features and Benefits
Ultralightweight Frame
The main reason why people choose to buy this Drive Medical Fly Lite transport chair is that it is lightweight. The product weight is 16.8 lbs without footrests. We explored hundreds of wheelchairs on the market, and it is tough to find something lighter than this chair.
Transportation happens every day, and a lightweight product would make this process much easier. This becomes more important when you need to ask someone else to push the chair for you.
This Fly Lite chair embraces an aluminum frame which is known to be lighter than steel. The construction is simple and elegant. Plus, the upholstery doesn't add much extra weight. All of these features make this transport wheelchair ultra-lightweight.
Excellent Portability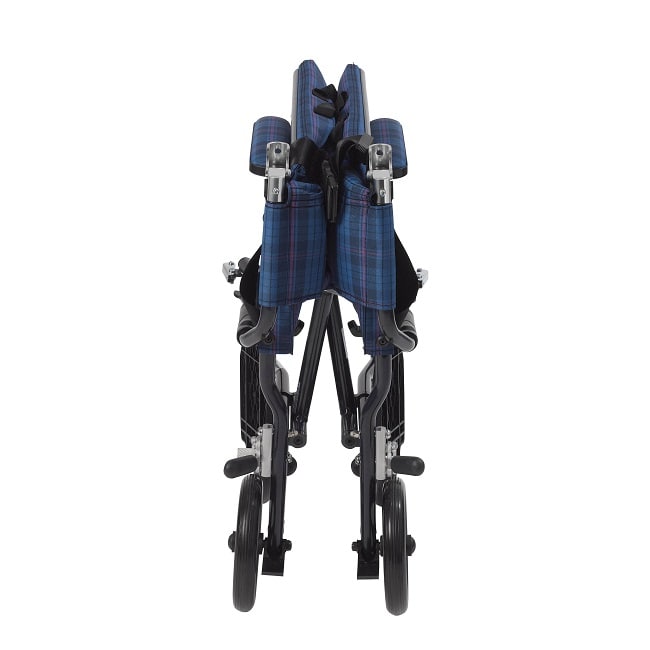 As we mentioned above, this is an excellent wheelchair for travel. In addition to the lightweight frame, this chair is collapsible, allowing caregivers to lift and put it in the car's trunk with a breeze.
Featuring a compact design, the Drive Medical Fly Lite wheelchair is a handy product for seniors who live in small spaces.
It is a chair that you would like to take anywhere and truly help you when you need to take a long trip. Open and close the chair is so easy that you will never think it is a hassle.
Good Durability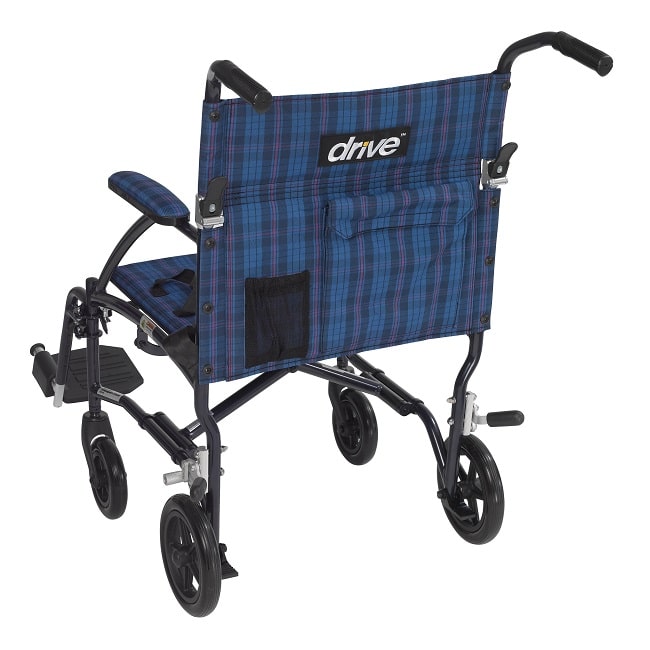 Some people think lightweight chair tends to be a bit less durable. However, this is not the case for the Drive Medical Fly Lite transport wheelchair.
The weight capacity of this wheelchair is 300 lbs which means it is strong enough for average or even a bit healthier people.
You will feel secure and stable while sitting in it. It is not something that will break anytime.
Average Maneuverability
This transport chair is a better choice for indoor use. We don't think it is a good idea to use it on bumpy surfaces. This is since both the rear and front casters are small. As you know, smaller wheels will increase the rolling resistance, making pushing the wheelchair become harder.
However, it may not be a big issue if you don't go outdoor often or have other mobility aids such as mobility scooters at home.
A Good Fit For Most Users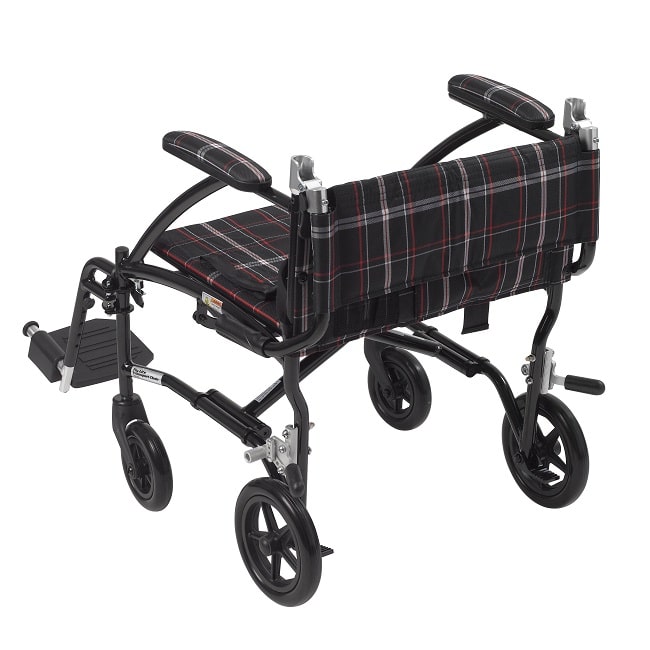 To be honest, the Drive Medical Fly Lite transport wheelchair lacks adjustability to some extent.
The armrests are fixed in place, and the seat height is not changeable. With the 18″ seat-to-floor height, this chair can cater to most users. However, you may feel uncomfortable if your height is below or above the average too much.
For other parts, the swing-away footrest is removable, and the backrest could be folded down.
Acceptable Price
This Drive Medical lightweight transport wheelchair comes with a relatively low price tag. While it is not the cheapest one, it will not break your bank.
You have to pay some extra bucks for the ultralightweight frame as some other transport wheelchairs with almost the same features are cheaper. But it is going to save a lot of effort for you at the end of the day.
Comfort
You will enjoy the time sitting in it! We like the big seating area with a 19″ seat width. It is spacious, and the upholstery of the seat and backrest is thick and breathable. It also includes padded armrests for added comfort.
The 18″ seat-to-floor height is ideal for most users, and the durable frame offers excellent stability as long as you don't ride on rough roads.
Safety
For the sake of providing security for users, this fly lite wheelchair uses push-to-lock brakes and a seat belt. However, we think it is not good enough to prevent tipping.
The push-to-lock brakes are too far away from the hand, making it hard for the companion to respond quickly. Some wheelchairs include anti-tippers, but this one does not.
Therefore you should be careful while getting in and out of this wheelchair. Don't rush!
Who Should Buy The Drive Medical Fly Lite Ultra Lightweight Transport Wheelchair?
Drive medical fly lite ultra lightweight transport wheelchair is suitable for seniors or patients who can't propel a manual wheelchair, live in a small space, have to visit doctors often or like to get some fresh air in the park.
It is affordable and durable. You are buying a wheelchair from one of the best wheelchair brands.
You don't need to feel stressed or guilty anymore, as pushing this light wheelchair wouldn't burden a caregiver. We know the caregiver could be your aging husband or wife.
The folding design allows you to store it in a small cabinet or truck, and it is pretty easy to open and close.
Visiting a shopping center or hospital wouldn't be an issue as long as you don't need to cross over uneven terrains.
However, we don't think it is a good option for too tall or too short people.
Drive Medical Fly Lite Transport Chair Alternatives
1. Carex Transport Wheelchair
Carex transport wheelchair is another popular and affordable transport wheelchair in the market. It shares many features with the Drive Medical Fly Lite wheelchair, such as 300 lbs weight capacity, padded armrest, 19″ seat width, push-to-lock handles, and foldable design.
The weight is about 25 lbs which is heavier than the Fly Lite one but still a lightweight transport chair. This is owing to its steel frame. If you don't mind carrying these extra weights, you could save a few bucks by buying this product instead.
This chair has an 8″ front wheel and an 8″ rear wheel. The rear wheel is a bit larger than the Fly Lite one but still relatively small. Therefore, we also recommend it for indoor use.
2. Drive Medical Lightweight Expedition w/12″ Rear Wheels Transport Chair
Want a lightweight transport chair for outdoor activities? This wheelchair from Drive Medical is the product you need.
Featuring 12″ rear wheels, this wheelchair offers better maneuverability than the Fly Lite one. You will feel more stable when riding on bumpy roads.
Even better, it is equipped with hand brakes. Caregivers can control and stop the chair easily, which helps to avoid accidents. The added safety is essential for people who like to spend time outdoor.
The same as the Fly Lite wheelchair, it is made with aluminum, and the weight capacity is also 300 lbs. It is easy to fold and store in tight spaces.
The overall weight is 19 lbs without footrests, which is slightly heavier than the Fly Lite wheelchair. As for the price, there is no big difference.
In a word, this is an appropriate chair for both indoor and outdoor use. However, if you are trying to save as much effort as possible, the Fly Lite one is preferable.
Wrapping Up
After reading this Drive Medical Fly Lite Transport Chair Review, we hope you already make the right decision.
Compared to other wheelchairs, this chair is ultralightweight. This is why it is so popular in the market.
Caregivers love to use it because it is just so easy to open, close, and lift. It will save plenty of effort in the long run.
Users like it as the frame is sturdy and sit in it is stable and comfortable.
However, it is short of adjustability, and there is room for improvement in terms of safety. If these are what you really concern about, try a chair with more features.