Drive Medical, also known as Drive, is one of the best wheelchair brands in the world. They offer various wheelchairs to cater to different needs—people like them for their affordability and quality.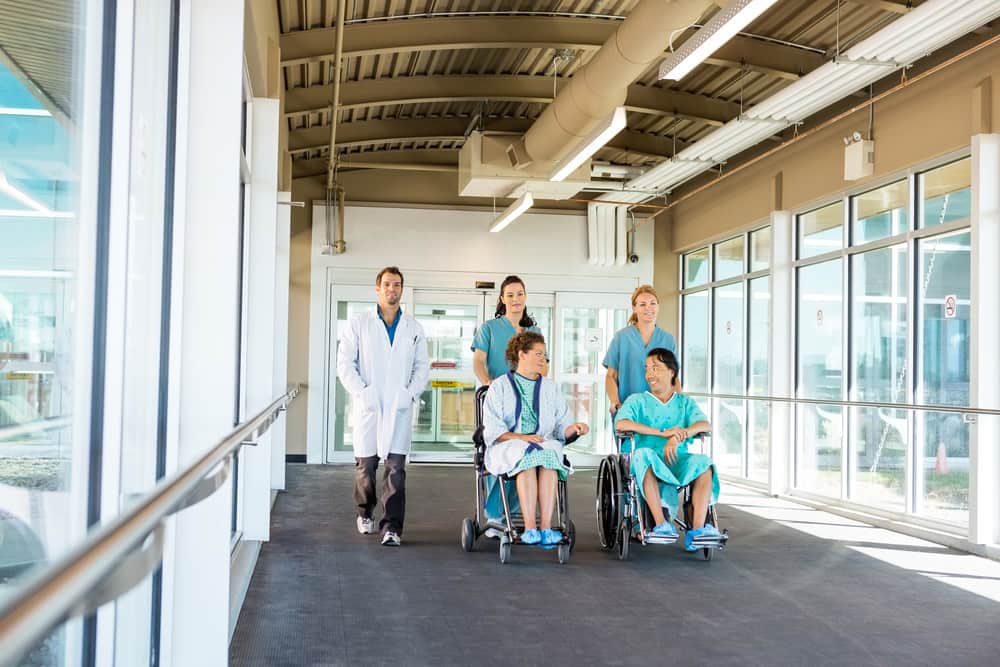 In this post, we will review a list of the best Drive Medical wheelchairs on the market and guide you on how to pick the best fit for yourself or your loved ones.
#Affiliate links.Last update on 2023-12-02 at 15:13
Best Drive Wheelchairs: Reviews
1. Drive Medical Cruiser III Manual Wheelchair – Best Drive Medical Wheelchair Overall
#Affiliate links.Last update on 2023-12-02 at 15:13
Drive Medical Cruiser III is a feature-rich manual wheelchair without being tagged with an exorbitant price, making it one of the best value for money selections.
What we like is that the seat height is adjustable. You can elevate the chair from 17.5″ to 19.5 or vise versa. This feature not only offers options for people with a small figure but makes propel by feet possible. For people with weak hands, this helps to maintain independence.
Another advantage is that it comes with flip-up armrests, which are known for boosting patient transfer. Plus, wheelchair users can sit closer to the table to enjoy dinner or reading books.
Made with carbon steel, this Drive wheelchair can bear up to 300 lbs. On the flip side, it is by no means the lightweight model, but the 36 lbs product's weight is still manageable.
Pros
Good value for money.
Flip-up armrest for transferring.
Adjustable seat height: you can propel the chair by feet.
300 lbs weight capacity.
Durable.
Cons
Heavy to lift for some users.
Not the most comfortable models.
2. Drive Medical Blue Streak Manual Wheelchairs
#Affiliate links.Last update on 2023-12-02 at 15:13
This is another popular wheelchair from Drive Medical. For those looking for a basic and affordable manual wheelchair, this one could be the best bet.
Featuring flip-up armrests, users can sit close to the table and enter or exit the chair with a breeze. This feature is hard to find in this price range. It is also a foldable wheelchair, making it possible to store in the trunk of your car. 
Note that the overall product weight is 41 lbs, which could be a hassle for someone to lift.
Made with carbon steel, this chair can hold up to 250 lbs, which is pretty standard in manual wheelchairs. It should be enough for most people.
People also like the beautiful blue coating, which is more attractive than the normal black one.
This is a basic chair without bells and whistles, but it is durable and capable of fulfilling basic tasks.
Pros
Affordable.
Flip-up armrests included.
It is a foldable wheelchair.
Beautiful blue coating.
Cons
Heavy. The 41 lbs product weight makes it hard to lift for some users.
No companion brakes.
3. Drive Medical Fly Lite Ultra Lightweight Transport Wheelchair
#Affiliate links.Last update on 2023-12-02 at 18:44
People are always curious about how much does a wheelchair weigh, as the lighter the wheelchair, the easier it is to operate in general. As the name of this Drive Medical wheelchair suggests, it is an ultra-lightweight transport chair that will save you a lot of effort in your daily life.
The frame is made with aluminum, and the product weight is only 16.8 lbs. The lightweight weight, in tandem with the foldable design, makes it a chair with great portability.
Even better, it can bear up to 300 lbs weight and is sturdy and durable.
However, it does have some limitations. The small wheels decide it is a suitable chair for bumpy roads, and there are no companion brakes for added safety. Besides, the armrests are fixed.
Otherwise, it is an awesome transport chair to have.
Pros
Lightweight. Only weighs 16.8 lbs.
300 lbs weight capacity to accommodate most users.
Can be folded into a small size.
Cons
No companion brakes for added safety.
The wheels are small, making it not a good choice for outdoor use.
The armrests are fixed.
4. Drive Medical Silver Sport 2 Wheelchair
#Affiliate links.Last update on 2023-12-02 at 15:23
This is an upgraded version of the Drive Medical Silver Sport series. The striking advantage of this chair is that there are a lot of customization options on offer here.
You can order the wheelchair with elevating leg rests or swing-away legrests. In a similar vein, you can also opt for a seat width of 16″, 18″, 20″.  Plus, there are fixed padded armrests or removable armrests for you to choose from. The weight capacity can range from 250 lbs to 350 lbs.
In short, you are likely to get a suitable wheelchair with many options available.
Aside from that, the upholstery is well made, and the steel frame is sturdy. All of these features make it a long-lasting chair. 
Nonetheless, even though it is foldable, it is not a lightweight option for people with weak hands.
Pros
There are a lot of customization options available.
The maximum weight capacity: 350 lbs.
Durable and foldable.
Cons
This is a heavy chair.
The footrest is not far enough for people with longer legs.
5. Drive Medical Rebel Lightweight Wheelchair
#Affiliate links.Last update on 2023-12-02 at 19:03
The Rebel Lightweight wheelchair is an awesome wheelchair for indoor use. The big mag-style wheels provide good maneuverability at home.
If you need a chair to get you from point A to point B more often than not, then this Rebel wheelchair is also a suitable choice. Featuring quick-release wheels, fold-down backrests, and a foldable frame, this chair can collapse into a small size. In this way, you can store it in the back of a car or any other tight space.
We also like the desk-style flip-up armrests for easy transferring. However, the seat height is not adjustable, and the footrest seems a bit flimsy. It is a chair for people of average size.
Pros
Good maneuverability indoor.
Quick-release wheels included.
Can be folded into a small size.
The weight capacity is 300 lbs.
Cons
The footrests are easy to break.
The seat height is non-adjustable.
6. Drive Medical Silver Sport Reclining Wheelchair
#Affiliate links.Last update on 2023-12-02 at 15:23
Also, come from the "Silver Sport" series, this Drive Medical reclining wheelchair is one of the best reclining wheelchairs in the market.
What sets this Drive wheelchair apart is that it has a hydraulic reclining mechanism, allowing the back of the chair is able to be adjusted from 0 degrees to 180 degrees.
This is great for people who suffer from back pain or other health conditions as the reclining back helps alleviate pressure points. Of note, you should ask someone to raise or lower the back for you.
For added comfort, this reclining wheelchair comes with an immobilizer and padded armrests. The footrest comes with a calf pad and is easy to remove.
While the upholstery is not padded, it is durable and easy to clean. There are 3 seat widths available to accommodate more users: 16″, 18″, and 20″. The weight capacity ranges from 300 lbs to 350 lbs. The mag wheels are low maintenance. 
Pros
The seat back is fully adjustable.
Immobilizer included for added comfort.
Upholstery is durable and easy to clean.
3 seat width available.
Cons
The seat height is not adjustable.
7. Drive Medical Lightweight Expedition Transport Wheelchair with Hand Brakes
#Affiliate links.Last update on 2023-12-02 at 15:23
Drive Medical Lightweight Expedition transport chair is another popular transport chair in the market. It comes with a lot of good features but has a very low price tag.
What differentiates this Expedition transport chair from other models is its safety features. The hand brakes on the back allow caregivers to deal with any dangerous situations, avoiding falls and injuries. Caregivers can also use them for parking to a chair so that they can get hands-on other things. 
It also has a seatbelt to prevent tipping while ascending or descending the hills.
Regarding maneuverability, the 12″ big rear wheels improve the performance on bumpy surfaces. Meanwhile, the flat-free tires make the wheel lightweight, and the chair is easy to propel on indoor surfaces. Add to that the aluminum frame is sturdy and could hold up to 300 lbs, and the chair is a proper offering for daily use.
Even better, it only weighs 19 lbs, making pushing or lifting it a breeze.
If you are working around a budget and need a safe transport chair in your day-to-day life, this Expedition model is an awesome choice.
Pros
It is a very safe transport chair. It includes companion brakes.
300 lbs weight capacity.
Foldable.
Affordable.
Lightweight to lift and push.
Cons
No anti-tippers included.
The seat height is only 16″ and not adjustable.
8. Drive Medical Cirrus Plus Folding Power Wheelchair
#Affiliate links.Last update on 2023-12-02 at 15:23
Drive Medical Cirrus Plus is the only power wheelchair in our list of best Drive Medical wheelchairs. It looks like a normal wheelchair, but it is far more powerful than the normal ones. While investing in a powerful wheelchair will cost a lot but will save you effort every day and every night. 
The drive range is up to 15 miles, and the maximum speed is 5 mph. This is good enough for you to travel around. Where comfort is concerned, this chair uses adjustable-tension upholstery on the back and a well-padded seat cushion, aiming at relieving pressure for users.
When it comes to portability, this power wheelchair employs a foldable design to store in a small space, which is great for transporting.
As for the footrest, some electric wheelchairs use footplates. However, users feel more comfortable when using the traditional footrests in this chair.
Pros
The speed is up for 5 mph.
Great battery performance.
It is foldable.
Comfortable footrests.
Fair price.
Cons
The turning radius is not small enough to go through some tight spaces.
It is heavy for some users to lift it into the trunk of a car.
What is the background of Drive Medical?
Drive Medical is a US-based medical equipment company that is founded in 2000. They grow rapidly, and their product lines include wheelchairs, mobility scooters, bathroom safety products, CPAP devices, pressure prevention products, hospital beds, and so on. 
They design and make most products in the US, but the products have been sold worldwide. As the major player in this market, you are easy to see their products on the market.
Warranty and Services of Drive Medical Wheelchairs
The warranty varies according to the wheelchair model. For example, you will get a limited lifetime warranty for Drive Medical Cruiser III Manual Wheelchair. However, the silver sport 2 model only has a 3-year limited warranty. For the battery, usually, the warranty is 12-month.
What is the Most Popular Models of Drive Medical Wheelchairs?
We have to say all the models on our list are prevalent in the market. Among them, the blue streak one and Cruiser III one are trendy in the manual wheelchair category. Drive Medical Lightweight Expedition model and the fly lite ultra-lightweight model are prominent in the transport chair market.
What To Consider When Buying Drive Medical Wheelchairs?
Drive Medical offers a variety of wheelchair models to choose from. By reading our reviews, you may already be attracted by some good ones. Nonetheless, before making your final decision, you should take these factors into account.
Your health condition
There comes a time in everyone's life that moving is not as easy as it used to be, making using a wheelchair a fact of life. There are a few types of wheelchairs in the market, but not everyone is suitable for you.
If you have relatively strong upper body strength, then a manual wheelchair that needs to propel by yourself would be a good fit; otherwise, you could opt for a transport chair so that caregivers can push the chair for you. While you will sacrifice some independence, but it is much safer.
For people with more severe health conditions, a reclining chair comes in handy. With the reclining mechanism, users can take a rest whenever they want.
Anyway, it is paramount to check with your doctor or therapist to see which kind of wheelchairs fit you most.
Weight capacity
Never buy a wheelchair that can't bear your weight. It is better to get a wheelchair that has a weight capacity exceeds your body weight at least by 50 lbs. This will ensure you get to stay safely in the chair without any concerns about it breaking or getting wobbly.
A heavy-duty wheelchair is the best option for bariatric users as it is specially designed for people with obesity.
Long-term or short-term?
How you will use the wheelchair is also important. If you will most time indoors, then a chair with smaller wheels,  light tread, and flat-free tires will save you more effort; however, if you decide to spend more time outdoor, then a wheelchair with bigger wheels and wider tread will offer more traction to the ground.
Aside from that, if you only need a wheelchair in a short time, then buying a cheap and basic one will not go wrong. However, if you are wheelchair-bound, getting yourself a comfortable and advanced model will pay off in the end.
Your budget
To be honest, most Drive Medical wheelchairs are affordable. A few models are the best value in the marketplace. Therefore you can always find a Drive Medical wheelchair within your budget. One thing should bear in mind is that you don't always need these bells and whistles. So always think about your real needs and get the wheelchair you need.
Conclusion
In this post, we have tried to give you an overview of Drive Medical wheelchairs and laid out a guide to easily choose which Drive wheelchair is the best fit for you. In brief, Drive medical wheelchairs are cost-effective and durable. They provide so many models that you are able to find a suitable one anyway.