When it comes to purchasing a new printer, you can pick from countless options out there, ranging from the most basic models to the top-of-the-line devices.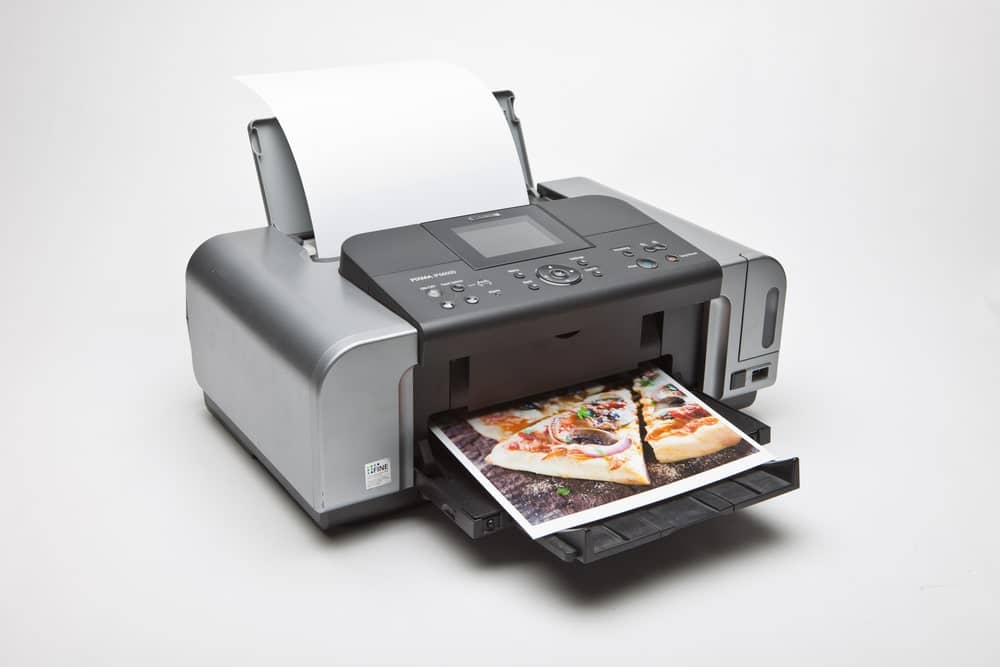 Many seniors do not require advanced features. Usually, they want only to print photos or documents. Some may also want to scan and photocopy. If this sounds like you or a senior citizen you know about and are shopping for, read on.
Here we will go over the 7 best easy-to-use printers for seniors:
#Affiliate links.Last update on 2023-12-02 at 09:35
Best Easy-to-Use Printers for Seniors: Reviews
1. HP DeskJet 1112 Compact Printer—Best for Saving Space
#Affiliate links.Last update on 2023-12-02 at 09:35
This compact printer fits nicely on any desk or shelf. It's ideal for seniors who reside in retirement communities where space is often limited.
Even with its small size, this printer gives you the colorful prints you need at a speed of 7.5 pages per minute for monochrome and 5.5 pages per minute for color.
With the compact printer, seniors can also benefit from high-yield cartridges, which are usually more cost-efficient and can print twice as many pages before a replacement.
Pros
Fast.
Compact.
Cost-friendly.
Simple easy-to-use.
Cons
Cannot scan, photocopy, or fax.
No Wi-Fi connectivity.
2. HP Sprocket Photo Printer—Best Portable Printer
#Affiliate links.Last update on 2023-12-02 at 09:35
The HP Sprocket Photo Printer can be the perfect gift for seniors who still want to print out every snapshot. You're easily able to print out your favorite moments.
Even though its footprint is not much larger than an ordinary smartphone, it still does a remarkable job.
The operation may seem confusing at first, but once mastered, the HP Sprocket photo printer is super easy to use and makes an incredible gift.
Pros
Bluetooth technology to print from different platforms.
It works with smartphones and tablets.
It doesn't use ink; instead, it works with special sticky-back paper.
Fits nicely into any bag.
Cons
Image quality could be better.
Paper replacement costs can add up very fast.
3. HP Office Jet 3830—Budget-Friendly & Multi-Functional
#Affiliate links.Last update on 2023-12-02 at 09:35
This printer is affordable and can scan, fax, copy, and print. It's ideal for anyone who needs a device that is simple in functionality and performs numerous tasks.
You can also connect it to your Wi-Fi network, which gives you the option of printing from any other connected device, like your tablet or smartphone. USB connectivity to a computer is also an option that should provide the user some added reassurance of connectivity.
Replacement ink cartridges can be expensive, but the device is also HP Instant Ink compatible. As a result, you can budget ahead for exactly what you print, with a guarantee that you will never have to search to discover the correct cartridge.
Pros
Affordable.
Networkable. Print from any device.
Quiet.
Has a mono touchscreen.
Cons
Users experienced occasional touch screen and power button failures.
Users experienced alignment and paper jam issues.
4. Epson Expression XP-440—Best in Flexibility of Use
#Affiliate links.Last update on 2023-12-02 at 09:35
This affordable, easy to use printer connects to computers, smartphones, and tablets via the wireless connection. The printer uses separate cartridges for each color, instead of just having a black and a tricolor cartridge.
So, you only replace a single color as it runs out, which can work out more economical than tricolor cartridges, which tend to die when only one of their three colors has depleted.
Whenever you have separate cartridges for each color, you improve print quality. As a result, your device typically creates more appealing photographs.
Pros
Affordable.
Powerful photo printer.
Scan and photocopy capabilities.
Cons
Several users claim that the photo quality could be better.
Does not have an auto-duplexer or ADF.
5. Canon- SELPHY CP1300 Printer— Another Good Photo Printer
#Affiliate links.Last update on 2023-12-02 at 09:35
Many seniors still enjoy holding a book or photo in their hands rather than viewing them on an electronic device. Canon has created the Selphy CP1300 to print out great moments instantly. Due to its small size, it is a perfect fit for your bag during trips.
Connecting your tablet and smartphone is quick and straightforward via the Canon Print app3, available for Android or Apple.
Fascinatingly, you can print directly from your camera's memory card or, more traditionally, via the USB.
The portable design allows you to carry the SELPHY CP1300, together with the optional battery, so that you can print and share your memories anywhere you are.
Pros
Simple set-up
Quick.
Excellent photo quality and color.
Portable
Cons
Several users talk of possible jams with new ink cartridges.
The printer can disconnect from the phone after printing a few photos.
6. Canon Pixma G7020—Best for High Volume Printing
#Affiliate links.Last update on 2023-12-02 at 09:35
Although the Pixma G7020 is an expensive initial outlay. It has it all, including some of the lowest running costs for a domestic printer, making it great value in the long run.
Canon has designed it with a bottle refill system to copy and print several thousand pages per bottle set. A feed capacity of 350 sheets means not too many paper refills either.
It also wirelessly prints borderless photos from 3.5×3.5-inch to 8.5×11-inch from your mobile devices with ease.
Pros:
Amazing feature set.
Great print quality.
Low running costs.
Up to 6,000 pages of black and 7,700 color from one ink bottle set.
Comes with two bonus black bottles.
Cons:
Pricey initial outlay
Slow control panel.
7. Canon Pixma TR8520—Best All-Purpose Printer
#Affiliate links.Last update on 2023-12-02 at 09:35
This senior-friendly printer produces great-looking text, graphics, and photos—wirelessly, connected, or from a memory card—at up to 15 sheets per minute black or 10 per minute color.
It also photocopies, scans and faxes with the appropriate third-party connection. Like many other Canon Pixma models, it also prints DVD, CD and Blu Ray covers.
It's a lot smaller than other printers in its category for easy installation, and it has an improved and reworked internal design for maximum performance.
Pros:
SD card slot.
Lightweight
Optional duplex printing.
Cons:
What to Consider When Buying Printers for Seniors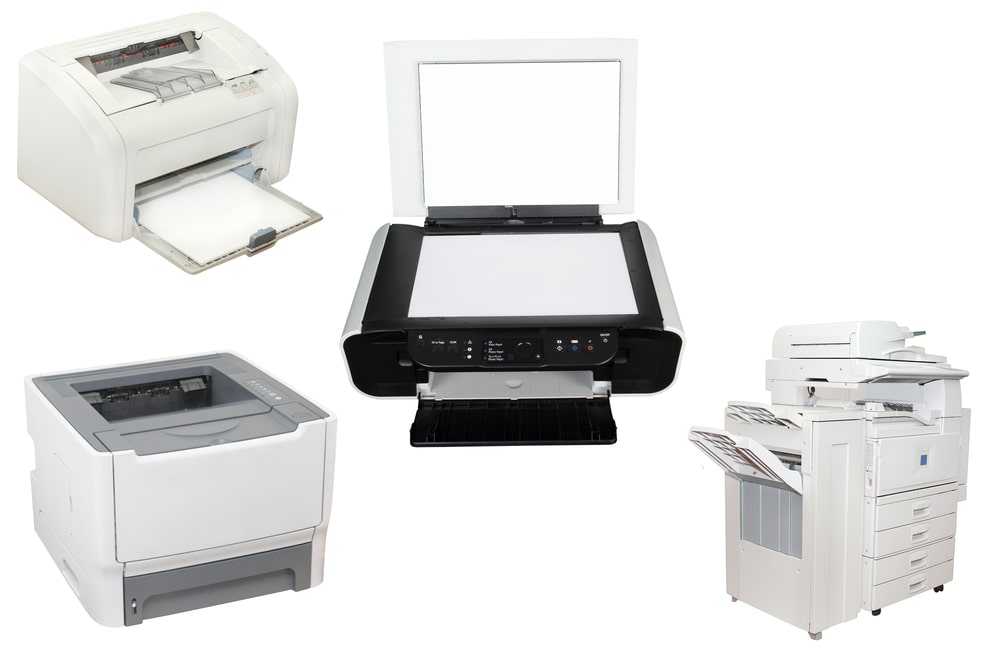 Consider the following essential factors when buying printers for older adults:
Speed
Time is precious. No one wants to wait around for what seems like an age for printouts. Take note of the printer's PPM (pages per minute) specs before you buy—particularly for color prints because this can vary massively from the monochrome print time.
It is also much faster and can save lots on ink costs if you print casual documents in "Draft" mode.
Ease-Of-Use
If the printer is for casual use, say once or twice a month, it can be easy for an older person to forget how to use it the next time it's needed.
Simple operation means less frustration and quicker navigation through the features. Choose a device with minimal controls and print options so, ideally, once set up, you just click 'print.'
Cost-Effectiveness
Printer ink is one of the most expensive liquids on the planet. So, the price of replacement inks should be your primary driving force when choosing a printer. Many companies like HP and Canon sell printers cheaply and recover the loss through their ink sales.
Determine how much per print costs, rather than just the price of the cartridges. Most manufacturers will give you an estimated cost for an A4 sheet containing 5 percent ink, color, or black.
Most color inkjet printers have an under-utilized feature that allows you to print in monochrome, when color is not essential, to preserve the color cartridges.
It's usually a simple task of ticking a box in the print settings to turn this feature on.
Compatible inks are much cheaper but can be unreliable and dry out quickly or damage your printer. If you use compatibles, you will forfeit any manufacturer's warranty.
Flexibility
How flexible is the printer? If required, can you use it for printing addresses on envelopes or duplex printing, as well as A4 photos and documents? Is it ideal for home or office use, or both?. Ask yourself, can the device fit nicely on a desk or shelf and print wirelessly? Or will the user be tethered to a location by a wired connection?
Support features
The additional features that come with a printer can include phone or internet dial-in customer support for faults or a replacement ink supplies service. These can be a godsend to a senior with little technical know-how.
Manual
All printers come with a manual. However, many are in PDF form. The first job seniors may want to use their printer for is to print this out, as they may struggle to read it on a screen.
Benefits of Easy-to-Use Printers for Seniors
Like all ages, The technical know-how of seniors varies enormously. So do the tasks they want to perform. The benefit of an easy-to-use printer for seniors is that it does what is required with the minimum of effort. These may include:
Stress-free printing. The simpler, the better. Buy a printer that does no more than the user requires of it.
Portability. This is a feature of several of our featured photo printers. These can be easily carried and used at family gatherings and on vacation to print photo gifts instantly.
Versatility. Some printers allow you to print to them from several devices, including phones, tablets, and directly from memory cards.
Multimedia capability. All-in-one devices are ideal for seniors who want to digitize old photos or photocopy the church news sheet.
CD/DVD printing. Not for everyone, but many seniors like to burn their vacation videos to DVD or make custom music CDs. The Canon Pixma TR8520 printer lets them print a personal image on the disk.
FAQs
How Much Does Ink and Toner Cost?
Based on consumer reports, inkjet ink is priced anywhere from about $13 to $75 per ounce. This is equivalent to $1,664 to $9,600 per gallon.
Color or Monochrome?
If you print images, photos, or documents that require colors, getting a color printer is a must.
What is Duplex Printing?
Duplex printing means printing on both paper sides. You do this by turning over the paper, either manually or automatically.
What is ADF Printing?
An ADF enables the loading of several pages at once into a multi-functional printer, copier, or scanner.
Conclusion
Know what you need to look out for before you consider buying. This includes; functionality, quality, affordability, simplicity, and connectivity.
While all of the 7 best easy-to-use printers for seniors are worth considering, we highly recommend the HP Deskjet 1112 Compact Printer for those who simply want to print. It is not only easy to set up and use, but it's also compact, with high-quality prints.
For those who want an economical all-around reprographic solution, we recommend the HP Office Jet 3830.