A lot of people want to have a wheelchair that is as lightweight as possible and we think you may be one of them. "Featherweight Wheelchair" ( also known as "feather chair" ) is famous for its light product weight, but we know you want to know more details about it.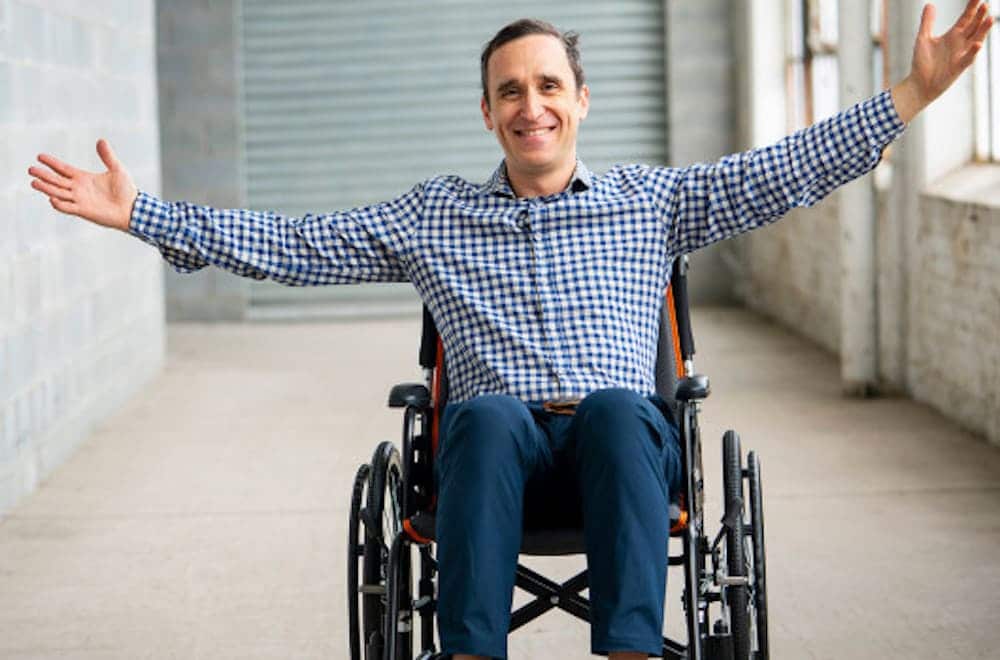 In this Featherweight wheelchair review, we will shed some light on the pros, cons, and everything in between about this chair, ensuring you can make the right purchasing decision.
Simply put, as one of the lightest wheelchairs in the market, Featherweight Wheelchair is durable, safe, and reasonably comfortable. The portability is impressive but it is relatively pricey.
You may be also interested in checking our recommendation for the best lightweight wheelchairs in the marketplace.
Pros and Cons
Pros
Ultra-lightweight. The weight without wheels and footrests is only 13.5 lbs. It is truly one of the lightest wheelchairs in the market at present.
Excellent portability. Feather chair is super easy to fold, lift and store. It is something that will make your life easier.
Safe. It includes both companion brakes and hand brakes. You can also choose to add anti-tippers.
Comfortable. It is stable in general and you can opt for an extra seat and back cushion.
Good maneuverability on even terrains. Self-propelling or pushing the chair is effortless.
Cons
Limited weight capacity. The weight capacity is about 250 lbs, making it is not a chair for heavier people. They have a heavy-duty version.
A bit expensive. Compared to other manual wheelchairs, it is more costly. You should pay for the convenience you get.
Not for bumpy roads. We don't recommend you to use it on uneven terrain. You will take more effort when using it on carpeted areas.
Fixed armrest. Removable armrests are better for patient transfer.
Limited warranty. The warranty for the frame is only 1 year.
Specifications of Featherweight Wheelchair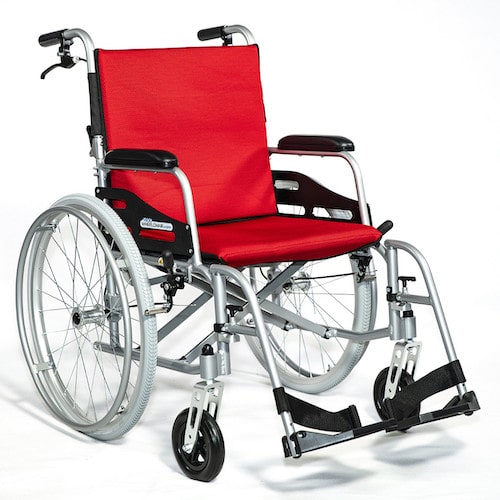 | | |
| --- | --- |
| Weight Capacity: | 250 lbs |
| Front Wheel Size: | 6″ |
| Rear Wheel Size: | 22″ |
| Product Weight: | 13.5 lbs (without footrests and wheels) |
| Color | Read, Gray, Blue(Premium) |
| Seat Width | 18″ |
| Floor To Seat Height | 17″, 17.5″ |
| Footrest Type | Swing-Away |
| Armrest Type | Fixed |
| Frame Material | Aluminum |
| Assembly Required | No |
| Foldable | Yes |
Features and Benefits
Extremely lightweight frame
As the name of this wheelchair suggests, it is the featherweight option in the market by far.
A lot of lightweight wheelchairs use aluminum to make the frame as it is known to be lighter than steel. This Featherweight Wheelchair is also made out of aluminum but the manufacturer claims that they use the new material. We assume it is due to the fact that there are different grades of aluminum available.
The frame itself only weighs 13.5 lbs, ensuring everyone even seniors with weak hands can lift it. Even though it is ultra-lightweight, it is durable and strong. It can hold you up without concerns about it breaking or getting wobbly.
However, you should note that the maximum weight capacity is 250 lbs. This is what we can find in most standard manual wheelchairs but it also decides that it is not a chair for healthier people.
Hand brakes and companion brakes
Whether you are buying for yourself or your loved ones, safety is always the primary concern when it comes to a wheelchair.
Almost every manual wheelchair comes with hand brakes, however, companion brakes are missing in some models.
Luckily, the manufacturer produces the featherweight wheelchair with this point in mind. With the companion brakes, caretakers could control the speed, deal with any unexpected in a short time. This is paramount when it comes to ascend or descend the slopes. The bicycle-style brakes are easy to use.
Plus, the hand brakes for wheelchair users are located on the hand side and within easy reach. With these 2 braking mechanisms, you will feel safe and secure when sitting in this chair.
Optional quick-release wheels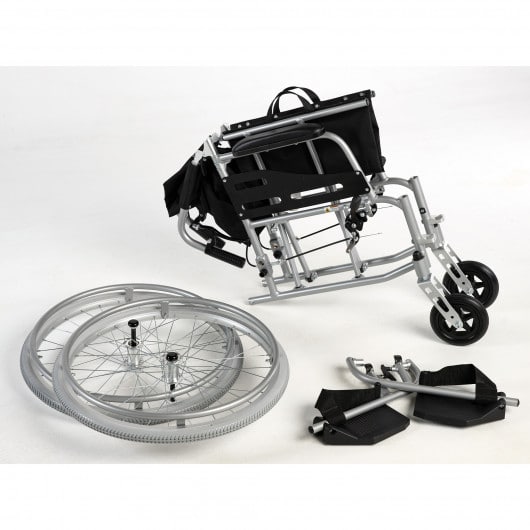 If you have come across some high-end wheelchairs, you may notice that they often include quick-release wheels. If you don't mind pay a few bucks more, you can get a pair of quick-release rear wheels installed in this feather chair.
Some may wonder what is the real purpose of this design. In fact, it is not a must-have for most people. However, if you happen to have a small trunk of the car or live in really tight spaces, this design will come in handy.
You can release the wheel, remove the footrest and then fold the chair. In this way, you disassemble the chair into a few parts, allowing you to place it anywhere you want.
For those with really poor body strength, you are likely to love this design as the maximum weight you have to bear will be reduced to 13.5 lbs (the weight of frame), allowing you to lift it with a breeze.
Average maneuverability
Regarding maneuverability, the only thing we want to mention here is the fact that it isn't suitable for outdoor use given the 22″ rear wheels and 6″ front wheels.
But it would be an insurmountable issue for you as soon as you are not planning to ride on bumpy roads or carpeted areas every so often.
Featherweight wheelchair handles even terrain well and is able to go through small corners.
Great portability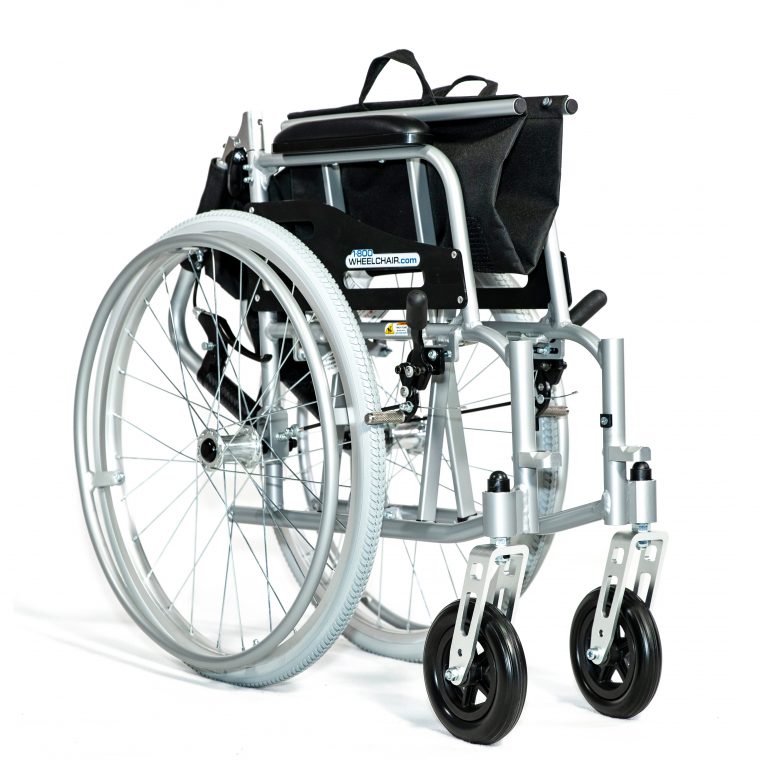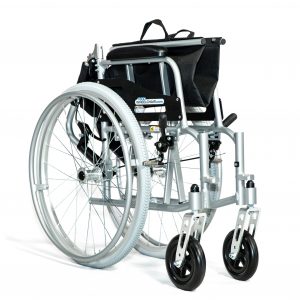 The striking advantage of this featherweight wheelchair is its portability. With the lightweight frame and fold-down backrest, and foldable design, this chair will boost your transfer process.
Lifting and putting back the chair only takes a few seconds. Pushing it as a transport chair will not take much effort for caregivers.
You will benefit from this feature every day and every night.
Above average comfort
Where comfort is concerned, the chair gives a smooth and stable riding on most surfaces. Add to that the chair width is about 18″, and it is comfortable for people with average height and weight in general.
Both the armrest, seat, and backrest are padded, and if you want, you can order extra wheelchair seat cushions for added comfort.
Perhaps one of the parts we think can be improved is the fixed armrest. It may not be able to fit under some tables, which is less ideal when you eat at some restaurants. Plus, you can't change the seat height and backrest angle which makes for strains and pains on the back and waist if you spend too much time on the chair.
Plenty of add-ons available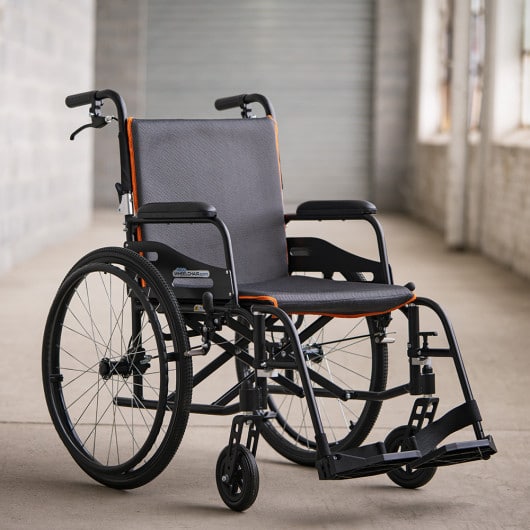 Except for the quick-release wheels and seat cushions we mentioned above, there are other add-ons for you to choose from.
If you don't like the grey frame, you can order a matte black one. If you like to make you feel more secure, just add the anti-tippers and seat belt into your cart.
There are travel bags, drink holders, and cell phone holders available. You can design your own featherweight wheelchair that can cater to your needs to some extent.
Limited warranty
You get a 1-year warranty for the frame and a 6-month warranty for the rest parts. Get more information here.
Who Should Buy The Featherweight Wheelchair?
Everyone with the average body size can buy it. Featherweight wheelchair comes with a 250 lbs weight capacity and a 17″ to 17″5 seat height, meaning that it is not a chair for a large man.
Luckily, they also have a heavy-duty featherweight wheelchair with 350 lbs weight capacity and 22″ seat width if you are sold on the features of this standard feather chair already. You can buy the chair here.
People who like to travel around should buy this chair. Some transport chairs are lightweight but need to be pushed by caregivers. This chair makes it possible for you to lift, open and propel the chair all by yourself.
As unfortunate as it may be, our strength wane somewhat as we age. If you feel hard to lift or propel your old wheelchair, this chair would be a better alternative.
Moreover, with the small wheels and the feature that you can disassemble it into small parts, this is also the choice for people who live in small spaces.
However, this chair is not as affordable as some basic models in the market, you should prepare some budget for it.
Feather Chair Alternatives
1. Karman Ergo Flight Ergonomic Wheelchair
Ergo Flight is an ultra-lightweight wheelchair from Karman and the overall weight is 19.8 lbs without footrests and 14.5 lbs without wheels.
While it is slightly heavier than Featherweight Wheelchair, but you may not feel the difference in use.
It also comes with quick-release wheels, swing-away footrests, and companion brakes.
Different from the Featherweight wheelchair, this chair features an "S" shape seating frame which has proven to be able to relieve body pains. Aside from this feature, it also has less weight capacity, which is only 220 lbs.
Ergo Flight is a bit more pricey than Feather Chair.
2. Motion Composites Helio A7 Wheelchair
If you don't mind investing more but get a really customize and lightweight wheelchair, you can check this Helio A7 from Motion Composites.
Made with 7000 T6 aluminum, the frame only weighs 13 lbs which is even less than Feather Chair.
What makes this chair stand out is that it is fully customizable. You can decide which angle you want for the back, footrest, and wheel camber. You also are able to change the seat height, seat width, and armrest height.
In a brief, you can get a wheelchair that can fit your body perfectly. On the flip side, you have to pay a fortune.
Conclusion
Featherweight wheelchair is the flagship chair made by 1800wheelchair which is known for selling mobility aids for years. So we assume that they know better about what wheelchair users need.
This chair is truly lightweight so it will make life much easier no matter for people sitting in the chair for caretakers. We also like the idea that it can be dissembled into different small parts.
It can fit most people and maneuvers smoothly on most surfaces. It is safe with companion brakes and optional anti-tippers and a seat belt.
However, it is a bit expensive and could be more adjustable.