When you're experiencing mobility challenges, the right equipment can make all the difference. A mobility scooter offers you independence, confidence, and in many cases, safety. But not everyone can afford a scooter, especially with steep insurance costs, or no insurance at all.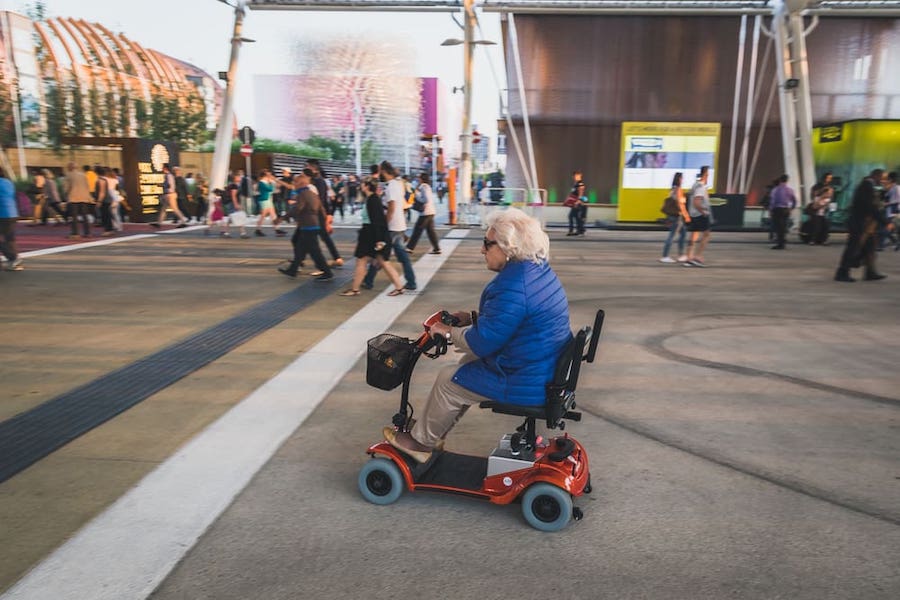 Mobility scooters can cost anywhere from a few hundred dollars to well over two thousand or more.
The good news is that there are ways to get a mobility scooter for free. Here, we'll discuss whether you qualify for a free scooter, plus all the options you can explore when it comes to discounts and free aid for your mobility needs.
Do I Qualify For A Free Mobility Scooter?
You might wonder whether you can qualify for a free mobility scooter based on a medical condition or injury. In many cases, with documented proof of your condition from your doctor, you can qualify for financial assistance that will reduce or eliminate the cost of purchasing a scooter.
Diagnosis
Maybe you have a specific diagnosis that suggests limited mobility. Or maybe other factors make it difficult for you to move around independently. In either case, a prescription from your doctor can make it easier to get the mobility support you need with a ride-on scooter. In most cases, you must have a documented condition or disability, or be elderly, to qualify for a prescription from your doctor.
Limitations
In some cases, your doctor may not agree that you require a mobility scooter. It's also possible that your age could keep you from qualifying for help with getting the equipment for free. For example, younger people may not be able to receive a mobility scooter, especially if a physician agrees that a manual wheelchair or other mobility support would better suit their needs.
Insurance
Insurance can also play a part in determining what you qualify for. But even without insurance coverage, you may still be able to get a mobility scooter for free. Some programs even specialize in financial support for individuals whose insurance requests for mobility equipment have been rejected.
Ways to Get A Free Mobility Scooter
Though it might not be as simple as just asking, getting a free mobility scooter is possible in a few different ways. From using your insurance to applying for grants, here are seven ways you may be able to get the mobility equipment you need.
1. Insurance Company
Depending on the type of health insurance policy you have, your insurance company may cover all or a significant portion of the cost of a mobility scooter. This is entirely dependent on the specific policy and the level of coverage you have.
Read through your insurance policy to see what mobility coverage is offered. If you are unsure whether your plan covers a mobility scooter, contact your insurance agent or provider directly. Your doctor may be able to help navigate this part of the process, too.
Keep in mind that insurance will always require a prescription from your doctor, and maybe more information, before agreeing to cover the cost of a mobility scooter. Most insurance companies will require either a copay or deductible before you qualify for assistance, but the program guidelines vary widely by plan.
Some insurance programs, especially those for veterans, have special coverage and options for mobility equipment, including:
Civilian Health and Medical Program of the Department of Veterans Affairs (CHAMPVA) – a cost-sharing program for veterans and their families.
Veteran Directed Care (VDC) program – a program that helps veterans age in place safely with support for healthcare needs.
TRICARE – an insurance provider for veterans, active military members, and their families that has specific Durable Medical Equipment (DME) coverage.
Federal and state insurance programs also offer options for medical equipment purchase.
2. Medicare
Many people in the United States rely on Medicare and the benefits help pay for a range of healthcare needs. In fact, Medicare has a specific coverage section related to Power Mobility Devices (PMDs). However, Medicare does not always pay for every service or equipment you may need.
Does Medicare Pay for Mobility Scooters?
With Medicare, you may not receive a mobility scooter entirely free. In fact, Medicare.gov states that you must pay 20 percent of the costs, while they cover 80 percent. You must also meet your Part B deductible responsibility before Medicare will pay for a power-operated scooter. Plus, some scooters have special authorization requirements.
Limitations also apply depending on your plan status. With Medicare Advantage Plans (for example, an HMO or PPO), costs can vary. Medicare Advantage coverage varies by DME supplier, too, so researching your options is crucial.
In general, though, Medicare coverage does apply to mobility scooters. These devices qualify as Durable Medical Equipment (DME) for medical needs. Conditions do apply, however, such as:
You must have a prescription or written order from your doctor that establishes your medical need for a mobility scooter
You must have "limited mobility" which includes being unable to manage daily living tasks or move around at home
You must be able to operate the scooter yourself
You must be able to get on and off the scooter independently, or you must have a caregiver to help
The process can also take some time, as you need approval before the insurance company will pay for the equipment and you're able to pick it up or take delivery.
3. Medicaid
Medicaid is separate from Medicare and eligibility is income-based rather than age-based. A range of programs fall under the Medicaid umbrella, and each state has its own plan options and requirements.
Still, Medicaid often agrees to pay for mobility scooter costs based on patient need. You will need a prescription, but other requirements may apply as well. Exploring your state's Medicaid program can help you get started finding out whether you can get a mobility scooter for free.
Though each state has different rules and programs, some of the requirements apply nationwide.
Before you can get a prescription, you must visit your physician and discuss your health needs. The doctor needs to document the visit, perform a medical evaluation, and provide the details of the appointment and examination to the Power Medical Device supplier.
4. The American Outreach Foundation
American Outreach Foundation is a special program established to provide mobility assistance to veterans and people from lower-income families who cannot afford power chairs. The program has no limits on age or condition type, but it does have specific eligibility requirements, including:
Recommendation from your physician that you need a mobility scooter
Prescription letter from your doctor or physical therapist
Letter of denial from your insurance company
Proof of annual income
Applying for assistance from the American Outreach Foundation is simple: you just need to fill out an online form or give them a call at (760) 469-9151.
5. Grants
Many community programs, charities, and special grants can help those in need afford a mobility scooter. An excellent way to find grant programs in your area is to connect with local organizations such as charities, senior centers, and healthcare providers.
An online search of your city and state plus terms like "mobility scooter program" or "medical equipment grant" offers a great start. Connecting with charities like The American Outreach Foundation and Latter-Day Saint Charities may also serve your needs.
6. Latter-Day Saint Charities
Latter-day Saint Charities supports individuals who need support with free mobility aids. They also offer ongoing repairs and support so that people with disabilities can remain mobile and independent. The organization collaborates with local charities to ensure that people in need receive free wheelchairs and scooters that fit their lifestyle and condition.
This organization also offers training and support, including help with fitting the appropriate mobility device for your needs.
7. Social Security and State Disability Assistance
Depending on where you live and your circumstances, state-issued disability benefits may cover all or a significant part of the cost of a mobility scooter. Whether you receive regular social security or state disability payments, these amounts can support the purchase of medical supplies.
If you don't yet receive benefits but have a disability that affects your mobility, you may want to apply for benefits in addition to exploring other ways to reduce the cost of mobility equipment.
To see what you may qualify for,
Apply for disability benefits — Social Security Disability Insurance (SSDI) — with the Social Security Administration.
Apply for SSI — Supplemental Security Income — through the Social Security Administration.
Conclusion
When you need mobility help but can't afford a power scooter, you might feel hopeless. But as these resources prove, there are alternative options if you can't afford to pay for a mobility scooter out of pocket. Not everyone will qualify for a free mobility scooter, but a combination of resources could lower or eliminate the cost altogether.
With the help of your insurance company, special grant programs, and your doctor, you may qualify for reduced-cost or free medical equipment to support your mobility — and a more independent and safer life.