When my mother had to downsize her house, she was worried about having to give up gardening, her favorite pastime. Her age was catching up with her, but we found a condominium with a small enclosed green space, and with the right gardening tools for seniors, she soon had tomatoes growing again.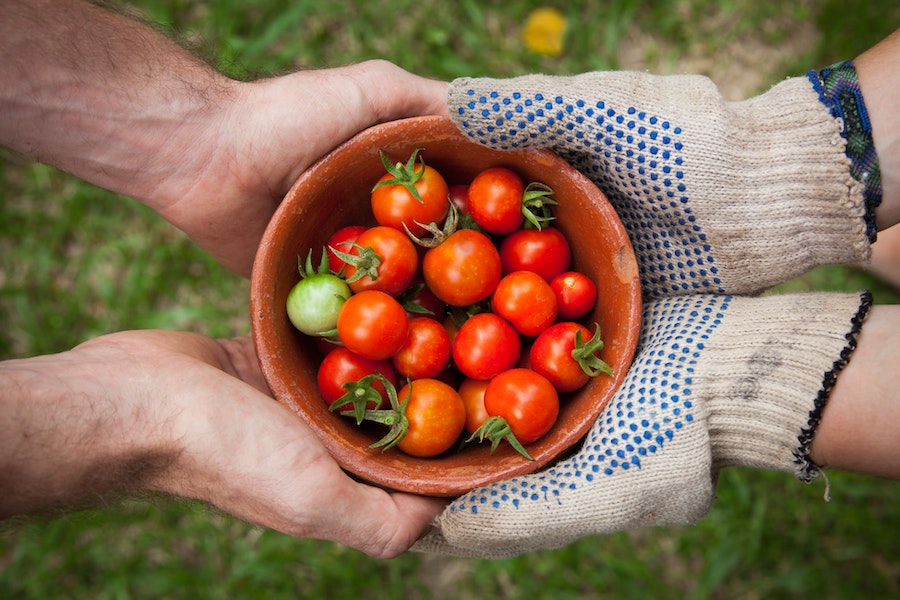 To sustain the pleasure of gardening, we recommend garden tools specially suited for the elderly, disabled, and arthritic people. When digging, weeding, and planting can be made easier, the benefits are healthy exercise and healthy food.
Here is a list of seven tools a senior gardener would find useful:
Recommended Gardening Tools for Seniors and Handicapped
Gardening is an enjoyable pastime because a variety of jobs and regular attention will be rewarded with beauty and healthy food. Don't let age prevent you from enjoying this pleasure.
#1 A Long Handled Shovel
If your gardening efforts extend beyond your balcony, then digging up soil is unavoidable. For a senior, this can be hard work, especially when weeds and roots are present, but less so with long handled garden tools for elderly people.
A long handled shovel serves well as a digging shovel and spade, with a comfortable edge to place your foot even if you're not wearing heavy-duty footwear. A V-shaped cutting blade penetrates soil effortlessly to cut roots and grasses.
The powder-coated carbon steel tips have serrated edges that make cutting through rootwork easy with less strain on your arms and hands but don't try to tackle bigger roots as you can cause yourself an injury. A rounded handle is surprisingly ergonomic to apply force and manipulate the shovel easily with two hands.
If you have any problems with your long handled shovel, most come with a lifetime manufacturer's guarantee for peace of mind.
#2 A Gardener's Kneeler Seat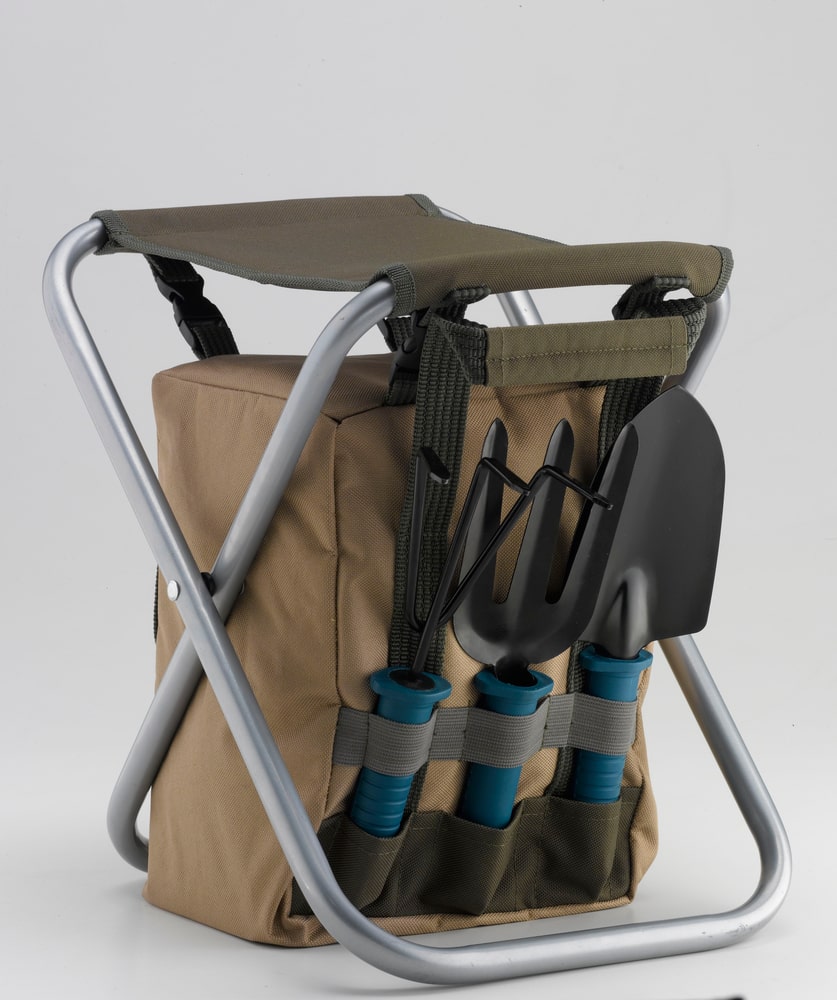 As much as time in the garden is enjoyable—when you're older, it can be tiring. So the convenience of sitting down rather than bending over, or just taking a breather will be appreciated with a gardener's seat.
Some gardening stools can also be used as a kneeling pad to protect your knees by turning it upside down. They have two-sided seat padding and are kept off the ground by the sidebars. Flip them back over for a comfortable chair with an extra-wide seat.
Many chairs come with additional benefits such as generously sized pouches on the side to keep your gardening tools like a hand shovel and pruning shears close to hand, or even a water bottle to quench your thirst during a hot day. The pockets can be removed if you use the seat as a kneeling pad.
Most seats can support up to 330 pounds and have a lightweight, durable, steel frame. Finding a chair that can fold away compactly is a bonus for keeping your garden clutter-free.
If you're physically limited or disabled, then in many cases, a garden kneeler seat can make it possible to enjoy gardening again.
#3 A Garden Cart for Elderly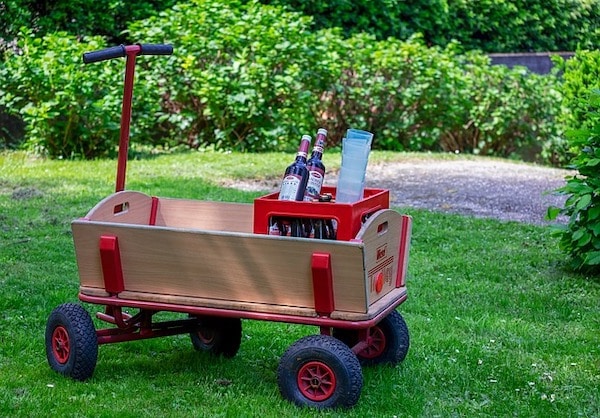 Sometimes a simple solution can make all the difference. A garden cart is a plastic bin with wheels and a lid, and can also double as a low seat to help reach pots and plants at ground level.
A spacious cart can hold all the needed tools and materials as you move around the garden, saving needless back and forth or losing equipment among your flowers.
Pull the cart behind you by gripping a wide handle, and flip it open when you reach the area where you'll be working. Sizable wheels will make pulling the cart easy over uneven ground.
With the lid open, you can carry potted plants or other taller items in the large container. No more spilled soil on the terrace from toppled plants, or damaging your back from heavy lifting. They're also great gardening tools for disabled people, easing the burden of strenuous gardening.
Close the lid and use it as a small table; some even have recesses for cups, meaning no more spilled drinks!
Also useful for many other outdoor tasks, like carrying gear for washing the car, servicing the swimming pool, or collecting all the toys your grandchildren have left scattered around the garden.
Find a cart that's lightweight and durable, and can store away out of sight.
For elderly people, a garden cart can make weeding and planting more enjoyable.
#4 A Gardening Toolkit for Older People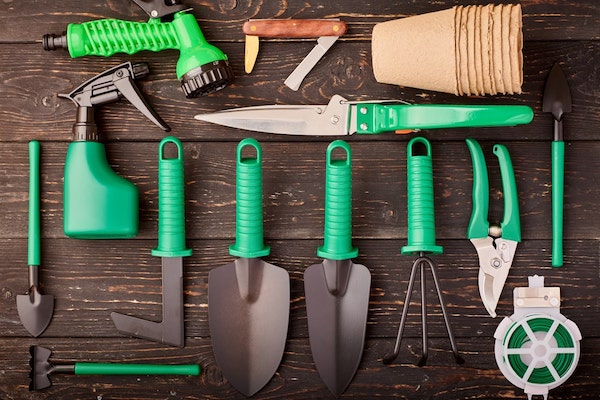 If you're setting yourself up with new or replacement adaptive gardening tools for seniors, then getting a whole kit of matching tools is the way to go. In a gardening toolkit, you'll get a hand spade, manual cultivator, rake hoe, hand weeder, pruning shears, and bag to carry them in.
Use the hand spade and a manual cultivator to prepare the ground and plant seedlings. A rake hoe and a hand weeder let you deal with the unwanted plants and clean the soil without disturbing it too much and remove weeds at the root level. The handles for these hand tools should be ergonomically shaped to make it easier to hold even if your grip is weaker.
There are also pruning shears made with the same soft-rubber, non-slip coating as the other implements. Gloves and a water sprayer should round off your kit nicely.
A tote bag with multiple pockets and compartments can hold the toolkit along, with some string, seed packets, and all the other bits and bobs you may need.
Look for tools that have holes in the handle to hang neatly in your garden shed. Make sure your tote bag is sturdy and spacious, and look out for special features on your tools, such as a depth gauge on the trowel.
Gloves made from cotton will allow your hands to breathe while you're toiling in the soil, and buying toolkits with BPA-free plastics is essential when gardening with your precious grandchildren.
#5 A Soil Plugger (Planter) for Elderly
As far as long handled garden tools for elderly people go, a soil plugger is a great addition if you want to plant bulbs, ground cover, or vegetables with minimal bending, protecting your back and hamstrings.
To prepare the holes for planting, you just hold the plugger in both hands, put it in place and step, twist, and pull. You can make several holes before the soil plugs need to be removed by inverting the tool.
Other uses include transplanting grass, soil testing, and selective weeding.
The plugger extracts soil clumps of 2 and 1/8 inches in diameter. External rings are used to adjust the depth of soil plugs to 2, 4, or 6 inches deep.
Make sure your soil plugger is made with quality materials, like carbon steel, for durability. It needs to be light and have an anti-slip design to prevent any accidents occurring.
Elderly gardeners with weak backs will really appreciate staying upright when preparing to plant in their garden with a soil plugger.
#6 Pruners for Senior Citizens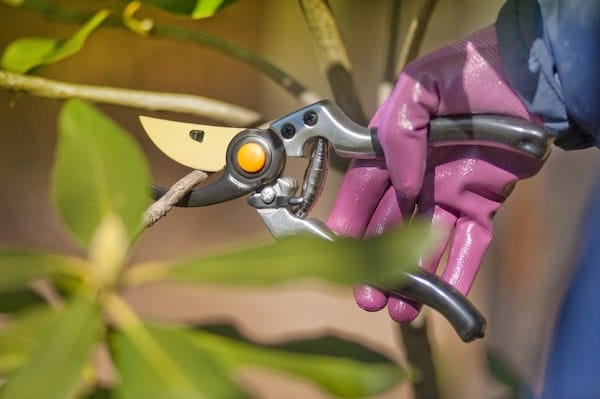 Experienced gardeners take pleasure in pruning their trees, shrubs, and flowers before the growth season. With a senior-friendly pair of pruners, this can continue even when arthritis or weaker muscles loosen your grip.
Good adaptive gardening tools must compensate for the loss of strength, and the ratchet mechanism built into some pruners does so beautifully. Whether you want to make careful snips to remove excess flowers or cut through thick rose branches, the leveraged handles make steady, clean cuts effortless.
Pruners have soft rubber grips for comfort and locks on either side for both left and right-handed users.
The three-stage ratchet mechanism allows the cut to be made in several squeezes. For minor snips, the jaw will cut through smaller diameters without engaging the ratchet.
Look for ergonomic pruners made from hardened carbon steel with rust-resistant aluminum handles. The blades should be very sharp and have the option of being replaced.
Pairing this tool with a detachable oil sponge allows you to maintain after each pruning session.
For senior citizens with weaker hands, the right pair of pruners make cutting even thicker branches still possible.
#7 A Cordless Lawn Mower for Retirees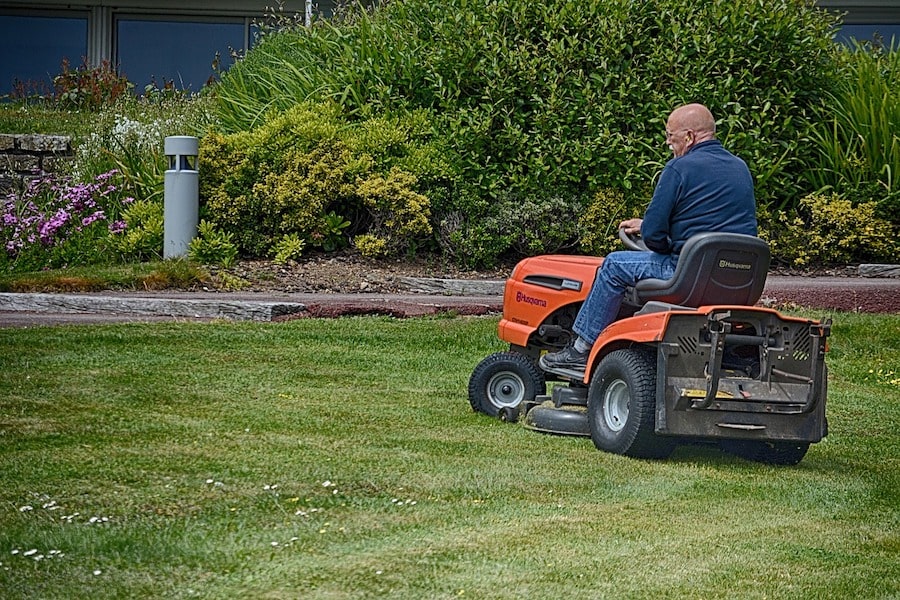 When you retire, there's a lot more time to enjoy and care for your gardens. Big green spaces are lovely to look at and entertain family and friends in summer. But keeping the grass short can be more pleasant when you can use an electric mower, especially one without a long cord trailing behind you, which is a potential tripping hazard.
Battery-powered lawn mowers are amazing gardening tools for seniors who need an easy-to-handle, quiet mower to keep their lawns in the best condition. The cordless models also use less energy and are more environmentally friendly.
We recommend a self-propelled model to take the hard work out of mowing your lawn. Some have up to 45-minutes run time, depending on terrain and grass density. You'll find some models with a power delivery equivalent to a 160cc engine.
Finding a cordless lawn mower with many features can benefit you and your lawn.
A mower with an adjustable blade is handy for coping with grass density variations to ensure the cleanest cut. They should have a rear-mounted mulch bag to collect grass clippings; they should also be lightweight and have a brushless motor for superior performance.
A cordless lawn mower is an excellent choice for retirees who want to make lawn mowing easier and more pleasant.
Choosing the Best Gardening Tools for Seniors
We hope you learned in this post how the right gardening tools for seniors and the disabled could make the job easier and more enjoyable. My mother certainly found pleasure in starting her new garden with her new garden toolkit.
Choose a tool with long handles, eliminating the need to bend over; when you do need to get on your knees, try getting something that makes it more comfortable.
How about some equipment to help haul your gardening supplies around, or buying a battery-powered product to reduce your workload?
Whatever you go for, make sure it makes life easier and puts your safety above all else.