I remember my grandmother's first birthday after moving into a retirement home. I was bordering on panic, unsure of which gift to buy her. As an avid gardener, it had always been simple to pop into a garden center and find something she would appreciate.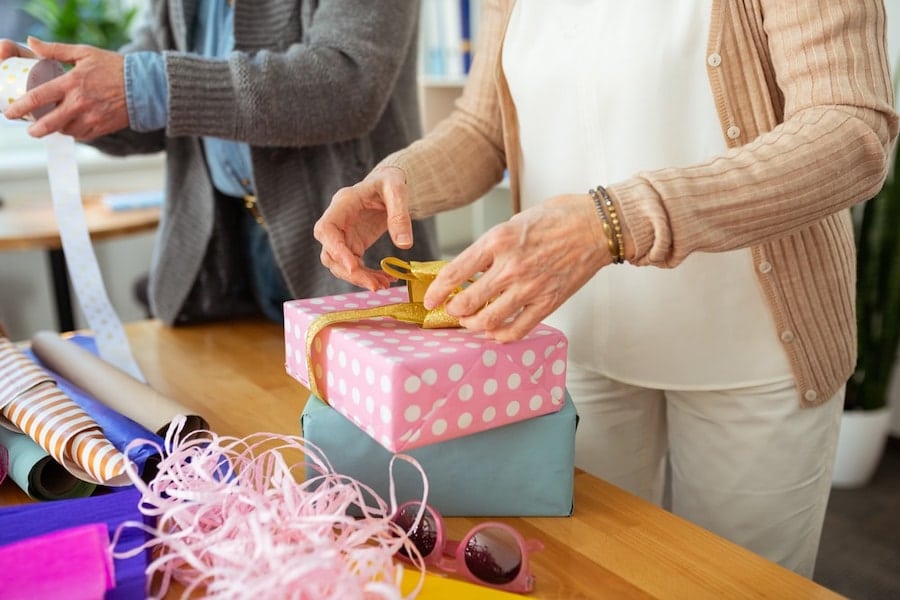 But by now I've realized that an elderly relative who lives in residential care hasn't necessarily abandoned their passions. Instead, they appreciate help sustaining their interests in a way that fits the new setting.
To find the best gifts for the elderly in nursing homes, focus on what you know will nourish their enthusiasm for the world around them and think about their interests.
The below round-up of the best gifts for nursing home residents is divided into six categories, making it easy to find something that suits your loved one:
#1 Personal Gear for Physical Activities
No products found.
Many senior citizens in nursing homes have lost much of their mobility and independence. Because of their medical needs, they need professional care and have few chores left to keep them occupied, such as cooking or gardening. 
So for physical activity, nursing home residents go on short local walks to go on, enjoy the grounds, and, most importantly, take part in the home's organised activity programs. Knowing what physical activities are available can give you a good idea for gifts for elderly in a nursing home.
#2 Stimulation to Keep the Mind Active
#Affiliate links.Last update on 2021-09-27 at 16:42
There's a reason why puzzles and games are always part of a nursing home's entertainment options. Undemanding tasks that need undivided attention are an enjoyable occupation for people with time on their hands. It's a little like meditation. 
And as an added bonus, completing activities that require thought and concentration offer immense cognitive benefits, particularly for seniors with dementia or other memory losses.
Here are seven ideas:
#3 Games to Enjoy With Others
#Affiliate links.Last update on 2021-09-27 at 16:42
Seniors in a residential facility spend a lot of time together. The same old stories can only be told so often and news from grandchildren is of limited interest to others. But there is always time to play something together, so a game is a great gift for elderly in nursing homes.
#4 Electronics to Stay in Touch
#Affiliate links.Last update on 2021-09-27 at 16:43
Many elderly fear becoming institutionalized and losing connection with their loved ones. These days technology can help overcome that. Here are some ingenious devices designed specifically for the needs of the elderly.
#5 Gifts That Keep on Giving
#Affiliate links.Last update on 2021-09-27 at 16:43
There is pleasure in unpacking a parcel so why not give a Subscription Box as a monthly gift for elderly in a nursing home. We found some excellent ideas that are guaranteed to give ongoing pleasure.
#6 Practical Gifts for Nursing Home Residents
#Affiliate links.Last update on 2021-09-27 at 16:43
Some considerate yet inexpensive gifts for nursing home residents can help make life easier and more pleasant. There are plenty of ingenious and innovative solutions to everyday problems to choose from, here are some top picks:
Nursing Home Gift Ideas
You don't want to send expensive Christmas gifts to a loved one in a nursing home that you'll later find at the bottom of a wardrobe, still half-wrapped in packaging. Turns out, 16 billion dollars worth of gifts given in recent holidays were unwanted. Many recipients pass the well-intentioned gift to someone else, sell it, or even to return it to the store where it was bought.
You can avoid that by asking yourself some simple questions about your loved ones — or even better, giving them a phone call. Think about their interests, what do they enjoy, what are they missing, what causes them frustration? Once you've got an idea, you're in a better position to choose something that will be appreciated and used.
Without question, the best gift for elderly in nursing homes will always be your time. But sometimes that's just not practical and a traditional gift will have to do in the interim. If you spend time and attention selecting a present they will truly appreciate, you can be sure your effort is appreciated.