I remember my grandmother's first birthday after moving into a retirement home. I was bordering on panic, unsure of which gift to buy her. As an avid gardener, it had always been simple to pop into a garden center and find something she would appreciate.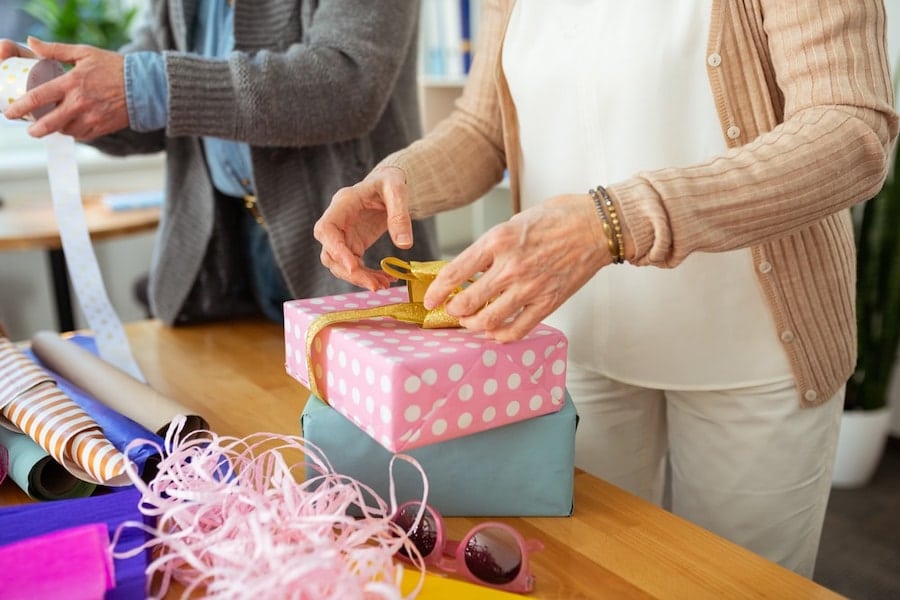 But by now I've realized that an elderly relative who lives in residential care hasn't necessarily abandoned their passions. Instead, they appreciate help sustaining their interests in a way that fits the new setting.
To find the best gifts for the elderly in nursing homes, focus on what you know will nourish their enthusiasm for the world around them and think about their interests.
The below round-up of the best gifts for nursing home residents is divided into six categories, making it easy to find something that suits your loved one:
#1 Personal Gear for Physical Activities
No products found.
Many senior citizens in nursing homes have lost much of their mobility and independence. Because of their medical needs, they need professional care and have few chores left to keep them occupied, such as cooking or gardening. 
So for physical activity, nursing home residents go on short local walks to go on, enjoy the grounds, and, most importantly, take part in the home's organised activity programs. Knowing what physical activities are available can give you a good idea for gifts for elderly in a nursing home.
Prevent your loved one from getting wet outside with a portable raincoat, like an elegant Rain Poncho with hood and pockets. These are also available as heavy-duty Wheelchair Cape with a zip and front hood.
And if the sun shines, a protective hat for sensitive skins is the perfect sun-smart gift. We like the wide brim Lanzom Straw Sun Hat for women and the universal cotton Beach Sun Hat. Both come in a range of colors and patterns.
#2 Stimulation to Keep the Mind Active
No products found.
There's a reason why puzzles and games are always part of a nursing home's entertainment options. Undemanding tasks that need undivided attention are an enjoyable occupation for people with time on their hands. It's a little like meditation. 
And as an added bonus, completing activities that require thought and concentration offer immense cognitive benefits, particularly for seniors with dementia or other memory losses.
Here are seven ideas:
: Puzzles to Keep Your Mind Young and Nimble. A book full of a wide variety of challenges to learn and practice mental skills in an easy-to-read typeface.
Mensa Mind Benders: 100 Logic Games and Puzzles to Improve Your Memory, Exercise Your Brain, and Keep Your Mind Sharp. The perfect gift for those wanting to keep a sharp mind in good form.
Crossword Coloring Book: Coloring Activity Book for Adults and Seniors with beautiful Mandalas and Flowers to Color. Mesmerizing pictures to ease the mind with color and shape.
Intricate Mandalas: An Adult Coloring Book with 50 Detailed Mandalas for Relaxation and Stress Relief. Classic mediation of colors and shapes.
#3 Games to Enjoy With Others
#Affiliate links.Last update on 2023-06-10 at 00:18
Seniors in a residential facility spend a lot of time together. The same old stories can only be told so often and news from grandchildren is of limited interest to others. But there is always time to play something together, so a game is a great gift for elderly in nursing homes.
Keeping Busy Match The Shapes: A game specifically designed to entertain seniors with dementia and Alzheimer's. An entertaining game that everyone can enjoy.
Bicycle Original Pokeno Card Game: Fun card game for older and younger people that is popular with everyone who tries it. This edition comes with easy-to-read oversized boards for each player.
Campbell's Alphabet Dice Game: A social crossword-style activity that even kids will enjoy. Who would have thought alphabet soup could be so tasty!
Winning Moves Games Big Boggle: Another classic word game. Remember that 1970s Parker Brothers game? For many, Boggle is an enduring favorite. This edition is plus-sized for easy reading.
Senior Moments Board Game: Great party game that can bring loud laughter to a nursing home. And who said only seniors have senior moments?
#4 Electronics to Stay in Touch
#Affiliate links.Last update on 2023-06-10 at 00:18
Many elderly fear becoming institutionalized and losing connection with their loved ones. These days technology can help overcome that. Here are some ingenious devices designed specifically for the needs of the elderly.
The is a user-friendly cell phone for seniors with large buttons, easy-to-read numbers, and easy on-screen buttons to make and receive calls. The clear loudspeakers allow people with hearing difficulties to have a good conversation. Using the GreatCall network, seniors can keep their old phone number. Customer service and support are based in the United States. 
Video calling has become mainstream these days. Reach out to older relatives with the Echo Show from Amazon. Using voice control via Alexa, the Echo can be used to make video calls with Skype and other apps. Seniors can also stream music, audiobooks, and podcasts with high-quality audio. The 10.1-inch HD screen can be set up like a picture frame, used to watch videos and movies, or even connect to live TV from around the world.
The Landel MailBug Email Appliance makes it easy for seniors to send and receive electronic messages with a full QWERTY keyboard but without the need to switch on a computer. A supercharged telephone device, users can make regular phone calls on an ordinary phone line, and there are an auto-dial function and number storage. Caller IDs and missed call details are shown on the integrated LCD display. 
We also recommend the Nixplay Smart Digital Picture Frame. It has an automatic slideshow but also allows you to send your seniors photos and playlists via email. The display can also be connected to Google Photos, Dropbox, Facebook, and Instagram to serve up fresh photos every day. Control it with a dedicated app from an Apple or Android smartphone, or even by voice control with Amazon Alexa or Google Assistant.
#5 Gifts That Keep on Giving
#Affiliate links.Last update on 2023-06-10 at 00:18
There is pleasure in unpacking a parcel so why not give a Subscription Box as a monthly gift for elderly in a nursing home. We found some excellent ideas that are guaranteed to give ongoing pleasure.
Tea Runners: A curated choice of selected tea flavors that can be enjoyed with other residents. With four loose-leaf teas in every box, tea lovers will be spoiled for choice.
My Coffee And Book Club: Delivers your choice of either whole bean or ground coffee for connoisseurs together with hardcover books in a genre selected in advance. The most flavorsome coffee blends together with a new book will surely put a smile on your loved one's face.
Coloring And Classics: This subscription is in the same vein but combines coffee and a classic book with an adult coloring and activity book to pass the time. From fantasy to romance, everybody's interest is catered to. If you are not so sure, just pick the 'surprise me' category.
Finally, for those plant lovers, the Succulent Subscription Boxes arrives with a different hand selected variety every month. Your choice of how many plants should arrive in every box. Each succulent arrives carefully wrapped in bubble wrap.
#6 Practical Gifts for Nursing Home Residents
#Affiliate links.Last update on 2023-06-10 at 00:18
Some considerate yet inexpensive gifts for nursing home residents can help make life easier and more pleasant. There are plenty of ingenious and innovative solutions to everyday problems to choose from, here are some top picks:
An Insulated Mug with tumbler lid will prolong the pleasure of a hot cuppa, or simply keep the drink warm if it is momentarily forgotten, something we're all guilty of from time to time but your elderly relative may experience more often.
With poorer sight comes the need for optimal lighting. The rechargeable Perfectday Book Light provides just that with twelve LEDs and three brightness settings. It's the perfect level of brightness for evening reading.
give pleasure and comfort during cold winter days. Plus the non-slip soles provide safety and security.
Ka Ua Neck Roll Pillow will be much appreciated for those afternoon naps in mom or dad's favorite chair. The design is made to ergonomically fit around the neck and may increase ease of breathing.
Pembrook Fuzzy Slipper Gripper Socks are a popular type of non-skid hospital sock ideally suited for patients that spend a lot of time in their beds. The added level of safety will be appreciated by your loved one and his or her carers, too.
The amazing YnM Bamboo Weighted Blanket comes in a range of sizes and colors to suit. The multi-layered blanket filled with glass beads molds itself smoothly to the body's contours for perfect temperature control. Studies have shown that weighted blankets may improve REM sleep, something many seniors don't get enough of. They also help reduce anxiety.
Nursing Home Gift Ideas
You don't want to send expensive Christmas gifts to a loved one in a nursing home that you'll later find at the bottom of a wardrobe, still half-wrapped in packaging. Turns out, 16 billion dollars worth of gifts given in recent holidays were unwanted. Many recipients pass the well-intentioned gift to someone else, sell it, or even to return it to the store where it was bought.
You can avoid that by asking yourself some simple questions about your loved ones — or even better, giving them a phone call. Think about their interests, what do they enjoy, what are they missing, what causes them frustration? Once you've got an idea, you're in a better position to choose something that will be appreciated and used.
Without question, the best gift for elderly in nursing homes will always be your time. But sometimes that's just not practical and a traditional gift will have to do in the interim. If you spend time and attention selecting a present they will truly appreciate, you can be sure your effort is appreciated.