It's all very well to have a comfortable recliner if you then depend on assistance to get up again. Lift chairs—or lift recliners—are the solution, and Golden Technologies set the standard in this field.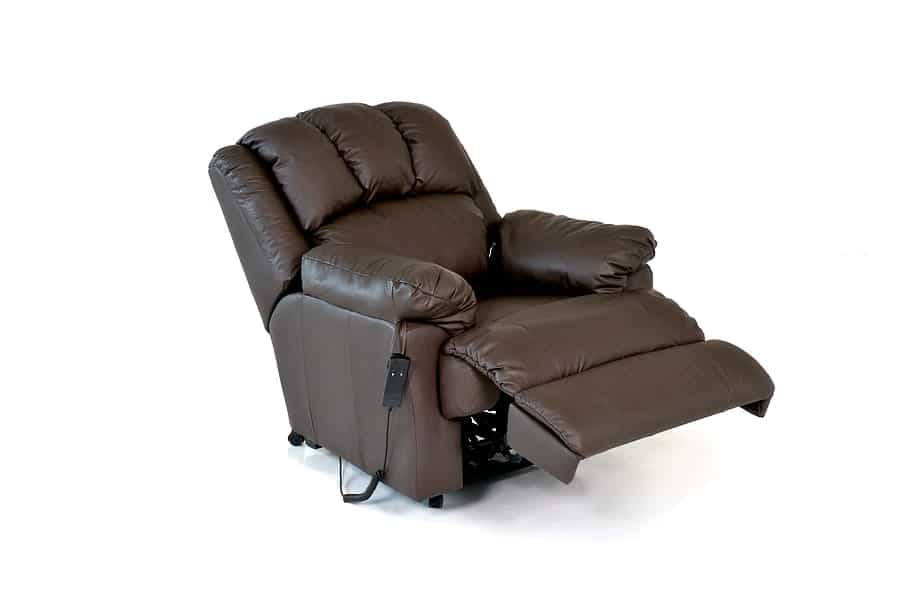 For our Golden Technologies lift chair reviews, we've selected popular models that offer comfort, convenience, and feature options. Golden Technologies caters to a wide array of preferences, but we most liked the Comforter PR-505 with MaxiComfort. As you will read below, there are several good reasons that make it stand out, not least the exceptional back support it provides.
We also provide a guide for what features to look out for and explain the differences between dual-position and multiple-position lift chairs.
As Spinlife has a lot of exclusive fabrics, we advise you to purchase these golden tech lift chairs from it.
Our Picks for Best Golden Technologies Lift Chairs
Our Golden Technologies Lift Chair Reviews
For our Golden Technologies lift chair reviews, we selected popular models from the MaxiComfort series that allow unlimited positions and zero-gravity comfort, including premium and extra-sized products.
All recliners in our Golden Technologies lift chair reviews share some great features:
Industry-leading heavy-duty construction.
Extra stability.
Two inches of foam for comfort.
Extra supportive upholstery.
Heavy-duty springs for exceptional relaxation.
Anti-scrape and anti-skid legs.
Heavy-duty lift technology.
Manual control unit.
Wide range of fabrics.
Battery backup to assist you out of the chair in case of a power failure.
Limited lifetime warranty, with a three-year electrical parts warranty and a limited seven-year electrical parts warranty.
1. Comforter PR-505 with MaxiComfort—Best Infinite-Position Lift Chair
Our favorite Golden Tech lift chair is consistently highly rated. "Very comfortable," "Easy to use," "Best chair" are typical accolades given by owners. We liked it most because it offers a remarkably comfortable experience, and comes packed with beneficial features.
The exceptional lumbar support is noteworthy; combined with the zero-gravity seat (more on that below), it keeps your spine optimally aligned without any undue stress. These attributes also help reduce back-pressure and ensure healthy blood flow.
The built-in seat and back-massage have earned a lot of fans among owners. There's also a heating element integrated into the back.
The full 'chaise pad' seating means there's no separation between the seat and foot-rest, so the weight of your legs can be evenly distributed.
The programmable hand control lets you set up customized positions for watching TV, eating tray meals, socializing, or your midday nap. Just press one button, and the chair will arrange itself in the most comfortable position.
Up to nine fabric options are available, depending on the size chosen, with attractive designs that make it appear like a regular piece of furniture. Note that some fabrics impose an additional two-week order time.
In total there are six sizes available, from junior-petite to large.
Suits individuals up to 375 pounds. (300 pounds for junior and small sizes.)
This chair is especially popular with partly or fully disabled individuals as well as senior citizens.
Pros
Dual motor for infinite positions, with Zero-Gravity feature.
Trendelenburg position to relieve swelling in lower limbs.
Very comfortable for sleeping or use as a bed.
Comes with a powered pillow option (except for junior-petite and medium-heavy models.)
Headrest and armrest cover included.
Cons
The complex controller can be confusing for some users.
Not possible to move the hand control to the other side.
2. Comforter PR-505 Extra Wide with MaxiComfort—Best Heavy Duty/High Weight Capacity Lift Chair
This lift chair is a heavy-duty upgrade of the PR-505 model described above with a 26-inch seat width and extra strength to support weights of up to 500 pounds.
You have a choice of seven fabric styles, including three of the Lux textiles exclusive to Spinlife.
It features all the benefits of the PR-505.
Pros
Dual motor for infinite positions, with Zero-Gravity feature.
foot-rest extension available—recommended for taller individuals.
Cons
Some owners find the depth of the seat inadequate.
3. Comforter PR-535 Luxe Edition—Best Premium Infinite-Position Lift Chair
Although the PR-505 is hard to improve upon, the 535 Luxe Edition is also worth considering.
Luxe Fabric makes this model stand out, and there are 12 different styles to choose from. Be warned that some options may impose a delivery delay of up to 30 days.
The 'ultra-plush' padding of the back and armrests adds to the feeling of luxury this chair offers.
This model is also available in five sizes up to large. The weight capacity is at least 375 pounds, with the medium extra-wide model rated for up to 500 pounds along with a 27-inch wide seat. The Tall model can fit individuals from 6 feet 3 inches to 6 feet 8 inches. An extended foot-rest is available for all sizes except for the medium extra-wide model.
The Luxe Edition is also equipped with seat and back-massage functions and has heating integrated into the back.
Pros
Dual motor for infinite positions, with Zero-Gravity feature.
Programmable hand control.
Full chaise pad seating.
Cons
No head or arm covers included.
Some users find the upholstery too soft and 'pillowy.'
4. Comforter PR-535 with MaxiComfort—Best Customizable Infinite-Position Lift Chair
Like the PR-535 Luxe, this model is also a follow-up to the PR-505 with all the same features we liked. For the added premium cost, you get ultra-plush padding, extended armrests for improved support while entering and exiting the chair, and a softer back-rest. Visually, the seams and stitching of the upholstery are aesthetically more pleasing.
Also available in five sizes from small to large as well as medium extra-wide.
It can hold up to 375 pounds, or 500 pounds for the medium extra-wide model.
Pros
Dual motor for infinite positions, with Zero-Gravity feature.
Programmable hand control.
Full chaise pad seating eliminates any gaps as the chair opens up.
Cons
Included covers for head and armrests aren't fixed and come off too easily.
5. Comforter PR-535 Extra Wide with MaxiComfort
Like the regular PR-535 models, this Golden Tech lift chair offers premium comfort and quality for larger individuals, but with no less than 48 choices of upholstery. A seat measuring 27 inches across gives it an extra-wide rating for weights of up to 500 pounds.
The AutoDrive is an improved handheld remote with four pre-configured positions and the option to add another customized setting with a programmable button.
Pros
Dual motor for infinite positions, with Zero-Gravity feature.
Deluxe heat and back massage option (15-30 day delay.)
Cons
Only for users up to 5 feet 10 inches.
6. Comforter PR-501 Extra Wide Heavy Duty 3-Position—Best Heavy Duty/High Weight Capacity Lift Chair for Short or Tall People
If you're too tall or too short for a regular oversize chair, we've thought of you and found an alternative to recommend. The Comforter PR-501 is built to give people smaller than 5 feet 4 inches or taller than 5 feet 10 inches the option of a heavy-duty lift chair.
Designed to accommodate users from 5 feet to as tall as 6 feet 8 inches, the size options range from small to tall. The corresponding seat sizes also vary from 23 to as much as 29.5 inches.
Pros
Dual motors for heavy-duty strength.
Full sleeping position.
Extensible leg support optional.
Deluxe upgrade for massage and warming.
Additional pocket available.
Left-hand control option.
Cons
No Zero-Gravity positioning.
How to Choose a Golden Tech Lift Chair
Even if you're an existing lift chair owner, it may be wise to give some thoughts about your needs and how to make the best choice. In this lift chair review, we gave consideration to:
Preferred Positioning Features.
Chair Size.
Customization Options.
Preferred Positioning Features
There are different types of lift chair technology to choose from.
Two-Position Chairs
There's only one motor in a two-position chair that will adjust the angle of the back-rest and the leg-rest simultaneously. That means when the back descends; the leg-rest will swing up and vice versa. This type of chair will recline to around 15 percent, which is a good angle for watching TV or browsing your favorite magazines.
Three-Position Chairs
There's also one motor in a three-position chair, but it can recline further to about 50 percent. As you would find in a normal recliner, that's great for a snooze without being fully horizontal.
Infinite-Position Chairs
Using dual motors, with an infinite-position chair, you can lift and drop the back-rest and the foot-rest independently. That means you can lower the back without raising the foot-rest to keep your feet on the ground. Or you can elevate the foot-rest completely while declining the back-rest only a few degrees, which some people prefer to watch television.
You can also reach a near-horizontal position with an infinite-position chair that levels out the seat into a bed—perfect for a good sleep!
The Trendelenburg Position
One plus of the infinite-position chairs is their ability to elevate your feet above your heart to reach the Trendelenburg position. This type of chair is advised if your legs and ankles can swell up easily.
The Zero Gravity Position
Some chairs operate like a car seat, where you can adjust the height and angle to alter the pressure on your vertebral column. A zero-gravity chair will bring the lower back up so that the spine will align better, muscle tension releases, breathing eases, and your blood circulation is boosted.
Chair Size
You can order lift chairs in sizes from petite to heavy-duty to suit your body size. For the best comfort, you want a seat height that allows your feet to rest on the ground while seated upright, with your back leaning against the back-rest of the chair. The chair needs to be spacious enough to suit your hips easily.
Verify the weight rating too; typically, lift chairs can handle at least 325 pounds, and heavy-duty models can take up to 700 pounds.
If your legs are long, look for a seat with an extended foot-rest that doesn't leave your foot hanging off the end.
To verify these dimensions, you can measure your existing furniture as an indication of your preferred seat width, depth, back height, and the seat to floor height. It may also be helpful if someone else uses a measuring tape with you seated on an ordinary chair to get the same measurements.
Customization Options
Finally, the look and feel of your new furniture also matter. You can select fabrics and colors to match. Some materials are extra-washable and hard-wearing. All the models in our Golden Technologies lift chair reviews come with a wide range of options.
Several chairs also have premium features, like warmth and vibration, to give your muscles a relaxing massage.
But Why Golden Technologies Lift Chair?
Golden Technologies is an American, family-owned, and family-operated manufacturer of lift-chairs. The Pennsylvania-based factory is the largest of its kind worldwide. Over the years, it has expanded its product range for people in their 'golden age,' veterans, and the physically disabled.
The powered lift chairs of this company cover all possible needs and preferences with 28 models in stock. The award-winning technology used, utilization of quality materials, and their high manufacturing standards made them an obvious choice to be the focus of our reviews.
Golden Technologies Lift Chair Repairs and Maintenance
What if you have a mechanical problem with your chair? Golden Technologies products come with an exceptional lifetime warranty. Provided these chairs are treated with due care and used according to instructions, they will last many years.
It's recommended to replace the two 9 volt backup batteries annually. No lubrication is required.
If you order through SpinLife, you're exclusively covered for one year with an in-home warranty service that includes assessment, labor, and repairs. For a fee, you can extend the in-home cover for up to five years.
Conclusion
The selected models in our Golden Technologies lift chair reviews offer the best comfort and features for different sized individuals.
Individual requirements aside, we recommend the Comforter PR-505 with MaxiComfort as the best infinite-position lift chair. The lumbar support, zero gravity positioning, and heated massage function make this model worthy of the top spot.
If you order through Spinlife, you'll have access to some exclusive product options and deals, like the Comforter PR-535 Luxe Edition.
Please do share your experiences and preferences in the comments section below.