If you are looking for quality toilets that offer great accessibility and user comfort, then a high toilet is a fantastic match for you. Known by many terms, high toilets for elderly allow users to sit comfortably and stand easily and thus relieve the stress from the joints.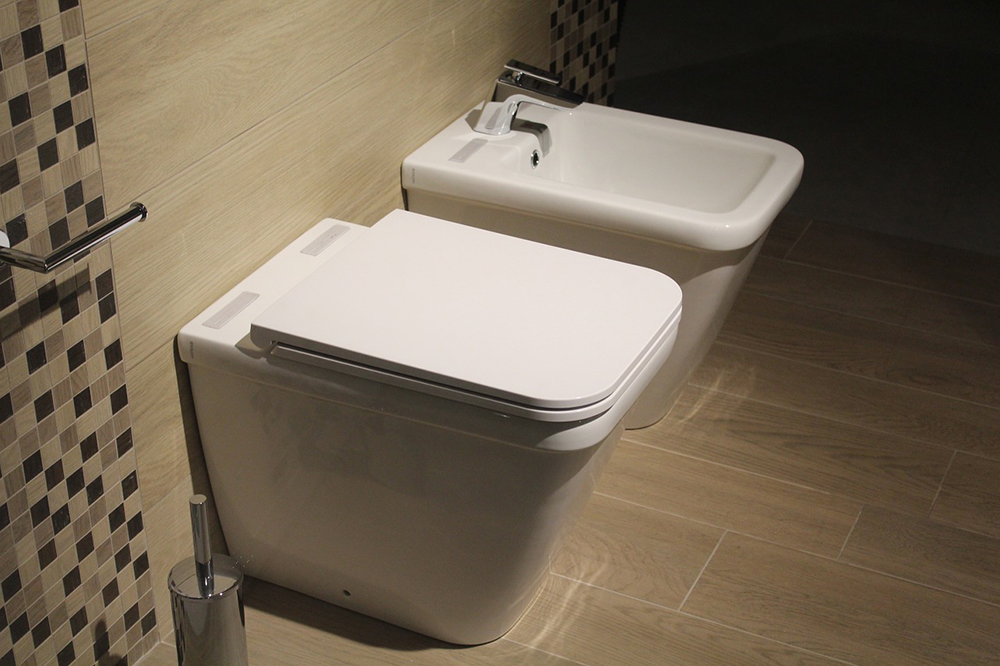 These toilets retain much of the capabilities and functionality as traditional loos but usually measure up to nineteen inches from the ground or slightly lower. The extra inches make a significant difference for some users even though they may not seem much.
Moreover, most of the tall toilets for seniors are compliant with the ADA set standards, and thus it is advisable to consider them.
Here we look at the top-rated higher toilets for elderly that we have picked after thorough research and analyzing their significant features and specifications.
Our Picks for the Best High Toilets for Elderly
No matter you want a high toilet for your home or your rv, we get you covered. If you have no time to read our reviews below, you can jump into the 3 toilets in the table right now.
Best Overall
KOHLER K-3609-0 Cimarron Comfort Height Elongated 1.28...
Portable & Installed In RV
Aqua-Magic V RV Toilet Pedal Flush /High Profile /...
High Quality & ADA Compliant
TOTO CST744SL#01 Drake 2-Piece Ada Toilet with...
Best Overall
KOHLER K-3609-0 Cimarron Comfort Height Elongated 1.28...
Portable & Installed In RV
Aqua-Magic V RV Toilet Pedal Flush /High Profile /...
High Quality & ADA Compliant
TOTO CST744SL#01 Drake 2-Piece Ada Toilet with...
#Affiliate links.Last update on 2023-06-09 at 19:40
Best Higher Toilets for Elderly Reviews
Below is a detailed review of the best high toilets for elderly. We believe that you will enjoy our selection and find the right toilet that suits your needs.
1. Editor's Pick- Kohler K-3609-0 Cimarron Height Elongated Toilet
#Affiliate links.Last update on 2023-06-09 at 19:40
Kohler is a popular brand that is known for producing reliable bathtubs, sinks, and toilets, which explains why it features in most sites. The brand offers products that provide a mix of comfort, quality, and durability.
This is evident with the Kohler -3609-0 Cimarron toilet, which is specially designed to meet the needs of senior users. It features a comfort height (17 inch-19 inch) which makes seniors can seat just like on a chair.
The toilet includes metal brackets, and thus there is no need of drilling boltholes when installing. This prevents leaks and also makes it easy to install.
It also features one of the best water saving technology approved by WaterSense and includes an extra comfortable seating ideal for the elderly.
Pros
Impressive seat profile
Available in wide range of colors
Extra comfortable seating
Excellent water saving technology
Great design that prevents leaks
Comes with a powerful flush system
Cons
Uncomfortable for users who are very short
Some consumers complain of the packaging
2.Alternative Pick- Thetford Aqua-Magic V RV Toilet Pedal Flush
#Affiliate links.Last update on 2023-06-09 at 19:40
If you are looking for a high-quality high toilet for senior that is pocket-friendly, then Aqua-Magic V is a great option. The toilet features a unique design that makes it ideal for elderly users, as they are comfortable and attractive.
Apart from the great aesthetics, the appeal of this toilet also comes from its practical nature and the fact that it was specially designed for seniors.
Aqua-Magic V toilet offers comfortable seating height making it suitable for users with mobility issues or injuries.
Moreover, it also comes with a textured lid that can resist scruffs, which is rare in other tall toilets for elderly. This allows the toilet to stay pristine even after several years of installation and use.
Pros
Comes with a comfortable seating height
Provides textured lid
Has the ability to resist scruffs
Excellent design
Easy to install and use (one handle-flush)
Cons
Some consumers consider its flush a bit noisy
Not perfect for huge users
3.TOTO MS604114CEFG#01 Ultramax II Het Double Cyclone Elongated One Piece Toilet
#Affiliate links.Last update on 2023-06-09 at 19:40
This is a top quality and popular toilet from the popular brand Toto, which one of the leading manufacturer of sinks and toilets.Toto MS604114CEFG#01 is uniquely design making it one of the most efficient toilets for seniors in the market today.
The model ensures that the users pass waste comfortably with aggravating their joint issues.
The Toto toilet uses with double cyclone flushing system for a powerful flush that ensures that everything is pushed through the trapway.
Apart from using less water, the toilet features a universal seating height, a skirted design, and a chrome trip lever, which come handy to the seniors.
Pros
Features a double cyclone flushing system for powerful
Comes with a Ceramic glaze finish
Minimal water consumption
Comfortable seating height
Slim profile and thus can fit into tight bathrooms and spaces
Tank and elongated front bowl set
Cons
Installation might require hiring a professional
4.Toto Drake CST744SG#01 Two Piece Toilet
#Affiliate links.Last update on 2023-06-09 at 19:40
The Toto Drake CST744SG offer an excellent option for those who are tired of standard toilets that easily clog within the trap or those who want to upgrade and are not tight on their budget.
It features an elongated bowl design that enables it to resists clogs and is equipped with SanaGloss making it easier to clean and with less water.
Besides, the toilet has a larger flush valve as compared to most of the toilets in the market today. This ensures that you get faster flushes with minimal water use and wonderful flushing experience making it environmentally friendly.
The side-flushing handle reduces the risk of damaging it accidentally while sitting on the toilet seat.
Pros
Great modern design
Offers a better flushing experience
Consumes less water
A chrome plated trip lever that resists usual discoloration
Extremely easy to install
Cons
A relatively thin seat that keeps the user closer to water, which could cause discomfort when flushing
A little louder than some products in our list
5. Toto CST744SL#01 Drake 2-Piece ADA Toilet with Elongated Bowl
#Affiliate links.Last update on 2023-06-09 at 19:40
The Toto SL is our top pick for the best high toilet for seniors as comes with amazing features that offer the much-needed convenience and comfort in the bathroom.
It also features a modern design with perfect height making it easier for seniors to sit and stand up without causing any stress on their joints.
Besides, the product is ADA compliant with the requirements of the elderly and is made by a famous brand in the field of bathroom products.
Toto brand has an excellent reputation and receives many positive feedbacks on their website, with most people backing their products as great for home bathrooms.
The toilet consumes about 1.6 GPF of water and has the 1.28 gallons per flush option, making it one of the most economical products.
Pros
Consumes less water
Excellent design
Offer good value for money
Relatively affordable
Extremely comfortable
Easy to install
Cons
The lid does not fit perfectly over the tank
6.Kohler K-3817-0 Memoirs Stately Two-Piece Elongated Toilet
#Affiliate links.Last update on 2023-06-09 at 19:40
The Kohler K-3817-0 Memoirs Staley features an elegant architectural look that enhances your bathroom's décor. It combines the traditional flushing style with water saving performance.
The high-efficiency allows the toilet to clean everything from the bowl by using just 1.28 gallons of water per flush since the system does not compromise the flush power.
This enables the user to save up to 16,500 gallons of water every year as compared to a 3.5-gallon toilet.
Moreover, the toilet offers great comfort as the elongated bowl is placed at a convenient height making it easy for seniors to use. The comfortable seating height allows the users to sit down and stand up effortlessly.
Pros
Two-piece toilet
Comfortable seating height
Easy to use
Features a powerful flush system
Great design
Uses less water without compromising flush power
Cons
Its tank tends to lean forward
Does not include supply line and seat
What is a high toilet?
High toilets are just similar to the standard flush toilets, but bear a seat elongated a few inches from the ground.
The best higher toilet for elderly must be of chair height, which makes it easier for seniors to sit down comfortably and stand up quickly without causing excessive stress on the joints.
However, these types of toilets are merely water closet loos inspired by pressure or gravity model.
As mentioned above, the toilets have a size of up to nineteen inches, but some can be slightly lower, sixteen or seventeen inches. The height of these toilets makes them compliant with ADA requirements and ideal for seniors or people with mobility issues and disabilities.
However, other than the height the specifications of these toilets differ with models. This means that it is up to you as a user to pick flushing toilet that suits your requirements.
Why Elderly Need a Higher Toilet?
Usually, seniors and the elderly need a higher toilet because as they find their waist and legs uncooperative as they age.
This makes squatting and standing up a severe activity with just a few of them managing it. Here are 3 key reasons why the elderly need high toilets:
Most seniors experience severe challenges with their joints, which makes it a massive task for them to use lower toilets.
Higher toilets for seniors offer an ordinary seating experience, and thus it is less likely to aggravate joint issues.
Tall toilets are designed to prevent seniors from squatting, which would expose them to unnecessary risks.
Seniors with mobility issues may also need:
What to Consider When Buying High Toilets for Seniors
Finding the best high toilets for seniors can be a huge hassle due to the headaches and added extras that come with choosing between many models.
However, picking the right toilet is much easier when you know what you need to consider when making your choice. Here are the key features and factors that you should look out for when shopping:
This is crucial when you want to buy a high toilet for elderly. Sometimes, some sellers will say the toilet has a comfort height, however, it is not high enough. Thus, please make sure that the height of the toilet is usually 17-19-inch measured from floor to seat.
After choosing the height of the toilet bowl, the next task is determining the design or shape of the bowl. High toilet bowls are elongated, but are available in different shapes, with a wide range of round-front options. Finally, you will also be required to choose between standard or skirted tramways.
Many consumers usually overlook this feature, but it is good to understand that it is crucial. The design and the external look of your toilet can significantly affect the aesthetic appeal of your bathroom.
Therefore, it is essential to try to match themes and colors as much as possible to ensure that your bathroom maintains impressive décor. It is advisable to choose lighter colors such as white because they match more themes as compared to toilets that are more obscure.
The other notable feature to consider when selecting a toilet is the flushing system. Different models come with different flush system namely, dual flush guide, gravity flush, pressure-assisted, and double cyclone.
Gravity flush uses water to create flushing pressure that forces everything from the bowl and tank through the tramway. It also includes the siphoning action for a complete flush that cleans the bowl well.
This toilet system is the most popular among many users as it one of the quietest because it does not involve any extra mechanics. Therefore, the system requires less or no maintenance because there are no extra moving parts.
On the other hand, pressure-assisted flushing system works by using air to force water into the bowl. This flushing system is more powerful than the others and so it less likely for it to be clogged. However, you should be ready to withstand the extra noise as its high power comes with this discomfort.
Dual flushing system is a relatively new solution that is gaining popularity, and it is now the second sort system after gravity flush. It comes with the option to choose whether you want a full or partial flush, which helps in conserving water.
Finally, a double cyclone is new technology now familiar with Toto toilets. The system uses 1.28 gallons of water in each flush, but it also comes with the power of a full 1.6 gallons per flush.
It is advisable to set yourself a price limit when looking for any product in the market. This will help you avoid overspending, but ensure that you get a good value for your money.
However, it necessary to do thorough research because some manufacturers quote lower prices but fail to include some essential parts such as the lid and seat. Acquiring such exclusions can be a bit pricey when you the total cost together.
One of the most important factors to consider when looking for the best tall toilet for seniors is whether the unit conserves water. Finding a toilet that consumes less water is essential as it comes with several benefits, thus it should top your list.
First, buying a unit that consumes less water helps cut your water bills, which makes it more economical. However, what should we look out for when considering this factor?
For beginners, it is advisable to check whether the unit bears the WaterSense label. Such toilets usually consume up to 1.28 gallons of water per flush.
Nevertheless, there several other units in the market that use smaller amounts than these, though you have to spend some time exploring the market.
Bottom Line
Overall, choosing the best high toilets for elderly or senior citizens is not an easy task to do. It is crucial to look at the height of the toilet, but still don't forget to keep the comfortability in mind as it is something you will use daily.