Most people who've been in severe accidents before can attest to not having prior knowledge about crutches or any other medical equipment. Another category of individuals that often have to deal with walking aids is the elderly.
Maybe you're wondering, how much are crutches at CVS or how much do crutches cost from the hospital? Whatever the case, this article will help you address the troubling question, "How much do crutches cost?"
But before delving into the costs, it's best to understand what crutches are, the different varieties available, and how to use them effectively.
You may also want to know the cost of walkers and the cost of electric wheelchairs.
What Are Crutches and What Are They Used For?
A crutch is a supportive device used by injured or physically challenged individuals (say, amputees) to improve mobility. Although crutch designs have progressively changed, their sole purpose remains the same—to offer support and relief. This way, the user can avoid exerting pressure on the injured leg.
Whether you've injured your ankle, knee, or foot, these walking aids minimize the user's discomfort and recovery time. A crutch often works with a walking boot together.
Below are some of the benefits of using crutches:
They are ideal for people walking with difficulty and strain, e.g., the elderly and surgery patients.
Thanks to the upright posture, crutches help patients regain upper body movement beneficial for circulation and healthy kidney function.
Physically disabled individuals can use them to maneuver places where wheelchairs cannot.
By using a crutch, you minimize the risk of putting additional pressure on your injured leg.
Crutches provide broad base support to enhance your balance and stability.
How Much Do Different Types of Crutches Cost?
There are numerous varieties of crutches available in the market. They vary depending on the support required and material used.
Axillary Crutches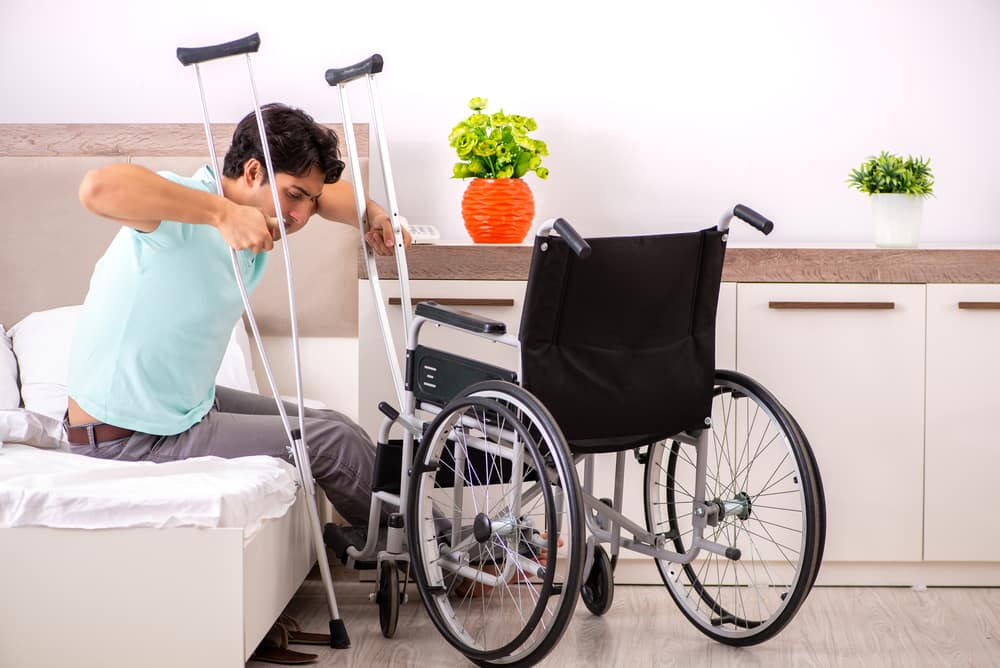 Most people are familiar with axillary crutches, and the basic designs cost anything from $15 to $40 without health insurance. Also commonly known as underarm crutches, these walking aids are designed to support the user by pivoting on the armpit area. Each crutch entails hand support, an axilla bar, and double uprights joining into a single leg.
To successfully operate an axillary crutch, you'll need to flex your elbow at approximately 15–30 degrees. The more popular designs are made of wood or aluminum and are easily adjustable to any height (both handgrip and overall height).
Folding options are ideal for traveling and work well for kids, adults, and relatively tall individuals. They have an adjustable height and can support up to 250 pounds of weight.
Forearm Crutches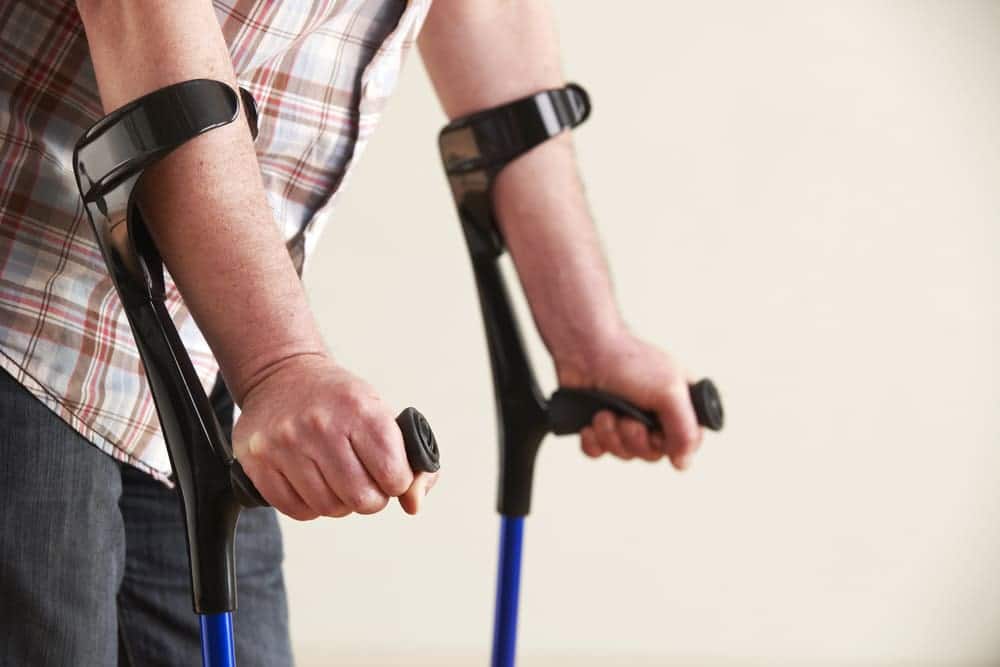 These walking aids are also known as elbow or Canadian crutches, and arm crutches prices range anywhere from $40 and above. Although this design is widely used in Europe, physicians in the US recommend it to polio patients and other physically challenged people. The design entails hand support, a forearm cuff, and a single upright.
The cuff should be positioned 1–1.5 inches from the elbow and 2–4 inches away from your adjacent foot. To comfortably operate forearm crutches, you'll have to flex your elbow 15–30 degrees.
For seniors, look for a pair with a wide and flexible tip. This way, you have more traction and balance when you walk, and the padded handles offer comfort to your hands.
Gutter Crutches
Also known as forearm support crutches, these walking aids are sometimes considered modified forearm crutches. Rheumatoid arthritis patients and the elderly generally use gutter crutches to distribute their body weight evenly when doing day-to-day tasks.
This design comes with padded and comfortable forearms, a handgrip, a strap, and a single upright. It typically costs over $100.
Fully adjustable models are suitable for most heights.  They also feature an unlockable crutch cradle that allows you to freely use your hands, e.g., when using your mobile phone or brushing your teeth.
Although they come in pairs, each crutch is designed for a specific side, i.e., the left crutch for the accompanying arm and vice versa. You can spot the difference thanks to the color codes and dot braille on each crutch.
Knee Crutches
These walking aids are also commonly known as hands-free crutches. They were designed as a learning curve from the effects of using axillary crutches. Unlike the predecessor designs, this variety doesn't require arm support. Instead, it operates by being strapped to your thigh and knee to provide direct support.
They provide the ideal support for broken ankles, feet, and legs, as well as people who are recovering from foot surgery. It's an excellent alternative if you're looking to avoid the typical axillary crutches. Consequently, the knee crutches offer much-needed comfort and support to recovering patients.
Like gutter crutches, most knee crutches cost $100 and above.
How Much Do Crutch Accessories Cost?
Generally, a crutch comes with everything you need. However, you may need to get some accessories later to improve your comfort or safety.
Crutch pad
If you intend to use the crutch for a long period of time, getting yourself a pair or a set of crutch pads would be a smart decision. These pads help to relieve the stress of the crutch placed on the armpit, hands, and elbow.
Some are specially designed for axillary crutches and some are for forearm crutches. A set of crutch pads often costs between $10 to $25.
Crutch tip
Most crutches come with tips but they may split or break later and you need to get some replacements. Crutch tips work to prevent slipping and increase stability. A pair of crutch tips will cost you around $5 to $20.
Types of Crutch Gaits
As the name suggests, a crutch gait refers to the newly adopted "walking style" thanks to the walking aids. Below are different walking patterns you can use to gain maximum support from the crutches.
One Crutch
A single crutch requires you to operate it with the opposite hand, i.e., the hand away from the injured leg. The base of the crutch should be 3 to 4 inches away from your foot to prevent tripping. The key is to use this support as another leg.
Two-Point Gait
This walking method uses a set of two opposite legs at a time, i.e., a left crutch moving in unison with the right leg and vice versa. This pattern is difficult to learn since it goes against normal human movement. Similar to a regular gait, the two-point gait is the second slowest pace.
Three-Point Gait
These are used in cases where the injured leg isn't operational. The crutches and inactive leg move in unison as the other one follows behind.
Four-Point Gait
For this style, the patient needs to use both legs. The crutch and leg movements are also haphazard. Although this is the most comfortable gait, it is also the slowest.
Swing-To Gait
In this case, the patient uses both arms to pull the legs forward towards the crutches.
Swing-Through Gait
Somewhat similar to the movement mentioned above, this one entails swinging your legs beyond the crutches. However, it's essential to note that this is the most strenuous pattern of them all. This is because you'll have to use your shoulder, wrist, and elbow to get the desired result.
Conclusion
Novice users should first seek professional diagnosis before purchasing crutches. This way, your physician can help you find something comfortable for your condition, height, and budget.
If you were wondering how much do crutches cost, you now know your answer. Depending on the style you want, you can spend as little as $15 or way over $100.
However, it's crucial to note that the more complicated the design, the higher the price tag!