Different walker types come with varying costs. How much a walker costs will depend on its functional features and style.
If you want a higher quality product that will last you longer, you might have to revise your budget upward.
You can get a reliable basic walker with the minimum essential features from as low as $30. It can also cost as much as $100. The durable two-wheeled and folding walkers are priced anywhere from around $50 to $250.
The rollator walkers are costlier: The budget models are priced at approximately $70, while the premium models cost up to $600.
This is usually a long-term investment. Since you want to enjoy your older years with less stress and good mobility, so you should choose the best you can afford.
We'll look more closely at each type of walker available, but here is a list of ball-park costs for the various walkers we're looking at today:
Standard walkers- $30-$100
Two-wheeled walkers- $50-$250
Three-wheeled rollator walkers- $70-$500
Four-wheeled rollator walkers-$80-$600
Knee walkers- $175-$450
Features to Look at When Budgeting for a Walker
As you look at the walker prices, consider the following features:
1.The Frame
Good walker frames should be lightweight, consisting of aluminum tubing. You can typically adjust the walker's height by 5–10 inches, depending on the design.
2. Wheels
Generally speaking, the bigger the wheels, the better the maneuverability of the walker.
3. Grips
You can locate the grips on each of the walker's sides. The grips comprise either foam, plastic, or soft materials like gel.
Note that you can replace grips with more comfortable ones whenever the model's grip doesn't seem comfy enough.
If your hands sweat regularly, you might need a grip that is soft or foamy. The larger grips are more suitable for those with arthritis or other grasping issues.
Walker Types Available and Their Costs
1. The Standard Walkers – Best Known to Be Cost-Friendly
Sometimes you only need a walker for short-term use, or perhaps you might be on a tight budget. If so, you don't have to overstretch yourself by getting into huge debts to purchase a costlier walker.
In such instances, a standard walker may suit you. You can obtain them for as little as $30.
Standard walkers contain a distinctive U-shaped frame specially formulated to enable comfortable movement, together with increased support and balance.
Nonetheless, since standard walkers call for the user's manual lifting of the device to move, they are most suited for short distances or indoors.
Foldable walker frames are more convenient for traveling or storing the device. However, these foldable variants often cost more. The prices can be around $100 for the standard foldable types.
2. Two-Wheeled Walkers – Offer Ease of Movement
Wheeled walkers feature two-frontal wheels. The two wheels are designed for ease of movement but sacrifice some degree of support and balance. You can obtain a two-wheeled walker starting from around $50 and going up to about $250.
Unlike standard walkers, two-wheeled walkers fit perfectly for both indoor and outdoor use. This is because you can almost effortlessly maneuver them across uneven and rough terrains.
Nevertheless, anyone with equilibrium issues or poor stability may be uncomfortable with this choice of a walker. The need for additional balance with these two-wheeled variants might cause more risks than benefits for such a person.
However, the majority of these wheeled models are fitted with wheel locks, which to some extent, helps mitigate any stability challenges.
If you don't have significant balance issues and want a walker to help with mobility, the wheeled model may be a suitable option.
3. Rollator Walkers
Two-wheeled walkers don't suit everyone. Some may prefer a rollator, that operates with wheels only. Both the major rollator types tend to be more pricey than the styles we have discussed above.
The two rollator walker types are:
Three-Wheeled Rollator Walkers – for More Comfortable Navigation
These rollators consist of a narrow design that offers added freedom and independence to those who suffer mobility-related issues, yet desire smooth movement, especially on uneven terrains.
They are more convenient and more comfortable to use compared to the push walkers and the standard lifts. This is mainly because you push the frame without doing any lifting.
As the name suggests, the three-wheeled rollators contain three strategically positioned wheels; two wheels at the rear and one wheel at the front. This particular wheel configuration enables easy navigation.
Popular models of these rollators go for anything between $70 to $500. The high-end, for the custom-made, feature-filled options, is particularly expensive.
These models are mostly portable and lightweight; hence they're convenient for both outdoor and indoor use.
Rollator Walkers With Four Wheels – Offers Independent Movement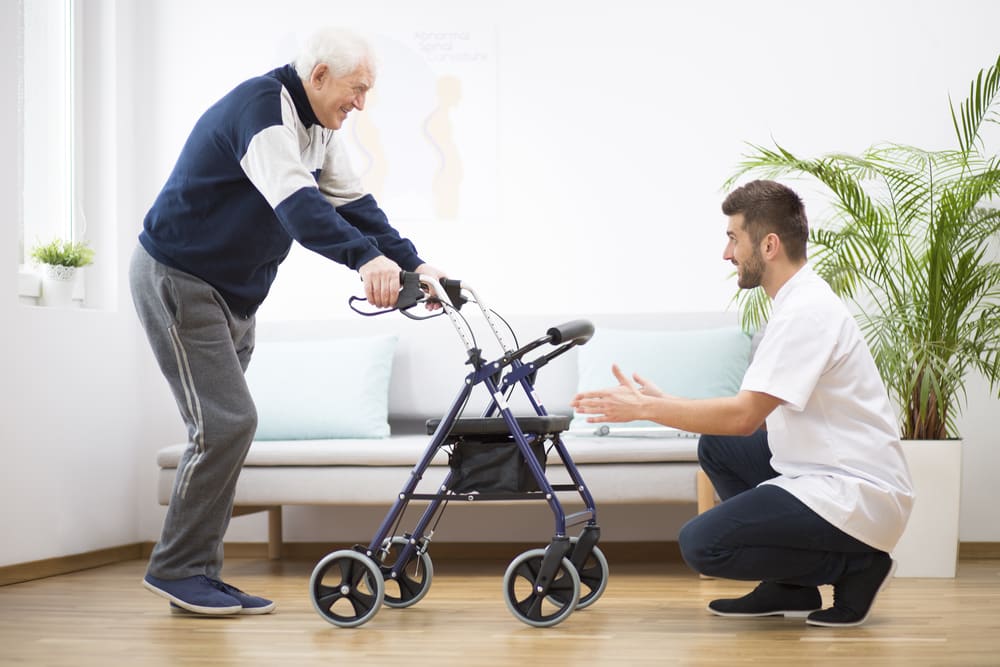 Recently, the four-wheeled rollator walkers became the most popular walker model in the market. This is despite their higher costs.
What's more, this rollator walker type offers the full support you may need to maintain your independence and mobility without overstraining.
They feature broad bases and four ground contact points, alongside a seat and a backrest. They are packed with features for your ultimate convenience.
The 4-wheeled rollator walker enables smooth and efficient movement for any user. It also provides the convenience of a seat, so you can take breaks and relax whenever necessary.
The cost for good quality branded four-wheeled rollators start at around $80, going up to over $600 for a top-of-the-range model.
What you pay boils down to the particular quality and range of features you want included.
4. Knee Walkers – Offer Relief for Below-the-Knee Injuries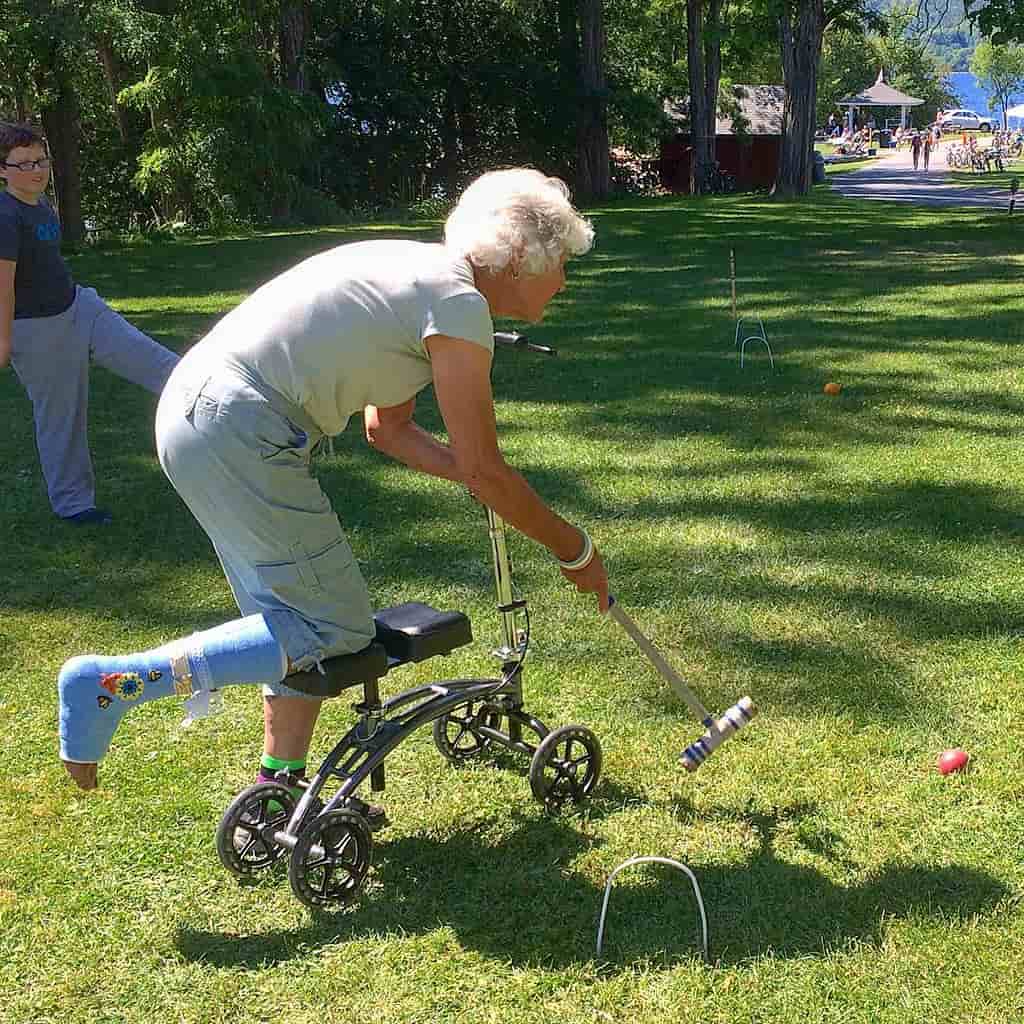 A knee walker is usually a 3 or 4-wheeled mobility solution for those with a temporary below the knee injury to one leg who don't want to, or can't, use crutches. Knee walkers usually look and work like a raised scooter. One leg is rested and the other does the moving by pushing on the ground, while the user steers using a short handlebar.
Usually, the cost for knee walkers ranges approximately between $175-$450, based on the quality of the model you choose.
When considering a knee walker, you should ask yourself the following:
Are you going to need support for an extended period? Perhaps more than 6 weeks?
Do you anticipate more than one surgery? Hence, will you need support for more than one recovery?
If the answer to the above questions is yes, you may need a knee walker. Knee walkers help for any knee injuries and work like a charm by offering the necessary support.
After your recovery, you can either store it, sell it, or donate it, depending on what you feel is right for you.
What to Consider When Comparing Walker Costs
Some of the things to consider when comparing the costs for walkers include:
Nature of the fold-up system (should be secure enough for transport or storage)
The level of comfort and efficiency of hand brakes
Lockability in the brakes
Wheel size (should handle different terrains)
Height of handles (needs to be adjustable)
Durability
Storage space for personal items or shopping
Essential Points to Note About Walker Costs
Even with the cost approximations above, a walker's price is determined highly on a wide array of considerations, including the branding, quality, design, materials and extras, which include storage space, and individual needs and preferences.
Even if you only want the primary, standard type of walker, we recommend you set a minimum budget of $60. So, you acquire one that is of reasonable quality and meets the majority of your requirements.
Bottom line: Spend what you can to facilitate your specific needs and make your life as easy as possible.
Conclusion
The price for the walker you select should be determined by design and individual needs, comfort and preferences.
Other factors like style, frame size, and foldability are also significant cost determinants for all walker types.
Sometimes you may need a walker for minimal mobility issues, and perhaps you only want the basic, standard type of a walker.
In this case, a budget of $60 is highly recommended so you acquire one that is of reasonable quality.
If you want something more substantial with wheels, a seat or greater weight capacity, consider your needs carefully before deciding which one that will suit you best.
Ask yourself, "how much can I afford?", "Why do I need this walker, and what do I struggle with when I'm out and about? The answer should guide you to selecting a product that suits you best.