If you need a wheelchair to get around comfortably, you aren't alone. More than six million Americans need assistive devices to support their mobility, with 1.7 million requiring a wheelchair or scooter. Free wheelchairs for seniors can get you the device you need without breaking the bank. Here's how to get yours.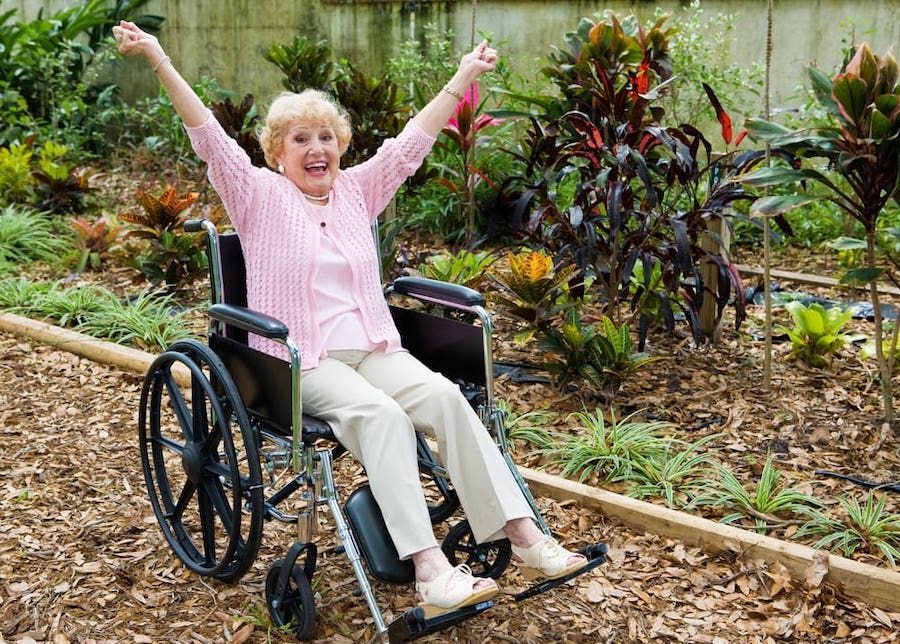 8 Ways to Get Free Wheelchairs for Disabled Persons or Seniors
If you're wondering, "Where can I get a wheelchair for free?" the answer is you have many options. There are a few of the possibilities.
1. Medicare
Medicare is a federal medical insurance program for people 65-plus. You will not be able to get a free wheelchair for seniors 100% covered through Medicare. However, you can still use the program to get a discount.
Medicare will usually pay for up to 80% of your mobility device's price, thereby allowing for a steep price reduction. You will have to pay the remaining 20%. If you have Medicaid (more on that below), you may be able to have this extra 20% taken care of as well.
Another option is to use Medicare to lease a wheelchair. You can lease the device for ten months. After that, you can opt to buy it instead of continually renting it. You can get a battery-powered or a manual wheelchair, depending on your needs.
To get the device via Medicare, you will need a letter from your doctor attesting to your medical needs. The letter should also specify what kind of chair you need (motorized vs. manual).
2. Medicaid
Medicaid is a jointly run state and federal health coverage program that helps low-income Americans get the medical support they need. More than 72.5 million Americans, including elderly individuals and persons with a disability, benefit from Medicaid.
There is a financial eligibility test to determine if you qualify. If you do, you may be able to get free wheelchairs for disabled persons or seniors via Medicaid.
How is this possible? The Medicaid program may pay for a motorized wheelchair if you demonstrate a medical need for one.
This will require getting a doctor's prescription. The wheelchair will be covered as durable medical equipment under Medicaid. DME refers to any equipment or supplies needed for everyday or extended use. Other types of DME include blood testing strips for diabetics or oxygen equipment.
Beware, however, that Medicaid coverage varies between states. Find coverage in your state to get the details.
3. Insurance Company
If you have private insurance coverage, there is a chance that your insurer may cover the cost of your wheelchair
How can you know for sure? Check your insurance policy's DME coverage. It should have a section entitled "Durable Medical Equipment" that outlines what is and is not included.
Many private insurers won't give you a wheelchair free, but they will pay part of the expense. As with the above options, you will need a doctor's prescription to prove that you need the wheelchair.
Beware that the approval process can take months from start to finish.
Additionally, once you get approved for a partially funded wheelchair, you will likely be restricted to what type and model you can buy. This usually means you will be able to get something that covers your basic minimum needs.
4. Free Wheelchair Programs
Wheelchairs can be very costly, but donated wheelchairs may be the solution. Since they aren't always necessarily covered by programs like Medicare, Medicaid, or insurance, various charity organizations have devoted themselves to helping people in need get the mobility devices they need.
Check local charities in your state to get started. For example, often people donate old devices to charities like the Salvation Army. You may be able to get used wheelchairs for free through such resources.
There are also nation-wide charitable organizations that may be able to help you secure a free device. Options include Alternatives in Motion, American Mobility Outreach, and Friends of Disabled Adults and Children (FODAC).
When you go through a charity, you will likely be able to get your wheelchair totally for free, with minimal hassle and paperwork. The approvals process is generally more streamlined and less rigorous than those required by Medicare, Medicaid, or private insurers.
5. The Free Wheelchair Mission
The Free Wheelchair Mission is one of the more prominent charities you can consult about getting your mobility needs covered. They are a registered 501(c)3 nonprofit organization, so you can be sure they are legitimate.
Headquartered in Irvine, California, this charity works with partners worldwide to get free wheelchairs to those in need. Their focus is on individuals in developing countries. Note that they only distributed wheelchairs through approved distribution partners in developing countries.
For individuals who need a chair in the United States, the charity asks that you contact their front desk during regular business hours. Here is the contact information: (949) 273.8470
Check out the videos on their YouTube channel to learn more about how the process works.
6. The Wheelchair Foundation
The Wheelchair Foundation is another leading nonprofit that aims to meet mobility needs worldwide. They are likewise a registered charitable foundation. This charity purchases wheelchairs and then delivers them to global distribution partners.
$150 covers the cost of purchasing, shipping, and delivering a chair to a person in need. The Wheelchair Foundation distributes devices through non-government organizations (NGOs) and getting free wheelchairs for seniors worldwide.
They also work with NGOs located in the United States, including Goodwill Industries, Catholic Charities, and the Salvation Army. Check these providers in your area to see if they can arrange a chair for you.
7. Lifenets Wheelchair Project
The LifeNets charity offers yet another opportunity to get a free wheelchair. It organizes the donation of used wheelchairs. Unlike the two charities named above, this one explicitly targets individuals living in the United States.
To get a wheelchair, you first have to complete a request online. This is an opportunity to provide specifications, like whether it's an adult or child wheelchair and motorized or manual. Once they find a match for your needs, the charity will contact you directly.
Additionally, you can view a list of items available via the charity's online database.
8. Get Help from Medical Supply Retailers
If the above options don't work for you, consult a medical supply retailer. They employ professionals who can help you find ways to get your free wheelchair.
Many retailers have designated refund specialists who liaise regularly with health insurance companies, Medicare, and Medicaid to help their customers get their mobility devices subsidized.
These refund specialists can also review your insurance policy to determine what you're eligible for. Policy languages can be convoluted and confusing. A professional may be able to spot an advantageous loophole that you would otherwise have missed.
Towards this end, bring a copy of your insurance policy with you when you visit a medical supply retailer to check out wheelchair options. Having the paperwork on hand will allow them to quickly determine how you might be able to get a cost-reduced or free mobility aid.
Final Thoughts
You probably came to this article wondering, "Where can I get a wheelchair for free?" Hopefully, the above list has answered your questions. Apply these tips to get free wheelchairs for seniors, and you may be able to get the mobility device you need at zero cost.