For those who work in the office, using an ergonomic chair is essential. This also applies to wheelchair users as a comfortable ergonomic wheelchair helps to relieve pains and strains. Karman has an ergonomic wheelchair series and among them, the Ergo Flight Wheelchair is the popular one.
However, it's popular doesn't always mean it's good. We will show all the pros, cons, and everything in between in this Karman Ergo Flight Ergonomic Wheelchair Review to help you make the right purchasing decision.
You may also want to read our post about the best manual wheelchairs.
Pros and Cons
Pros
Ultralightweight. The overall weight is only about 19.8 lbs which is one of the lightest manual wheelchairs in the market.
Comfortable. The S-shape sitting frame and other ergonomic parts ensure you can sit in the chair for a longer period of time.
Safe. This wheelchair comes with companion brakes for added safety.
Portable. You can fold it into a small size and the wheels are removable.
Two seat widths are available.
The padded seat is anti-bacteria and easy to clean.
The footrests along with ankle straps help to improve stability.
Cons
Expensive. You should pay more for the extra comfort you get.
Average maneuverability. The performance on the bumpy terrain is not so well.
Limited weight capacity. It can only bear up to 220 lbs which is below the average of a standard wheelchair.
Specifications of Karman Ergo Flight Ergonomic Wheelchair
| | |
| --- | --- |
| Weight Capacity | 220 lbs |
| Product Weight: | 19.8 lbs |
| Color | Black & Gray |
| Seat Width | 16″, 18″ |
| Floor To Seat Height | 19″ |
| Footrest Type | Swing-Away |
| Armrest Type | Fixed |
| Frame Material | Aluminum |
| Assembly Required | No |
| Foldable | Yes |
| Seat Depth | 17″ |
| Wheels Type | Quick-release |
Features and Benefits
"S" shape seating frame
Perhaps the most striking advantage of this Karman Ergo Flight ergonomic wheelchair is its S-shape seating frame.
We have reviewed a few manual wheelchairs and most of them are straight-backed chairs. There would be no issue if you only use these chairs occasionally.
However, if we keep sitting upright, it will cause strains and pressures on our back and hips. It can even lead to bedsores and scoliosis. Therefore, it is essential to change the seating frame if you intend to have a more comfortable wheelchair.
The "S" shape is ergonomically designed to cater to the shape of our body which helps to relieve pressure and offer support for our back and lumbar. The shape will not change as time goes by and users have proven that it works.
Actually, this design is a patent of Karman Healthcare.
Sturdy and ultralightweight frame
Aside from the S-shape seating frame, this is the other reason why people decide to buy this chair.
Regarding the material, this frame is made out of Aircraft Grade T6 aluminum which is proven to be sturdy and extremely lightweight. This is why the overall weight of this chair without wheels and footrests can be reduced to 14.5 lbs.
This will save effort for both caregivers and wheelchair users, making lifting it a breeze even for seniors with limited muscle strength.
Add to that the chair is easy to fold, and it would be a suitable wheelchair for travel. If you live in a tight space or have a small trunk of the car, you will also like it as it can fold into a really compact size.
Nonetheless, the weight capacity is limited to 220 lbs which are lower than most competitors, along with the 16″ or 18″ seat width, it is wheelchair only for people with average body size.
Small quick-release wheels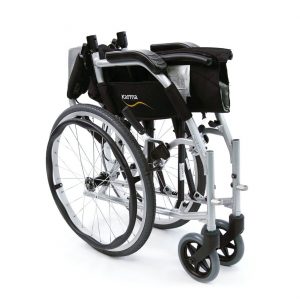 When you look at the Karman Ergo Flight ergonomic wheelchair, you can tell immediately that it is a bit smaller than standard wheelchairs. This is owing to the fact that it has smaller front wheels (6″) and rear wheels (20″).
We think it is a tradeoff between maneuverability and portability. So we can't expect it can handle the uneven terrains very well. In fact, you still can use it outdoor occasionally, but if you have to go through bumpy roads more often than not, it will not take much time to find a more suitable one.
Another feature of rear wheels is that it adopts a quick-release mechanism if you accept to pay some extra money. This is something we can find in some high-end manual wheels. With this function, you can disassemble the Ergo Flight into a few parts, allowing you to place them one by one.
Even though we said before that the chair is ultralightweight, handling a chair without the weight of rear wheels is still a good thing to have.
Companion handbrakes
Companion brake is a crucial part for added safety but has often been ignored in the basic models. We understand it will add to the cost somewhat. Luckily, Karman Healthcare includes it in this chair, but considering the price you pay, they should do it.
With the handbrakes on the back, caregivers can deal with any unexpected immediately and they can control the speed while ascending or descending the slopes.
The companion brakes of this chair are effective on speedy control, however, it isn't able to park the wheelchair which is something that can be improved.
If you still concern about safety, you can buy a pair of anti-tippers for Karman Healthcare as well.
Antibacterial upholstery
Health is strongly tied to personal hygiene, accordingly, keeping the wheelchair clean is important.
We can wipe down the frame effortlessly, however, it is not so convenient to clean the upholstery.
Luckily, the manufacturer designed the chair with this pain point in mind. Upholstery is made with antibacterial fabric and is easy to clean. It is hard to find the sign of tears and wears even after using it for a while.
Swing-away footrest
The footrest is well made. The pedals are thick and durable. The swing-away design makes it a breeze to remove.
We also like the ankle strap as it helps to stabilize the feet without adding pressure on your leg.
Who Should Buy The Karman Ergo Flight Ergonomic Wheelchair?
To be honest, Ergo Flight is not pocket-friendly when compared to other manual wheelchairs. Therefore we recommend it only for people who don't mind investing more in a wheelchair.
It works smoothly on even terrains and it is so lightweight that lift it into the trunk should not be a chore even you have to do it a few times a day. Therefore, the Karman Ergo Flight wheelchair would be a good fit for those who need to drive or take the car often but still like to propel the chair by themselves.
For those who are looking for a comfortable wheelchair, this chair is one of the best. The "S" shape seating really helps to relieve back pains and other parts of the chair are also user-friendly. If you are going to spend a few hours a day in a wheelchair, comfort is always the priority to consider.
Note that this is a manual wheelchair for people with an average body frame and the maximum weight capacity is limited to 220 lbs.
Karman Ergo Flight Ergonomic Wheelchair VS. Featherweight Wheelchair
When we think about what is the best alternatives for Karman Ergo Flight, the first chair that comes to our mind is this Featherweight Wheelchair.
The same as Ergo Flight, this chair also features an ultralight frame. The frame only weighs 13.5 lbs thanks to its special material which is slightly lighter than Karman one.
However, it is hard to tell the difference when in use. You can also choose to use quick-release wheels and the companion brakes are available. Regarding portability, it is just as excellent as Karman Ergo Flight.
In addition, it also comes with 6″front wheels but the rear wheels are larger somewhat which is 22″.
In general, it is a comfortable chair, however, the seating frame is not ergonomically designed as Ergo Flight does. It may cause some strains if you stay in it for too long.
If you choose to buy this one instead, you will save hundreds of dollars.
Wrapping Up
In a brief, Karman Ergo Flight Ergonomic Wheelchair is an ultra-lightweight manual wheelchair from a reputable brand. Its portability is so impressive that everyone who needs to go out often will like it.
When it comes to comfort, this chair won't let you down either. The S-shape seating frame helps to alleviate body pains and prevent pressure sores. This is why the ergonomic series is more costly than others.
You can use it as a transport chair as well given the companion brakes it includes. Caregivers can control it effortlessly.
We suggest you check the specs carefully because this chair lacks adjustability and the metrics decide it is a chair only for people with an average body frame.