As a senior, you may no longer be able to handle the weight of your pots and pans. Whether it's because of strength-related issues or pesky arthritis, if you can't lift the pans, it's time to ditch the Le Creuset and upgrade to some lightweight cookware.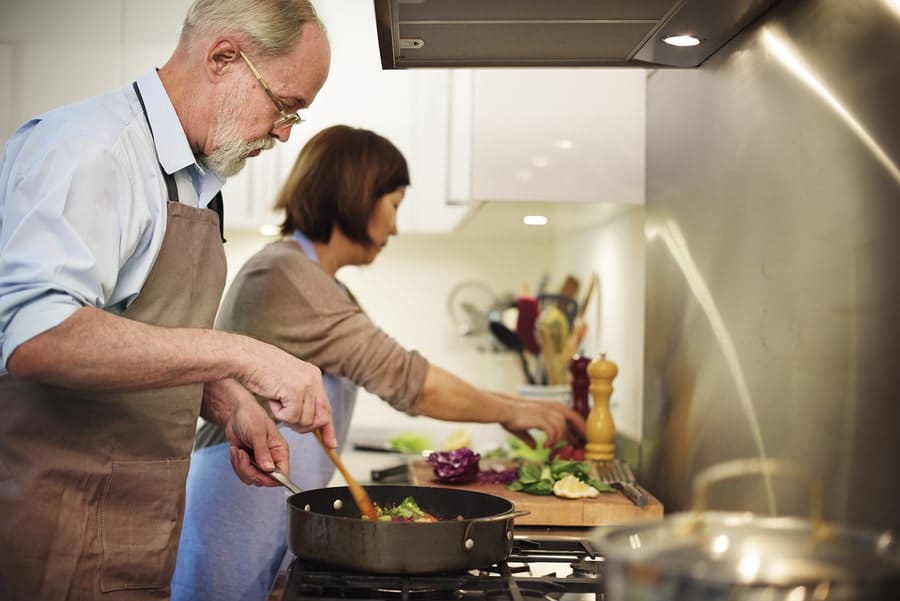 Cook for yourself and loved ones painlessly with the Gotham Steel Professional. In our opinion, this is the overall best lightweight cookware for the elderly and seniors on the market. Considering other options? Read on for our full reviews.
#Affiliate links.Last update on 2023-12-02 at 03:27
The Best Lightweight Cookware for the Elderly And Senior Reviewed
Here, we look at eight of the best lightweight cookware sets including:
1. Gotham Steel Professional – Best Overall
#Affiliate links.Last update on 2023-12-02 at 03:27
This high-quality product is stronger than stainless steel cookware and has a premium non-stick cooking surface reinforced with Gotham Steel's titanium and ceramic coating. It has stainless-steel cool-touch handles that, true to the name, stay cool while on the stovetop.
We like that it's dishwasher and oven safe and resistant to wear, even if you use it day in day out. It is lightweight that seniors can lift them up with a breeze. All these features add up to a professional-level performance and overall, we can't fault the Gotham much.
Pros
Eight-piece cookware set
Dense, non-porous aluminum exterior
Non-stick surface. Requires no butter or oil meaning healthier meals
Stainless steel handles remain cool while cooking to ensure solid grip and safety
Gotham steel composition
Break-free glass lids allow you to monitor food while it's cooking
Oven and dishwasher safe
Comes with a generous 10-year warranty
Cons
Not compatible with induction stoves
2. Rachael Ray 16802 Cucina Non-stick Cookware Set – Best for Style
#Affiliate links.Last update on 2023-12-02 at 03:27
Rachel Ray's cookware offering boats plenty of extras plus a lovely design featuring rustic colors. It's a functional 12-piece set with dual-riveted rubberized stainless steel handles and glass lids that are shatter-resistant.
The inclusion of a slotted turner and spoon is a nifty bonus. And we like that the set is oven safe to 400 degrees. The cookware is made from long-lasting aluminum and an excellent quality porcelain exterior.
Pros
Has a visually appealing PFOA-free espresso color
Non-stick for better food extraction
Rubberized stainless steel handles and shatter-resistant glass lids
Made of durable materials
Oven safe to high temperatures
Cons
Although lightweight, it's still heavier than others we reviewed
It is not dishwasher safe
3. Granite Stone 2228 10-piece Non-stick Cookware set – Best for Weight
#Affiliate links.Last update on 2023-12-02 at 03:27
This 10-piece cookware set is non-stick and has an ultra-durable and scratch-proof coating. The triple layers Granite Stone have put into their product means it's sturdy and thicker than the average cookware set but isn't too heavy.
Weighing in at 14.75 pounds total, this lightweight cookware set is easy to carry as a single unit or as individual pots and pans. Large hardened stay-cool steel handles make it easy to grasp and manage.
It is dishwasher safe, 100 percent non-toxic, and broiler safe to 500 degrees.
Pros
10-piece cookware set.
Thick and sturdy triple-layer rock covering
Lightweight at 14.75 pounds total
Broiler safe
Dishwasher safe
Non-stick cooking surfaces
Hardened steel stay-cool handles
Cons
Not as many pieces as others we reviewed
The handle could get very hot
4. Cuisinart MCP-KN Multiclad Pro Stainless Steel 12-piece Cookware Set – Best for Versatility
#Affiliate links.Last update on 2023-12-02 at 03:27
We love that Cuisinart's sets come in three possible configurations: a 7 piece set, 10 piece set, or a 12 piece set. So if you're in the market for a full kitchen's worth of pots and pans, opt for the 12. If you just need to replace those you cook with frequently, the 7 piece set will do. Plus, it's a good budget option.
A high-quality stainless steel construction will not discolor or affect the food's flavor. The cookware also has tight-fitting lids and ergonomic cool-grip stainless steel handles.
The rims are tapered for drip-free pouring. These cookware sets are dishwasher safe and oven safe up to a whopping 550 degrees Fahrenheit.
As you'd expect from a leading brand name, these sets are long-lasting and can be passed on to future generations.
Pros
Suitable for induction cooktops
Ensures maximum heat retention and even distribution preventing hot spots
Dishwasher safe
Tight-fitting stainless steel lids
Drip-free pouring rim seals in moisture and nutrients
Oven safe
Lightweight and durable
Cons
The lid handles can get really hot so don't forget your oven glove!
5. Calphalon Classic Non-stick 10 piece Cookware Set – Best for Extra Features
#Affiliate links.Last update on 2023-12-02 at 03:27
This set features boil-over inserts that prevent messy spills while cooking and which, in turn, allow you to multitask like a master chef. The inserts also allow additional seasoning and stirring through the center openings.
The 10-piece set doesn't skimp on lids and the non-stick coating is reliable, even after multiple uses.
You'll get good value for your money here because of all the clever extras. The pots and pans have measuring marks, tempered glass lids mean you can see your food, and the pour spouts and handles stay cool while cooking.
Calphalon's set is oven safe to 450 degrees and you can use it on gas, glass, halogen, and electric stoves.
We think for the best extra features, you can't go wrong with this lightweight cookware set for the elderly.
Pros
Made from hard-anodized aluminum
Convenient features like integrated strainers, pour spouts, and measuring marks
Handles stay cool while cooking
Easy to clean non-stick surface
Cool handles on inserts allow removal without touching the pot.
Safe to use on gas, electricity, halogen and electric stoves
Cons
Not dishwasher safe
May leave stains on the bottom
6. Happycall 5 Layer Diamond Non-stick Cookware Set – Best for Easy Handling
#Affiliate links.Last update on 2023-12-02 at 03:27
You won't have trouble holding onto and handling this set by Happycall. The light aluminum construction is paired with thicker and longer handles than most sets. In fact, these handles are long enough to comfortably support a two-handed grip.
The lid handles are also easy to grasp and manage. Because this set is the easiest to carry among all those reviewed, we think it's ideal for an elderly person who doesn't want to quit the kitchen but needs something better suited to their needs.
For better heat distribution and a true non-stick surface, it has five layers of coating.
Pros
Safe in the dishwasher so no scrubbing needed
Durable non-stick coating for easy cooking and cleaning
Aluminum construction is strong but light
Four different sets/configurations available so versatility is a plus here
Cons
Not compatible with an induction stove
7. Neoflam Eela 7-Piece Ceramic Non-stick Cookware Set – Best Ceramic Option
#Affiliate links.Last update on 2023-12-02 at 03:28
If you are looking for a good budget ceramic option, this 7-piece set by Neoflam has you covered.
Don't need too many pots? No stress here because you can choose between three different configurations: 7, 5 or 3-piece sets.
Elderly chef extraordinaires will appreciate the larger handles and the generously-sized lid tops too. It's durable, stylish, and easy to use and manage.
We also like that there aren't too many individual pieces. Sometimes it's galling having pots and pans at the back of a cupboard that will never see a stove.
Pros
Six different colors to choose from
Available in a range of options
Large handles for better grip
Cons
Some users have noted the two-handled pot's handles get too hot
Dishwasher safe but hand washing is recommended
Not recommended to use with very high heats
8. Texsport Kangaroo 7-piece Cookware Set – Best for Outdoor Use
#Affiliate links.Last update on 2023-12-02 at 03:28
Getting older doesn't mean giving up the things you love, such as al fresco cooking! Enter Texsport's Kangaroo set. Super lightweight at just three pounds, you'll have no issue moving this set from your camper to the fire.
To save on space, the set comes with a detachable handle that works across all the pans. There's a bit of a double-edged sword here though. While you might save on space, if you have any issues with grip, you should look elsewhere.
Because the handle gripper is moved from pan to pan, repetitive grasping motions are inevitable.
Pros
Very easy cleaning
Lightweight and still highly durable
Non-stick surface
Great for outdoor excursions and for packing into your RV
Cons
Handles get hot and require a potholder
Detachable handles have to be moved from pot to pot, not ideal for people with arthritis or those with grip issues (See also electric can opener for people with arthritis)
Why Seniors Need Lightweight Cookware?
With time, our hands and arms tend to weaken. Lifting a pot or pan could be a task that hard to accomplish. A lightweight cookware set that comes with ergonomic handles offers the possibility for seniors to keep an independent life. This is great for you to improve self-esteem which is very important for health.
How to Choose the Best Lightweight Cookware for Seniors
It is important to continue taking care of yourself as you get older and cooking is one way of doing so. Lightweight cookware makes this a possibility so there's no need to give up healful home-cooked meals.
While choosing a set for yourself or as a gift for someone else, it is always advisable to be informed as to which features you should look for to ensure safety and suitability. With that in mind, here's what to look out for:
The different configurations of the set
Cost
Quality of the handles
Which appliances are safe for use with the cookware.
Materials used in construction
Let's go over each of those considerations now so you're confident in your choice of the best cookware for the elderly.
The Different Configurations
Take note of the number of configurations a set has and choose the one that fits your needs. As we said before, there's no need for oodles of pots and pans languishing in the back of your cupboards and attracting dust.
Likewise, make sure the set you choose has the exact pots you use frequently. It's no good choosing a set without a dutch oven if you use one all the time.
Cost
A high-quality cookware set is a great investment. You are always encouraged to get the best one that is within your budget.
A lightweight cookware set that meets your specific needs is always worth paying a little extra for. You will reap the benefits because sometimes, cheap turns out to be more expensive in the long run.
Quality of the Handles
Make sure the handles of the set always stay cool while cooking. Also, take note of their sizes for better grasp and the mobility levels required to safely handle the cookware.
If you have painful joints and grasp problems, pick a set that is easy to grip, perhaps even one with handles long enough to support the width of both your hands.
Check the Appliances Safe for the Product
To prevent accidental fires and losses, find out if the cookware you are eyeing up for is safe for use with the appliances you own. It's no good picking up a wonderful new set of lightweight cookware then discovering you can't use it on your beloved induction stove!
Likewise, if you refuse to return to hand scrubbing pots and always rely on your dishwasher, a set that can't go in your dishwasher is not the set for you.
Materials
You'll need to know how to best use the product based on what it's made from. For example, do the pans need oil or can you cook without oil thanks to their design?
Most non-stick surfaces made of ceramic require no scrubbing and are very easy to clean. The material of cookware also gives you valuable hints as to its durability and longevity.
In a Nutshell
The winner for the best lightweight cookware for the elderly is the Gotham Steel Professional. The first and second runners up are Rachael Ray 16802 Cucina Nonstick Cookware Pots and Pans set and the Granite Stone 2228 10-piece Non stick Cookware set respectively.
They are durable, have high-quality firm handles, and non-stick surfaces and exteriors. They come in different types of configurations, are safe for most appliances and, perhaps best of all, are pocket friendly considering what's included.
Enjoyed our article? Don't forget to share it with your friends so they can choose the best lightweight cookware for the elderly with confidence too!