In the U.S., the choice of prepared meals for home delivery is overwhelming, with one recent count finding more than 10 national delivery services for frozen and preserved meals. As we will see in this Magic Kitchen review, the competition has produced an outstanding service, especially beneficial for seniors living independently.
The flash-frozen Magic Kitchen meals come in different combinations for breakfast, lunch, and dinner. Along with the mains, a wide selection of starters, side dishes, and desserts can be added. Like in a restaurant, you can choose from an à la carte menu or get meals in recommended bundles — or even regular programs — all customized as required.
The service started in 2005 in Northern California, but within a couple of years, a distribution center was opened in Kansas. After growing the operation and the facility, by 2017, the whole company was based in Kansas City, now an industry leader with nearly 40 employees and an annual turnover of 1.8 million dollars. It's most significant competitors are Freshly and Bistro MD.
Pros of Magic Kitchen
Simple to plan meals and place orders.
Good nutrition with tasty and healthy meals.
Catering for dietary needs and preferences.
No need to commit to a subscription.
Cons of Magic Kitchen
Things to Consider Before Selecting a Meal Delivery Service
Seniors are no different from the rest of us when enthusiasm and energy wane to shop, prepare, cook, and serve elaborate meals. But in old age, a poor diet can be much more harmful, so having healthy and tasty food on the table every day can help avoid or delay the need to move into care.
If you need meals for someone still living independently but are struggling to put healthy food on the table for every meal, then think about what outcomes you would like to see.
Would you like to …
Diversify food intake.
Satisfy nutritional requirements.
Provide for specific dietary needs.
Reduce snacking on unhealthy foods.
Improve weight management.
Overcome reluctance to prepare full meals.
Minimize risk from unattended stoves or other kitchen accidents.
Let's see how the meal delivery service stacks up in this Magic Kitchen review against these goals.
Good Food and Good Service for Good Health
For older people, Magic Kitchen meals offer a wide selection of meals catering to different dietary requirements and preferences that compare well with similar suppliers. Quality ingredients, tasty recipes, flexible ordering, and efficient delivery will be a welcome break from dull meal times.
But aside from convenience, our Magic Kitchen Review is interested in whether the benefits and results deserve our recommendation.
Good Food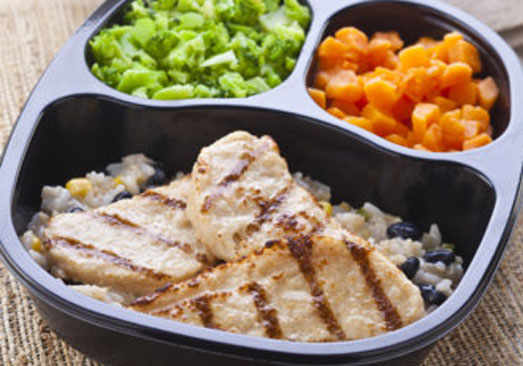 The Magic Kitchen catering service offers much more than just frozen TV dinners. There's a vast range of meal options that can be obtained through à la carte orders, bundled meals, or regular programs. There are mains, soups, side dishes, desserts, and even separate snacks to choose from. Sizes vary from individual servings to family size, with two and four serving selections being the most popular.
In fact, the customization options are so extensive that when you first sign up, you need to talk to a real person who will help build a plan tailor-made for you. No online forms to fill out there.
Good Service
The personal service continues after the signup process. The outstanding customer service that Magic Kitchen cultivates is evident in reviews posted on various consumer sites online.
There's no registration and no requirement to sign up for a subscription. You can order your meal any which way you like, even with an old-fashioned print catalog in your lap as you talk to a customer service agent on the phone.
The website does, of course, contain all the information you would require. There are the details of the à la carte menu, along with the complete meals, meal programs, and even meal packages. You can also gift items to someone else as a treat.
The weekly order arrives packed in dry ice inside a styrofoam container. While that achieves the purpose of getting the frozen meals to you before they thaw, the amount of waste left behind is unfortunate. The packaging can be reused, however, and there are specialist recycling centers to dispose of them responsibly — if you can find one.
The price per meal varies; it can cost from 12.00 dollars to as much as 60.00 dollars, depending on your order. Allow no more than 20 dollars for regular meals but more if you add extras. The cost of shipping is not included. There are no contracts or commitments, and you can update your orders every day. And if you don't like the quality of the food, you can get credit for another free meal.
Good Health
We were very impressed during our Magic Kitchen review, and that the food used is a restaurant-quality product. All food used in the Magic Kitchen is procured from good sources.
The ingredients added are all antibiotic and pesticide-free; the chefs endeavor as much as is possible to use hormone-free chicken, grain-fed beef, and organic fruits and vegetables to optimize flavor and health.
The dietary needs of seniors are looked after well by the people from Magic Kitchen. Apart from making the selection and ordering process as smooth as possible, the menu takes into account the preferences and nutritional needs of older people.
It's easy to find or subscribe to a healthy diet plan with the recommended mix of protein, carbohydrates, fats, and vitamins with the guidance of staff and the meal plans developed by a professional nutritionist.
All the expected needs for anyone with special dietary requirements can be catered for, from low-fat or low-sodium diets to avoiding dairy or pork.
Older people can opt for hand-prepared senior meals to ensure they're healthy, nutritious, pleasing, and effortless. Seniors living alone can purchase bundles of eight single servings chosen from the à la carte menu.
The attention to catering for a variety of dietary needs also benefits the senior demographic, who often have health considerations affecting their meal planning.
Alternative Meal Services
Two meal delivery services stand out as being alternatives, in particular to seniors looking to improve their nutrition and finding some well-deserved stress-relief. We included them as a contrast in our Magic Kitchen Review.
Weight Loss and Medical Nutrition Plans From Bistro MD
Bistro MD is a popular service not only among those wishing to lose weight. Founded by a doctor, the company has taken on the needs of people with a range of ailments.So much so that when accessing the website, it invites you to submit your details for a tailored diet plan to suit your age and condition.
Between balancing nutritional needs and dietary preferences, Bistro MD has a large menu that will motivate you to complete your weight-loss, cardio-vascular, or healthy eating program to the end.
Freshly: Quick, Delicious, and Nutritious Food
Their slogan raises the bar high, but Freshly delivers very successfully with meals that have less sugar, fewer processed foods, and more nutrients. Using complex carbs, quality proteins, and other nutrient-dense ingredients, the carefully balanced servings are ready to heat and eat when they arrive. The only caution is that; because they're so fresh without preservatives, they need to be consumed within four or five days before they reach their marked expiry date.
The cost of Freshly meals starts at 11.50 dollars per meal when buying four, and as little as 7.99 dollars for orders of 12. That's a cost that compares favorably with Magic Kitchen, where prices start at 12 dollars per meal.
Meal Services Compared
Magic Kitchen
Silver Cuisine By Bistro MD
Freshly
Meals for seniors.
Nutritionist designed.
Frozen meals.
Satisfaction guarantee.
Medical diet planning.
Weight loss programs.
Nutritionally balanced.
Very fresh food.
Natural and healthy.
Heat and eat.
Conclusion
A quality meal delivery service for seniors will not only ensure proper nutrition but also add some spice to life again. Most importantly, if it's satisfactory, it can play a key role in allowing seniors to continue living in their homes.
In this Magic Kitchen review, we saw that the benefits of eating their healthy food could lead to more enjoyment and better health. And the pleasure of receiving a selection of ready-made meals, optionally with side dishes and dessert, shouldn't be underestimated.
We would be happy to give a strong recommendation for Magic Kitchen, who do a great job taking care of the nutritional needs of seniors.
The affordable and healthy meals shipped around the U.S. by Freshly anyone would thrive on.
On the other hand, if you're serious about weight loss or tackling other health conditions, then visit Bistro MD.
Which one will you check out?