If you prefer a transport wheelchair that is as lightweight as possible, you can't miss this Medline ultralight transport chair. As the name of this chair suggests, the 14.8 lbs product weight makes it a truly ultra-lightweight wheelchair in the market.
In our Medline ultralight transport chair review, we will explore every aspect of this chair to help you make the right decision.
In short, Medline ultralight transport chair is a high-quality ultralight wheelchair with high weight capacity, convenient restaurant-style armrests, and handy wheelchair accessories. It doesn't come with many bells and whistles but is a user-friendly mobility aid that you will use every day.
Check here to explore more products on our list of best lightweight transport wheelchairs.
Pros and Cons
Pros
Ultralight. It is one of the lightest transport chair in the market. The 14.8 lbs weight makes lifting and pushing the chair a breeze. You will like it.
Sturdy. Made with aluminum, this transport wheelchair can hold up to 300 lbs. Users feel stably while sitting in it.
Good portability. Medline ultralight transport wheelchair is collapsible and features a fold-down backrest. Caregivers can put it in the trunk or store it in a small space easily.
Comfortable restaurant-style armrests. The low arms can fit under tables no matter at home or in the restaurant. You can enjoy the meal without using an extra tray table.
Useful wheelchair accessories. This transport chair includes a cupholder and a back pocket. Both are good for carrying drinks and personal items.
Affordable. You can buy this high-quality wheelchair at a very low price. It is a small investment that you will never regret.
Cons
No hand brakes. This is a common problem among cheap transport chairs. The chair doesn't include hand brakes which are important for preventing falls.
Average maneuverability. While it works well on even terrains, it is not a good chair for outdoor use. The small wheels make pushing on uneven surfaces a hassle.
Not for longer trips. The breathable upholstery and sturdy frames ensure you feel great while sitting in it. However, we suggest you buy an extra wheelchair cushion or look for a chair with bigger wheels if you intend to spend more hours in it.
Specifications of Medline Ultralight Transport Chair
| | |
| --- | --- |
| Weight Capacity: | 300 lbs |
| Product Weight: | 14.8 lbs |
| Color: | Black; Red |
| Seat Width: | 19″ |
| Floor To Seat Height: | 19.5″ |
| Footrest Type: | Swing-Away |
| Frame Material: | Aluminum |
| Assembly Required: | No |
| Foldable: | Yes |
Features and Benefits
Without further ado, let's explore why this transport chair is so popular among seniors and patients.
Ultra Lightweight Aluminum Frame
What makes this Medline ultralight transport wheelchair apart from other models is its frame. Made with high-grade aluminum, the frame is super lightweight and durable.
Even though it is lightweight, but it is not flimsy. The chair can support up to 300 lbs which are enough for most users. You could rest assured that this one will last for years.
Foldable Design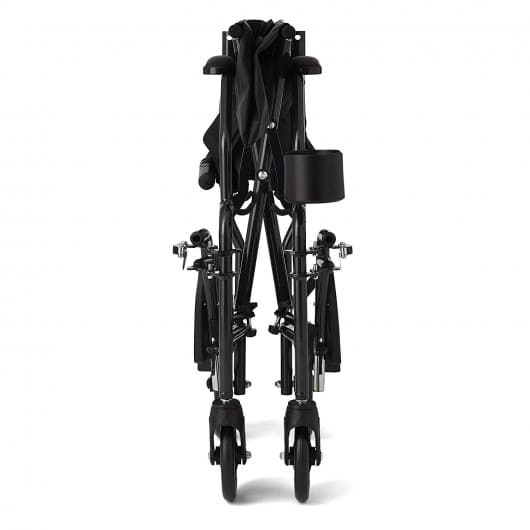 A collapsible frame is a must for a transport wheelchair as long as you need to go out from time to time. This chair also has a fold-down backrest and Stow-N-Go clips to ensure the chair can be folded into a small size.
This is great for senior citizens who live in a small space or have to visit doctors or other cities often. You can fold it and place it into the truck of the car without any issues. The compact design makes it transportable equipment itself.
Cup holder and back pocket
While the wheelchair accessories seem not important at the first glance, they play a vital role in making your life more convenient.
The Medline ultralight transport chair comes with a back pocket to carry your personal items such as smartphones, keys, or medicines. It also includes a bottle holder to carry your drinks.
Different from other cheap transport wheelchairs we mentioned before, it also comes with a cup holder for the drink. Some users like it as they can drink water without asking the help of caregivers.
Comfortable upholstery
This lightweight transport wheelchair doesn't come with a thick cushion as some high-end products have, but the upholstery is firm and breathable. It is strong enough to bear up to 300 lbs and the seat is spacious for most users.
The soft nylon upholstery is not a great option for longer trips but for a short trip, you will have a comfortable experience.
Restaurant-style armrests
This chair is equipped with restaurant-style permanent armrests which have a lower height than standard transport chairs.
This design seems not a big deal at first sight, it will make your life much easier. The padded armrest is comfortable to hold and it can fit under most tables.
In this way, your body could get closer to the table and enjoy your meal without any help of your family members. You will feel more independent which we know is important for wheelchair users.
Who Should Buy The Medline Ultralight Transport Chair?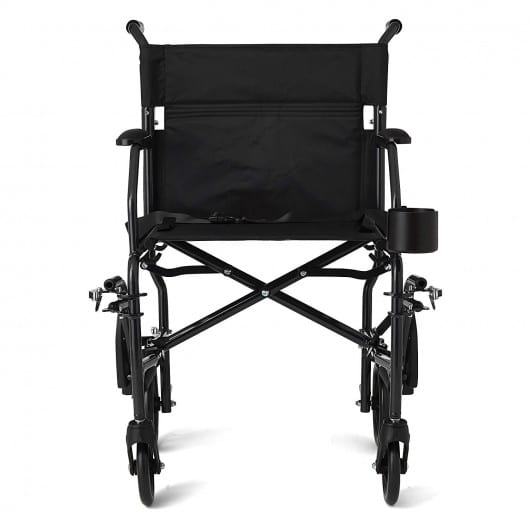 We think it is a great lightweight and durable transport chair for most users. It is especially welcomed by price-sensitive customers.
You can solve most of your transportation problems by investing a small amount of money. This transport chair includes a seat belt, restaurant-style armrests, foldable frame, swing-away footrest, cup holder, and back pocket. You get almost all the necessary features a transport chair should have.
It is also a good option for wheelchair users who want to make their caregiver's job easier as the chair is really lightweight and easy to fold.
However, if the user has very limited balance ability and body strength or you are really worried about safety, you should look for something else. Moreover, the small rear wheels determine that this Medline ultralight transport chair only has average maneuverability. In other words, it is not a suitable wheelchair for outdoor use.
Medline Ultralight Transport Chair Alternatives
1. Drive Medical Fly Lite Ultra Lightweight Transport Chair
This one looks quite similar to the Medline ultralight transport chair except for the patterns of the upholstery.
It is within the same price range as the Medline one and has almost the same features. Coming from another big wheelchair brand Drive Medical, this chair comes with a foldable aluminum frame, fold-down backrest, restaurant-style padded armrests, belt for safety, swing-away comfortable footrest, and so on.
It also has a 300 lbs weight capacity. They also share some limitations such as average maneuverability and no handbrakes.
If you want to find the difference between these 2 cheap transport chairs, it is the product weight. This chair weighs 16.8 lbs without footrests which are slightly heavier than the Medline one.
2. Medline Deluxe With 12″ Rear Wheels Transport Wheelchair
If you are not satisfied with an indoor transport chair, you could check this model.
Also from Medline, this chair features 12″ rear wheels. This ensures that it has better maneuverability than the Medline ultralight one. You will feel safe even on bumpy roads.
In addition, it embraces hand brakes on the back. It helps caregivers to handle any emergency quicker. It works with seat belts together to offer more safety to users.
The weight capacity is 300 lbs and the frame is foldable and made with high-quality aluminum.
Due to the big rear wheels, this chair weighs 22 lbs. But it is still a lightweight chair to use and you will get good mobility aids for both indoor and outdoor.
Even better, you can get this chair at a fairly affordable price.
3. Carex Transport Chair
As we said, the Medline ultralight transport chair is an affordable model. However, if the budget is a big concern for you, this Carex transport chair would be a nice alternative.
The same as Medline one, it has 300 lbs weight capacity, folding frame, swing-away footrest, seat belt, and so on. The compact design makes it a good item for small spaces.
Instead of aluminum, this chair is made with steel. As you know, steel is heavier than aluminum. The weight of the chair is 25 lbs which is about 10 lbs heavier than the Medline ultralight transport chair.
You have to make sure that if your caregiver would like to bear the extra weight. If he or she is relatively strong, lifting or folding it would not be a big issue though.
The Carex transport chair is embedded with small wheels, making it a chair for indoor use.
Conclusion
After reading this Medline ultralight transport chair review, you may already have found that this chair is a great transport chair with all the basic functions. It is so lightweight that lifting and pushing the chair would not be a chore anymore.
It is a durable transport chair that can last for years and the 300 weight capacity ensures it is a suitable mobility aid for most users. What's more, you can purchase it at a relatively low price.
However, it doesn't include handbrakes and anti-tippers for added safety and the small wheels limit the maneuverability.
We recommend you use it indoors and for a short trip.