There's nothing like a mouthful of fresh air and taking in nature's sights. If you enjoy being outdoors but can't stand or walk for a long period of time? The solution to all these problems is the outdoor mobility scooter (off-road mobility scooter).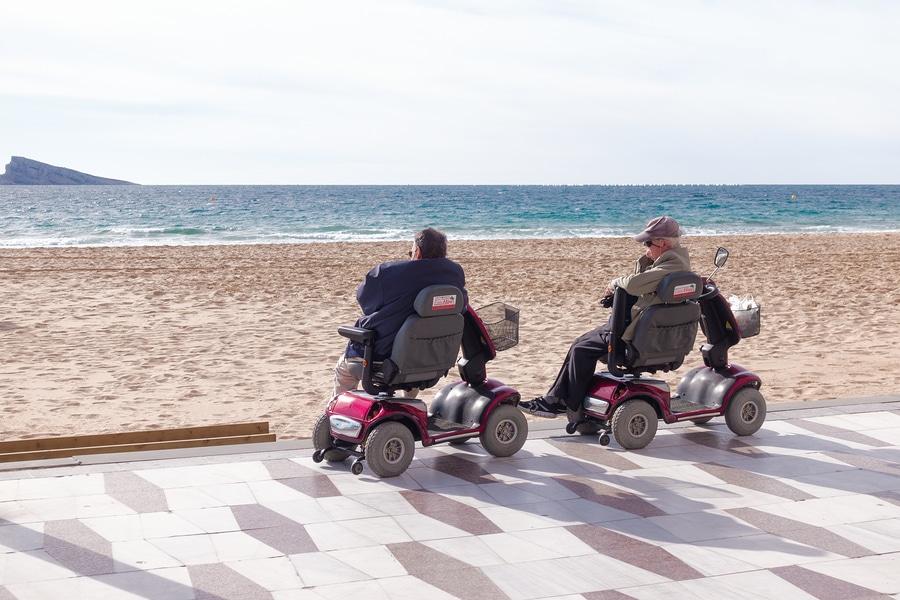 We have reviewed a few of the best all-terrain mobility scooters in this post to help you go back to your normal life.
Best Overall
BUZZAROUND EX Extreme 4-Wheel Heavy Duty Long Range...
Best For Speed
EWheels EW-46 4 Wheel Bariatric 3 Speed Travel Electric...
Good for indoor and outdoor, popular choice, safe
High speed, 400 lbs weight capacity, 16″ pneumatic tires
Best Overall
BUZZAROUND EX Extreme 4-Wheel Heavy Duty Long Range...
Good for indoor and outdoor, popular choice, safe
Best For Speed
EWheels EW-46 4 Wheel Bariatric 3 Speed Travel Electric...
High speed, 400 lbs weight capacity, 16″ pneumatic tires
#Affiliate links.Last update on 2023-03-24 at 00:09
Best All Terrian & Off Road Mobility Scooters: Reviews
1. BUZZAROUND EX Extreme Travel Scooter – Best Overall
#Affiliate links.Last update on 2023-03-24 at 00:09
We will start our review by setting the bar high with this 4 wheel scooter. With the 5 mph maximum speed and 18 miles drive range, we are sure that you will not miss any picnic with your friends and family.
This scooter has a weight capacity of about 330 lbs to fit most body sizes. The 9″ wheel tires, spring suspension and 56″ turning radius ensure you could drive smoothly indoor and outdoor. However, it may not be a good choice for very rough terrian.
It also features an adjustable seat and flip-back armrest which ensures everyone could get a good position and also make transfers easy.
For safety, the BuzzAround extreme scooter comes with ultrabright head and tail lights. Blue and red shroud panels are included in the package for free. In this way, others will notice your movement, and you will feel everything is in control.
This machine is easy to put together and there are a few colors available.
Pros
It is easy to disassemble and transport
Plenty of legroom available for taller people due to its 44″ long frame size
Smooth and long-range drive to 18 miles
Long battery life
Ultra-bright front and backlights make traveling easy at night
Cons
The tires are not air-filled (pneumatic) so it is not suitable for riding on very rough terrain
No power elevating and high back seat option
The seat belt is required due to its fast speed
2. EWheels EW-46 Bariatric Mobility Scooter – Best For Speed
#Affiliate links.Last update on 2023-03-24 at 05:24
Referred to as a "bariatric scooter", this machine is a great option for seniors who are healthier than others. The weight capacity is 400 lbs.
Different from the model we mentioned above, this outdoor scooter comes with a motorcycle-style control. You will get used to it very soon if you were a rider.
Featuring 16" pneumatic tires and front and rear suspensions, this scooter can handle the rough terrain with ease.
We love the LED console and dual rear-view mirrors which helps to know the road conditions. The hand-braking system is so convenient that you could make a quick stop.
The adjustable seat and armrest are a nice touch. You will always find a comfortable way to sit.
The maximum speed is 13 mph and could run up to 35 miles per charge.
Pros
High speed, 35 miles per charge.
Easy to use hand-braking system.
Motorcycle-style control.
Adjustable seat and armrest.
16″ pneumatic tires.
Cons
The durability is not very good.
3. PURSUIT XL PMV Scooter – Best With Durability
#Affiliate links.Last update on 2023-03-24 at 05:54
This scooter manufactured by Pride Mobility has a top speed of 7.5 mph and an extended range of up to 28 miles.
It has front and back suspension with four big 13″ tires for excellent outdoor performance and a hydraulic-sealed brake system for safety. Plus, the all system is very easy to use even for people with some disabilities.
The weight capacity is 400 lbs, allowing it to fit seniors of all sizes. The adjustable seat could move forward to give you more support.
This scooter also comes with Challenger Mobility Patriotic Accessory Bundle which includes a rear basket, cup holder, and cooler bag.
This all-terrian scooter is made to last and you will have a great time while driving it.
Pros
Durable
It has very comfortable seating with good legroom and reclining the high-back seat.
It is a well-built, stylish, and safe design with shock absorbers
Longer battery life
The lightings are very bright and protected from damage by sunlight or fog
Cons
Hard to push the delta tiller
It can't be transported in a car
Limited adjustments of the seat height
Less water resistant
You can watch this video to see all the features of this machine:
4.  Afiscooter S 4-Wheel Scooter – Most Comfortable Option
#Affiliate links.Last update on 2023-03-24 at 04:45
Afiscooter S uses the advanced and latest technology and safety systems.  It is an award-winning scooter that is best for outdoor use full time.
This scooter comes with safety features like shock absorbers and panic sensor. High ground clearance and full round suspension deliver a high level of safety, stability, and comfort.
It can also be used on smooth and uneven terrain, thanks to its stable four alloy wheels and tires that are pneumatic (air-filled).
It offers a drive range of 28 miles on a single charge and maximum speed of 9 mph. This is the best choice if you want a faster scooter. It has a weight capacity of 450 lbs with a fully adjustable wide orthopedic seat of 18″, armrests, backrest and headrest for maximum comfort.
This Afiscooter has a full LED lighting package which is dimming continuously to save energy when not moving and the control panel display is really impressive. The ergonomically designed tiller can be adjusted to meet the demands of the drivers.
It is one of the most comfortable, advanced off-road mobility scooters in the market.
Pros
Powerful, long-lasting and energy-conserving LED headlights that provide bright light and great drive range
Highly developed safety and electronic systems installed to ensure comfort and safety
It has sealed and lockable storage compartments where you can put the personal belongings
The optional canopy provides protection from rain and sunlight
It provides a car-like experience
Cons
It is not suitable for indoor use because of its large size
To replace the batteries, the seat and battery cover located under the seat has to be removed
Electromagnetic interferences (EMI) from phones, radios, and transmitters can affect the power of a scooter
5. Maverick Executive Scooter – Best 3 Wheel Model
No products found.
The Maverick Executive is a 3 wheel all-terrain mobility scooter designed by Drive Medical. It has a sporty look like a motorcycle and best option when looking for a heavy-duty scooter.
It offers a top speed of 9.5 mph and 35 miles drive range with electromagnetic brakes. It comes with larger 19.5″ low profile and air-filled tires, anti-tip wheels, turning radius of 62″ and 5″ ground clearance that makes it suitable for riding on uneven rugged terrains.
It also has some features which provide great visibility like the hazard signals, rearview mirror, and reflectors.
It comes with a smoked windshield to block out any glare on the display equipped with a captain and swivel seat types and a 22″ width seat upgrade option providing the smoothest outdoor ride.
We like its modern appearance.
Pros
Motorcycle control system is conveniently located on the handlebars for easy use
It is a perfect choice for hill climbing as it comes with 10̊ climbing Angle
High weight capacity
Best for hip problems as leg rests comfortably at the side of the single front wheel
Cons
Too big for indoor use
Not easy to disassemble and transport
No delta tiller, power elevating and multiple seating options
There is no basket or storage compartment
6. Hummer XL Folding Scooter – Best Folding Option
No products found.
This folding scooter features large 13″ tires and full suspension to ride smoothly on any surface. It is highly portable yet having a weight capacity of 300 lbs.
It can go up to 15.5 miles with a maximum speed of 6.8 mph smoothly. You can ride comfortably with a luxurious comfort-fit seat with memory foam including Flip-up armrests.
The 4-point seat arrangement provides stability and comfort over the center post seat while driving. With a ground clearance of 3.9″, it can perform well on rough terrain.
The complete lighting package includes directional signals, front lights, rear tail lights and reverses tail lights as well. The ergonomic delta tiller of the Hummer XL makes it very easy to drive with one hand only. It is the single full-size folding scooter in the market.
Pros
Easy to transport and disassemble; highly portable as it can be folded in seconds
It comes with a large basket at the back where you can put all your personal items
It is ideal for indoor and outdoor use both
Batteries can be charged on or off the board
Cons
One of the most expensive scooters available in the market
Low speed as compared to other mobility scooters
It has a shorter battery life
7. Royale 4 Cargo Two-Seater Mobility Scooter – Best For Couple
#Affiliate links.Last update on 2023-03-24 at 04:45
A comfortable three-wheeled scooter designed by EV rider. It is full size and features automatic speed reduction, all-digital display panel, and full front-rear suspension that is fully-independent.
It is a heavy-duty scooter that can drive up to 35 miles and a maximum speed of 15kmh. It also includes an adjustable tiller and digital controls that make your rides enjoyable. It comes with 32 inches dual seat.
With 6″ ground clearance, 63″ turning radius, aluminum alloy rims, and pneumatic tires, it is well suited for riding smoothly on rugged terrain. The higher load capacity of 450 lbs than other mobility scooters.
This mobility scooter is equipped with digital tritium controls. It uses sealed lead acid-AGM batteries and their charging time is 6 to 8 hours.
Pros
Easy to use
Dual seat allows two people to ride together
Comes with Golf Tires that is perfect to ride around a golf course easily
It folds down which makes it easy to transport
Comes with an auto open umbrella which provides protection from rain and sunlight
Electromagnetic brake system with dual emergency disc brakes provide better safety
Cons
Batteries not included in the package. They have to be purchased separately
No basket for keeping the personal items
Why seniors need an off-road mobility scooter?
As people get older, they find themselves harder to get around and move. They become less mobile and active as they age.
The lack of mobility prevents them to keep up with their social gatherings and daily activities so an off-road mobility scooter is the perfect solution for all seniors. These scooters give seniors their mobility back which can change their lives.
Compared to normal scooters, all-terrain mobility scooters often come with large rears and sturdy suspensions to ensure you can ride them on rough terrains.
They can just use their fingers like as they pull and push a lever and have adjustable seats and armrests. If you will take a long journey, you may also need a foldable electric scooter or a scooter carrier for the back of a vehicle.
Moreover, These off road mobility scooters are very eco-friendly and require no fuel as they are operated electrically.
Seniors don't need to pass a driving test to run this mobility scooter on the road. The family members don't have to carry the elder members of the family or push the manual wheelchair around.
Seniors can now roam around easier by retaining their independence as driving outdoor mobility scooters to give them the freedom to go anyplace they want safely.
So an off road mobility scooter is one of the top accessories for older with difficulty getting around.
( You may also need a portable wheelchair and scooter ramps for stairs)
How to choose the best all terrain mobility scooters?
Tires
The wheels are one of the most important things to consider as the user will face different terrains outdoors. Regular rubber tires are not the preferred choice.
Good all-terrain mobility scooters are the ones with solid air-filled tires. These tires ensure the machine can move smoothly on uneven rocky terrain.
It is also essential to choose larger wheels. Generally, the big the wheel, the better the maneuverability it has.
Driving range
Another important factor to check is the travel range. With Larger batteries, the scooter can cover more mileage. If you like to go to a farther distance, it is essential for you to check the driving range cause you don't want to stop on the way.
Safety
As you will stay outdoor for plenty of time, safety is the priority you should consider. Ultra-light front lights and backlights, rear-view mirrors, hand braking systems all help to prevent accidents.
Comfort
As something you are likely to use daily, it should be comfortable. Padded backrest, adjustable seat and armrest, enough legroom will work together to provide you comfort.
Bottom Line
The all-terrain mobility scooters add a great deal of ease and convenience in the life of people with low mobility and elders. They gain freedom and independence using outdoor mobility scooters which helps them to do their daily life activities and outdoor activities. Wish you get a good one by reading this review.