If you need a new wheelchair, you want to obtain the most mobility you possibly can with your choice. Narrow wheelchairs are designed for tight spaces and small spaces than their wider counterparts. Whether you are buying for yourself or for someone else, it's worthwhile looking at the small, slim wheelchairs on the market.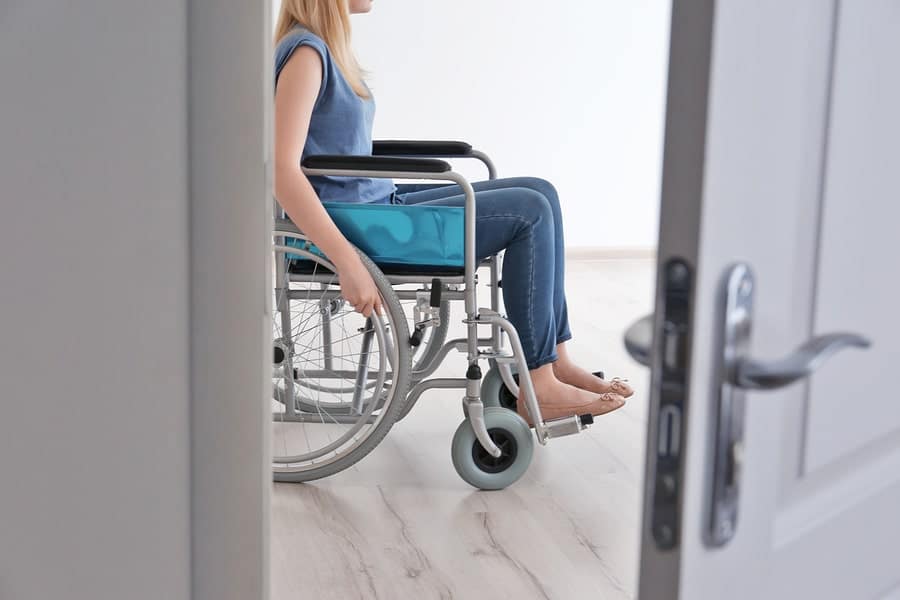 Based on your possible needs we have selected and reviewed several self-propelled and transport wheelchairs for narrow doorways that we recommend.
After the individual reviews, we explain what to consider when buying a small wheelchair and why the Drive Medical Blue Streak Wheelchair and the ProBasics Aluminum Transport Wheelchair are our top choices.
#Affiliate links.Last update on 2023-12-02 at 10:28
The Best Narrow Wheelchairs for Tight Spaces and Narrow Doorways Reviewed
1. Drive Medical Blue Streak Wheelchair – Best Narrow Wheelchair Overall
#Affiliate links.Last update on 2023-12-02 at 10:28
The premium model from Drive Medical adds extra features without compromising usability.
Not only can the leg rests be elevated, swung away or removed, but the armrests also swing back to make it possible to sit at a desk. Caregivers will appreciate that it's lightweight, the easy-clean material, and the maintenance-free design.
The width of this small wheelchair is only 24 inches which makes it easy to pass the standard doorways. Besides, it is foldable so that you can take it anywhere you want.
Pros
Detachable desk arms
Elevated leg rests
Durable tires
Push-to-lock wheel locks.
Calf strap
Foldable
Opened width: 24 inches
Weight capacity: 250 pounds
Cons
Some users report the leg rests are too short when extended
2. ProBasics Aluminum Transport Wheelchair – A Solid Workhorse
#Affiliate links.Last update on 2023-12-02 at 10:41
A narrow wheelchair for a companion or caregiver to operate, the ProBasics Transporter is a lightweight option for transfers.
A fold-down back and flared handles allow the unit to fold down compactly for easy transport and storage. All the features required for day-to-day use are fitted such as locking brakes, fold-away foot-rests, and an adjustable seat-belt.
The relatively large 12-inch rear wheels, strong aluminum frame, and padded upholstery mean this slim wheelchair is suitable for simple transfers as much as it is for outdoor excursions.
Pros
Fixed, padded, full-length armrests
Breathable, nylon back and seat cover
Large rear wheels (12-inch) for a smoother ride on uneven surfaces
Adjustable seat belt for user safety
Ergonomic handles
Attached nylon straps for lifting and folding
User-activated push-to-lock brakes
Companion-activated lockable hand brakes
Supports up to 300 pounds
Cons
Back and footrests are not adjustable
Arms are fixed and not removable for getting in and out
3. Drive Medical Cruiser III Light Weight Wheelchair – A Good All-Rounder
#Affiliate links.Last update on 2023-12-02 at 10:28
If you want a good, all-round lightweight wheelchair for narrow doorways that can be adapted to your needs, the Drive Medical Cruiser fits the bill.
It has a dual axle that helps lower the seat height and the leg and footrests are easily swung out of the way and can be elevated for comfort. No tools are needed to adjust the length of the leg rests.
The frame design makes it easy to add accessories and custom inserts in the back. You can choose the 16″ and 18″ options as both of them come with a product width of fewer than 27 inches. As you know, the typical width of the interior door is 27 inches.
Pros
Push-to-lock wheel brakes
The carbon steel frame is lightweight and durable
Attractive silver vein finish
Padded armrests
Flip back arms (removable)
Designed to avoid seat guides
Swing away or elevating footrests
Easy-clean, nylon upholstery
Easy to maintain
Optional arm styles and front rigging available
Easy storage and transport: folds to a compact size
Large, 8-inch front caster wheels
Cons
No tip bar
No elevating leg rests
4. Drive Medical Silver Sport 1 Wheelchair – Top Choice
#Affiliate links.Last update on 2023-12-02 at 10:28
The Drive Sport is a small wheelchair with a seat width of 18 inches and just over 24 inches of total width allowing for the wheels. With full armrests, push-to-lock wheel locks, and a solid frame, passengers will feel safe when they travel or transfer in and out of the chair.
Users describe it as comfortable and easy to move around in, although its sturdy design may make it heavy to lift into a car.
Pros
Sturdy steel frame
Composite wheels included
Push-to-lock wheel locks
Full, padded arms
Swing-away footrests (removable)
Folds up to a quarter of its full size
Carry pocket on backrest
Closed width only 11 inches
For transport and storage, the back canes fold down
Good value for money
Cons
Not height adjustable
Footrests can't be elevated
Armrests are fixed
Armrests are two inches narrower than the seat
5. Drive Medical Rebel Lightweight Wheelchair – Easy Storage
#Affiliate links.Last update on 2023-12-02 at 06:13
The Rebel Lightweight Wheelchair by Drive Medical is no compromise if you need a small wheelchair that is both strong and portable. The lightweight design uses quality materials and at the same time offers excellent maneuverability.
Quick-release on the large rear wheels, a foldable back, and removable footrests allow for easy packing along with. To make transfers simple, the armrests can be lifted up. This wheelchair is an excellent choice if you leave home and get out and about often.
Pros
Indented armrests for an easy fit under a table or desk
Removable, swing-away footrests
Armrests flip up for transfers
Push-to-lock wheel brakes
Back and frame of chair folds compactly for storage and transport
Rear wheels release easily and without tools
Carries up to 300 pounds
Cons
No safety belt attached
Footrests are not liftable
6. Medline Lightweight and User-Friendly Wheelchair – Practical and Sturdy
#Affiliate links.Last update on 2023-12-02 at 13:26
This well-built, lightweight model is a great option for someone working from home or needing to get about in the workplace.
To transfer in and out of the chair the footrests can be swung away. The armrests are indented to fit under a desk or can be flipped back completely. When sitting all day in this chair, the breathable and washable nylon cover is a relief. Taller people will appreciate the backrest which can be lowered or raised.
Pros
Recessed, flip-back armrests
Swing-away, detachable footrests
Durable, breathable nylon upholstery
Mag wheels with smooth-rolling, solid urethane tires
300-pound weight capacity
Weighs 33 pounds (without leg rests)
Four seat options available from 16 x 16 to 20 x 18 inches
Back tippers, full-length armrests, and adjustable seat back and arms
Cons
Footrests do not elevate
Not as lightweight as other models
7. Medline Lightweight Transport Wheelchair – Easy to Handle
#Affiliate links.Last update on 2023-12-02 at 10:28
The Transport Wheelchair from Medline is a versatile solution for moving patients around indoors or when out and about.
This narrow wheelchair folds down compactly for convenient transport, is light enough to easily carry, and has comfortable upholstery. The fitted seatbelt secures the passenger when going up or down slopes.
Large 12-inch rear wheels roll well on uneven outdoor surfaces. For transfers in and out of the chair, loop-lock handbrakes hold the wheels in place.
Pros
Portable back folds down
Full-length permanent armrest
Loop-style manual handbrakes
Detachable footrests
Seat belt
Comfortable nylon upholstery
Powder-coated aluminum ultralight frame
300-pound weight capacity
Cons
Footrests can't be elevated
Construction is not as robust as other models we reviewed
Choosing Narrow Wheelchairs for Tight Spaces
A basic decision involves choosing either a self-propelled manual wheelchair or a medical transport chair that is used by a caregiver when an individual is unable to do so by themselves. When there is insufficient maneuvering room through doorways and narrow passages, a transport chair may also be called for.
What to Consider When Buying a Narrow Wheelchair
Start by clarifying your basic requirements.
Choose a wheelchair for able users going through passages and doorways that allow sufficient room for wheels and the user's hands. Otherwise, you will need a transporter chair with handles for the caregiver.
Ensure the seat width, seat height and seat length match the passenger's body size. If necessary, take measurements from another chair in current use. You should also check how wide the wheelchair is. The standard interior door width is 28 inches, therefore, the ideal wheelchair width would be less than 27 inches.
If the chair needs to be folded and transported, then a lightweight model offering easy storage and transport is best.
Chairs to be used in bathrooms or other demanding situations should be easy to clean and not suffer after water exposure. Otherwise, you could also consider a specially designed shower wheelchair.
Comfort, usability, and design style are personal preferences that you should also take into account when making a selection.
Depending on the abilities of the user and the intended use, different wheelchair safety features are important.
Locking brakes are a necessary feature to assure safety and stability when getting in and out of the wheelchair.
Hand-operated brakes allow a caregiver to safely descend slopes and ramps.
A seat-belt may be necessary on slopes or irregular terrain.
How to Choose the Best Narrow Wheelchair
Taking into account the considerations listed above, you should also ask yourself:
Will the chair be in use long-term or is this for an interim need?
Can the chair be adapted to changing needs or for other users?
What modifications may still be necessary for your home?
What safety features are needed for your situation, such as a seat belt or removable arms?
What are the terms of the warranty and returns policy?
What's the Best Way to Use Your New Wheelchair?
Before heading out with a new slim wheelchair it's advisable to spend some time training and practicing, in particular using the brakes. Otherwise, slopes and obstacles can pose a serious risk.
Also, a narrower chair may be less stable than a previously used model and might take a bit of getting used to.
If this is the first time a small wheelchair is used around the house, then a risk assessment should be carried out.
Edges and steps may need a small barrier and any obstacles higher than half an inch should be fitted with a small ramp.
Conclusion
Finding the right mobility solution in the home or wherever a slim wheelchair is needed is a matter of comparing design features and applicability to you. But it's also important to remember the most important goal: get the most mobility possible. The small wheelchairs included in this review can help with that.
We took a close look at wheelchairs for narrow doorways and particularly looked for lightweight workhorses that ensure comfort and excellent mobility in different situations. The wheelchairs we recommend overall are the Drive Medical Blue Streak Wheelchair and the ProBasics Aluminum Transport Wheelchair.