If you are not new to the world of mobility aids, you may have come across some products from Nova. As one of the best wheelchair brands, Nova produces a few wheelchairs and among them, Nova lightweight transport chair is one of the most popular models.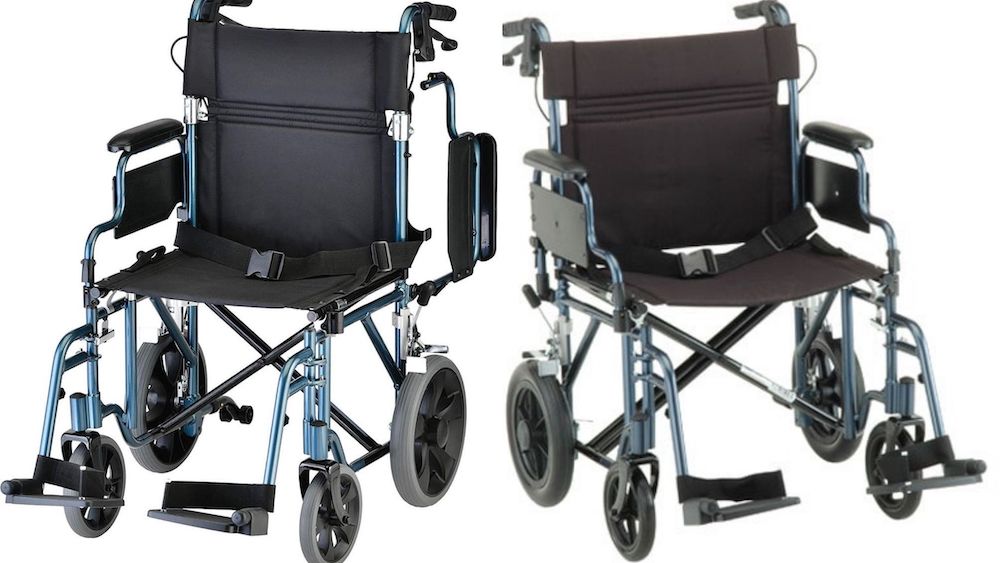 In short, Nova 352 lightweight transport chair is a sturdy transport wheelchair that is made out of high-quality materials and includes a lot of safety features. It is good for both indoor and outdoor use. However, we don't recommend purchasing it for people who are too tall or too heavy than average.
Below we will explore more details about this chair and you will know better why we decide to include this chair into our list of best transport chairs.
Pros and cons
Pros
It is very safe. This transport chair comes with handbrakes, anti-tippers, safety belts, and wheel locks to make sure you stay safe while riding on bumpy roads.
Lightweight. Weighs in 27.1 lbs, it is easy for caregivers to push it forward.
Removable armrests. This makes the patient transfer much easier and it fits perfectly under the table.
Foldable. It can be easier to fold down into a small size and you can place it into most trunks.
Durable. It is definitely a mobility aid that can last for years. Made with strong aluminum, it can bear up to 300 lbs.
Cons
Pricy. Compared to some basic models, you have to invest spend some extra dollars.
Not for too tall or too healthy people. Both the seat width and seat height are not adjustable.
Not for long trips. The non-adjustable back angle makes it uncomfortable to sit for too long.
Specifications of Nova Lightweight Transport Wheelchair
| | |
| --- | --- |
| Weight Capacity | 300 lbs |
| Product Weight: | 27.1 lbs |
| Color | Black, Blue, Purple, Red |
| Seat Width | 18.5″ |
| Floor To Seat Height | 20″ |
| Footrest Type | Swing-Away |
| Armrest Type | Removable |
| Frame Material | Aluminum |
| Assembly Required | No |
| Foldable | Yes |
Features and Benefits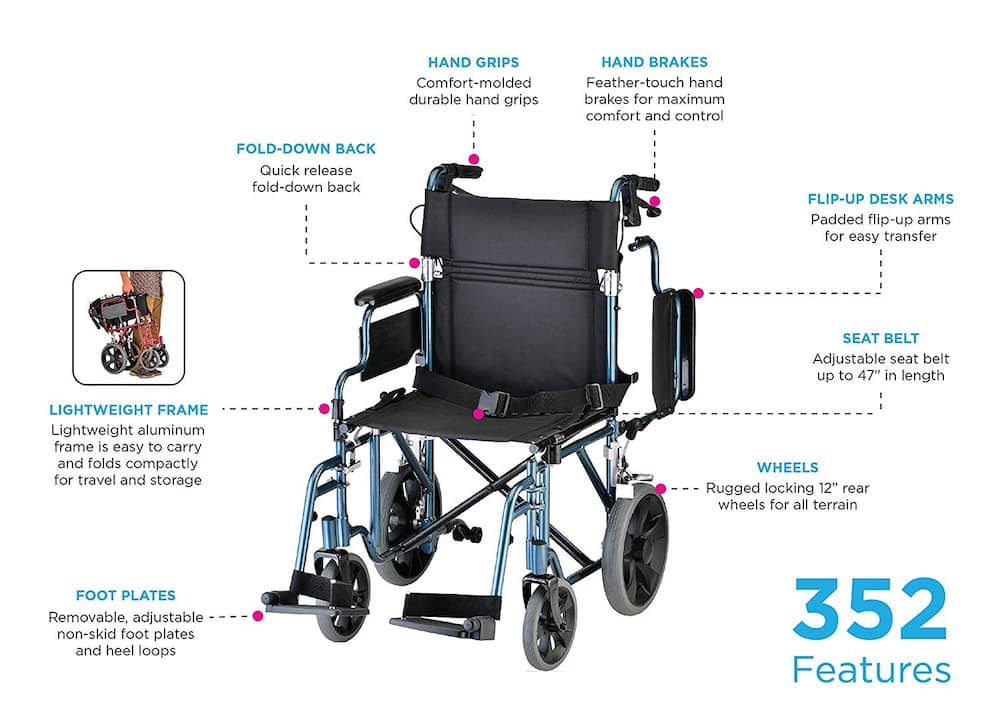 As a high-end transport chair, Nova lightweight transport wheelchair comes with a lot of useful features. Read on to know why this chair is so popular even though it is not pocket-friendly.
Sturdy and lightweight aluminum frame
We reviewed a few ultra-lightweight transport chairs on our website. To be honest, this Nova lightweight transport chair is not as lightweight as some models. However, the 27.1 lbs overweight ensures it is still a good one to go.
We like the frame as it is well made of high-quality aluminum and it is something that will last for a long time. As for the weight capacity, it will bear up to 300 lbs which is enough for most wheelchair users.
Great maneuverability
What makes this chair stand out is its maneuverability. It boasts an 8″ front wheel and a 12″ rear wheel, meaning that it will bring you a smooth ride even on bumpy roads. It also performs well indoors even for small corners.
While caregivers may need to push harder when riding on the carpet, this chair works wonder on most terrains.
For those who want to travel abroad, this chair is a good companion. It will help you reach most of the beautiful spots effortlessly. (Check our recommendation for vacations with little walking).
A real safe wheelchair
Safety is always the primary concern for most customers, not to mention wheelchair users. Different from some basic models, this Nova lightweight transport chair is full of useful safety features.
It comes with companion hand brakes so that caregivers can control and stop the chair immediately whenever there is a danger. The hand brakes are ergonomically designed which means carers can handle them effortlessly.
It also features removable armrests which are great for patient transfer. You will never worry about getting hurt while getting in and out of this wheelchair.
For added safety, Nova also includes anti-tippers and secondary wheel locks in this chair. These work with seat belts together to ensure you are secure and safe while sitting in this chair.
Good portability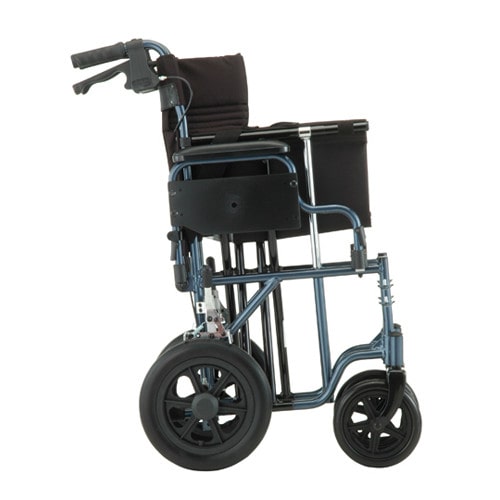 Even though it is not the lightest option, Nova lightweight transport chair is still famous for its incredible portability.
Thanks to its quick-release fold-up back, folding and unfolding it is a breeze. The anti-tippers, footrests are also removable, and even better, they are supremely easy to put back.
It can be folded into a small size, ensuring it can fit small spaces such as the truck of your car.
Comfortable wheelchair for short trips
We can tell this manufacturer designed the Nova transport chair with comfort in mind. The padded upholstery is firm and breathable. You will not see many tears and wears even after a few years of use.
The padded armrests help to relieve pressure and can fit well under the table, allowing you to enjoy dinner as others do.
We also like the footrests of this transport chair as they are adjustable and easy to remove. Plus, each footrest has a strap to help users control their feet. On the back of this chair, there is a pouch for you to store personal items.
However, the angle of the backrest is not so good and can't be adjusted which may cause pressure and strain for users who spend hours in the chair.
Therefore, we recommend this Nova chair for short trips only.
A good fit for most users
When you consider buying this chair, we suggest you check the dimensions carefully. You may have noticed that both the seat height and seat width are not adjustable.
While the 20″ floor-to-seat height and 18.5″ seat width can cater to most people, it may not be a good fit for a tall or large man.
High price tag
Yes, Nova 352 lightweight transport chair is more expensive than some models we reviewed before such as Carex transport chair and Drive Medical Fly Lite Ultra Lightweight Transport Wheelchair, but when you look at the workmanship and their extra features, you are likely to think it is a good buy.
However, for those who only need to use a transport chair for a short time or don't care too much about bells and whistles, you can find some cheaper alternatives or even buy a second-hand one.
Limited lifetime warranty
Nova is a well-known and loved mobility aid supplier, you can rest assured their reputation of quality. It provides a limited lifetime warranty for the frame and 5 years warranty for the handbrakes. Other parts will get a 1-year warranty. You can find more information here.
Their customer service has proven to be great and they also provide a useful video guide for your reference.
Who Should Buy The Nova Lightweight Transport Wheelchair?
Perhaps the most striking advantage of this Nova lightweight transport chair is that it is incredibly safe to use. Anti-tippers, rear wheel locks, hand brakes, and seat belts help to prevent falls and other hazardous situations. Therefore, it is one of the best choices for users who need more safety.
For those who like to travel around, this chair is also a sure bet. Thanks to its 12″ rubber rear wheels, the chair is stable even on bumpy terrains. Caregivers can push the chair to parks, beaches, or forests without taking too much effort. Add to that the chair is lightweight and easy to fold and open, and your journey will not be affected by using a wheelchair.
However, this chair is the luxury car of transport chairs, meaning that you have to invest a bit more money upfront. But we think it will end up save more money for you as it is a long-lasting mobility aid for your daily life.
Nova Lightweight Transport Chair Alternatives
1. Drive Medical Lightweight Expedition w/12″ Rear Wheels Transport Chair
This transport chair from Drive Medical looks similar to Nova transport wheelchair 352 but comes with a lower price tag.
Featuring 12″ rear wheels, it allows you to enjoy a smooth ride on different terrains. The same as Nova one, the frame is made out of aluminum and the overall weight is only about 22 lbs. It also could hold up to 300 lbs and caregivers can operate the chair with handbrakes.
However, different from the Nova lightweight transport chair, this model doesn't come with anti-tippers for added safety. As for the footrests, they don't have a strap for users who can't control their feet.
If you need to get help to get in and out of the chair, the fixed armrests could cause some problems.
2. NOVA Heavy Duty Bariatric Transport Chair
Also from Nova, this transport chair could be treated as a special version of Nova lightweight transport chair for bariatric.
This model shares almost all the features with Nova 352 except for the weight capacity, seat width, and seat depth.
Aiming at providing transport solutions for people with obesity, it can bear up to 400 lbs and seat width and depth have been increased to 21.5″ and 16″.
We mentioned in this review that Nova lightweight transport chair 352 is not for people who are too tall or large, this would be a great alternative if you are looking for a product with the same quality and design.
Wrapping Up
Nova lightweight transport chair 352 is a great transport chair for those who are not on a budget and looking for a high-quality transport wheelchair for both indoors and outdoors.
We like the workmanship and its safety features, allowing people with limited mobility are able to enjoy a smooth and secure ride whenever they want.
Even though it is not an ultra-lightweight option, lifting and folding it will not be a chore for caregivers. Moreover, they will like the removable armrests of this chair which make the transfer a breeze.
Hope you get some useful information from our Nova lightweight transport wheelchair review.