If you are bed-bound, there must be lots of things or activities you still want to do such as eating, reading, or playing games. You may think it is hard to achieve but we have a solution for you – an overbed table.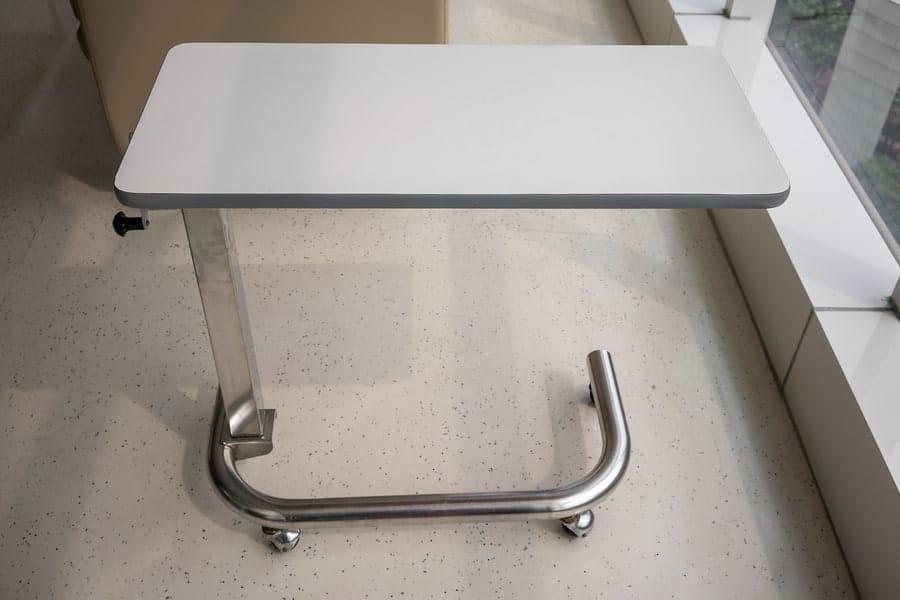 It is definitely an essential item that you need during long periods of bed rest and we have come up with a list of the best ones.
Our Picks for Best Overbed Table For Elderly and Bedridden
If you only need to use it occasionally, then the table from Drive Medical is good enough. However, if you need to stay in bed for a longer time, the overbed table with tilt would be a better choice. If you are short of time, you can jump into the 3 tables in the chart below.
Best Budget Option
Drive Medical 13067 Adjustable Non Tilt Top Overbed...
Best Overbed Table With Tilt
Vaunn Medical Adjustable Deluxe Tiltable Overbed...
Best Full Bed Model
UNKU Overbed Table Laptop Cart Laptop Table- Fit...
Best Budget Option
Drive Medical 13067 Adjustable Non Tilt Top Overbed...
Best Overbed Table With Tilt
Vaunn Medical Adjustable Deluxe Tiltable Overbed...
Best Full Bed Model
UNKU Overbed Table Laptop Cart Laptop Table- Fit...
#Affiliate links.Last update on 2023-09-22 at 07:05
Best overbed tables reviewed
To make it easy, we have reviewed the best models in the market. Just keep reading, you will know more details about these tables.
1. Drive Medical Non-Tilt Top Overbed Table – Best Budget Option
#Affiliate links.Last update on 2023-09-22 at 07:05
This non-tilt overbed table by Drive Medical is one of the best and popular overbed tables for seniors in the US. If you are on a budget or don't need any bells and whistles, this product could be a suitable choice.
It provides you with a leveled flat surface and the height can be easily adjusted from 25 to 45 inches with just a slight upward or downward push.
In addition, it has an H shaped base with 2 swivel locking caster wheels for easy movement and stability. Having a laminate finish with round edges makes it very easy to clean.
The product dimensions are 30 x 15 x 28 inches and weighs only 20 pounds. It comes in two colors: silver vein as well as chrome. However, the weight capacity is relatively low which is 40 lbs.
Watch the video below to know how to install this item.
Pros
Easy cleaning
Affordable
Easy assembly
Very easy storage; folds under the sofa and bed
Sturdy and stable
Cons
The caster wheels are not very carpet friendly
Things slip off; no lip around the edges
It is not a good table for reading or watching movies.
2. Carex Overbed Table – Best Hospital Bed Table
#Affiliate links.Last update on 2023-09-22 at 07:05
This rolling overbed table with a flat surface by Carex is an ideal choice for those who enjoy reading books, eating, writing or computing in bed. The best thing about this table with wheels is that it works for bed and almost all wheelchairs. As a result, you can easily convert the table top from right to left depending if you are left or right handed. It is often recommended by doctors and similar to what you see in the hospital.
Furthermore, the product dimensions are 20.2 x 33 x 23.2 inches and weighs only 31 pounds. It is steady which has a weight capacity of 50 lbs with an ABS plastic table top.
Moreover, it rolls easily with caster wheels and has a height adjustment option of 23 to 38 inches. It may look too medical for you and a bit hard to blend with your decor.
Pros
Easy assembly
Easy to clean
Well-designed
Steady and sturdy
For right and left-handed people both
Cons
Hard to fit with your other furnitures.
No tilting table top
It is expensive
3. Vive Overbed Table – Best Large Model
#Affiliate links.Last update on 2023-09-22 at 07:05
This overbed table by Vive is designed for most beds. Having an extra large table top with wood grain laminate surface, making it a good choice for bedridden people who want to put a lot of things on the bed.
It is also perfect for any seat like wheelchair, sofa or recliner. Moreover, the steel frame makes it extremely durable and corrosion resistant. It also has one-touch easy height adjustment options between 28-39 inches.
The weight capacity is 50 lbs. Overall, it's a great solution for your mealtimes and daily life activities.
Pros
Sturdy and stable
Easy to assemble
Corrosion resistant steel frame
Safe locking wheels
The lip around the perimeter prevents sliding of things
One touch height adjustment
Well-constructed
Simple to move around
Lifetime Guarantee
Cons
Height not tall as compared to other items.
4. Vaunn Medical Adjustable Bedside Table with Wheels – Best Overbed Table With Tilt
#Affiliate links.Last update on 2023-09-22 at 07:05
The table has dual table top tilt option which can be tilted in a number of flexible positions as well as directions. It consists of two parts and each part can be tilted by turning the control knob.
The product dimensions are 26.5 x 15.5 x 47 inches while it weighs only 22 lbs. The dimensions of tabletop are 30″ x 15″. Plus, the smaller tray is 7.5″ x 15″. Having a weight capacity of 40 lbs, you can enjoy reading and eating together on a laminate wood-grained top.
The sturdy steel heavy-gauge construction makes it durable for ages. It is highly recommended by doctors for your home and hospital usage.
Pros
One-year warranty
Easy cleaning
Durable
Tilting top
Locking wheels
Cons
5. Best Over Bed Table™, 360° Swivel by Kist – Best Laptop Overbed Table
#Affiliate links.Last update on 2023-09-22 at 07:05
A large overbed table by Kist is something that you will love as it provides you with extreme convenience. Firstly, it is very easy to use with an adjustable tilt of 360 ̊, unlike other table tops.
Secondly, it offers the largest tabletop surface area with dimensions 42.56″ x 17.7″ x 30-45" that can be tilted.
It also has a fixed table top for keeping your food items while you enjoy reading a book or watching a movie. Also, the height can be adjusted from 30 to 40 inches. This heavy-duty overbed table is made from durable products and offers a weight capacity of 80 lbs.
The product dimensions are 37.2 x 26.4 x 45.8 inches and weigh 42 pounds. All in all, it is a top-quality product in the market and a must-have for bedridden or seniors who need to use laptop from time to time.
Pros
Lifetime guarantee on all parts and components
Durable
Ease of use
Very sturdy
Easy to assemble
Well made from high-quality materials
Cons
6. Goplus Adjustable Overbed Table
#Affiliate links.Last update on 2023-09-22 at 07:05
This bedside table by Goplus is multifunctional. You can use it in your living room and bedroom and comes in two colors: yellow and grey. The tilting spacious table top has the dimensions 16"x24" and is made of high-quality PVC and MDF that could last for years.
In addition, the table height adjustment ranges from 27″ to 44″, providing you with the most comfortable sitting or lying down position. The H shaped steel base adds to its stability.
This table is safe to use as the wood table top have round corners that prevent you from any accidental injury. The 4 caster wheel with locking system makes it easy to maneuver for people with limited mobility. It weighs 19 pounds only.
Pros
Sturdy and durable construction (PVC and MDF)
Lockable and tilting table top
It is affordable
Stable with an H-shaped steel base
Easy to use
Easy assembly
Safe locking caster wheels
Cons
No easy storage; It does not fold
Small table top surface area
7. Dline Overbed Table – Best Full Bed Model
#Affiliate links.Last update on 2023-09-22 at 07:05
This Dline large overbed table offers a broad table surface area with dimensions 55.1 x 17.7 inches. It comes with height and length adjustment options: length up to 55'' and height 21-36''. It's a large heavy duty overbed table that has a weight capacity of 330 lbs.
The overall product dimensions are 55 x 17.7 x 21.6 inches and weigh 55lbs. The steel construction with an H shaped base makes it very stable and sturdy. Also included are four 2''caster wheels making it easy to move around even on carpet.
All in all, it is an excellent choice for all those people who spend a large time in bed. In fact, you can use your laptop, phone or turn on a desk lamp as it comes with 2 both sides wire holes.
Pros
24/7 customer support service
Carpet friendly wheels
2 wire holes
Large surface area
Scratch proof table top
Fits many mattress sizes (Twin to California king)
No items slip off because of the raised back edge
Cons
Large clearance around bed needed for it to work best
What to consider when buying overbed tables For Seniors
Some of the things that you need to consider before buying an overbed table:
Size
Table usability
Your room size
Bed dimensions
Height range of the table
Tilting feature
Storage is also important to consider: if the overbed table folds easily, it is easier to store under the bed.
Types
An overbed table with a tilt-top allows to you read perfectly at any angle you want. Also, they are practical for using your tablets or smartphones.
A flat surface overbed table is ideal for those people who want to enjoy activities like playing cards, table games, eating as well as writing in bed.
Touch overbed tables allow you to adjust the height with a single touch. Also, it comes with torchlight and many other features like cup holders.
Overall, it completely depends on the choice and preference of the individual. Some people prefer a tilting tabletop for reading at different positions while others only intend to use it as a serving table only.
Some common features that best overbed tables have
Although all of the overbed tables serve the purpose of the table, there are many other common features that make them similar.
They are made of C, U and H shaped base for better stability.
Most of the overbed tables have locking caster wheels to lock the table at one position.
Almost all the table top has an easily cleanable surface made of wood grain or plastic.
They have height adjusted options to adjust the table top according to your bed size and sitting position.
Benefits of Overbed table
The overbed table is an essential thing that you need to buy if you are bedridden. Below are some of the benefits of using an overbed table:
It increases the independence of the bed-bound patient.
Some overbed tables come with a storage drawer.
Overbed table with an LED torch light allows you to read books, magazines, newspapers etc even at night or dim light
An overbed table with a built-in switch or USB port option makes it very convenient for the patient to charge their mobile phones or laptop.
There are so many situations in which an overbed table will help you. Recover safely from your surgery by using an overbed table that avoids major lifting or bending.
It is also very helpful during bed rest after hemodialysis, chemotherapy, or pregnancy.
Overbed table increases your comfort level and also acts as a laptop or work table where you can surf the web, make business deals while lying in bed.
Another great benefit is that you can move it anywhere you like around the house.
Safety tips for using an overbed table
When you use an overbed table, make sure you follow these safety tips:
Always be sure that the locks or brakes are on to avoid movement of the table from its position and items slip off.
Make sure that you remove the overbed table before going to sleep.
Be very careful when you put hot beverages on the table.
Conclusion
In conclusion, an overbed table is useful to people with limited mobility, injured or harmed by some medical condition, or those who like spending more time in bed. It serves as a multi-function table for all age groups.
In addition, a good overbed table will allow you to eat, play, and work without leaving your comfy bed. As a result, you can recover safely with an overbed table.