Buying an electric wheelchair is even more complicated than buying a manual one as there are more metrics waiting to be taken into account. The Pride Go Chair is a popular model in the marketplace but you may not be sure how to look at these specifications.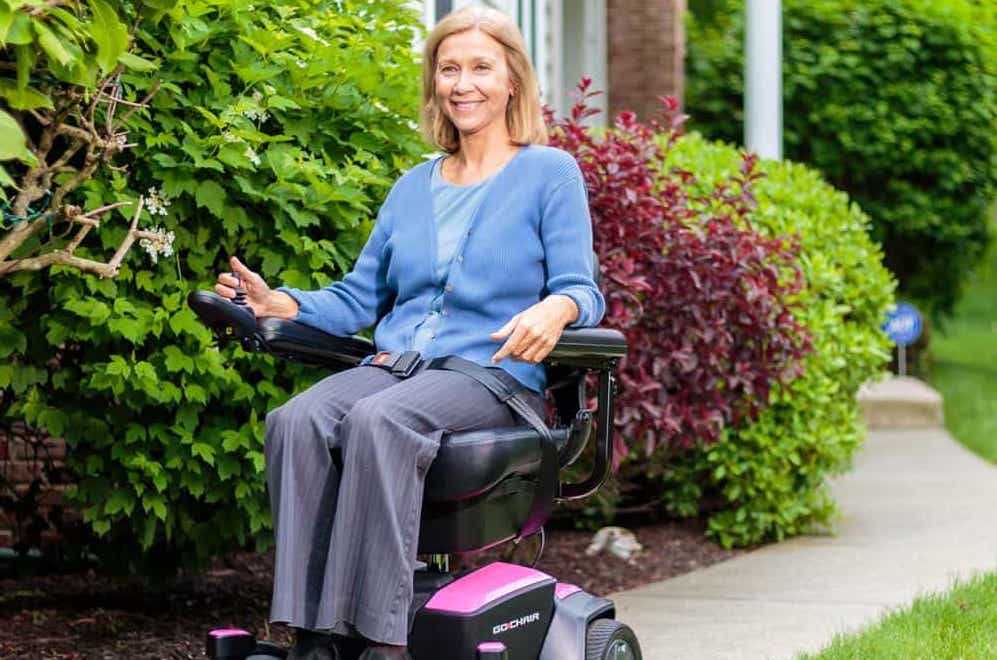 In this Pride Go Chair Review, we will provide and explain every piece of information you need to know about this electric wheelchair.
In a hurry? Pride Go Chair is a good electric wheelchair that is easy to use, portable, and with excellent battery life. It is by no means the most powerful one, but it can fulfill the basic tasks well and comes with a fair price.
Pros and Cons
Pros
Good value. The Go Chair by Pride has a lot of useful features but comes with a relatively low price tag. It is a good choice for price-conscious shoppers.
Portable. This electric chair is not a typical "foldable chair", but you can easily disassemble it into 5 pieces and put it into the back or trunk of your car.
Easy to operate. Using it is straightforward. By controlling the joystick on the right or left side, you are all set.
Adjustable armrests. You can change both the height and width of armrests and they are able to flip back.
Impressive battery life. The chair can go up to 13.2 miles on a single charge.
300 lbs weight capacity.
It included storage bins and an accessory mount.
10 different color options to match your personality.
Compact turning radius.
Cons
The performance on bumpy roads is not so well.
The adjustability for seat height is limited.
The anti-tippers prevent the chair from climbing some inclined ramps.
The motor is not as powerful as some models.
Some assembly is required. Don't feel too apprehensive, it is easy to do.
Specifications of Price Go Chair
Weight Capacity
300 lbs
Product Weight:
128 lbs
Heaviest Piece:
36 lbs
Color
Purple, Bermuda Blue, Juniper Green,
Matte Navy, Ruby Red, Sapphire Blue,
Amber Orange, Pearl White, Citrine Yellow,
Rose Quartz.
Seat Width
18″, 20″
Floor To Seat Height
22″ – 23″
Turning Radius
25.5″
Armrest Type
Flip-up
Max Speed:
3.7 mph
Assembly Required
Yes ( it is easy!)
Disassembles:
Yes
HCPCS
K0899 (Power Mobility Device, not
coded by DME PDAC or does not meet criteria)
Features and Benefits of Go Chair By Pride
Feather-touch disassembly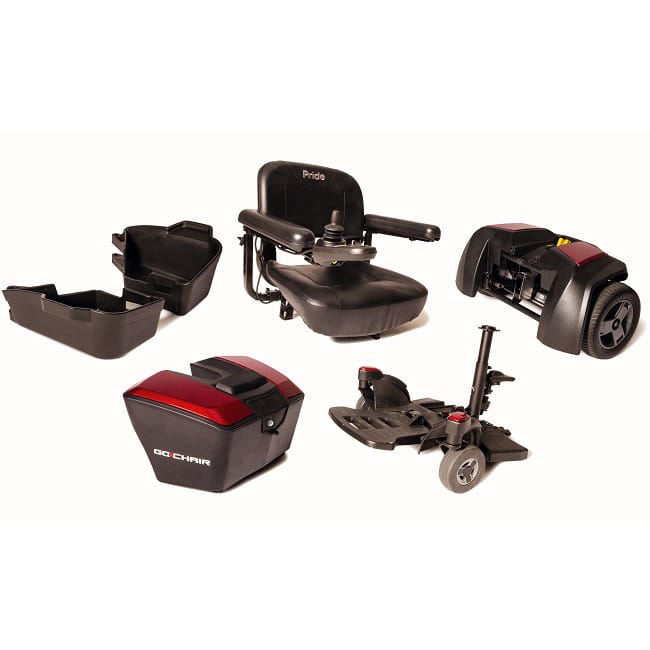 This Go Chair is made by a reputable mobility aid company – Pride Mobility.
Usually, you have to install a wheelchair carrier at the back of your car for transporting a mobility scooter or a power wheelchair. Luckily, this is unnecessary for the Pride Go Chair.
Thanks to the "feather-touch disassembly" design, which is often used in their mobility scooters, you can disassemble the chair within a few steps.
Just fold down the backrest, remove the seat, and then separate the front and rear section of the foundation, you are all set.
The overall product weight is 128 lbs, but after the disassembly, the heaviest part is only 36 lbs, making people with weak body strength being able to lift it.
It also benefits users who live in small spaces and has a small trunk of a car.
Five-point swivel seat
This is a feature that you can use when the chair is parking. By releasing the latch beneath the seat, you can swivel the seat and sit in different directions without turning on the chair again.
You will like this feature if you enjoy sun bathing or are interested in bird watching.
Adjustable armrests
Another striking advantage of this Pride Go Chair is that it boasts highly adjustable armrests.
You can change the width of armrests by loosening the knobs on each side of the seat frame. You can also adjust the armrest height in a similar way. In this way, you will feel more comfortable by getting a good posture for yourself.
Even better, the armrests are able to flip up, making people getting in and out of the chair much easier.
Regarding the joystick, you can install it either on the right side or on the left side depending on your preference.
Swing-away storage compartments
There are two storage bins just located below the seat. It features a swing-away design, ensuring you can open and close it with a breeze while sitting in the chair. That's great for carrying some personal belongings as well as protect your privacy.
If you intend to carry more things such as a cane or an oxygen tank, there is an accessory mount on the back of the Go Chair.
Extended battery life
It could be very frustrating for you if the power chair runs out of electricity on the road or have to be charged a few times a day.
You shouldn't worry about this issue as the battery of this chair can support up to 13.2 miles per charge and the maximum speed is 3.7 mph.
Note that the drive range varies according to the weight it holds. The more weight it bears, the shorter the range. The drive distance will decrease to 8.7 miles when the chair is fully loaded at 300 lbs.
Who Is The Pride Go Chair Best For?
In our view, The Go Chair by Pride could be a suitable option for everyone with average body size. This is owing to the fact that you can only increase the seat height from 22″ to 23″ and the weight capacity is 300 lbs.
For those who are frequent travelers or will go to medical appointments every so often, this chair will work wonders. With the feather-touch disassembly design, you are able to disassemble it and put it back within a few seconds. It boasts the transporting process without any hassles.
It also fits people who live in tight spaces well. As you know, the turning radius is only 22.5″, meaning that it is capable to navigate small corners and narrow doorways.
Plus, there are 10 colors for you to choose from. This is great for people who like something beautiful or can match their personalities.
Pride Go Chair Alternatives
1. Golden Technologies New LiteRider Envy Power Wheelchair
Golden Technologies is another well-known wheelchair brand and we reviewed its lift chairs before.
This LifeRider Envy Power Wheelchair is very similar to Go Chair with only a few differences. They stay in the same price range, have the same weight capacity, and can disassemble into easy to manage pieces. It is a proper motorized wheelchair for travel.
In terms of differences, the drive range of the LiteRider Envy is 15 miles which are slightly longer than the Pride Go Chair, but the maximum speed is 3.5 mph which is a bit lower than Go Chair.
The turning radius of this chair is 28.5″ whereas the radius of the Go Chair is 25.5″. This could lead to an issue for some users.
Instead of storage bins, the LiteRider Envy uses a big basket to carry items. It offers bigger spaces but sacrifices some privacy protection.
Otherwise, both of these 2 models are awesome options.
2. Drive Medical Cirrus Plus Folding Power Wheelchair
The Cirrus Plus power wheelchair from Drive Medical is also a chair in the same price range.
Different from the Go Chair, Cirrus Plus looks like a normal manual wheelchair with the typical footrests. Some users will prefer a pair of footrests to a footplate. Plus, just like a normal wheelchair, it is also foldable.
Aside from that, the maximum speed is 5 mph and the drive range is 15 miles. In general, it is more powerful than the Go Chair.
However, this chair has some limitations as well. It doesn't employ a disassembly design and the heaviest part is 90 lbs, making it hard for some seniors or women to lift. The turning radius is also larger than the Go Chair which is 30″, which results in some difficulties for people who have to go through small doorways.
Conclusion
We have tried to explain every feature in a simple way in this Pride Go Chair review. We love this chair given that it is cost-effective, easy to maneuver, has a compact size and is quite portable. While it is not a heavy-duty option for outdoor use, it is good enough to fulfill basic tasks in your daily life.
It will save much effort for you thanks to its feather-touch disassembly design and battery capacity is great without concerns of it power off in a short time.
People who think their old mobility scooters are too bulky to navigate in the house will also like it as it has better maneuverability due to its smaller turning radius.
However, investing in an electric wheelchair will cost you a lot and the HCPCS code of the Go Chair is K0899 which is not coded by DME PDAC.
If you want to save more, you can also choose to buy a used wheelchair or get a free wheelchair from some organizations.