Wheelchairs are a necessity of life for many people but are often very expensive. Indeed, they are often too expensive for many people to afford a new one all the time. Perhaps your wheelchair broke at a point when you don't have the savings on hand, or perhaps the type of wheelchair you need costs thousands of dollars when new.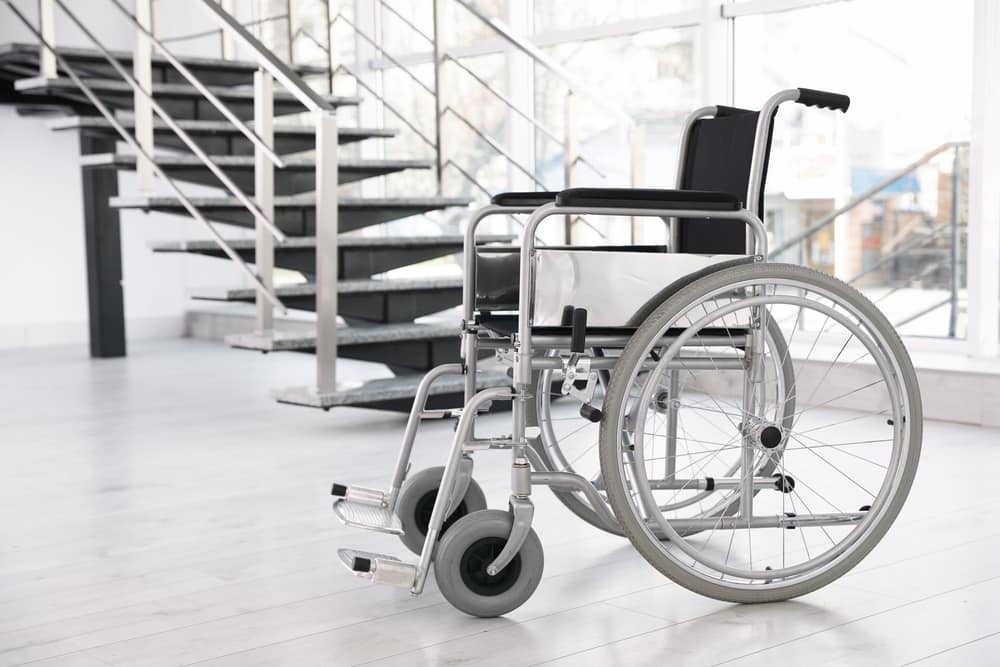 This buyer's guide will go over everything you need to know while looking for used wheelchairs for sale.
How Much Should a Used Wheelchair Cost?
The many different kinds of wheelchairs cost vastly different amounts. This is true of both new and used wheelchairs.
And as we'll see, there's always an additional variable when you're buying a used wheelchair: the condition of the chair. A chair that's almost new will of course cost more than one that has seen heavy usage in the past.
For that reason, the figures in this section have to be taken with a grain of salt but can be used as general guidelines.
Manual Wheelchair
A standard manual wheelchair usually costs between $100 and $500 new, so you can usually find used manual wheelchairs for significantly less than $100. The higher-end used models can go for $200 or $300.
Transport Chair
On average, transport chairs cost less than manual wheelchairs because they are made of simpler and less strong parts. Most basic transport chairs cost around $100 new, although there are models with additional features (like being able to be folded or more comfortable seating materials) that cost significantly more.
Used transport chairs are often available for as little as $20 or $30.
Electric Wheelchair
Electric wheelchairs are the most expensive type of wheelchair. There's a wide range in how much they cost, with the cheapest models able to be found at around $1000 and the most expensive at over $15,000. The average cost, however, is between $2000 and $3000.
There's quite a large market for electric wheelchairs. Generally, an electric wheelchair will lose about 50% of its original sticker price when it is resold. So, a $3000 electric wheelchair will cost around $1500 on the resale market.
What to Consider When Buying a Used Wheelchair
There are two main factors to consider when buying a used wheelchair: the condition of the product and whether or not the size will work for you.
The Condition
Like buying a used car or anything else second-hand, it's important to check out the condition of the wheelchair you're looking at buying. You want to examine the amount of wear and tear across the entire wheelchair—don't just check whether the tires are in good condition or not!
You also want to check out all of the moving parts to see if they're at risk of breaking soon. Another thing to look at is whether all the screws and bolts are secure and, if they're not, that you can tighten them properly. Stripped screws and bolts can be difficult to replace and cause big problems.
If you're buying a used wheelchair online, you likely won't get a chance to inspect it before buying. Make sure you do your research into the seller to find out whether the claims they make about the condition of the used wheelchairs they're selling are accurate.
The ideal situation is to find a seller with a good return policy so that you can send it back if there are issues.
Does It Fit?
Wheelchairs come in different sizes that will fit people of different body types. Depending on your height and build, certain wheelchairs may not work for you. If you already know the size of the wheelchairs that are an option for you, it will be easy to disregard those that you know are too big or small.
If you aren't aware of the ideal size of the wheelchair for you, visit a doctor or physical therapist to find out.
Where Can I Find Used Wheelchairs for Sale Near Me?
There are many options for finding used wheelchairs for sale.
In-Person
It's usually best to buy a used wheelchair in person because you can inspect it. However, it can sometimes take some time to find a good one for a good price.
Yard Sales
You can often find used wheelchairs at yard sales. When someone upgrades their wheelchair, they often try to sell the old one.
Thrift Store
Another place that old wheelchairs often end up at is thrift stores. It's most common to find manual and push wheelchairs at thrift stores. Some people prefer to just donate them here.
Medical Equipment Liquidation Sales
Check out local medical supply companies to see when they're getting rid of extra inventory. You might be able to get a used wheelchair that's being taken out of service from a hospital or nursing home.
Auction Houses
It's common for auction houses to sell wheelchairs in the context of estate sales. When a wheelchair user has passed away, their family will often put the entire estate up for sale through an auction house.
Just make sure that you don't get too excited in the auction atmosphere and overbid.
Craigslist
Craigslist is a great resource for finding second-hand wheelchairs because they have many options and you're often able to examine them before you buy.
Amazon
Most of the wheelchairs that you'll find on Amazon are new, but there are occasionally good deals on used wheelchairs.
Sometimes, a wheelchair model will have an option to buy an 'open box' model. This means that the wheelchair has suffered some minor damage but is still in pretty good condition. You can score major discounts by keeping an eye out for when these come up.
Summing Up
With just a little bit of work, you shouldn't have much trouble finding a used wheelchair for sale near me. If you have the time to shop around for a good deal, you'll be rewarded with a great wheelchair and great savings.