Knee massagers are useful for a myriad of people. According to the CDC, at least 50 million adults in the US annually suffer from some form of rheumatoid arthritis or arthritis. However, this problem is most significant among adults aged 45 to 64 years, the senior citizen category.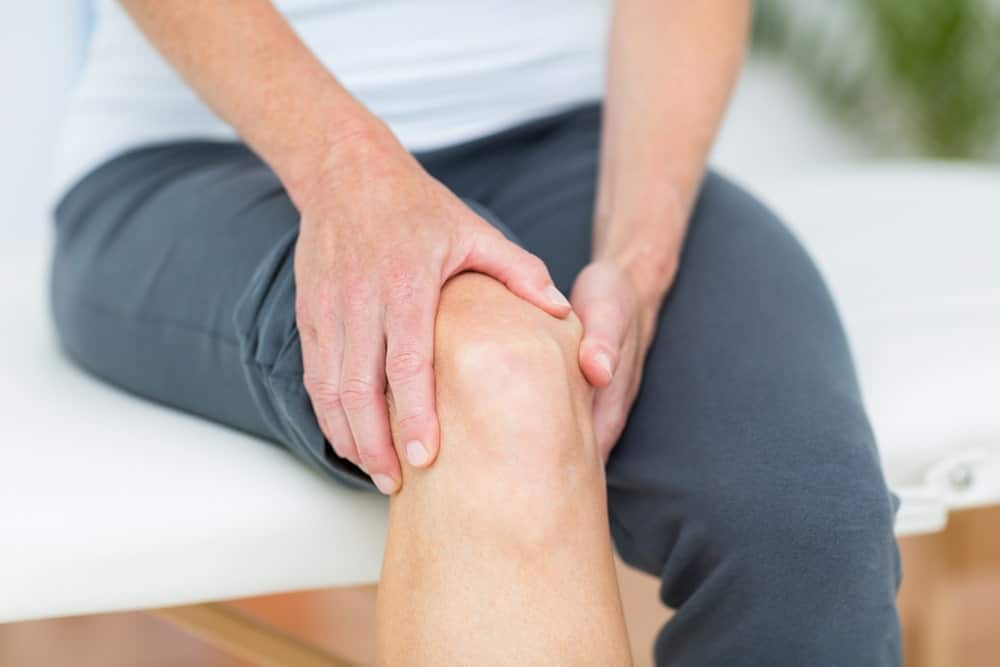 Apart from arthritis, knee pain is also a common result of surgery aftermath or sporting injuries. Some of the best methods to tackling knee pain are stroking, kneading, applying heat or cold, and manipulating painful tissues and joints.
This is where a knee massager comes in handy. A knee massager can perform all the above methods in one sitting. This article will discuss the best knee massagers and look at how to purchase one.
If you're in a hurry, here is our pick of the best knee massagers today.
#Affiliate links.Last update on 2023-12-02 at 15:36
7 Best Knee Massager — Get Rid of that Knee Pain
1. Comfler Heated Knee Brace Wrap — Best Knee Massager Overall
#Affiliate links.Last update on 2023-12-02 at 15:36
The Comfler Heated knee brace wrap is one of the best and most popular knee massagers in the market. It comprises two easily adjustable wraparound braces. Thanks to the adjustability of its Velcro® straps, the braces can fit anyone perfectly. The straps also ensure that the brace doesn't fall off during use.
Another notable feature is its velvety-soft material that helps make the braces very comforting against your skin.
The brace set is equipped with five massage modes and four motors. The five massage modes are; wave, quick pulse, pulse, continuous, and the combination setting. It also comes with a two-setting heating function, making the massager a versatile experience.
Each of these massage modes and heating functions helps relieve pain with or without heat. We also like that the heating pad has an auto shut-off function. This makes this knee massager safe to use for seniors or people with dementia.
Pros:
Five massage modes.
Comfortable.
It can heat up efficiently and quickly.
Powerful and versatile unit.
Cons:
The device isn't machine washable.
It is a bit bulky.
2. FIT KING Heated Knee Massager — Best Knee Massager For Arthritis
#Affiliate links.Last update on 2023-12-02 at 13:26
Sometimes, it is hard to bear the pain for everyone with arthritis. This FIT KING knee massager is a useful aid to help you alleviate the pain immediately.
Featuring 4 airbags, this massager provides air compression for your calf and thigh. This encourages blood flow and reduces swelling. Your legs and knees will feel comfortable after a few minutes of compression therapy. Plus, it has 3 modes for you to choose from.
It also comes with 2 heating pads for your knees. You can operate it separately and there are 2 levels available. Both of them are moderate.
The only downside is that it doesn't offer massage on the knees. But for most people, the airbags around the knee area are enough.
Pros:
Easy to use.
Airbags and 2 heating pads included.
Comfortable.
Cons:
The motor is not very quiet.
It is not wireless.
3. QUINEAR Knee Massager — Best High-Quality Knee Pain Relief Machine
#Affiliate links.Last update on 2023-12-02 at 13:26
This is a functional and reasonably well-built knee massager that most people are after. Honestly, it is quite similar to the model we mentioned above but has better quality.
What we like most is the airbags on the thigh and calf. With the 3 intensity levels embedded, it offers the appropriate compression therapy to smooth muscle soreness and tension. It is a great choice for you to relax and unwind especially after a day of hard work.
In addition to that, there are velcro straps on the top and bottom to ensure it can fit well regardless of how wide your knees are.
In terms of heat therapy, the heating pad works on the knees directly with 2 heating levels. It works with massage modes together to provide you a comprehensive experience.
Pros:
The compression therapy is very comfortable.
The heat function is effective and quick.
Versatile.
Cons:
The elderly may require assistance to strap on the massager.
No massage on the knees.
4. PKSTONE Knee Brace Wrap- Best Affordable Knee Massager
#Affiliate links.Last update on 2023-12-02 at 15:36
Compared to other massagers on the list, the PKSTONE brace wrap is economical. It also comes with great features that can help relieve all types of knee pain. One feature is its distinct six functionality settings: three vibration and three heating levels.
The massager's neoprene material makes it comfortable to use, and Its adjustable straps make wrapping the brace around your knee easy.
The massager has no battery, so it requires that you plug it into a power source to use. This makes it perfect for use at home when watching the TV or reading a book.
Pros:
Perfect for use at home.
Comfortable and breathable material.
Three heating levels.
Economical.
Cons:
The device is not portable.
It can take 20 seconds to warm up.
5. ZLTFashion Vibrating Knee Massager — Best Lightweight Knee Massager
No products found.
This knee massager is made using a lightweight neoprene, which provides users with a high comfort level.
Its three vibrations and three temperature settings ensure that you have nine different combinations to choose from. Choose a vibration or heat setting depending on your pain level and relieve it efficiently.
It also comes with adjustable Velcro® straps that help to secure the massager in place. You can easily wrap the device around your knee and extend it to the legs, calves, and thighs without worrying about it falling off. This feature ensures that you can massage the entire leg for ultimate relief.
Pros:
Portable.
Completely lightweight.
Multifunctional.
Cons:
According to the manufacturer, using the device for more than an hour can cause skin burns.
6. Valleywind Heated Knee Brace Wrap — Best Knee Machine for People with Large Knees
#Affiliate links.Last update on 2023-12-02 at 15:36
This single knee massager comes with two pulsation motors that help provide the massage relief manipulation your knee requires. You also get the freedom to choose between three vibration and three heat settings using its control panels.
The wide settings choice means you can choose the temperature or vibration that relieves your pain most effectively. The massager has a stretchable and light material that ensures you get a snug and comfortable fit while still massaging your joints.
Adjustable Velcro® Straps allow the brace to adjust from between 15 to 20 inches. It also comes with a reinforced loop that prevents the brace from easily slipping off the knee.
Pros:
Breathable material.
Three vibration and heat settings.
Adjustable Velcro® straps.
Cons:
Limits your mobility.
According to manufacturers, the device can cause skin burns when used directly on the skin.
7. HEZHENG Cordless Compression Knee Massager — Best Wireless Knee Massager
#Affiliate links.Last update on 2023-12-02 at 13:26
For those who want to get the massage on the go or wherever they want, this wireless knee massager is a great option.
Unlike most models we mentioned above, it comes with one unit instead of two, meaning that your knees can only get the therapy one by one. Or you can buy two but it could be very expensive.
While this model is costly, it does have more functionalities. Except for airbags and heat pads, it also includes red light therapy mode which is effective in boosting blood circulation. Compared to most models, it has more intensity levels so that you have a better chance to get the customizable therapy you want.
It is not suitable for people who have extra wide knees. The maximum diameter is 5.1 inches.
Pros:
Multifunctional.
Versatile unit.
Very portable.
It is powered by batteries.
Cons:
Expensive.
Some expect more intensive therapy.
Factors To Consider When Choosing a Knee Massager
Choosing a knee massager isn't as easy as going into the shop and picking the first one you find. Here are several factors you should consider before buying one.
Vibration and Heat Settings
Knee massagers have variable settings and you should read the instruction carefully.
In general, these vibration and heat settings have three levels. For the heat settings, you get high, medium, and low. The high temperatures range from 140 to 158 Fahrenheit (60 to 70 Celsius), medium 122 to 140 Fahrenheit (50 to 60 Celsius), and low-temperature is 104 to 122 Fahrenheit (40 to 50 Celsius).
The vibration settings are either high, medium, and low. One thing you should look out for is that you shouldn't use the highest temperature setting for an extended period, as it can cause skin burns.
Durability
Most durable knee massagers come with a washable cover that helps make the device easier to clean. Their electric components are also responsible without causing any squeaky sounds. A shortcut to know the durability is to read the reviews from customers.
Portability
It's often essential to find a knee massager that you can wear and use whenever you commute, walk, or travel. Unless you only require it while recuperating or relaxing at home, go for a portable knee massager with rechargeable batteries.
Material
A good knee massager should be comfortable and soft enough to use for at least one hour. This is where the material of the device plays a significant role. Ensure you go for a massager with a soft material like neoprene. Also, the device should come with adjustable Velcro® straps, which give the massager a snug fit.
The Brace Type
Are you looking for a one-knee brace or a massager with a set of braces? Both brace types have mains-powered and mobile options.
Single brace massagers tend to come with more advanced technology, along with a higher price tag. Twin packs can offer greater flexibility.
All you have to do with wireless braces is charge them for at least two hours, and you can wear them while out and about.
Size
Go for a knee massager that can comfortably fit your knee size without it being too tight. All products should display their size, so ensure you pay close attention to the numbers to avoid purchasing the wrong fit.
Knee Pain Conditions That Require a Knee Massager
Knee massagers aid in easing the pain that's caused by different ailments. Some of the knee conditions seniors experience include:
Osteoarthritis
According to statistics, at least 80% of people older than 55 in the US have an age-related joint disease, with Osteoarthritis being quite common. The pain from this disease is commonly felt in the spine, hips, hands, and knees. Heat therapy and massage help in relaxing the muscle, boosting circulation and lubricating the joints.
Bursitis
Bursitis is another knee condition that affects seniors, but it can also affect other ages. This condition causes the knee bursae to become inflamed and can primarily affect any individual's movement. Some signs of this condition are stiffness of the joint, stinging pain when moving the affected joint, and local joint pain. The typical treatment method for this is rest, ice, elevation, and massage.
You can watch the video below to know more about knee pain types.
FAQ's
Conclusion
If you suffer from pain in your knee joints, a knee massager may be the ideal solution to alleviate it, allowing you to enjoy spending more time on your daily activities without the pain.
The best knee massager for pain relief on our list is Comfler Heated Knee Brace Wrap. This machine has everything you could want or need— from adjustable straps and five-mode settings to its velvety soft material and it is affordable.
Our second choice is the FIT KING Heated Knee Massager. It's an excellent massager that can help improve circulation and relieve arthritis pain quickly. 
Hopefully, with the information above, you can choose a knee massager that best suits your needs.