Most women notice significant changes in their breasts throughout the years. Pregnancy, menopause, and weight loss or gain all affect the breasts and you might notice an increase or decrease in size. As we get older, gravity, in tandem with life changes, can take its toll.
With the help of the right bra, you can combat any sag and feel more comfortable at the same time. The best bra for you really depends on your individual needs. Here, we take a closer look at some of the best bras for women over 50 and go over some in-depth bra considerations.
We found that the overall best bra for older women is the Playtex Women's 18 Hour Ultimate.
#Affiliate links.Last update on 2021-04-11 at 18:10
Reviews of the Best Bras for Older Women
There are thousands of bras in the market but not everyone will fit the needs of old ladies. We come up with 6 best ones according to the comfort level, material, size and so on.
1. Playtex Women's 18 Hour Ultimate — Best Overall
#Affiliate links.Last update on 2021-04-11 at 18:10
The Playtex bra is all about comfort and support, which is why it's favored by women of all ages and sizes. The pad itself is breathable and soft 100 percent cotton, while the cup lining and belt is a nylon, spandex blend. Additionally, the strap is lined with a cotton-poly material.
It features large cups for optimal coverage as well as wide, padded straps for additional support and comfort. If you're dealing with large breasts or breasts that have headed south somewhat, the lift panels help give you a natural-looking form.
Note that this back closure bra features a standard hook and eye closure—if you're suffering from arthritis in the hands, it might not be ideal.
The bra should be hand washed. Playtex has avoided the typical "old lady bra" look here and the 18 Hour is available in multiple colors featuring a floral jacquard design.
Pros
Four-way support
Wide, padded straps
Full coverage
Soft materials
Good for under t-shirts and blouses
Cons
Back closure might not suit all wearers
2. Fruit of the Loom Women's Comfort Front-Close Bra — Best Front Close Bra for Elderly Women
#Affiliate links.Last update on 2021-04-11 at 18:10
This Fruit of the Loom bra is all about your comfort. It's made of a simple cotton and spandex blend that's soft, breathable, and flexible to suit your body. It's a sports bra so there are no cup sizings here.
It features wide straps that stay put throughout the day. It's a front-close bra featuring seven hook and eye closures, so it's easy to put on even on the stiffest of mornings which is great for elderly women who suffer from some mobility issues. Moreover, it features a shirred front that shapes according to your body for even better support and comfort.
Maintenance couldn't be easier as the bra is machine washable. However, since it's cotton, go for a cold wash to reduce the risk of shrinkage.
Pros
Soft and breathable material
Front-close
Shirred front
Machine washable
Super comfortable on the back
Cons
A few women noticed that the end of the front closure was a bit rough on the skin.
3. Women's Unlined Underwire Bra by Fruit of the Loom — Best Lifting Bra
#Affiliate links.Last update on 2021-04-12 at 04:55
If you want natural lift, this Fruit of the Loom bra is ideal. An underwired model, there's plenty of support and the design helps to lift, shape and cup your breasts for a natural look.
The bra is made of a cotton and spandex blend, so it's breathable and soft. It's a rear closure bra with standard hook and eye configuration. You have a comprehensive size range available.
You get two bras in the pack and you can choose between different neutral colors, including white, black and nude.
Pros
Creates a natural lift and shape
Comfortable straps
Breathable material
Two-pack
Cup sizes over DD not catered to
Cons
Some women found the unlined material to be quite thin
4. Just My Size Women's Front Close Bra — Best Plus Size Bra for Elderly
#Affiliate links.Last update on 2021-04-11 at 18:10
The large cups and generous sizing make this an excellent choice for plus sizes. Each cup is made with three-section seams that provide optimal lift and support.
Made of a nylon, polyester, and spandex blend, you should be fine throwing this bra in the washing machine.
It features a front hook and eye closure that's padded on the inside for extra comfort. The back of the bra is stretchy, soft and comfortable to wear throughout the day. Additionally, the straps are wide and padded as well to improve comfort.
Pros
Very comfortable around the back
Sizes go up to 54
Excellent support and lift
Front closure
Extra padding
Cons
Some women found the cup sizes too roomy, check the manufacturer's sizing guidelines carefully
5. Bali Designs Women's Double Support Bra — Best Straps
#Affiliate links.Last update on 2021-04-12 at 04:55
Straps that slide down as you're moving can be so frustrating. However, this bra features a unique Comfort-U design that keeps the straps where they're supposed to be.
The bra is made of a combination of nylon and spandex, so it's stretchy with flexible support. However, if you have sensitive skin, natural fiber materials such as cotton, might be a better option.
It's easy to put on using the front hook and eye closure—ideal for women suffering from arthritis.
Pros
M-frame cup design
Straps stay in place
Stretchy fabric
Flexible fit
Cons
Some women found that the front closure would pinch or rub them
6. Playtex Women's 18 Hour Front Close Bra — Best Wire-Free Bra for Elderly
#Affiliate links.Last update on 2021-04-12 at 05:16
Underwire bras can feel stiff and become painful if the wires break through the material. The Playtex 18-Hour front close bra was designed to give you the lift and support of a wired bra—minus the wires.
It features Magic Rings technology within the cups for side support and a natural lift. The back features Power Support technology that provides optimal support to help improve your posture.
The wide straps are padded for extra comfort and to prevent them from digging into your shoulders. Additionally, they're fully adjustable to suit you.
Pros
Flexible fit
Excellent support from all sides
Wide, padded straps
Wire-free
Cons
A few women disliked the shape of the cups
How to Pick the Best Bra for Older Women
Comfort, support, and size play significant roles when it comes to any woman's bra. The bra should suit your body as well as any underlying health issues, such as joint pain or skin conditions. Here are a few guiding tips to help you find the right bra:
1. Size
Studies have shown that up to 80 percent of women wear the wrong size bra. Wearing the wrong bra can have significant effects on your posture and can cause pain in your shoulders, neck, and back.
To find your ideal size, use a measuring tape to measure your band size and cup size. Here are three quick steps:
Wear a comfortable non-padded bra and measure your bust in the fullest area, write down your result. If you land on quarters or half numbers, you can round up.
Wrap the measuring tape around your band, breathe in and out, then measure. Write down the result.
To get your cup size, deduct your bust measurement from the band measurement. You can then use that number as a guide to finding your cup size.
2. Closure
How easy is the bra to get on and off? Do you have any underlying joint issues such as arthritis? In this case, a front closure bra, such as the Fruit of the Loom Women's Comfort Bra is an ideal option. These are easy to slip on over the shoulders and easy to secure in the front.
With back closure bras, you'll have more adjustment options since these usually include multiple rows of hooks. Moreover, a common complaint with front closure bras is the hooks irritating the skin between your breasts.
If your breasts are wider apart, a front closure bra might be uncomfortable as they tend to push the breasts closer together. On the other hand, if you have a narrower space between your breasts, a front closure bra will be an excellent fit.
3. Comfort
For elderly women, a good bra has padding and support. The bras shouldn't be too thin as these are more likely to dig into the shoulders. Wider straps that are padded will provide more comfort.
The straps should also be adjustable so that you can get a better fit. Some bras, such as the Playtex Women's 18 Hour Front Close Bra, feature additional support around the back and within the cups.
The material also plays a significant role in comfort. A cotton-polyester or cotton-spandex blend is ideal for warm climates as these materials allow your skin to breathe.
Bras with lace details might look elegant or sexy, but the rough edges can irritate your skin if worn for long hours.
4. Your Lifestyle
Your bra has to suit your lifestyle. If you're active, going for walks or jogs, you need a bra that supports that, such as the Fruit of the Loom Women's Comfort Bra.
If you need a comfortable bra to wear around the house, a more simple model, such as the Just My Size Women's Front Close Bra, is an excellent choice.
Wrapping Up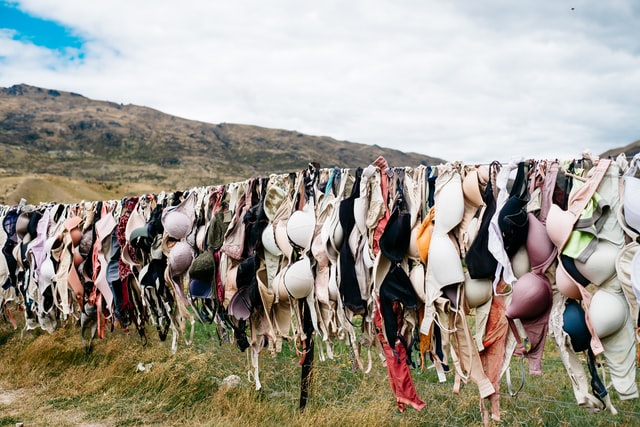 Finding the best bras for older women isn't an easy task. The right bra depends on your size and needs. In saying that, our favorite back closure bra is the Playtex Women's 18 Hour Ultimate Bra. It provides excellent support as well as comfort.
Our favorite front closure bra is the Fruit of the Loom Women's Comfort Front-Close Bra. It's ideal for active lifestyles with wide straps and lots of support.