Balance problem is one thing that almost every elderly or people with disability has to deal with. For someone with light or mild balance or stability issues, doctors will recommend using a walking cane instead of walkers.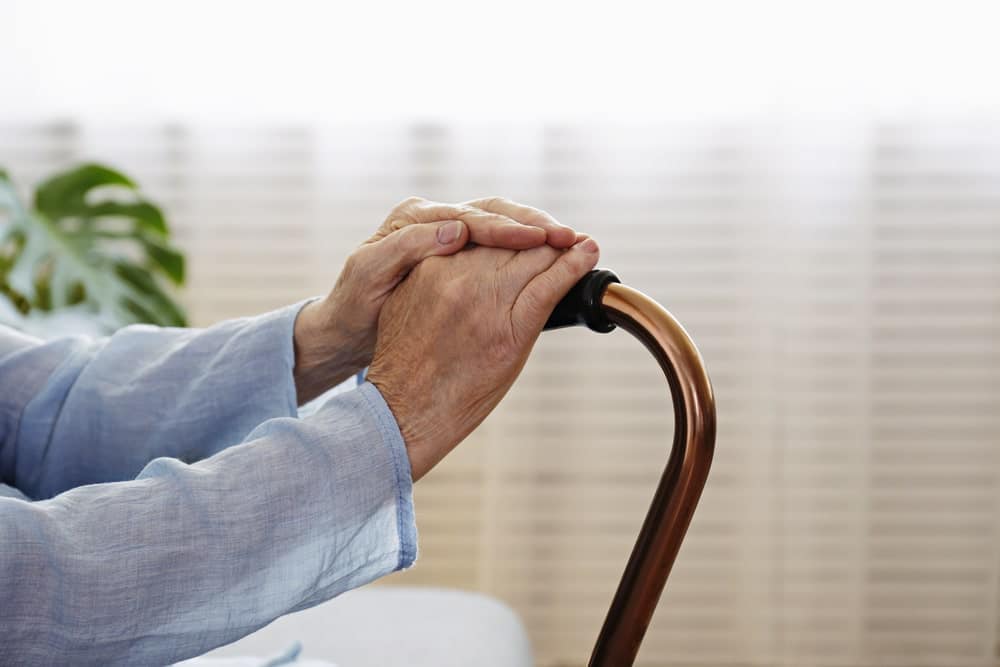 However, different canes offer different levels of support and quad canes are well known for their stability. For people who want to find the best canes for balance and stability, our picks for quad canes are the best available on the market.
If you are in a hurry, you can always click the table of content to read what you are interested in.
#Affiliate links.Last update on 2023-12-02 at 19:03
Why are quad canes the best canes for balance and stability?
If you are new to the world of mobility aids, you may think there is no big difference between all the good walking canes. However, it is not the case here.
In a nutshell, we can separate walking canes into standard canes and quad canes. As a standard walking cane, it often consists of a handle on the top and an adjustable pole with only one tip.
In this case, the walking cane has to bear all the weight of the user with only one point which touches the ground. For seniors with poorer balance, it is hard for them to gain enough stability by using a standard cane.
4 pronged and 3 pronged canes are designed to offer more balance and stability for users. With 3 or 4 prongs that all contact with the ground, the weight and balance can be spread out across the base and multiple points. It is self-standing.
Therefore,seniors can get more support from the canes. For people who don't need to use a good walker but can't manage a standard cane, the quad cane would be the best choice.
Reviews of the best canes for balance and stability
1. Vive Adjustable Quad Cane – Best Overall
#Affiliate links.Last update on 2023-12-03 at 00:33
Vive adjustable quad cane is one of the most popular 4 legged canes on the market and our top 1 recommendation. It does the job well and suits most people.
This quad cane features a lightweight and durable anodized aluminum frame which make it corrosion-resistant. Even better, it weighs only 2 pounds but can bear up to 250 pounds weight.
This model is not handed and you can change it from left to right through spinning the base easily.
In addition, the rubber tips on the prongs allow seniors to walk smoothly on any surface including grass, sand or other uneven ground. Despite it is lightweight, it can offer great stability and traction.
The grip on the handle is ergonomic and comfortable. The strap added to the grip helps to provide more stability. Even though it is a small design, it is very useful.
You can adjust the height from 28″ to 37″ in one-inch increments which can cater the needs of most users. 5 colors available offer more choices for people pay attention to the appearance.
2. HealthSmart Sit To Stand Quad Cane
#Affiliate links.Last update on 2023-12-02 at 19:03
HealthSmart quad cane is a high-end quad cane. Yes, it is relatively expensive, but it is definitely one of the best canes for balance and stability on the market.
The same as the vive adjustable quad cane mentioned above, this cane is made from the high-quality, strong, and lightweight material. The weight capacity is 250 pounds and you can adjust the height from 29″ to 38″.
The small base and 4 prongs ensure that users can get enough traction and stability across both indoor and outdoor surface. Plus, the slip-resistant rubber tips help to keep balance and will not mark on your floor.
Want to know the best part?
This healthsmart quad canes feature a unique "sit to stand" design. But what is "sit to stand" feature?
You may have noticed that this quad cane have two grips. This design is very smart because seniors can use the lower handle to lift yourself from the seat and then use the higher handle as a cane. (You may also like to know the cane with seat attached).
For people who have difficulties in standing up, it is a godsend product. In fact, some folks decide to buy this cane only because of this design.
We also like the foam cushion on both handles. Use a few hours of using canes, it is easy for the users to feel sore. The foam hand grips will come as a great relief for seniors.
However, it is only available in black color at this moment.
3. HurryCane Freedom Edition Folding Cane with T Handle
#Affiliate links.Last update on 2023-12-02 at 19:03
This is another one of best canes for balance and stability available on the market which you can tell from the numbers of reviews.
It looks very slim but it is very stable and strong. Even though it is only equipped with 3 prongs, the stability and traction are good enough for indoor and outdoor activity.
In addition, the weight capacity is up to 350 pounds which is the best choice for elderly people with obesity problems. Moreover, this quad cane from hurrycane is super lightweight with only about 1.2 pounds.
This is crazy:
This lightweight and strong quad cane can be folded instantly which make it one of the most portable canes as well.
Meanwhile, the handle is adjustable with the height range from 30.5″ to 37.5″ and the grip is ergometric designed and very comfortable.
Now, you can understand why it is so popular in America.
4. Ez2care Adjustable Lightweight Folding Quad Cane
#Affiliate links.Last update on 2023-12-02 at 15:36
If you like to travel a lot or want a quad cane with a space-saving design, this Ez2care 4 legged cane is what you are looking for.
This Ez2care cane uses strong aluminum alloy as its material and can support 250 pounds weight. The base is quite strong and the tips are slip resistant which helps to improve balance and stability.
It has a knob on the top and you can change the direction by turning the cane body and pressing the knob without any effort. This design allows seniors to use it on either side.
Besides, it is adjustable and the height can be adjusted from 29″ to 37″.
As the name of this quad cane suggests, it is a foldable cane. The height of folded form is only 15″ height.
Even better, it only weighs about 1.35 pound which makes it a perfect choice for traveling. You can easily put it in the bag and use the strap provided by the manufacturer to carry it.
We are also impressed by the offset form handle of this cane. It ensures the comfortability of users.
However, there are no many colors to choose from.
5. Hugo Mobility Adjustable Quad Cane for Right or Left Hand Use, Ebony, Large Base
#Affiliate links.Last update on 2023-12-02 at 19:03
For seniors who need more support, this quad cane with a large base from hugo mobility would be an excellent choice.
The wide k-shape base ensures users can keep balance and stability much easier. It can fit handed seniors on either side by changing the side and releasing the knob and spinning the base. It should be noted that you should always let the narrower side towards your body.
This 4 legged cane also features a shock-absorbing cushioned handle which works to prevent hand pains. The reflective strap attached to the handle improves safety at night.
In addition, this quad cane can fit large people with 300 pounds weight capacity. The adjustable height can accommodate people from 5′ to 6'5″.
However, it is a little bit heavier (2.7 pounds) than other quad canes mentioned above.
6. NOVA Sugarcane with Offset Handle
#Affiliate links.Last update on 2023-12-02 at 19:03
For people who want to have a great and beautiful quad cane, this Nova sugarcane will make you feel satisfied.
If you read the reviews above, you may find that most of the quad canes are with a solid color which is boring in some circumstances. A stable cane with a unique pattern will be a better choice for some people.
Nova sugarcane features beautiful and unique patterns which make you stand out from the crowd.
Plus, it has all the necessary characteristics a good quad cane needed. The frame is fade resistant which ensures the pattern can last for a long time. The body is super lightweight which has only 1.15 pounds. Meanwhile, the weight capacity is 300 pounds which fit most of the seniors.
How to use a quad cane?
These are a few points the user need to pay attention when using a quad cane.
Adjust the quad cane to make yourself comfortable and safe. In most cases, it is right to make the handle stay at the crease of their wrist.
Don't hold the quad cane aside from your weaker or injured leg. The correct way to use a quad cane is to hold it in the hand which is opposite to your weak leg. Because you will get a much bigger base of support by doing this.
Always keep the 4 legged cane one step ahead of your body and make sure all the tips of the canes firmly touch the ground.
Remember to step forward with your injured leg.
Don't keep asking yourself how to use a quad cane. Just feel relaxed and walk naturally.
The advantages of quad walking canes
Best canes for stability. The base and the multiple prongs make the canes can contact with the ground for a longer time and offer the best support for seniors who need to use a cane to keep balance.
Self-standing. Senior don't need to worry about the canes will drop while walking anymore. In addition, for people using the walking cane, they always have to find a place to store it or it will fall down. Quad canes can stand on its own, so that users can always put it beside them.
More durable. The pressure has been spread out, every foot and the whole base can bear less weight than the standard walking canes. In addition, most of the 4 prong or 3 prong canes are made of strong material.
Different size of bases available. There are 2 types of bases: small and large. Men always prefer a large base, because they have more weight and larger strides which may need more support. Women may like to use a quad cane with a small base due to the fact that they weigh less and the stride is relatively smaller than man.
The drawbacks
Heavier than the standard walking cane. Different from the typical walking cane, quad canes have extra bases and multiple prongs. Thus, the weight is slightly heavier. But no need to worry too much, most of them are made of lightweight material.
Limited stylish choices. It is easy for seniors to buy a fancy standard cane. However, quad canes are typically single-colored and it is quite hard to find a "beautiful quad cane".
A little bit harder to assemble. Except for the handle, users have to adjust the base and prongs.
Some models are handed. In order to reduce the possibility of falling down, the base of the quad cane is narrower on the side that closest to the user. Some bases are adjustable according to the users' condition, but some of them are not. Thus, you may have to order a model only for the right hand or the left hand.
Bottom Line
In this post, we reviewed the best canes for balance and stability and discussed the questions you may want to know when purchasing the quad cane. Please always consider your balance ability and consult your doctor before you make a decision.