The right walking canes can help you to keep balance by enhancing your walking abilities. They can also help to reduce your weakness as well as back pain by providing you great support.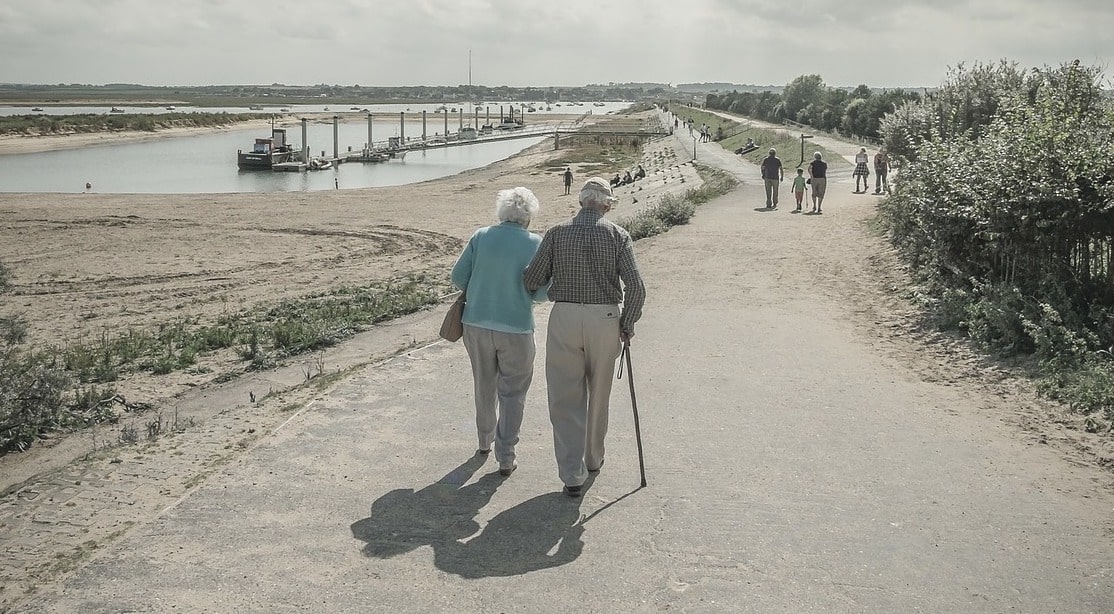 In this article, we are going to provide you a great guide that will help you to know where and how you can use it. Also, learn about the 6 best walking canes for seniors by continuing the reading.
1. Medline Offset Handle Cane – Best Overall
#Affiliate links.Last update on 2023-12-02 at 13:26
Medline Offset Handle Cane is one of the best and affordable walking canes for seniors and patients.
It is available with a locking ring that will ensure the user that there is no rattling sound that you will hear while using it.
It can hold up to 250lbs and you can adjust the height to accommodate your needs. The offset handle design allows you to control the weight with the sturdiest part.
It will also ensure that it will never break down just because of improper balance or use. The black color makes it one of the best canes for men.
While it doesn't come with extra features, but it get the job done well.
Pros:
Affordable.
Due to its lock ring features, you will never hear any kind of noise that may irritate you
The height is adjustable
Due to its offset design, the height of a person will usually be centered on the firmest areas.
Provides you great security while locking up the ring
Cons:
It comes with stickers on it which are really unpleasant for the people who really love the simplicity and it is hard to remove.
2. Switch Sticks Aluminum Adjustable Folding Cane – Best Portable Option
#Affiliate links.Last update on 2023-12-02 at 13:26
For seniors who like to travel often, this walking cane would be a great choice. It is lightweight and foldable, making it a useful mobility aid during your journey. It can be adjusted easily from 32 to 37 inches that can fit for most of the people.
Plus, the beautiful and color patterns on it could make you look more attractive. This is why it is a favorite for women.
We also like the ergonomically designed wood handle as it provides a great grip and stable balance for walking. The rubber tip adds more safety for users.
Pros:
Easily adjustable and foldable that you can carry easily where ever you want.
The slip resistance is another best advantage of using this walking cane. It contains on rubber tip that will allow it to stay stable on the floor.
It will allow you to store it where ever you want.
Various beautiful patterns.
Cons:
The pattern will fade easily.
#Affiliate links.Last update on 2023-12-02 at 15:36
If you are looking for a lightweight cane for balance and stability, this quad cane from Ez2care will not let you down.
This product is made from aluminum alloy with only about 1.34 pounds. It also provides a great adjustment from 29 to 37 inches.
It is perfect for every person to use. Its handle is made from foam that provides a strong and comfortable grip. You can bring it both in your right or left hand. Besides, it can be easily folded.
What makes it apart from other products is its 4 rubber tips on the bottom, allowing seniors to walk steadily even on the uneven surface.
Pros:
Provide a great balance and stability
Ergonomic foam to grip
Provide an adjustment from 29 to 37 inches
Cons:
Sometimes it is really difficult to fold.
#Affiliate links.Last update on 2023-12-02 at 15:36
This product is quite different from the other models we mentioned above as it comes with a seat. This would be really beneficial for seniors who want to attend an event or go to a concert.
It made with lightweight aluminum which only weighs 1.5 lbs and the height is adjustable from 34" – 38.5".
Whenever you want to take a walk, you fold the seat and use it as a normal one and if you want to take a break, the seat would be available in no time.
The appearance of this cane seat is also elegant and low profile and it would be something last for years.
Pros
Lightweight and portable.
Good durability.
Very convenient for those who want to have a rest outdoor.
Cons
If you rely too much weight on it , it may become unfolded.
5. Vive Folding Cane – Best Budget Option
#Affiliate links.Last update on 2023-12-02 at 13:26
This is another good walking cane that is specially designed for seniors who love to travel.
It is made from premium grade aluminum and its weight is only 15.8 ounces that you can easily carry. The folding cane can fit into a backpack or even a bag while traveling.
It provides great support for your body parts. The anti-slip rubber tip allows you to get a stable and proper balance on the floor surface. If you want to get more support, you can add a tripod or quad-tip on it.
It is best for the average or tall size persons such as a person with 6 feet height and support more than 250 pounds of weight.
Pros:
Lightweight and easy to fold and carry anywhere you want
Its aluminum frame provides great durability and supports to control the balance
You can add a tripod or quad cane tip on it easily.
It is adjustable and its length is from 33 to 37 inches.
Best for both medium or taller height people
Cheap
Cons:
Not suitable for a short man.
6. Hugo Adjustable Quad Cane – Best For Bariatric
#Affiliate links.Last update on 2023-12-02 at 13:26
The Hugo adjustable quad cane provides you great comfort while walking. It is one of the best if you are looking for a bariatric cane.
It can provide great support for people with up to 300 pounds of weight. The k shapes handle offers even more stability rather than any other type of walking cane.
It comes with a cushion-top handle which will help you reduce fatigue. The reflective strap provides you safety at night.
You can adjust the height at 11 levels by simply pushing the buttons. It is made from high-quality aluminum material which is durable and can last for a long time.
Pros
Versatile and durable to use
The handle is really comfortable to hold and put the necessary weight over it
The quad cane base can provide more stability
Best to use in both left or right hand
The height is adjustable.
Can support up to 300 lbs.
Cons:
Its weight is a bit heavier to carry as compared to other lightweight ones.
It is not foldable and portable.
7. The Original Campbell Posture Cane – Best Innovative Option
#Affiliate links.Last update on 2023-12-02 at 13:26
This is a great and unique cane that you may never find. It helps you to walk even more upright so you can easily look forward instead of looking here and there or down to maintain your balance.
It is not only a good choice for the elderly but for young people who love to go hiking. It looks like a walking stick but provide far more stability for the users.
It features a revolutionary handle that provides your wrist and shoulders a great comfort level and you can use it when you want to stand up from bed or chairs. Its high-quality 4-point rubber tip provides great traction on the floor surface while using it.
It also has a great feature of 12 different adjustments for the height that is best for the person with height 5 to 6.2 inches.
Pros:
Provide ease for the back pain
Easy to adjust and use
Light in weight that you can carry easily
Change your posture and line of sight
Cons:
Sometimes the handle hurts and grained your hand
It not self-standing
Things to Consider When Choosing a Cane For Seniors:
Ensure the Height:
Height is one of the imperative things to consider while purchasing a walking cane. The majority contain a small pin that will allow you to make some adjustments.
After making an adjustment the top should rest just below the hip. This allows the user to correctly grasp it while slightly bending down your elbow that can protect your shoulders, wrist as well as neck from pain.
A cane that is higher than your height or smaller can become a cause of some serious health issues.
High-Quality Material:
You just need to make sure that it is reliable and lasts for a long time. It can reduce the risk of any damage or even protect your cane to break easily. The materials used to make it include steel, aluminum, and carbon fiber.
The Tip:
The tip of the cane is all about its better floor surface and traction. The rubber tip can provide you an even better grip on the floor and allow you to stay stable without sliding. Generally, the more rubber tips the cane has, the better stability you will get.
The Grip:
You can get a cane with different grips such as foam grip, wooden grip, or ergonomic gel grip. We will recommend you to first try the grip by holding it and by walking, in this way, you may know that which one is better for you.
According to Your Style:
Some older adults, who will use the cane on a daily basis, love to add some style that can reflect their personality. You can even choose different styles according to different occasions and styles for daily use. However, you should put the function first if you have mobility issues.
Your Mobility Issues
You should always consider your own balance and stability ability before making a purchase. As you know, a walking cane is suitable for people with small to moderate mobility issues. If you have severer mobility problems, you may consider using a walker or a wheelchair instead.
Benefits of using a Walking Cane:
Best for Joints Problem:
Sometimes, it is really difficult for elders to walk comfortably due to back, knees, or other joints issues. The right cane will help to control your weight and provide a perfect balance while walking. It can help to distribute your weight so that you will not put much pressure on the sensitive areas of your body parts.
Convenient to Use:
Canes are light in weight and you may carry them easily wherever and whenever you want comparing to other mobility aids such as mobility scooter or wheelchair.
There are some folding canes that are easy to fit in suitcases, large handbags, and backpacks which is really great for you to travel.
If you want to sit down sometimes, you can opt for a cane with a seat as well.
How to Effectively Use It?
Once you choose a perfect one, you have to know how to use it in a better way to get some useful advantages. Here we are going to give you some tips to use a walking cane in an appropriate way.
Take safety precautions from your doctor or other medical professionals before using a cane.
Move your stronger leg first.
Hold it on the unaffected side so that it can provide you great support for the opposite lower limb.
Don't put all of your unnecessary weight on it.
To climb the stairs, you should hold the railing from one of your free hands.
When you want to go downstairs, then first you have to lower your cane, followed by your leg which is affected, and then moves your unaffected leg.
Wrapping Up
After reading about these best walking canes for seniors we're sure that now you are able to choose the right one for you. By checking the links on this post, you will discover more details about canes.