Never stop walking. Finding yourself or your lover the best 4 wheel walker to bring him/her back to the beautiful world.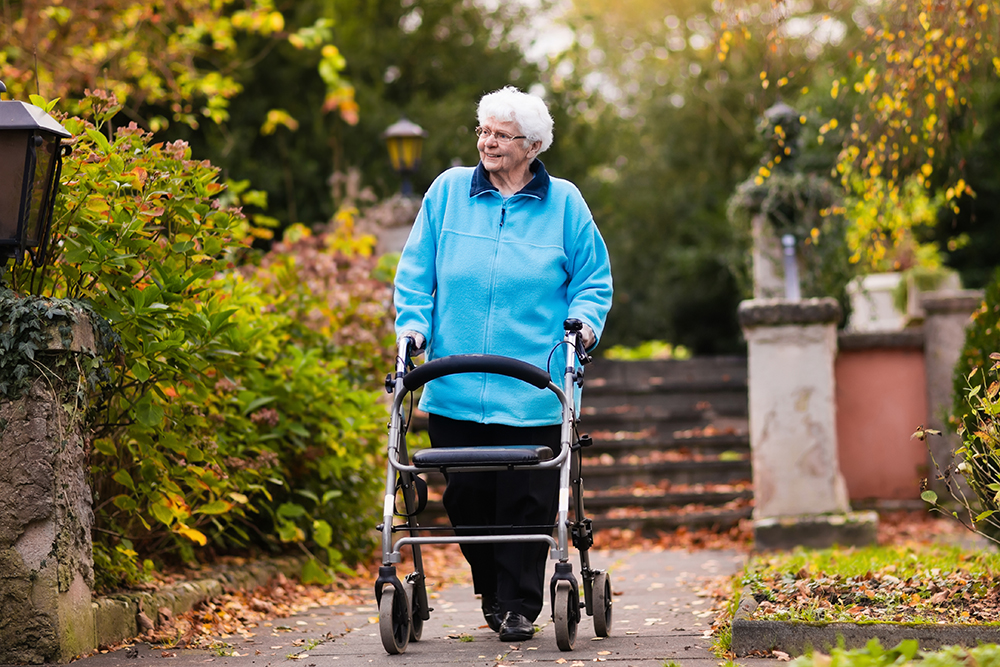 Compared to the traditional non-wheeled walker frames, 4 wheel rollators provide a great range of mobility and you don't need to lift the walker when you need to move forward.
With the seat and basket involved, you can have a rest whenever you want and bring your personal belongings.
But please note that 4 wheel walkers are more suitable for seniors who still have relatively medium to high balance which means you don't need to lean on the walker for balance.
Our Picks for Best 4 Wheel Walkers
If you are short of time, you can opt to check these 4 wheel walkers in the table as we have carefully chosen them according to quality, weight capacity as well as price.
#Affiliate links.Last update on 2023-12-02 at 19:03
Reviews of The Best 4 Wheel Walkers
1. Drive Medical Nitro Euro Style 4 Wheel Walker-Most Comfortable Choice
#Affiliate links.Last update on 2023-12-02 at 19:03
This Drive Medical walker is a rollator with 10-inch wheels and is one of the best 4 wheel walkers on our list. With its European style, it looks fashionable and cool.
You may be wondering:
Will it work well for elderly or individuals with stability problems?
Yes. It does its job well.
It includes a few features that you always want.
Lightweight Aluminum Frame. Aluminum is famous for its lightweight and sturdiness. By using the aluminum frame, this rollator becomes an ideal choice for travel and outdoor activity. It is easy to lift.
10″ Casters. These big wheels will make your life more comfortable and relaxed. For someone who ever used a rollator before, you may have a problem moving on grass or gravel. Sometimes it could be a nightmare. With this 10″ front wheel, walking in the garden will come a breeze. Great maneuverability for both indoor and outdoor use.
Build-in seat with a backrest. For individuals with mobility problems, it would be a hard task to walk for a long period of time. This built-in seat is made of high-quality nylon and the backrest has a large pressed area. In fact, it is a comfortable fabric strap. They are ergonomically designed that you can sit on it for a long time. If you have better balance ability and want to have a mobility aid with seat, you can also consider a cane with seat.
Removable zippered Storage Bag. The zippered bag in this 4 wheel walker is a thoughtful design. It not only provides a place to store your personal belongings but keep your privacy.
Adjustable height. The handles can be adjusted from 33.5 inches to 38.25 inches to accommodate your body. The back support can also be modified to ensure you get the best support.
Side-to-side folding. By implementing a cross-brace design, this product can be easily folded up while offering more stability.
Inside brake system. A strong and sensitive brake system had been put inside the frame which can provide extra safety for the user.
With these fabulous features, this lightweight walker with seat and wheels become a great choice both for outdoor and indoor activity.
Look:
Whenever you want to go out shopping or even for traveling, you can easily fold your Nitro and put it in your vehicle.
When you arrive, you open it simply, and with the big wheels, almost nothing can stop you.
When you feel tired, you lock the brake and lay on your seat. The seat is so comfortable that you can enjoy your relaxing sunbathing as long as you want.
Besides, if you care about the product appearance, Drive Medical company offers 3 colors: Grey, Red, and White.
You might be wondering:
Is there anything that can be improved?
Yes, if the zippered bag is at the back of this 4 wheel walker, it would be more convenient for you to pick up your personal belongings.
Pros
Can be used on the uneven surface.
Comfortable seat and backrest.
Strong and invisible brake system.
Zippered bag to protect privacy.
Cons
Zippered bag is not located at the back of the rollator.
2. Drive Medical Four Wheel Rollator with Back Support-Best Budget
#Affiliate links.Last update on 2023-12-02 at 19:03
This Drive Medical four-wheel rollator provides all the basic features you need for a rollator.
It is a foldable 4 wheel walker with a seat as well.
Want to know the best part?
It is quite affordable.
Let's get into details and to know what it can do for you.
7.5″ Wheels. This 4 wheel walker features 7.5″ wheels. It is big enough for indoor and outdoor activities and can move smoothly on most of the terrains.
Convenient handbrake design. You can control the brake easily by pressing or push down the lock.
Adjustable handle height. Just like the Nitro one above, the height can be changed from 31″ to 37″.
Wired basket. You can store everything you need in the basket if you have no privacy concerns.
Foldable frame. You can fold the rollator easily and it fits most of the cars.
Padded seat and backrest. This feature ensures you will relax wherever you want.
All in all, this Drive Medical four-wheel rollator is a great choice as well.
Compared to the Nitro above, it has smaller wheels and the basket doesn't have a zipper. In addition, the backrest may not as comfortable as the Nitro one.
However, this 4 wheel walker are good enough for most people.
Pros
Affordable price.
Adjustable height.
Seat and backrest available.
Great brake system.
Cons
A little bit hard to fold up.
The backrest is not adjustable.
Wired basket can't protect the privacy and have to be removed when you fold it up.
3. Medline Freedom Lightweight 4 Wheel Rollator- Lighweight Option
#Affiliate links.Last update on 2023-12-02 at 18:44
As the name of this rollator suggests, it is a 4 wheeled walker for seniors that will give you the freedom of mobility.
It has an ultralight aluminum frame and the weight is only 11.2 lbs. As the arm strength of seniors is relatively weak, this ultralight one will not stress your body as others do. It would be easier to maneuver and lift to put into your car.
Now, you may doubt whether it is safe for the elderly or people with disabilities?
The Medline company takes it into consideration and this rollator has good stability as well.
Ultralight maybe the best feature of this model, but it also contains other important features as well. It is a 4 wheel walker with a padded seat and backrest. The height can be modified to accommodates individuals from 4'11" to 6'4″. Even better, it has a storage bag underneath to provide privacy and security.
But, there are 2 limitations you should think about:
1. The weight limit is 250 lbs so it is not rollator for a big guy.
2. The size of wheels is 6″ which means it can only be used indoor or on flat ground.
Pros
Ultralightweight.
Zippered pouch.
Comfortable seat and backrest.
Cons
Better for indoor use.
Weight capacity is only 250 lbs
4. Hugo Elite 4 Wheel Rollator Walker with Seat-Sturdy and More Storage Space
#Affiliate links.Last update on 2023-12-02 at 19:03
Hugo elite rollator is one of the best 4 wheel walkers with seats and wheels. The steel frame in this model is very sturdy and proved durable.
The brake system is strong and the ergonomic hand grips make it easy for you to pause or lock the rollator.
Like other good 4 wheeled walkers, this Hugo one also features a padded seat and back support, the height of the handle and seat is adjustable which can fit people from 4'3 to 6'2″.
For someone who needs more stability, it also a good walker to be chosen. The 8-inch wheels not only offer easy maneuverability but support your body well. It will not counteract your mobility either indoor or outdoor.
Even better:
You have a larger storage space than other rollators. In addition to the pouch under the seat, there is an extra saddlebag under the backrest.
This design is a godsend for people who need to carry many items.
Besides, this item has a tool-free assemble design so that setting up will be a piece of cake for you.
However, the weight is 18 pounds which are slighter heavier than some lightweight 4 wheel walkers.
Pros
Extra storage bag.
Large wheels for outdoor use.
Tool-free assemble design.
Cons
Slighter heavier than some competitors.
5. Medline Heavy Duty Bariatric Walker-Great heavy-duty rollator
#Affiliate links.Last update on 2023-12-02 at 18:44
A heavy-duty rollator is a kind of rollator that has a bigger weight limit and specially designed for users who have over 300 lbs weight or need more space.
In fact, they look almost the same as other rollator but has a more reinforced and wider frame.
This Medline one has a 500 lbs weight capacity which caters to the need of people with obesity and other medical conditions.
The distance between 2 handles is 23.5″ that will provide enough space for your body.
The same as the ultralight one, it has a support back with a padded seat. It also features a zippered pouch and adjustable handles.
Moreover, 8″ wheels will let walking on any terrains freely.
Nevertheless, as a bariatric rollator, it has a 26.7lbs product weight. Hence, it could be more difficult for someone to fold and move into the trunk.
But if you want to find an excellent extra wide bariatric walker, this one would be a good one to consider.
Pros
Designed for people with obesity.
Strong frame.
Zippered bag.
Cons
The weight of this 4 wheel rollator is heavy.
(If you are looking for a narrow walker for seniors who live in a small spaces,you can check here)
6. OasisSpace Aluminum 4 Wheel Rollator – Big Wheels
#Affiliate links.Last update on 2023-12-02 at 07:29
If you are looking for one of the best 4 wheel walkers with big wheels, go for this one.
Featuring 10 inches front wheels, this product offers great maneuverability which means you can go through the lawns and other rough surfaces with a breeze. This is great for seniors and others who like to do outdoor acitivites.
On top of it, the wider seats bring you more comforts and relief. The overall looking is sleek and modern, making you feel great when rolling it indoors and outdoors. The bags under the seat is sturdy and spacious, allowing you to put your personal belongings.
However, it seems not a good choice for very tall people.
Pros
Sleek design.
Big wheels for maneuverability.
Wide seat for comfort.
Cons
Not an ideal choice for tall people.
Buyers' guide
Choosing the best 4 wheel walkers for seniors and people with disabilities can be a frustrating process. Every manufactures offers a lot of instructions with tons of parameters.
If you are not an engineer, it is easy to get confused. Besides, when you search online, it is hard to find a buyer's guide. So, we are here to help.
What is 4 wheel walker?
4 Wheel Walker is a kind of walker with 4 large wheels. It will provide support for your body and will not slow you down. You don't need to lift your walker as other walkers do. Just push it like pushing a cart.
Usually, a built-in seat and backrest have been included in the model so that you can take a break wherever you want. In addition, a rollator with a good design would be foldable. Hence, it would be a good choice for long trips.
Compared to 3 wheel rollator, 4 wheeled rollator has more stability.
However, it recommends using by individuals who have relatively good balance.
How to Choose a 4 Wheeled Walker for Seniors?
From our reviews above, you may already have an idea of choosing 4 wheel walker. In case you don't read that part, we sum it up below.
Sturdy and Foldable Frame: Sturdy frame can provide strong and durable support for your body. For those who need to use a rollator outdoor, foldability becomes a must-have feature. Because you can put a foldable 4 wheel walker in your trunk or back of cars easily.
Large Wheels: Larger casters offer more stability and maneuverability. When you walk around or go for a long-distance journey, larger wheels will ensure the rollator push over the uneven surface.
Adjustable Height: Finding a comfortable rollator is very important. Therefore, the adjustable height design will make sure you find the right height of rollator for yourself. Please read the information about height range carefully.
Strong Brake System: Given that you should always put safety above all, a strong and sensitive brake system is crucial for a good wheeled walker. As you may need to push your rollator downhill, in this case, a good brake will prevent you from falling down.
Ergonomic Hand Grips: A carefully designed grip not only makes it easier for you to access brake but will not make your hands tired and itchy.
Padded Seat and Backrest: People with mobility problems are easy to get tired. With a padded seat and backrest, you can take a break wherever you want.
Storage Space: Instead of wearing a backpack or asking someone to help you, putting all your personal belongings in the storage bag would be a better choice.
How to Measure for a 4 Wheel Rollator?
There are 3 measurements you should take.
Handle height. Measure the height from the ground to the hip joint. This height should be the height of the handlebars.
Chair height. Measure the height of the chair you feel comfortable and find the proper chair height when you select your rollator
Doorway width. Even though you can fold your rollator, choosing a rollator can get in and out of your house directly will save time and effort.
Conclusion
There are hundreds of products available on the market, making find the best 4 wheel walker for yourself become a hassle. After reading our review, we hope you can get one from our list and don't forget to check the height, seat, wheels and material before making a purchase.